Moondrop A8 Review - A worthy upgrade over the Blessing 2?
Moondrop is an audio company that needs no introduction, as it's currently one of the largest players in the IEM market. My personal IEM journey has been brief, but if there is one thing I can say with certainty, is that of the IEM's I have tried over the past few months, Moondrop's offerings have been standouts; both the Blessing 2 and Starfield provided delightful listening experiences and were amongst my favorites in their respective price brackets. This article, however, is not about me reminiscing on my past experiences with Mooondrop. Instead, this time around I'll be talking about a rather nifty IEM I recently had the opportunity to listen to–the Moondrop A8.
Now, the A8 is a midrange IEM that comes in at a retail price of $666.66 (very peculiar number), and it is powered by eight balanced armature drivers. It is worth noting that this A8 does have some differences when compared to the $699.99 Moondrop S8 ; and whilst I have not yet tried the latter, I will at least point out some of the spec and physical differences that set these two IEM's apart as we move along.
Sources and Music Used in Listening Tests
All the listening for this review was done on the Astell & Kern SR25 , and the Astell & Kern Kann Alpha . For the listening tests I used music from a wide variety of genres including Rock, Jazz, Classical, Acoustic, Hip-Hop, and latin. I played tracks from my own FLAC library, as well as from Qobuz and Tidal via Roon when using the Kann Alpha in DAC mode.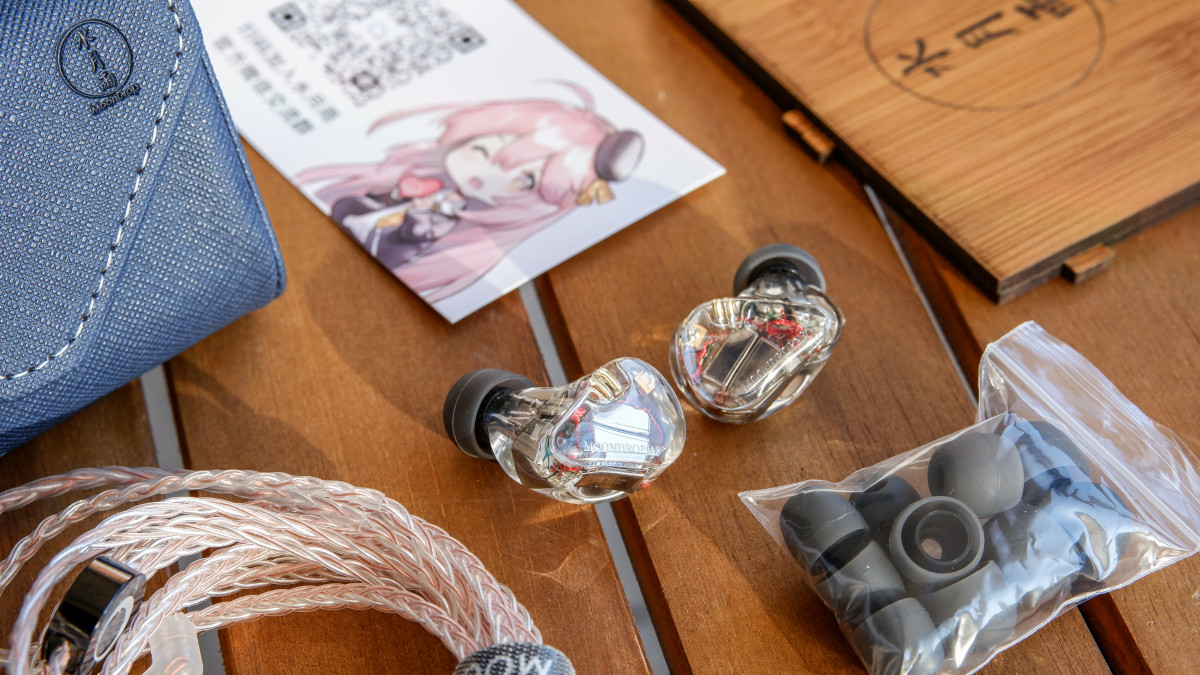 Accessories
The A8 comes packaged in a rather small, but nice, wooden box. Some Moondrop fans may be disappointed by this design, but worry not, as when you slide off the top cover you'll be greeted by the more "traditional" Moondrop artwork, which in this case depicts a manga-style character in a forest. Moving onto the box's contents though, you of course get the A8, a fairly-pocketable, blue carrying case, six sets of silicone ear tips, and a braided 3.5mm to 2-pin connector cable.
Build & Comfort
The A8 is rocking a completely transparent resin chassis that allows you to peer into the IEM's components, is visually appealing, and is remarkably sturdy. Something to point out is that the exterior design is where the A8 and S8 most obviously differ, as the A8 is completely transparent, whereas the S8 has a metal faceplate with the "S8" logo branded on it–easily setting them apart.
As for comfort, the A8 was just a little rough for me. I still found it to be more comfortable than–for example–theAtlas and the Polaris, however I personally didn't get as good a fit as I did with the Dunu SA6 , or even with its younger sibling, the Blessing 2. Now, the chassis is actually well contoured, and has no awkward edges. The problem, then, lies in the A8's size, as it's noticeably the largest IEM I've personally worn. Towards the rear-end of the unit, it's got a bit more depth when compared to the SA6, which is not that surprising when considering that it's housing eight drivers, but this did mean that over time it did tend to apply a bit of extra pressure for me. I definitely would not say that they were outright uncomfortable by any measure, but it's something to be wary of if you're sensitive to that kind of stuff, or if you've got small ears.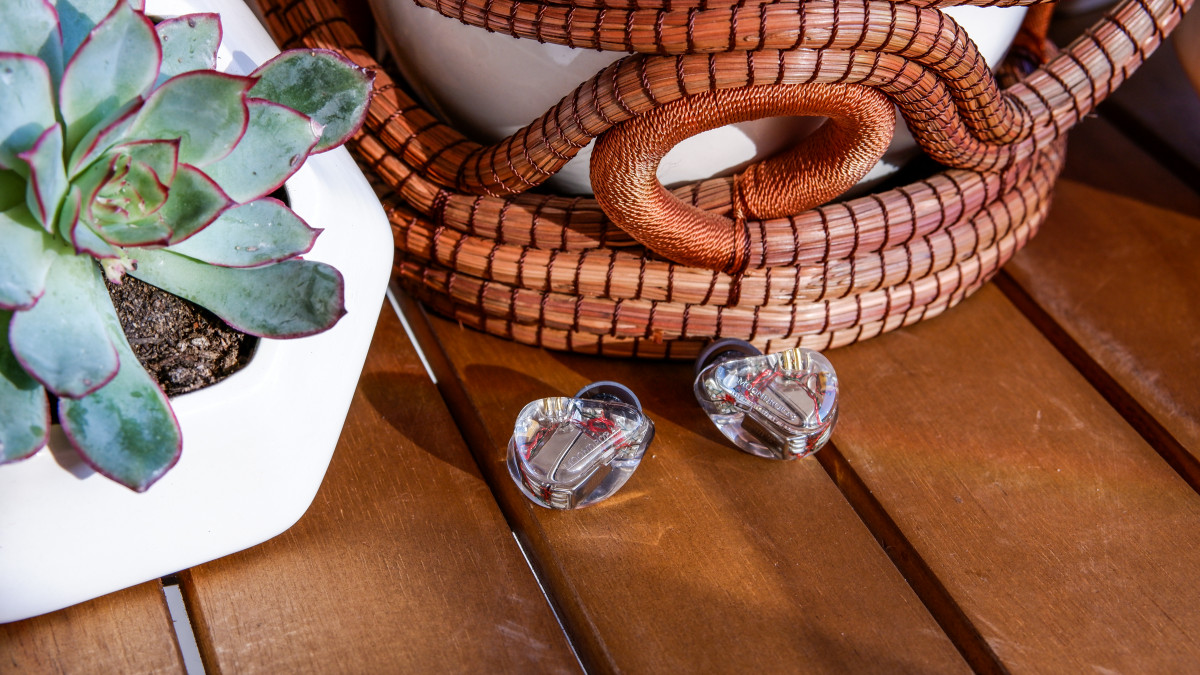 Sound
As I mentioned earlier, the A8 is utilizing eight balanced armature drivers per ear piece and, again, this is where the A8 and S8 differ. The A8 is using two Knowles drivers for the bass tones, four custom Moondrop midrange drivers, and two custom Moondrop high-frequency drivers as opposed to the sonion bass drivers and knowles high-frequency drivers in the S8.
First Impressions
Immediately, upon my first listen, I found the A8 to be a very enjoyable and superbly-tuned IEM. It had a great tonal balance that, to me, sounded "neutral" and organic. Unfortunately, I will admit that in this review it may sound as though I'm repeating myself quite a bit, but that's because I was actually shocked at how similar the A8 and the Dunu SA6 sounded. Still, there is one aspect that in my experience made the two greatly distinguishable from each other, and we'll talk about what that is as we discuss the A8, and how it performed in my experience.
Bass
The A8 has a bass response that is both highly enjoyable, and properly textured. It's got a pronounced bass shelf under 150hz that is almost identical to that of the SA6 (with "Atmospheric" bass boost enabled). This means that it offers quite a bit more bass than the Blessing 2, which I found to be closer to my personal preference for IEM's, and it gave the bass region more depth and warmth when comparing the two. Despite the very present bass response, however, the A8's bass is nimble, and cleanly details the lowest of bass tones.
Mids
I really don't have much to comment on when it comes to the A8's mids aside from saying that they were similar to those of the SA6–and that's a good thing.
From the midrange's lower bounds at around 300hz, all the way up to 5khz, the A8 was linear with a tonality that accurately delineated all the different instrument fundamental tones and harmonics. Needless to say, I felt as though midtones were robust with a rich body and lush overtones that made for an organic listen. So if you're a mid-centric listener, or you're coming from something like an HD600, I don't think you'll be disappointed by these.
Highs
Ah, yes, the treble range. Now this is where I think the A8 impressed me the most, and it's what made all the difference to me personally between it and the Dunu SA6.
Whilst it does have some slight unevenness at around 7-8khz that introduces some minor mid-treble sibilance, it's nowhere near as noticeable as the emphasis that the SA6 has at 6.5khz. This, for me, was a great improvement, as the lack of a low-treble peak similar to that of the SA6 allowed the A8's higher frequencies to more accurately nuance all the harmonics that lie in this region of the frequency response, making it sound more accurate. Additionally, this was the first IEM of which the upper treble extension really impressed me. It had nice air qualities above 10Khz, which, for me, gave vocals a nice, natural glisten, and the splash of cymbals more closely resembled what I'd expect in a live-listening experience.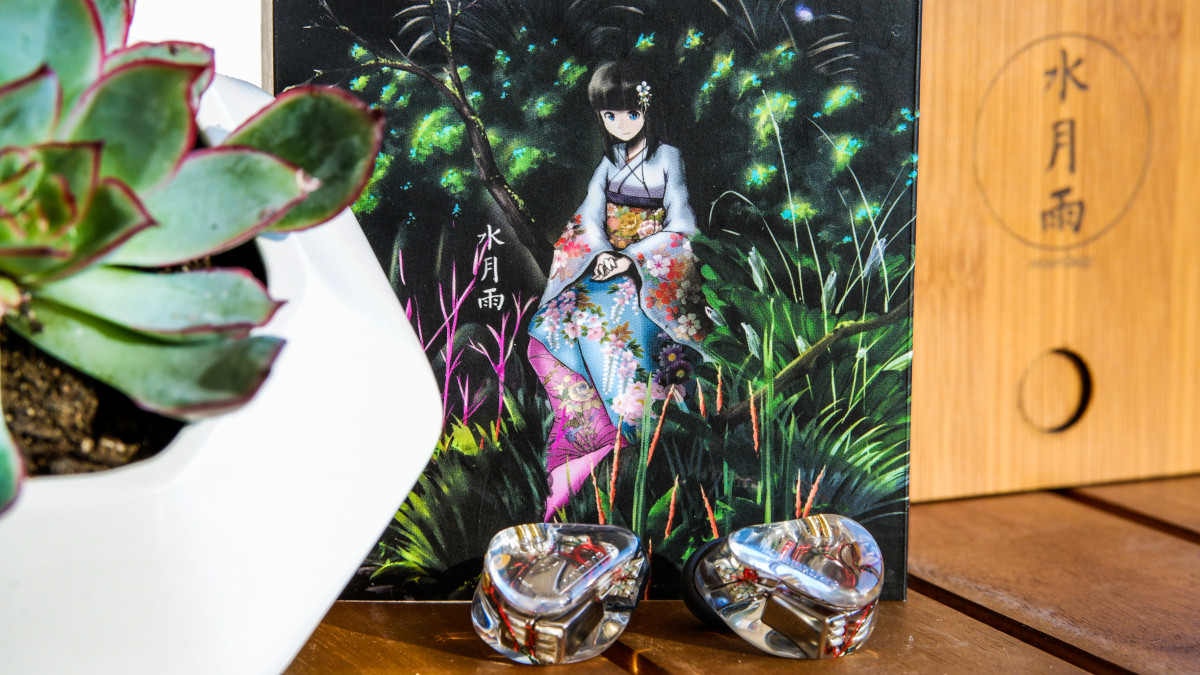 Resolution
The A8 provides very good performance when it comes to detail retrieval and overall image clarity. For internal resolution, I think that it's on-par with the likes of the Dunu SA6 and Sennheiser IE900, which is very good for its price range. I will note, though, that since it doesn't have the lower treble glare that the SA6 has, and because it also has the great treble extension, I did find it to seemingly deliver a higher degree of perceived image clarity and transparency.
Soundstage, Imaging, and Layering
As with most IEM's I've tried, the A8's presentation is a fairly forward and intimate one. Nonetheless, it does play well with its compact soundstage as it has excellent instrument separation; it keeps all vocal and instrument lines clear and properly spaced from one another. Additionally, the A8's got decent left-right localization; though I did find it to have stronger left, right, and center images, whilst font-left and front-right were slightly subdued.
Dynamics
For dynamics, the A8 surprised me quite a bit. Despite not utilizing a dynamic driver, I found to deliver a pretty decent punch in lows. Whilst it definitely did not kick as hard as something like the Polaris, it still managed to deliver a satisfying impact in the low-end. In the upper registers it also had noteworthy tactility that enhanced the presence of many instruments, as the playing of piano keys had more pressure behind them, and various percussive instruments had their energetic snap and attack more accurately reproduced.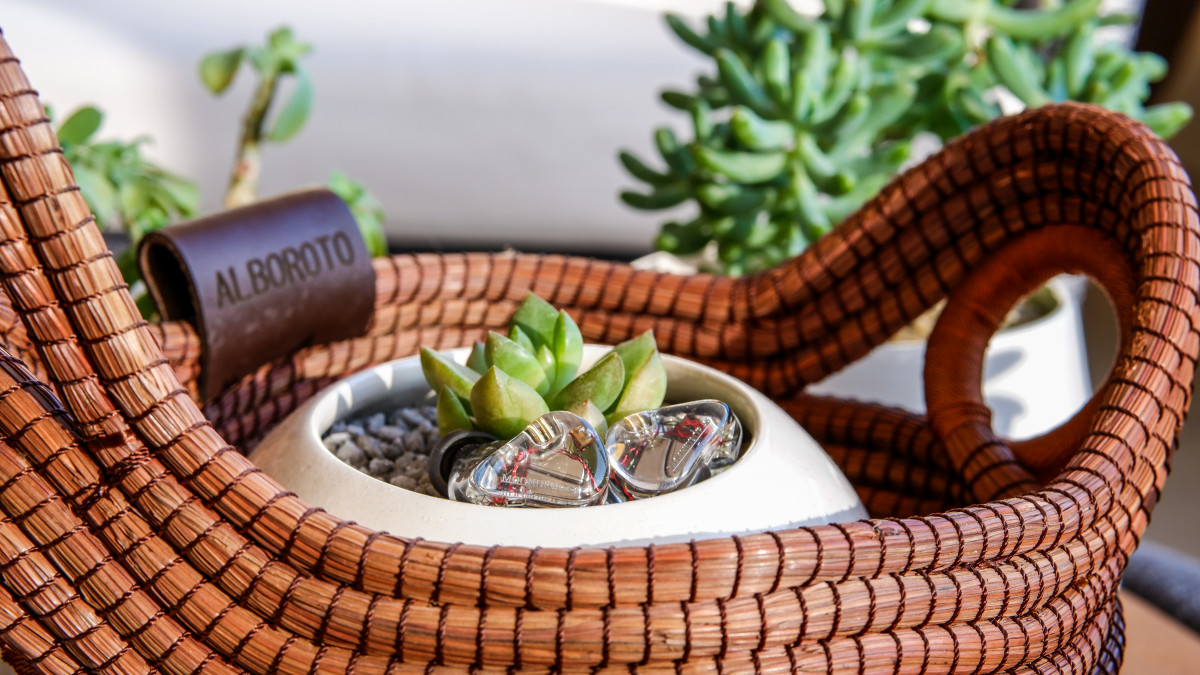 Conclusion
At the time of writing this, I can confidently say that whilst I still hold the SA6 as my benchmark, it is the A8 that I'll declare as my personal favorite IEM. Whilst I did struggle a bit at times with the extra-large fit, it was ultimately what the A8 offered in terms of its sonic experience that really won me over. It delivered great technical performance for the price, and the additional treble region contouring it offered over the SA6 was something that I both highly valued and enjoyed. Without a doubt, this is a headphone that will rank highly amongst my list of recommendations, and I think that it's particularly worth keeping an eye on for those who are looking for an upgrade from something like the Blessing 2 without having to completely break the bank.
-Chrono
---
Discuss Moondrop IEMs on the HEADPHONE Community Forum Here.
Buy the Moondrop A8 for the best available price.
---