KZ AZ09 Pro Review: Fundamentally Good but Fatally Flawed
Review written by @Fc-Construct
Review unit provided by KZ
Introduction
Ever wished you could have true wireless convenience with your wired IEMs? There's actually a number of products out there that let you do just that, including the TRN BT20S Pro and FiiO UTWS5. While these aren't a true 1:1 adaptation, you can get fairly close in terms of a TWS setup. However, these sort of TWS modules are often plagued with a number of issues such as a high floor noise or an unstable BT connection. On top of that are often a number of features that manufacturers may try to incorporate such as IPX waterproofing, ANC, or an accompanying app with varying success.
The $39 KZ AZ09 Pro (not to be confused with the cheaper $28 AZ09 non-pro ) is one such TWS adapter and the subject of today's review. Historically, KZ has not been good with TWS products, at least the ones I've tried a few years ago. Such were the early days of the wireless audio where there were no good options and companies used poor BT chips. With how the market has matured, I'm curious to see how KZ has sought to bring improvements.
What's in the Box?
The AZ09 Pro is an ear hook style TWS adapter with a single control button on either side for basic commands. It has a large USB-C charging case with space for your IEMs to fit inside and a colored indicator light for charge level. It uses a "C-pin" connector which is sometimes also called QDC-style connector. Practically speaking, it's a variant of the popular 2-pin connector with recessed pins, requiring the connecting IEM to have a protruded 2-pin jack.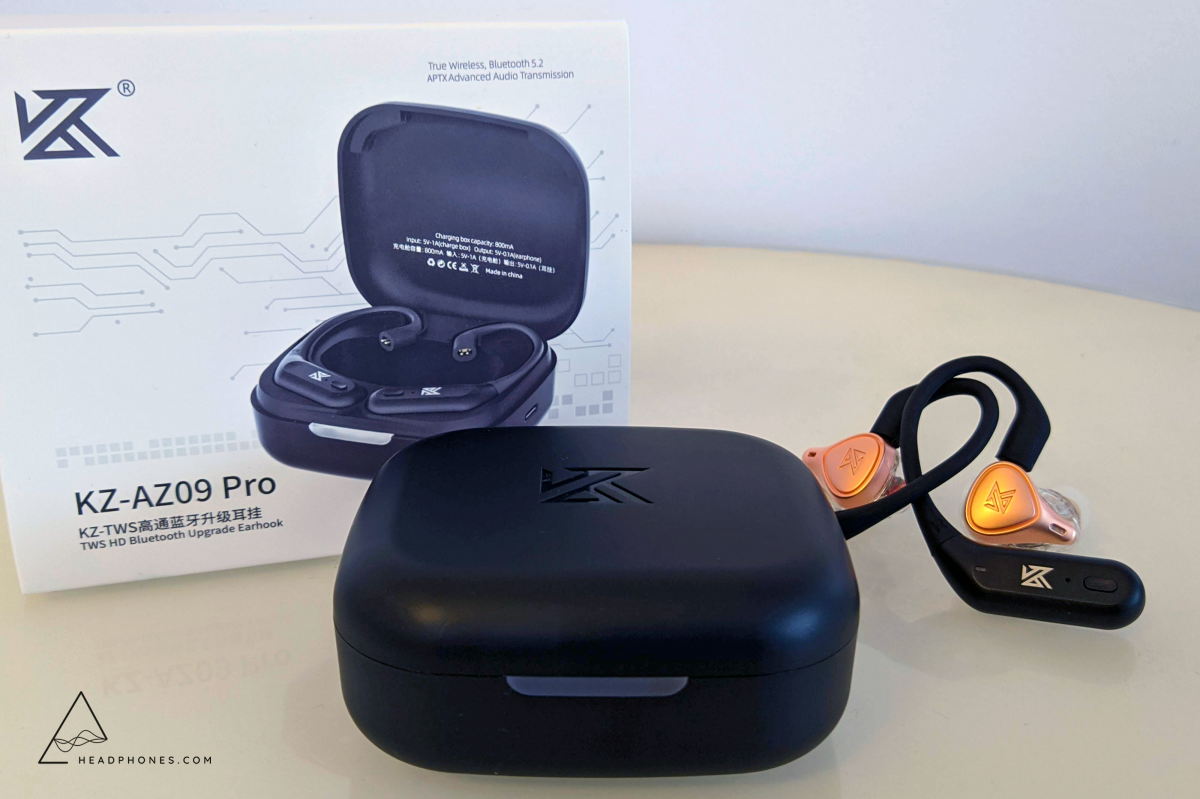 Here is where the AZ09 Pro runs into its first problem and its fatal flaw. While KZ IEMs all use the C-pin connector, few others do. The majority of IEMs use either MMCX or regular/recessed 2-pin. This will limit the AZ09 Pro's use mainly to KZ IEMs. Now, there is just enough pin contact for some regular 2-pin IEMs to work; I managed to get it up and running with the Symphonium Helios and Tin HiFi T3 Plus, but the a shallow pin contact feels insecure. You'll have to check to see if your IEMs have that protruded 2-pin jack for compatibility with the AZ09 Pro.
Fundamental Features
You can read over the spec sheet on their website here if you want a full run down. I'll comment on the key features that matter most to me for a TWS adapter and how well they perform in real world use.
Bluetooth Stability: The KZ AZ09 Pro uses a Qualcomm QCC3040 chip with BT 5.2 and AptX/AAC/SBC. I find the BT connection to be very good. Connected to my phone, the signal is rock solid and doesn't drop. While the AZ09 Pro isn't totally glitch free when trying to connect between multiple devices, the rare time I ran into any issues were easily resolved by doing a simple connection on/off reset.
Floor Noise: Floor noise has been one of my biggest complaints over TWS IEMs or adapters in the past. The AZ09 Pro has a mild level of floor noise, most noticeable if you're in a quiet environment. But once playing music in a busy space, it's practically unnoticeable.
Latency: As with floor noise, latency on TWS IEMs or adapters have been a massive sore point. But on the AZ09 Pro, it's excellent. There is a very minor delay that is nearly negligible. The AZ09 Pro actually has a "high performance" mode which you can activate by pressing the controller button 3 times quickly for lower latency. I found that the high-performance mode barely made a difference over the standard mode. Though the latency of the AZ09 Pro may not be exactly 0, it feels very responsive.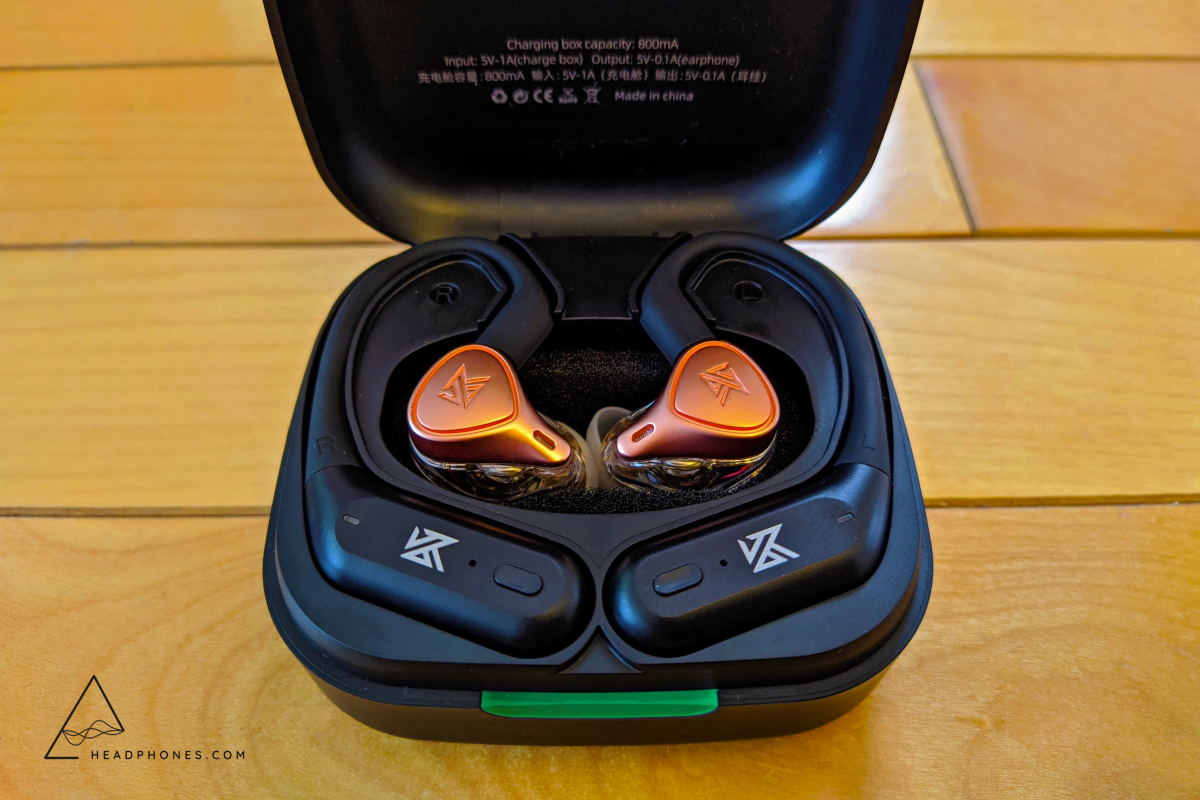 Artifacting: Something I've noticed with previous TWS products I've tried is the presence of weird artifacts that distorts or pitch bends the sound every now and then, seemingly as a result of the BT connection attempting to correct itself. An example of this can be found on the MoonDrop Sparks. I specifically looked out for this on the AZ09 Pro and didn't find a hint of it.
Range: On my phone, it's stable across three floors vertically. I had to move into a corner room for the signal to drop, and after which it picked up quickly again once in range. Horizontally, my house isn't big enough to truly test the signal distance.
Power: The AZ09 Pro is quite powerful and handled even managed to handle the Symphonium Helios, an IEM that is easily 3 – 4x more power hungry than normal. That said, I needed to max out the volume to get it to a reasonable if slightly quiet level. For regular IEMs, the AZ09 Pro will be enough.
So far, so good. The KZ nailed down the key features that build the foundation of a great TWS product. My guess is that the Qualcomm chip in the AZ09 Pro is doing the vast majority of the heavy lifting.
Practical Features
Of course, there's a few other important features that make up a TWS adapter.
Battery life: From full, the AZ09 Pro lasts about 7 – 8 hours before running out of battery. This is in line with their advertised 8 hours on their website. There's little parasitic drain as the adapters turn themselves off after about 10 minutes.
Charging Case: The case is on the large side. Own its own, it'll fit your pocket. But once you throw in a wallet or phone, it gets bulky. The charging case holds about 5 charges before I needed to recharge it, in line with the rated 48 hours listed on their site.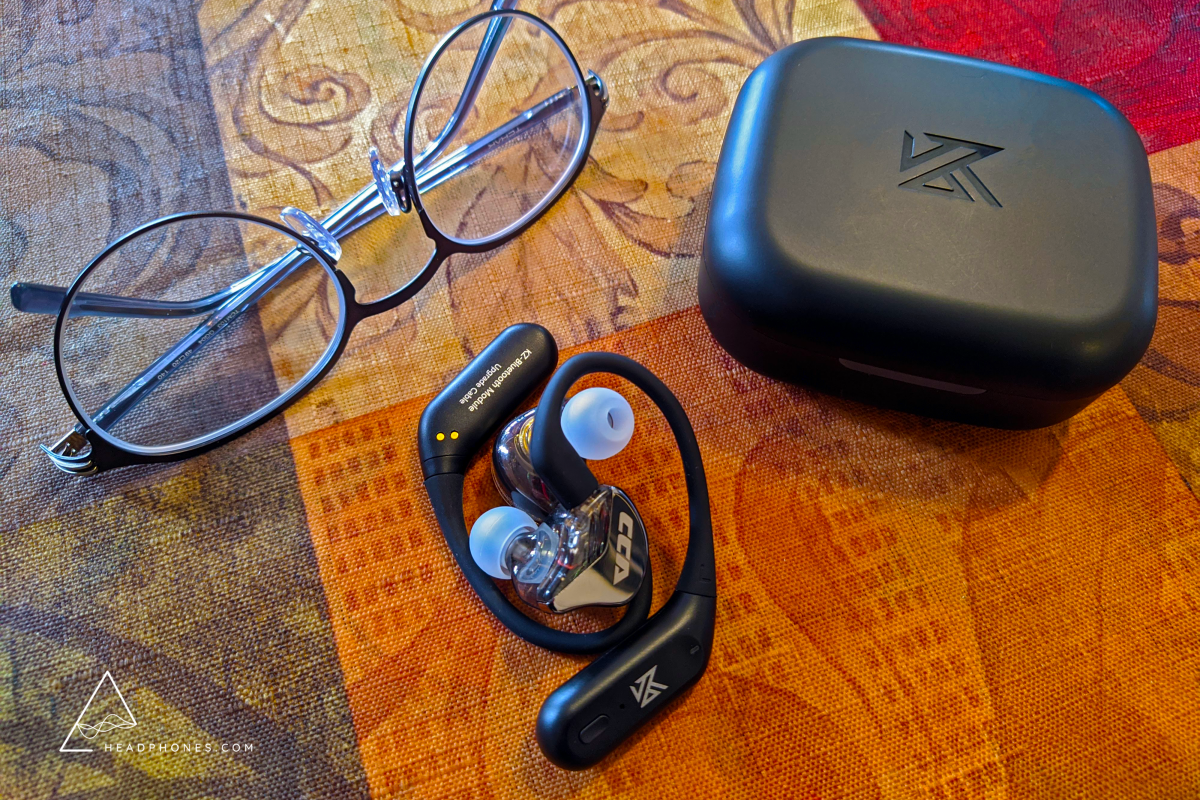 Ergonomics: The AZ09 Pro is very comfortable to me. The pre-molded rubber hooks are soft and holds it stably around my ear. The fact that it's not bulky and lightweight adds to the comfort. I can have it in for hours on end without issue.
Buttons: Each side of the AZ09 Pro can operate independently and has a control button to do so. I wish the buttons were larger and easier to press given the overall small size. The controls are basic, with your standard play/pause, back/forward and voice assistant all powered by clicking the buttons 1/2 times or holding.
Microphone: Recording quality is fine if quiet. Good enough for conference calls.
There is no ANC or companion app like you'd find in the Sony XM line.
Select Comparisons
TRN BT20S Pro
The closest analogue to the KZ AZ09 Pro that I've tried was the $70 TRN BT20S Pro a year and a half ago. At the time, I gave it a thumbs up despite having a relatively high noise floor and no room to put your IEMs within the case. The AZ09 Pro soundly beats it on all its core features. However, the inability to swap between MMCX or regular 2-pin connectors like the BT20S Pro can seriously limits the AZ09 Pro's use case.
iFi Go Blu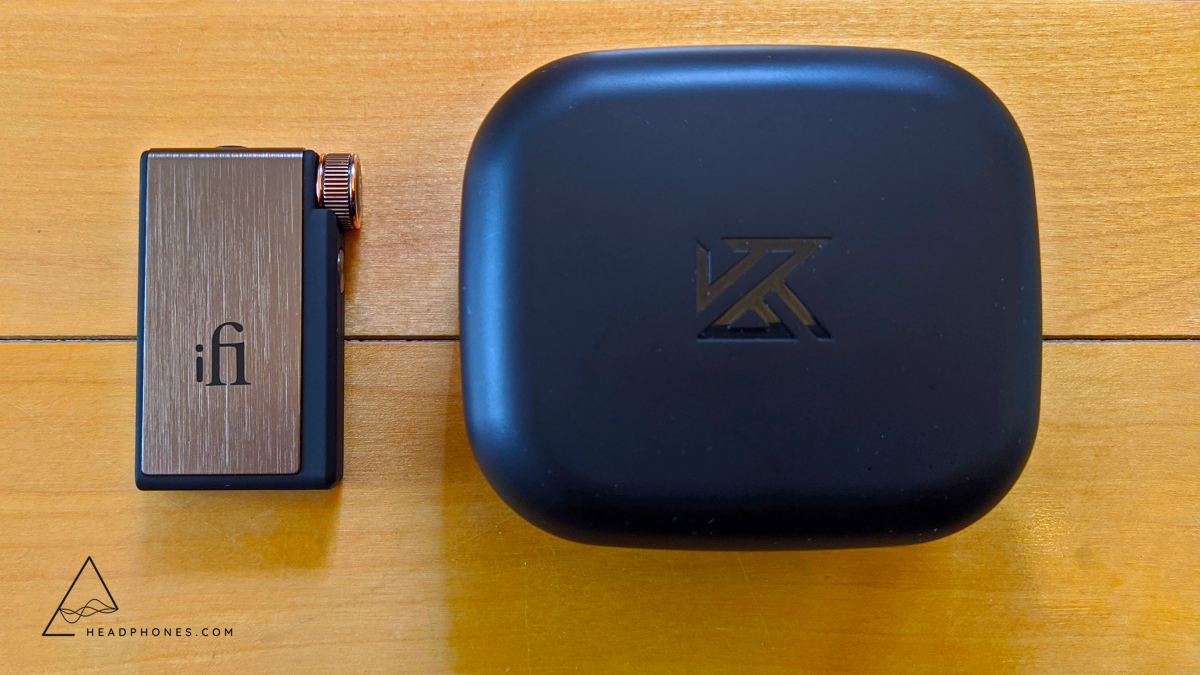 As a portable BT DAC/amp type device, the iFi Go Blu is a very different product but still worth a comparison against a TWS adapter. In terms of fundamental features, the Go Blu easily outdoes the AZ09 Pro. There's essentially no floor noise, no latency, and is immensely more powerful by comparison. While the Go Blu does necessitate a cable, it compensates by having a stronger set of practical features such as a smaller size, physical volume knob, a 4.4mm jack, and a very good microphone. But at $200, it's in a totally different price tier and a better overall experience is expected.
Should You Buy It?
Overall, at $39 the KZ AZ09 Pro is a shockingly competent little TWS adapter device. Its low cost combined with low noise floor, little latency, and no artifacting makes this a solid product. There's very little to complain about in terms of base functionality, something that other TWS products struggle with even at two or three times the cost. Of course, you won't be getting all the frills that some more expensive items may have, but I can easily live with that.
Of course, there's a catch. And that is the AZ09 Pro's fatal flaw of only having a C-pin adapter option. I basically cannot use it with any of my regular IEMs. Some 2-pin IEMs I have work, but the shallow pin contact is concerning. I've let KZ know about this problem and I'm hopeful they'll fix it with a future release because it is truly a shame something this good has to be limited to only their products. As it stands, I give the KZ AZ09 Pro an A-. If you're love KZ IEMs and have a huge stash of them, this is a no brainer. If not, keep an eye out for an updated version with less restrictions.
-FC-Construct
---
Discuss the KZ AZ09 Pro on the HEADPHONE Community Forum.
---