Focal Bathys - First Impressions & measurements
Finally an audiophile-grade Bluetooth ANC headphone?
As some may know from watching our YouTube channel, I've been on a mission to find what I hope to be an actually great sounding active noise cancelling (ANC) headphone. For the most part, major companies releasing ANC headphones have made non-sound related features their primary technological focus for their products. Apple has made a big deal about their computational audio with the Airpods Max and Airpods Pro 2, while Sony and Bose compete for the active noise cancellation crown with the WH-1000XM5 and QC45 respectively. But only a handful of audio companies seem to prioritize sound quality over features or gimmicks in their noise cancelling headphones.
With the release of their first wireless ANC headphone, the Bathys, Focal seeks to bring the high end sound quality they're known for to the ANC domain.
Focal Bathys demo unit provided by Focal for evaluation.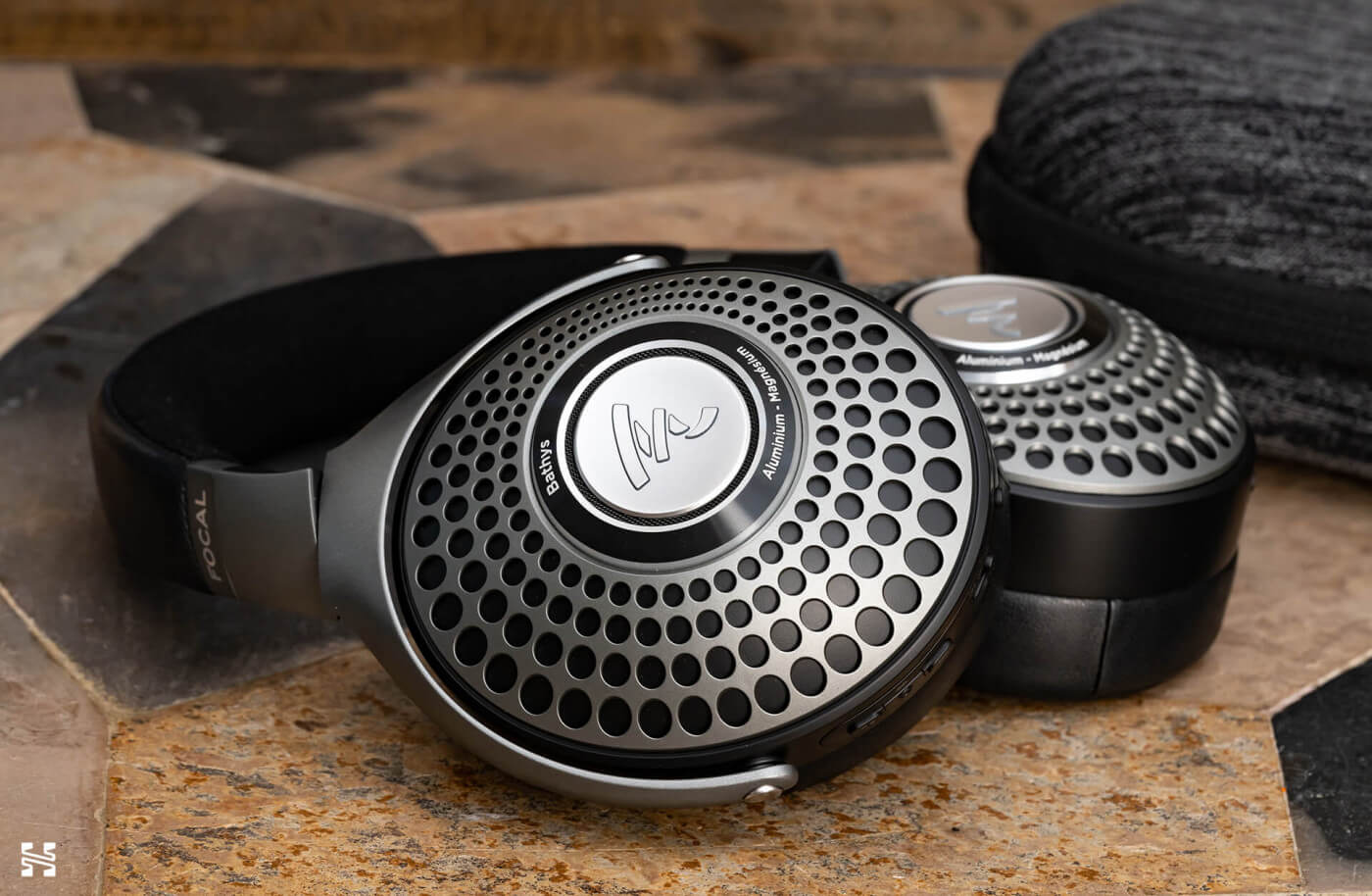 Disclaimer
I recently got the opportunity to go behind the scenes and check out the Bathys at the Focal factory, where I got to learn about how they were implementing their classic headphone driver technology in an active Bluetooth headphone. If you haven't seen that yet, check out the video here.
I was also able to spend some time with the headphone and do some measurements. The following is my initial impression of the Bathys. But before diving in further I should indicate any potential biases.
While I haven't been paid to say anything in particular about this headphone, getting invited by Focal to visit their factory and speak to the people behind their products absolutely has had an impact on how I feel about the company. They were all great to talk to, and I could really get a sense of their passion and enthusiasm for what they were making - especially with regards to the Bathys, as this is brand new territory for them and I'm very thankful to them for inviting me to check it out.
So, with that said, take any sentiment expressed here with the recognition that I got a chance to peer behind the curtain at Focal and experience the company in a way that most people wouldn't have the opportunity to.
Sound Quality
Let's dive right in. Many of us are fans of Focal's passive wired headphones - in my headphone ranking list, the Focal Utopia is near the very top, and the hope for me has been that their acoustic focus continues with the Bathys.
My initial impression is that for the most part, it does. The Bathys has a similar tuning to some of Focal's closed-back headphones, like the Radiance. The following shows the Focal Bathys measurements for the unit I was able to test in Bluetooth mode, paired with a Samsung Galaxy S22+ with ANC turned on.
Focal Bathys measured on GRAS43AG-7 with KB5000 anthropometric pinnae: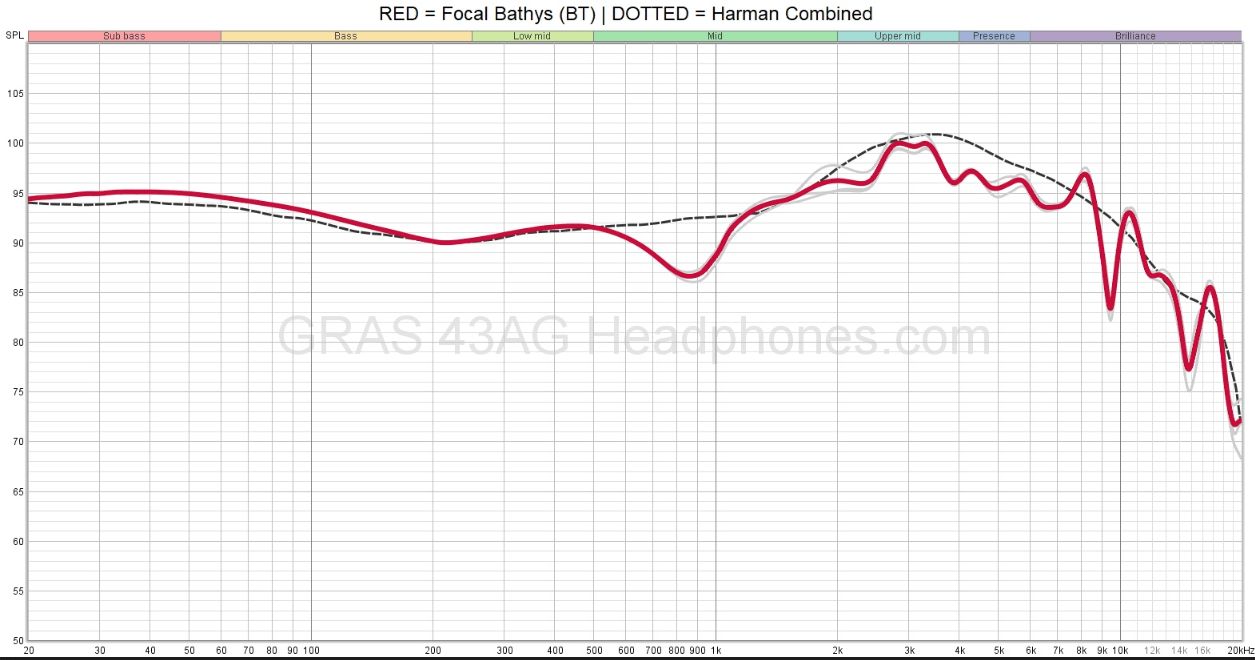 How to read this? The dotted black line is the known reference point (target) and the colored line is the headphone's frequency response. Ideally we want the headphone to loosely match the target result, but there's also more to sound quality than just target adherence. The target is smoothed to 1/2 octave, and is very coarse grained as a result, while the headphone's frequency response is more fine-grained, smoothed to only 1/12th. There are places where the headphone's frequency response should deviate from the target, and there are also places where it's acceptable if it does.
I still have to spend more time with the Bathys to properly understand the difference with the DAC mode function, as there's very clearly an audible difference, and while measurements in that mode are different as well, they're also not out of line with slight positional variation, as this headphone's frequency response changes significantly depending on slight changes in coupling on the rig.
But in general, comparisons to the sound signature from the Focal Radiance are appropriate, even if it's not quite on the same level, because the Bathys measures similarly barring a few exceptions. There's a little bit more mid-treble, and a little bit more bass. But the most significant 'feature' is the dip at around 900hz.
Now, I've been told that this is a necessary consequence of implementing some of the technology - but I need to investigate this further to properly understand what's causing it and why. Focal does have a simple EQ function in their app with 5 bands, but I have yet to tweak that and see the effects.
Think of this as an audiophile-level USB ANC headphone, with the ability to go wireless. 
Overall, I'd consider the Bathys to have a pleasant and mostly balanced sound signature that's not too far from neutral with a hint of flare in a couple of places, and of course that midrange dip. I think if you weren't a fan of Focal's closed-back headphones in the past, the Bathys is unlikely to change that opinion. But if you like the Focal sound signature, as many do, then the Bathys is very much in keeping with that.
For subjective 'technical' qualities, the Bathys is also what you'd expect from a Focal headphone - that is to say, it's more about punch and dynamism than it is about spaciousness and soundstage. Now... I kind of see that as less of a tradeoff in closed-back headphones generally, but it has to be said that if you're looking specifically for spaciousness and openness, you're probably better off looking for wired open-back headphones. 
And, I think this is the key thing about the Bathys - especially when using the DAC mode. While there are other headphones that are reasonably well-tuned, like the Sennheiser Momentum 3 (I have yet to try out the latest model), or the Mark Levinson 5909, the Bathys' claim to fame should probably be about it's ability to bring a decent sense of impact, and technical prowess to the ANC space, where those others do not - or at least not to the same degree.
Now of course, when using it in wireless mode, there's still a bit of compression. So maybe it's better to think of this as an audiophile-level USB ANC headphone, with the ability to go wireless. But I'll reserve further judgment until I've spent more time with it.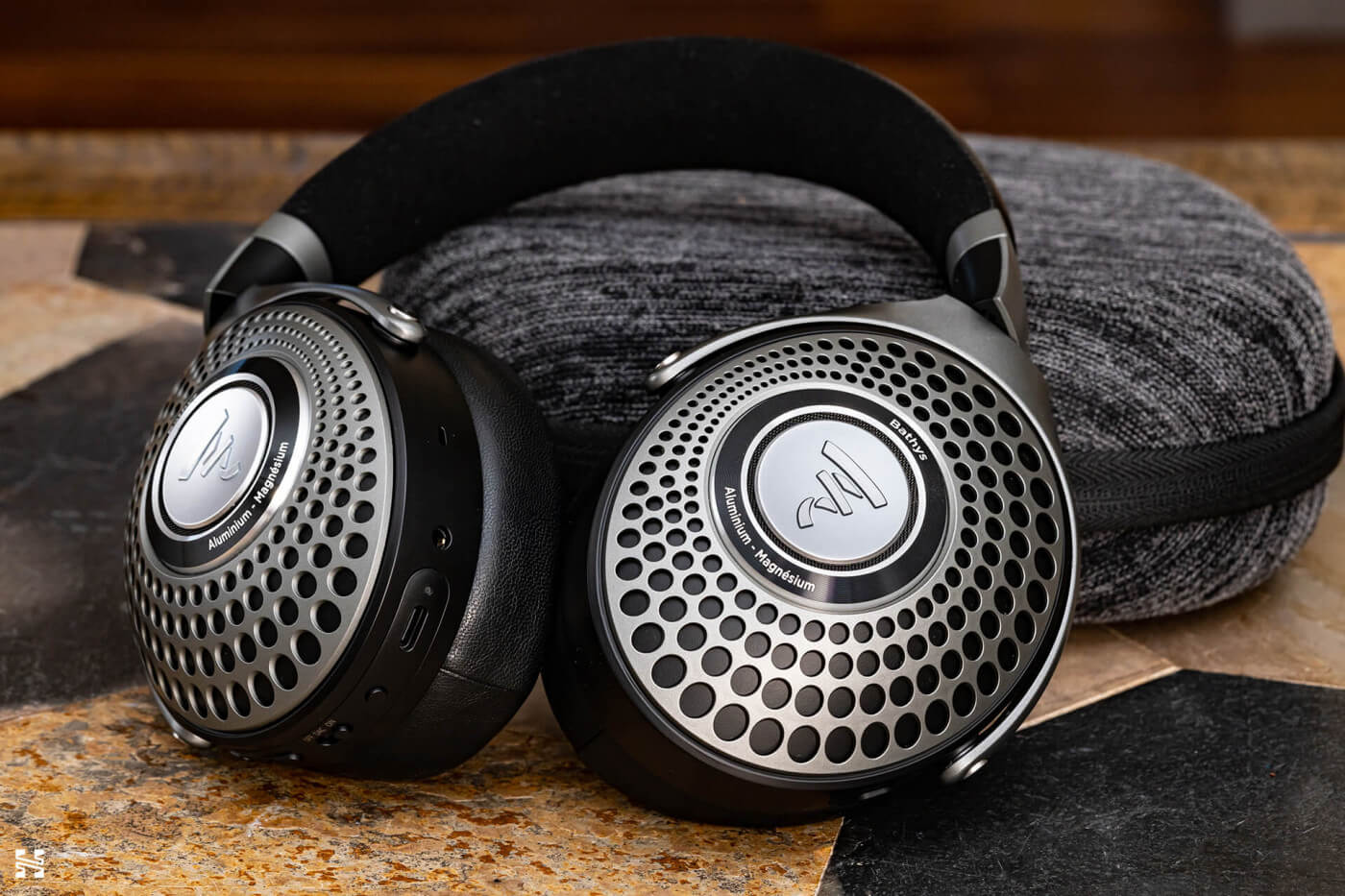 ANC Performance & Comfort
This is where the Focal Bathys is definitely still behind the class leaders in the ANC headphone space. It does not attenuate to the same degree as the Apple Airpods Max or the Sony WH-1000XM5, to no surprise, but I still find it to be acceptable, and the implementation is certainly competent. Of course, it's also going to require additional testing to see just how much noise attenuation there is on the Bathys, and how close it gets to the leaders there. But subjectively, I'd say it's definitely a step behind, even though it's still good enough to be useful.
On the plus side, I don't notice background hiss or whine with ANC on, which is a problem that's plagued even other high end ANC headphones like the aforementioned 5909, as well as some of the earlier Sennheiser offerings.
When it comes to ambient mode, I also don't think it competes with Apple and some of the other leaders there, but I also never find myself using ambient mode on ANC headphones. That's probably just a personal thing though, so it's up to others to decide how much that matters.
When it comes to comfort, I think those who aren't used to full-sized high end headphones may still find the Bathys to be a bit bulky, but I suppose the Airpods Max is already in that territory as well. So if you found that to be acceptable, the Bathys will likely be just fine. I did find there to be a bit of clamp for my large audiophile head, but it was also less clampy than Focal's passive closed-back headphones, partly due to the changed headband design.
The Bathys pads are also some of the nicest feeling pads on any headphone I've come across, and the foam deformation is highly compliant, taking the brunt of the clamp pressure and conforming nicely to the side of the head. The thing to consider there is that because of how sound varies significantly based on coupling, you want to make sure the wearing situation is even on both sides to get it to sound right.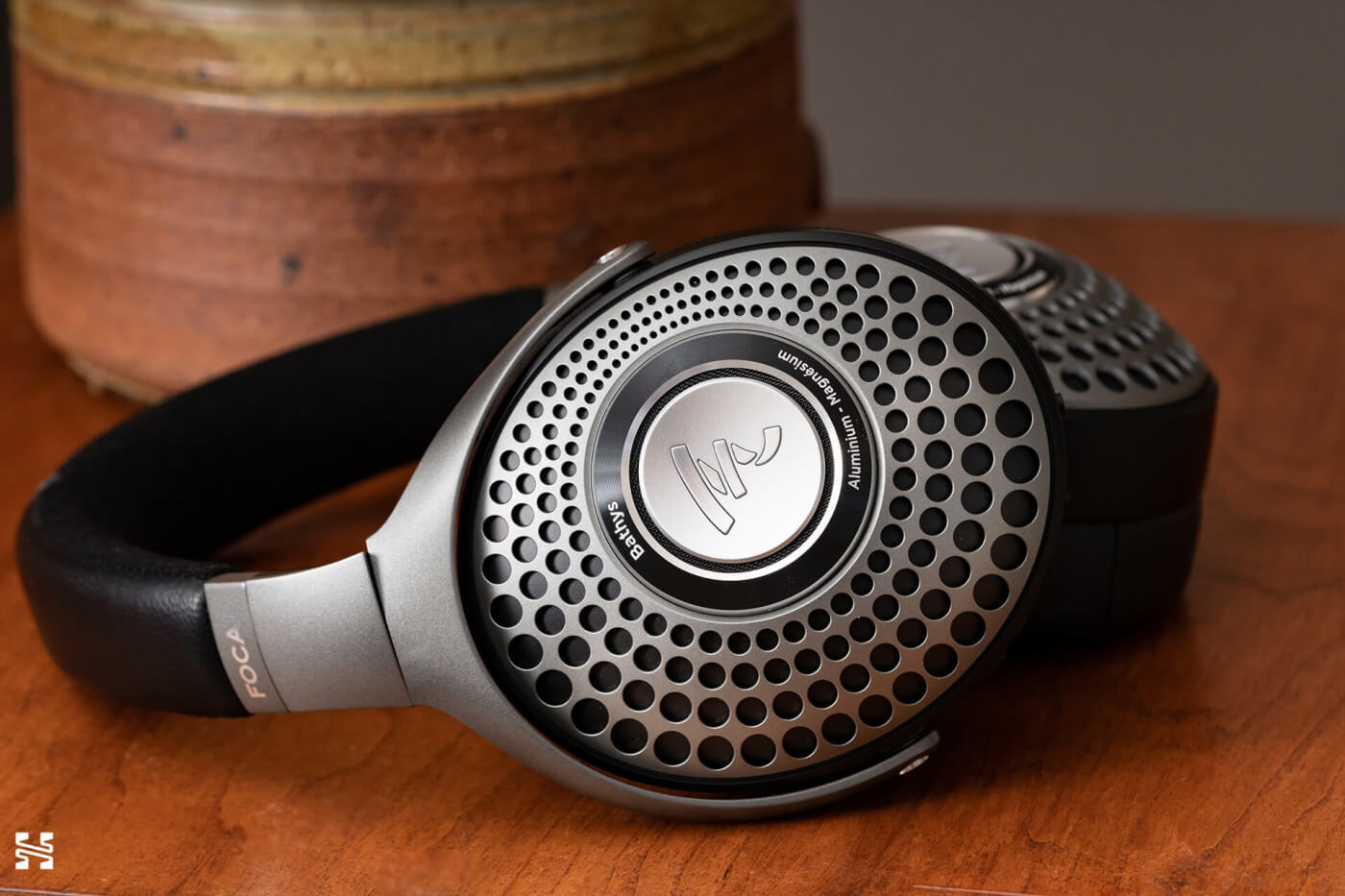 Conclusion... for now
There's a lot more to this headphone than just what I've said here, and it needs to be compared fully to the other major options in the ANC headphone world - like the 5909. I'll aim to do a full ANC headphone shootout eventually to figure out which is the best and to understand the differences among them. At the moment, it's nice that there's a new contender with the Focal Bathys, and one that takes aim squarely at the high end sound quality goal.
---
Discuss the Focal Bathys on the HEADPHONE Community Forum here.
Buy the Focal Bathys for the best available price at Headphones.com.
---