Empire Ears Legend X SE Review - The Flex King
Introduction 
Empire Ears has shown time and time again that they're not bound by traditional notions of audiophilia. Indeed, while they approached their latest flagship IEM, the Odin, with a more calculated approach to tuning, their roots have always lain with the more flavorful tunings that characterized hits such as the Legend X. Speaking of the Legend X, today I'll be sharing my thoughts on the Legend X Special Edition (LX SE). The LX SE was originally a Hong Kong exclusive, but by popular demand it was re-released as a final run of fifty units. They sold out in just a day though, so I believe this number was doubled to make everyone happy! Regardless, in this review I'll be answering the question of whether the Legend X SE lives up to its bold name - read on to find out. 
This unit was loaned for review courtesy of a generous reader. It will be returned and, as always, what follows are my honest thoughts and opinions to the best of my ability. 
Source and Driveability 
All critical listening was done off of an iBasso DX300 and my iPhone X with lossless files. The stock cable, a Dunu DUW02, and the stock Final E ear tips were used. The LX SE takes a little more power to drive, but I had no issue getting it to adequate listening volume off of portable sources. 
The Tangibles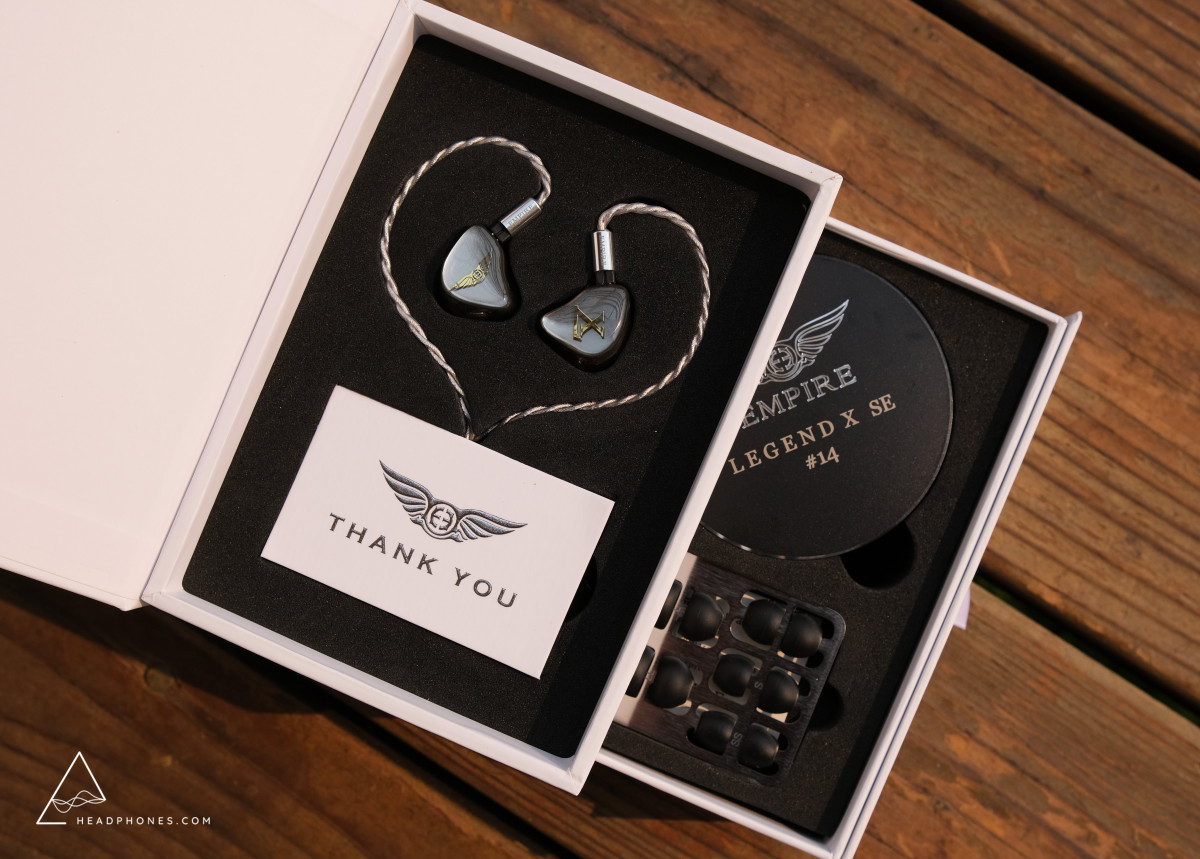 My comments on the LX SE's presentation and accessories could honestly be a copy-and-paste of my other Empire Ears IEM reviews. But that's not a bad thing at all, because Empire Ears knows how to do their presentation. The LX SE arrives neatly encased in a white, hard-cardboard box. A magnetic latch unfolds to reveal, in the center, some documentation and your IEMs underneath. A cache to the side of the packaging slides out to reveal the included accessories. In all, you have what follows below: 
0.78mm cable w/ 2.5mm termination (depends on the option you choose) 
Pandora Case
Empire Cleaning Cloth
Empire Cleaning Tool
Final Audio Type E Tips (ss/s/m/l/ll)
Something that I really like is the Pandora case. It's a hockey puck style case, and man, this thing is built like a tank; you could probably run it over with a car and it'd be fine. A nice touch is definitely the rubber lining which facilitates easy-of-cleaning. A lot of these hockey puck style cases feature a felt or fabric lining inside which, realistically, is going to get gunked up unless you clean your IEMs every time you put them away. Obviously you're not going to be pocketing the Pandora case very easily, but if you demand the best protection for your (probably very expensive) IEMs, I'd look no further. 
The LX SE eschews the more subtle aesthetic of its brother, the standard LX. In its place you have a faceplate that is much more reminiscent of Empire Ear's ESR MKII; I love the way the gold logos hover over the silver foil underneath and cast a shadow when viewed from a side angle. Speaking of the logos, the LX SE sports a new one that is quite reminiscent of the Louis Vuitton logo; now you can rock (closely) matching IEMs with your bling outfit. For fit and comfort, the LX SE skews toward the larger side, so watch out if you have smaller ears. I was able to wear them without any issues although they did protrude some more than I'd have liked. You'll hear some driver flex - a crinkling of the driver - when you insert the IEMs; this is harmless if not slightly disconcerting to hear. 
Sound Analysis
The measurement below was taken off of an IEC-711 coupler. There is a resonance peak at ~8kHz; as such, data after that point should not be considered entirely accurate. 
Anyone who's heard Empire Ear's IEMs before knows exactly what the bass response of their IEMs are all about. With no less than fifteen decibels of skull-rattling subbass, something virtually unheard of at the flagship level, there is what I think is best described as a swollen, flexing characteristic to the LX SE's bass. The bassline of Illenium & Excision's "Gold" exudes authority with each successive bass hit drumming home the notion that the LX SE takes no prisoners. Decay is wonderfully drawn out, notes blooming with intoxicating levels of size on the stage.
But you can only pack so much bass - particularly mid-bass - into an IEM without consequence. If I had a critique, it would be the LX SE's bass texture. While the LX SE's bass transient attack is not particularly blunted, it sounds like it's been somewhat "stretched" for lack of a better word. Slam consequently sounds slightly splayed and this, in tandem with healthy amounts of mid-bass, lends to a lack of control that's especially apparent against other heavy-hitters in the bass department like the Sony IER-Z1R and the 64 Audio Tia Trio. But oh my: it's just so fun. 
The woe of any V-shaped tuning is, of course, the midrange. The LX SE's lower-midrange is characterized by large amounts of warmth; however, it sounds recessed against the bass, upper-midrange, and treble. Within the context of the midrange, then, thicker male vocals contrast to considerably more forward, sharp female vocals (even more so than the standard Legend X according to graphs). Personally, I am not really invested in the whole "this IEM works better with these genres" ethos that so many seem to be, but I will say that I do find myself gravitating toward EDM and Pop genres consistently with the LX SE. Timbre is mostly BA, but with the reasonably clean decay that characterizes upper-echelon performers in the IEM world.  
The treble of the LX SE is probably the most unremarkable part of its sound. It's decidedly lower-treble oriented; I'd ignore that dip at 5kHz on the frequency response graph. When a dip occurs that quickly, it's likely the result of a crossover or phase cancellation - this one's also too abrupt to present itself in actual listening. In isolation, extension is decent, but it can be difficult to tell given how much bass is present on the LX SE. This is because our perception of treble quantities is reduced with more bass quantity, and vice versa. Unfortunately, I do find the treble response of the LX SE to sound somewhat compressed with percussive hits sounding more rigid and lacking appropriate distinction. Make no mistake that the treble on the LX SE is present, very much so, but it's the quality that's questionable.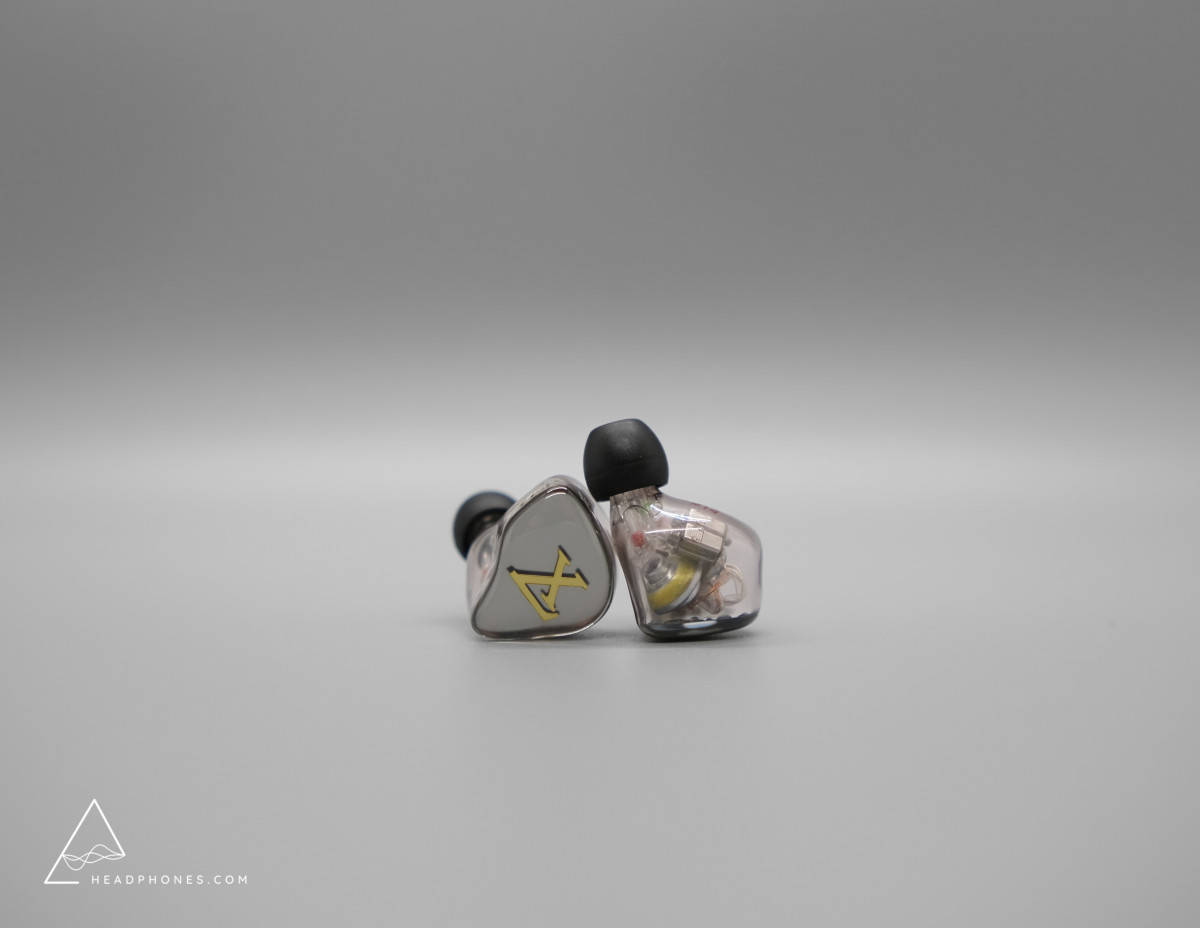 Technical Performance
I'm just going to plug a quote from my Valkyrie MKII review: "There's always been something of a dichotomy - the good kind, I might add - between the tuning and technicalities of Empire Ear's IEMs". But while I felt the Valkyrie MKII had solid resolution, it also had a more intimate presentation that I felt toed the line of congestion. 
In that vein, perhaps the most impressive trait about the LX SE's technicalities would be its imaging performance. When one has an IEM this bassy, there is the very real concern of the stage being completely inundated in bass, thus lending said IEM's presentation to a closed-in, garbled mess. But not the LX SE. The LX SE sports unapologetically wide lateral definition, and while its center image is certainly pushed forward more, it maintains superb distinction of that elusive "third" speaker in the center (for an IEM at least). Note definition is also particularly strong in the upper-midrange where the LX SE's frequency response rises. I don't think you're looking at world-class technicalities with the LX SE - go for the Odin if that's more your thing - but it's a proficient IEM when it comes to a general sense of detail. 
That's enough gushing over the LX SE's surprisingly good technicalities, though. My biggest criticism would be dynamics. The LX SE, while not quite "flat" for swings in loudness, does seem to exhibit compression. Everything about the LX SE sounds larger than life - perhaps exaggerated - and it doesn't always seem like it's able to scale down and appropriately capture more nuanced, quieter stuff. Take for example Yiruma's "River Flows in You (Orchestra Version)" which, on the LX SE, lacks the steady rise from pianissimo at around 2:25 to the arrangement of violins that peak in volume at 3:34. Again, I'm not particularly invested in the synergy between IEM and genres. But I do think you'll want to seek another IEM if you're listening to classical, orchestral, or less dynamically compressed music.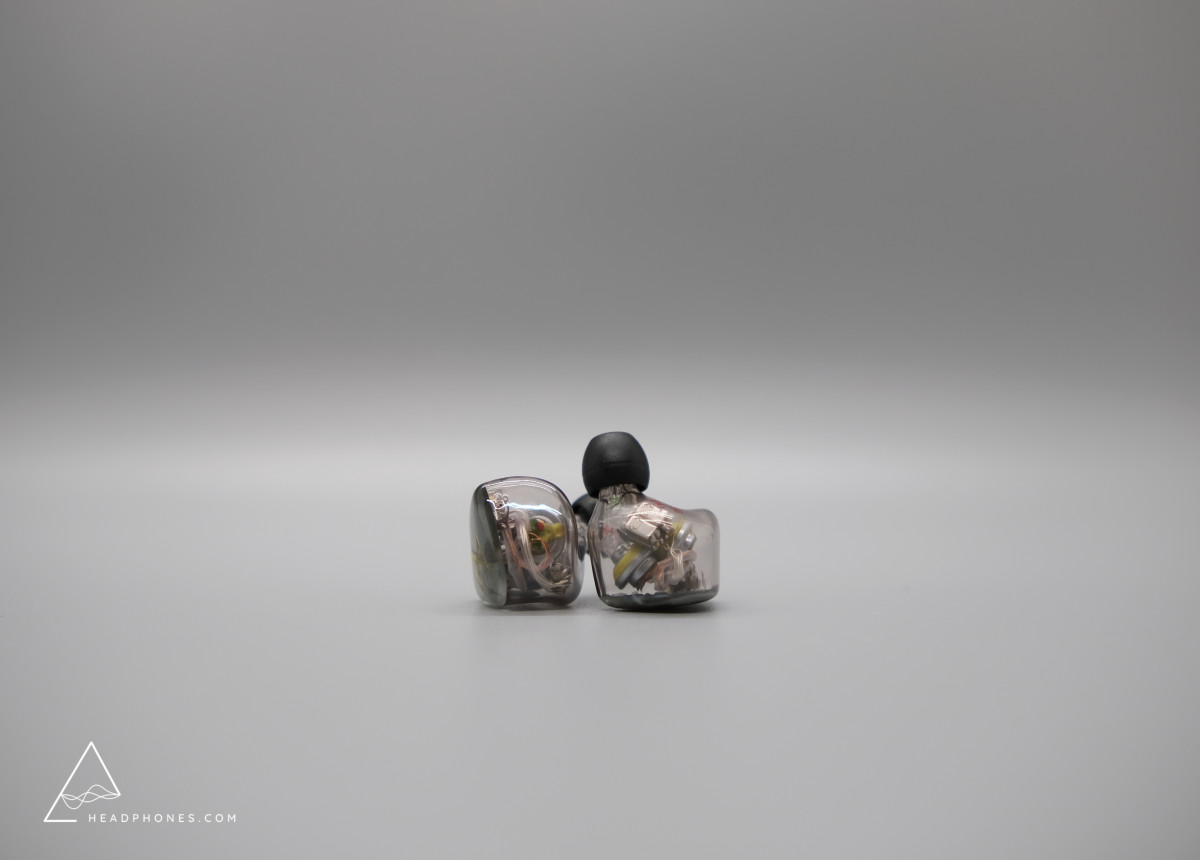 The Verdict
With the LX SE sporting a hefty price tag of $2400, I can't possibly say "Go buy this IEM". I just can't. The LX SE is also not balanced enough for me to consider it a straight recommendation for most listeners; from inception, it presents a niche sound that only the most ardent of party heads would seek to daily drive. 
But therein lies the LX SE's strength. Itching to bring the club with you on the go? This is your IEM. The LX SE has unmistakably fulfilled a segment of the HiFi market with which no other manufacturer has dare touched. The word 'legend' is a funny thing; it always seems to have an allure of positivity to it. But if you look up the definition, you'll see the following: "an extremely famous or notorious person, especially in a particular field". Indeed, whether you love it or hate it, this is one IEM that'll firmly engrave itself upon your memory.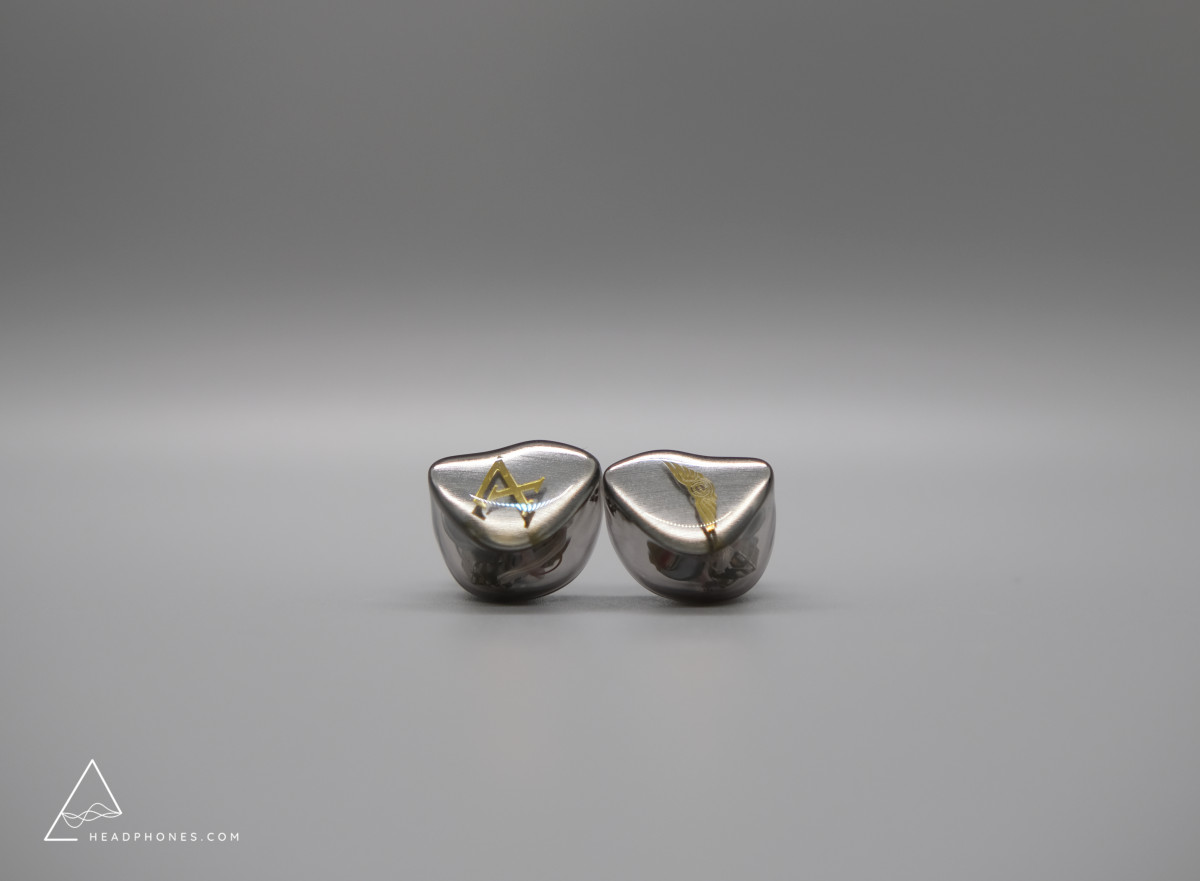 Reference Tracks
Aimer - Hakuchuumu
David Nail - Let It Rain
Everglow - DUN DUN
Girls' Generation - Galaxy Supernova
Illenium - Broken Ones
Joe Nichols - Sunny and 75
Keith Urban - Defying Gravity (2009)
Keiichi Okabe - Weight of the World (NieR:Automata Original Soundtrack)
Sabai - Million Days
Sawano Hiroyuki - Best of Vocal Works Remastered (2020)
Taeyeon - My Voice (2017)
Tiffany - I Just Wanna Dance
---
Discuss the Empire Ears Legend X SE on the HEADPHONE Community Forum here.
---