Dunu TopSound Falcon Pro Review - Mushy But Musical
Introduction
The Falcon Pro is DUNU's latest point of entry to their ECLIPSƎ lineup. ECLIPSƎ is a proprietary driver technology that essentially meshes three primary components: 1) a standalone driver cone, 2) patented glue techniques, and 3) a ring-type magnet with >1.8T field strength. The technology was pioneered in DUNU's flagship IEM, the Luna ($1700), which is indicative to me of having some of the best macro-dynamic contrast that I have heard from an IEM. Eventually, the technology trickled its way down from the Luna to the DUNU Zen ($700), and now it's finally made it to a price-point that's accessible to the masses in the form of the Falcon Pro. Now, I have to note that the aforementioned IEMs - the Luna and Zen - were characteristic to me for being notorious for their tonal balance as much as they were impressive for their dynamics. That in mind, I approached the Falcon Pro with the question of whether it would be able to balance its groundbreaking driver technology with a more palatable tonal balance. Read on to find out whether I think the Falcon Pro delivers. 
Dunu Falcon Pro - Product Summary
Reasons to buy
Tuning variability
Strong imaging performance
Great build quality and plethora of accessories
Reasons not to buy
Clarity could be better
Isolation is poor
This unit was provided for review courtesy of DUNU. As usual, what follows are my honest thoughts and opinions to the best of my ability.
Source & Drivability 
All critical listening was done off of my iBasso DX300 and iPhone 13 Mini with lossless files. The stock silicone tips and stock cable were used. The Falcon Pro takes a moderate amount of power to drive as is characteristic of most single-DD IEMs; however, I had no issue reaching my normal listening volumes (~70dB). Hissing was a non-issue.
The Tangibles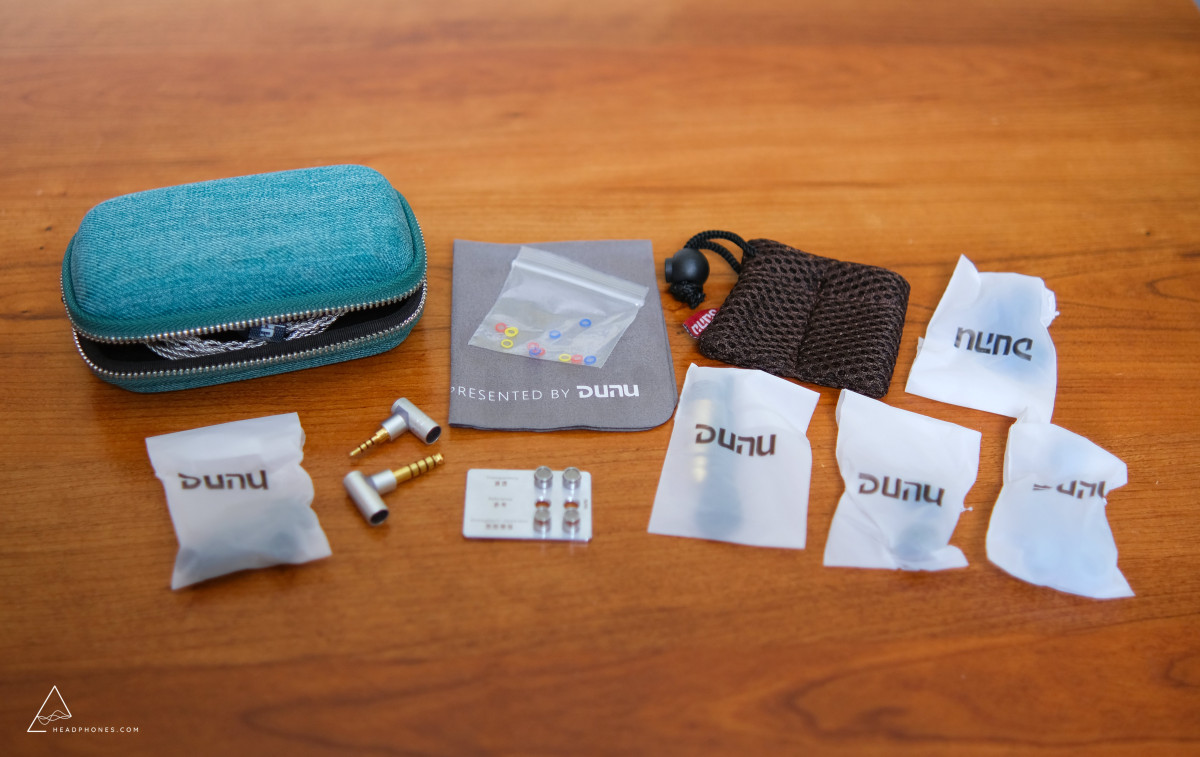 Holy cow - DUNU has outdone themselves here! Despite the more compact packaging that the Falcon Pro comes in, no shortage of accessories are at your disposal: 
MMCX cable w/ swappable jacks
2.5mm/3.5mm/4.4mm terminations 
3.5mm to 6.5mm adapter
lots of earths 
cleaning tool, microfiber cloth, and mesh baggy
case 
spare filters 
swappable nozzles 
Yeah, like I said, there's a lot. The Falcon Pro is also expectedly constructed superbly. The shells are of stainless steel and have a heft to them that exudes confidence. No detail has been spared from the mirror finish on the edges to the logos lightly sandblasted on top. The connectors for the Falcon Pro are MMCX, and DUNU has included a "lite" version of their legendary swappable connector for the cable. The difference between the lite and the premium version is that the connectors for the lite version are held together purely by friction, whereas the premium version has a lock. Still, this should be a boon to anyone who swaps between sources frequently. 
I had no issues with fit or comfort; however, as usual your mileage will vary. It's also worth noting that the Falcon Pro has a number of vents in the shell which means that 1) isolation is below-average and 2) fatigue from pressure build-up is a complete non-issue.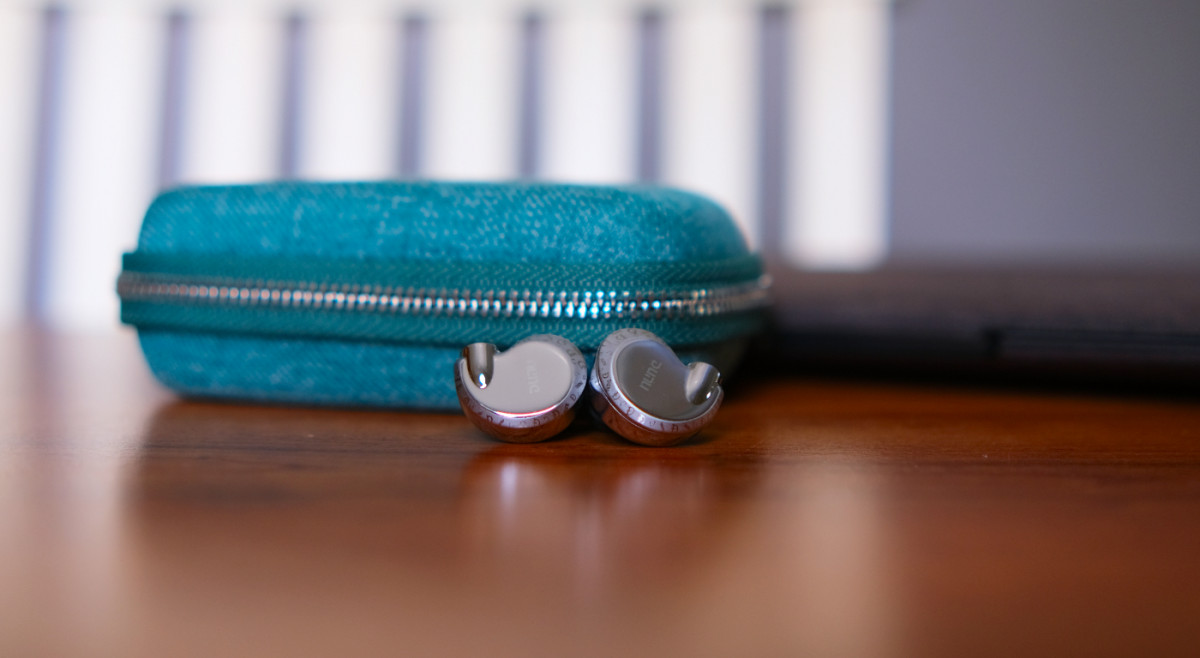 Sound Analysis
The measurement below was taken off of an IEC-711 coupler. There is a resonance peak at 8kHz, so measurements after that point should not be considered entirely accurate. You can follow this link to compare the DUNU Falcon Pro to other IEMs that I have graphed.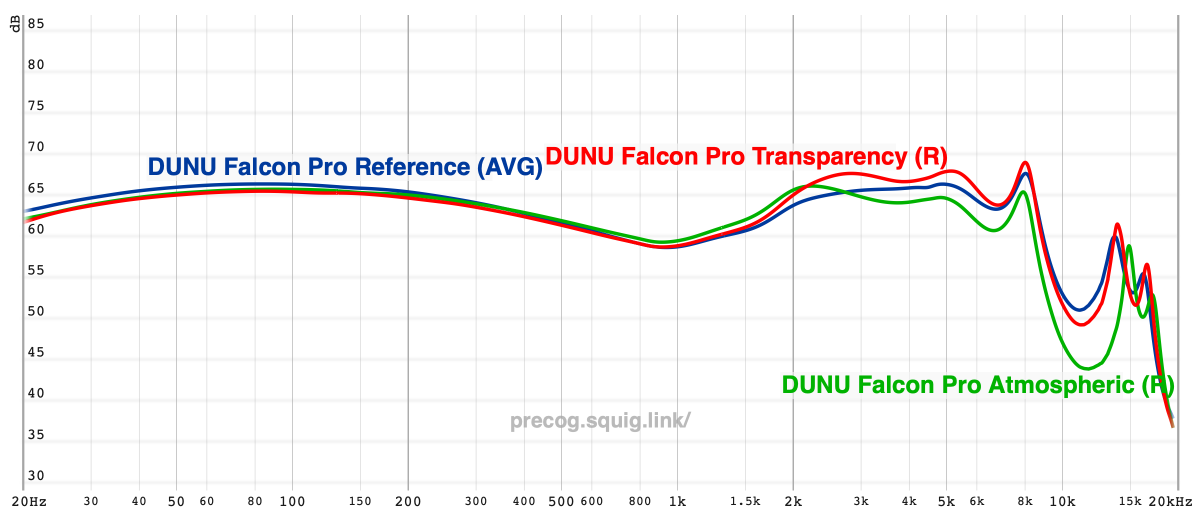 The Falcon Pro has three nozzles (Reference, Transparency, and Atmospheric Immersion) with which you can swap around to adjust the sound signature. In all cases, the Falcon Pro sports a mid-bass oriented curve and a smooth treble response; the nozzles mainly affect the amount of midrange presence in the order of Atmospheric (least), Reference (middle), and Transparency (most). Personally, I found myself flip-flopping between the Reference and Transparency nozzles.
Love our in-depth reviews?
We test and review hundreds of headphones every year. Sign up to get the latest news, reviews, guides, and more in your inbox. Join the 60,000+ like-minded audio lovers who love our newsletter!
If there's one thing I could change about the Falcon Pro, it would definitely be the bass response: I simply do not jive with the mid-bass emphasis. Aside from the Falcon Pro failing to dig into the deepest of frequencies adequately, and bass notes coming off somewhat hollow, my critiques follow in the name of intangible performance. I feel that the Falcon Pro's ability to render textural nuance on Dreamcatcher's "Silent Night" is somewhat lacking, perhaps due to a conjunction between the weaker bass extension and slightly quicker bass decay. Incidentally, I've actually talked to Tom of DUNU about how most of their IEMs follow this type of bass shelf, so I know it's a deliberate tuning decision on DUNU's part. That in mind, if you're after a more "fun" bass response and are willing to sacrifice rumble and clean bass lines, this'll probably do the trick.
The midrange of the Falcon Pro is pretty good. Again, I'll focus on it within the context of the Reference and Transparency nozzles. The Reference nozzle is generally warmer and more subdued with a gentle pinna compensation and upper-midrange; the Transparency nozzle brings back up the upper-midrange for more note definition and, overall, a slightly leaner midrange presentation. I think the biggest concern here would be a minor recession from 1-2kHz. I probably wouldn't have called it without a graph. But closer listening does reflect that on, say, Hyolyn and Changmo's "Blue Moon", Changmo's voice sounds somewhat hollow and lacks what I can only describe as a sense of depth to 1:50 onwards. I have to wonder if this recession was intentional, as it does have the perceived effect of lending more "space" around vocals and mitigating congestion such as on the venerable Sennheiser HD800S. 
That aside, the treble of the Falcon Pro is the most mature part of its tuning. When you're dealing with IEMs in this price range, I've found that - quite frankly - most of them suck at treble. And not even on a technical level; it's rare to find IEMs at this price with good treble tuning alone! With the Reference nozzle, though, the Falcon Pro is impressively smooth, devoid of any egregious peaks or valleys, and perhaps only a tad less impressive in terms of sheer extension. In fact, it's almost too smooth - perhaps "sweet" if I'm being kinder - with this nozzle which makes me gravitate toward the Transparency nozzle. Treble is more defined on the Transparency nozzle; however, percussive hits come across as noticeably more compressed sounding due to a subsequent emphasis at roughly 5kHz. But no matter, this is a commendable treble response all things considered.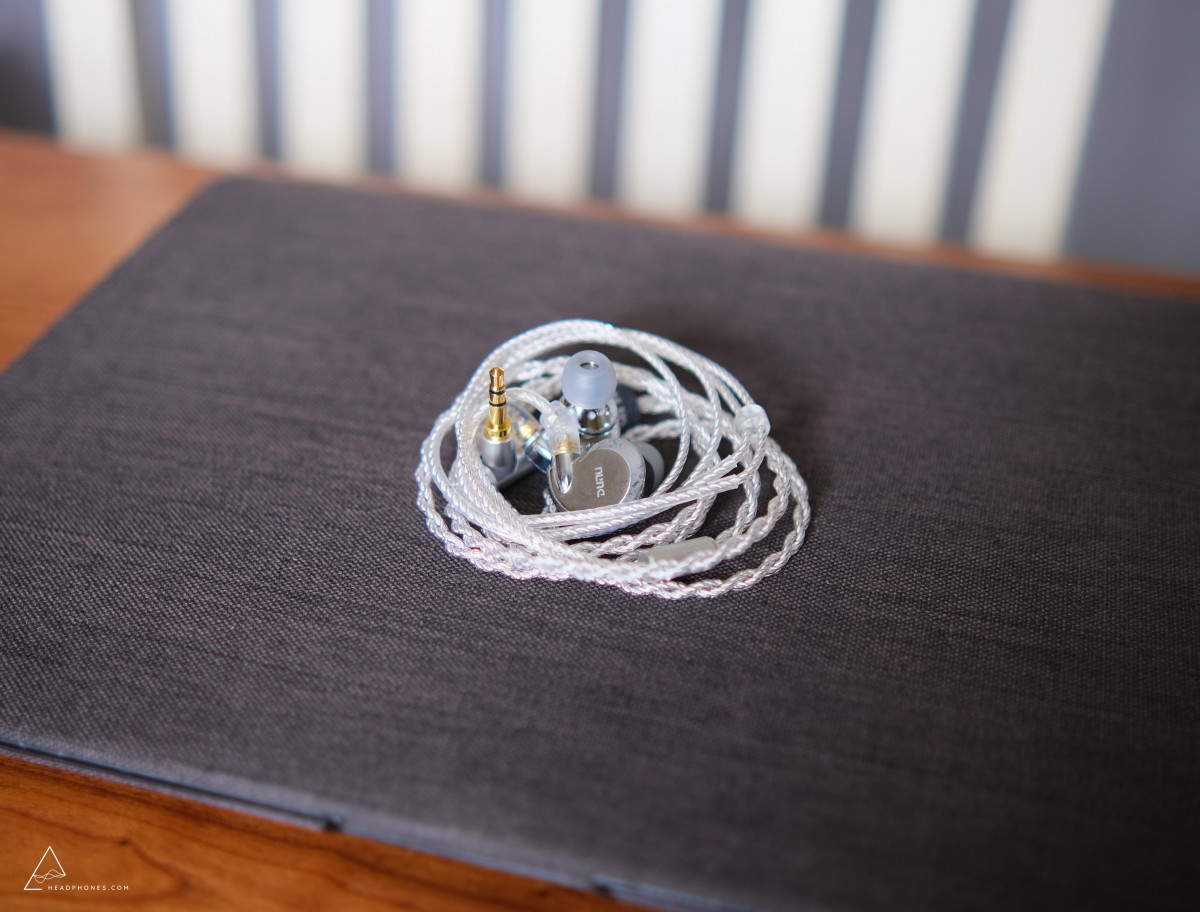 Technical Performance 
"Uh-oh, this isn't very resolving". That was the first comment I made to myself when I heard the Falcon Pro. And yup: more listening hasn't really changed that opinion. I suspect that this is largely attributable to the warmer, mid-bassy tuning. The Falcon Pro simply isn't going to trade blows against the likes of established single-DD heavy-hitters such as the Moondrop Kato for clarity, and it's a point of contention that some listeners will likely refuse to settle for. 
Looking past this, however, I do find the Falcon Pro to be surprisingly competent for what I affectionately refer to as more "latent" intangibles. To start with, the Falcon Pro's imaging is above-average despite being far from pinpoint-precise. By this, I am referring to the structural definition of the Falcon Pro's staging. Notes actually sound big and the Falcon Pro has some semblance of soundstage height with the Reference nozzle. With the Transparency nozzle, I find the Falcon Pro's layering improves slightly at the expense of some of this note size. In both instances, the Falcon Pro has commendable ambiance to its staging; in fact, I would say it beats out even much more expensive IEMs like DUNU's own Zen and the Sennheiser IE900 for stage size! 
The other instance with which the Falcon Pro makes its mark is dynamics. I don't think its dynamic contrast is great - loud moments generally don't come off as loud as they should and quiet moments don't come off as quiet as they should - but for a general sense of physicality, the Falcon Pro is a very punchy IEM for its price point. On Taeyeon's "Make Me Love You", the bassline has that characteristic with which it feels like I'm being smacked by a wave at 0:52 and 2:01. Part of this feeling is ostensibly baked into the heavy amounts of mid-bass the Falcon Pro sports, and the Falcon Pro clearly falls behind its older brothers the Zen and Luna for dynamics, but the ECLIPSƎ driver technology is the real deal. I enjoy how this characteristic pays compliment to the warmer tuning; it culminates in a more musical sound where music flows in contrast to the plethora of single-DDs (eg. Moondrop Kato, Etymotic ER2XR, JVC FDX1, etc.) in this price range that lean flatter and more compressed. 
In another world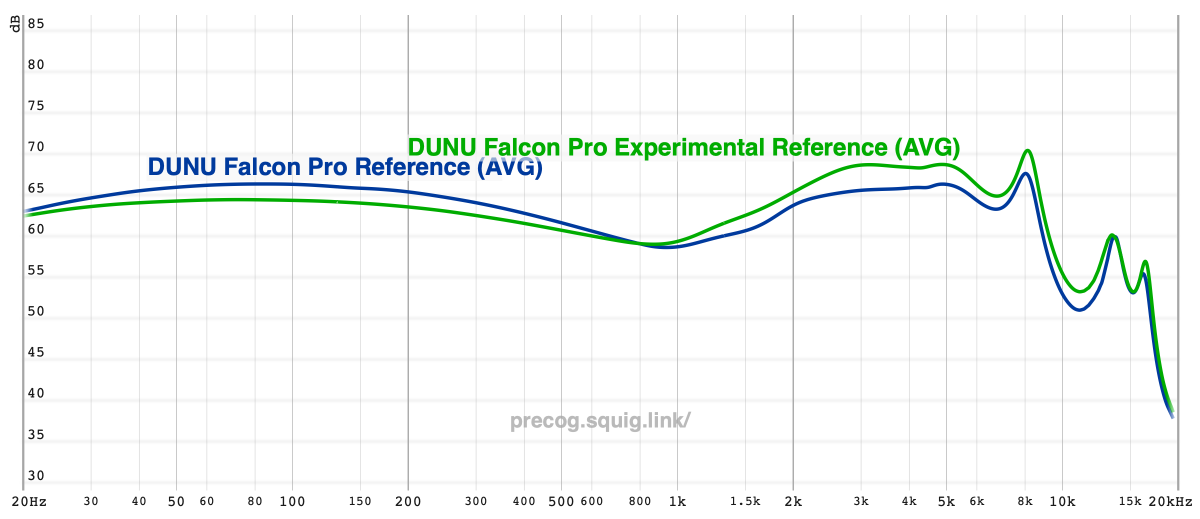 After I had assessed the Falcon Pro, DUNU kindly sent me an experimental version of the Falcon Pro with less bass and a more upper-midrange oriented tuning. This version of the Falcon Pro was intended to capture what a more technical interpretation of the IEM would sound like. It lowers the mid-bass to more controlled quantities and addresses some of the slight hollowness to vocals. To me at least, this version further demonstrates the effects that tuning can have on perceived clarity. The experimental version has less of the blunting to transient attack that I outlined above, enough that I would place it on par with the Moondrop Kato. I think I prefer this version, but that said, I do feel it loses some of the "special sauce" that makes the Falcon Pro the Falcon Pro. 
The Verdict
I have to admit that I wasn't super hot on the Falcon Pro when I first heard it. I could tell the tuning was good, don't get me wrong, but I felt that the general technical performance of the IEM leaned more middling. Closer listening, however, has forced me to re-evaluate my stance on the Falcon Pro. I think this is a warm IEM done correctly, perhaps not unlike the Vision Ears VE7 that I praised not too long ago. The difference? There's no need to cash out an arm and a leg for the Falcon Pro. Stack on a plethora of great accessories, user-adjustable sound signature via nozzles, consistently good build quality, and I think DUNU has put together a solid package for the warm-heads. I'd say give this one a shot if that's the type of sound you're after.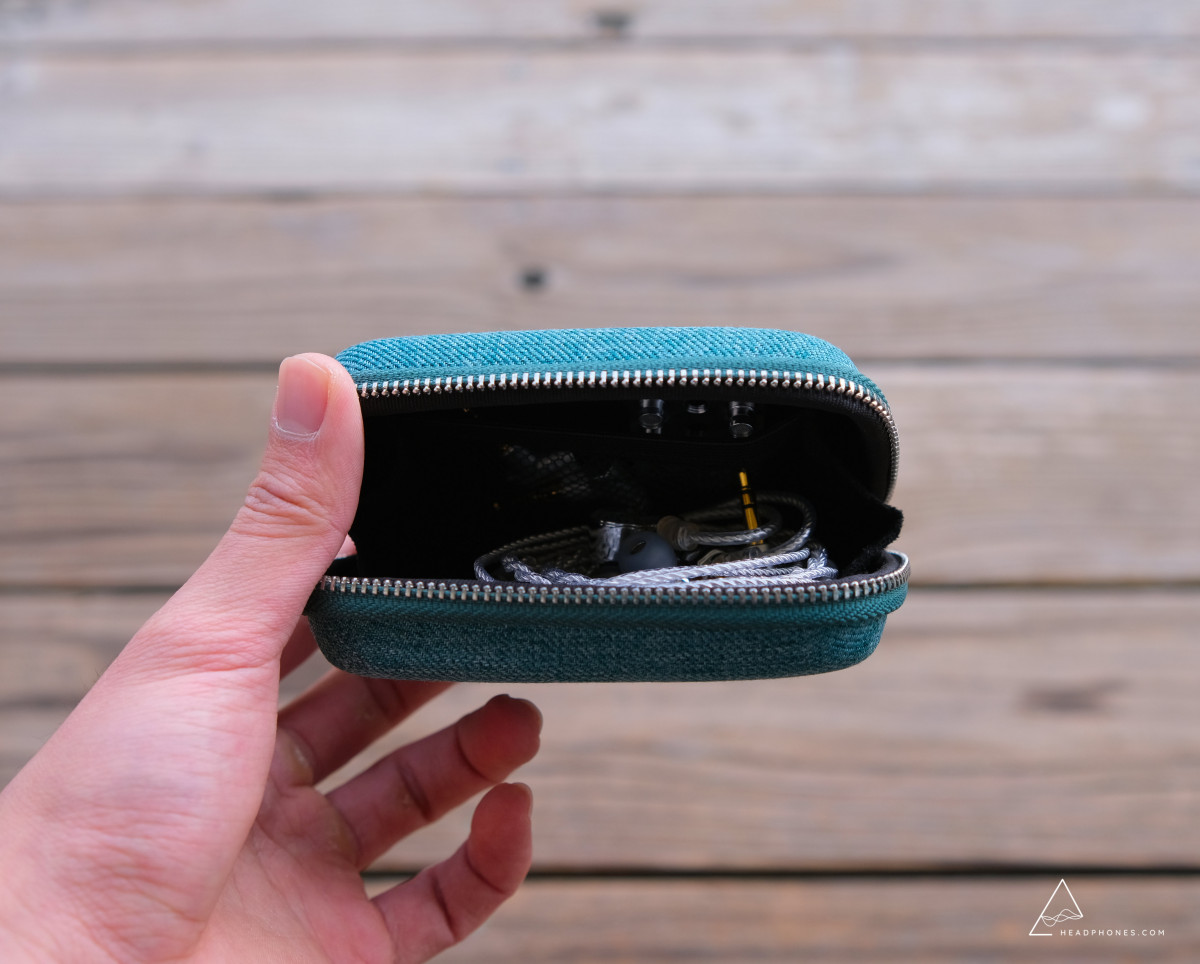 Reference Tracks
Aimer - Hakuchuumu
David Nail - Let It Rain
Everglow - DUN DUN
Girls' Generation - Galaxy Supernova
Illenium - Broken Ones
Joe Nichols - Sunny and 75
Keith Urban - Defying Gravity (2009)
Keiichi Okabe - Weight of the World (NieR:Automata Original Soundtrack)
Sabai - Million Days
Sawano Hiroyuki - Best of Vocal Works Remastered (2020)
Taeyeon - My Voice (2017)
Tiffany - I Just Wanna Dance