Audeze Maxwell Review: The Greatest Value in Wireless Headphones
Introduction
Here's a surprising fact: The gaming industry in 2023 is expected to be worth more than $170 billion in global revenues, five times greater than the movie industry. It's odd then how little of a splash traditional audio companies have had in the gaming market. While big manufacturers like Sennheiser, Audio Technica, and Beyerdynamic have their own forays into gaming audio, their presence pales in comparison to brands like Razer or SteelSeries. But perhaps it should be no surprise. There seems to be very little effort to differentiate their gaming headsets beyond relying on the "audiophile" brand name.
Audeze follows a similar story. A company well-known in the headphone world for their planar headphones, they've dabbled a few times with gaming headsets such as the Mobius, Penrose, and LCD-GX. They are a little more interesting than your typical gaming headset, however. They're the only planar gaming headsets on the market and Audeze has experimented with unique technologies like spatial headtracking audio. But this year, almost out of nowhere, Audeze released what is possibly the best gaming headset you can buy: the $300 wireless Maxwell.
Fellow reviewer Resolve did a comprehensive video review of what makes the Maxwell so good over at The Headphone Show. I highly recommend you watch it because some things just translate better on camera. But for those who prefer to read, this article will be a written counterpart to that review with my experience on the Maxwell's features.
If this is your first time reading a review on this site, welcome. We generally cater to audio enthusiasts and review high quality audio products here. Hence, you may see some advanced lingo throughout. But fear not - I've written this article to be as easily accessible as possible. Note that it is from the perspective of a general user and not a gamer.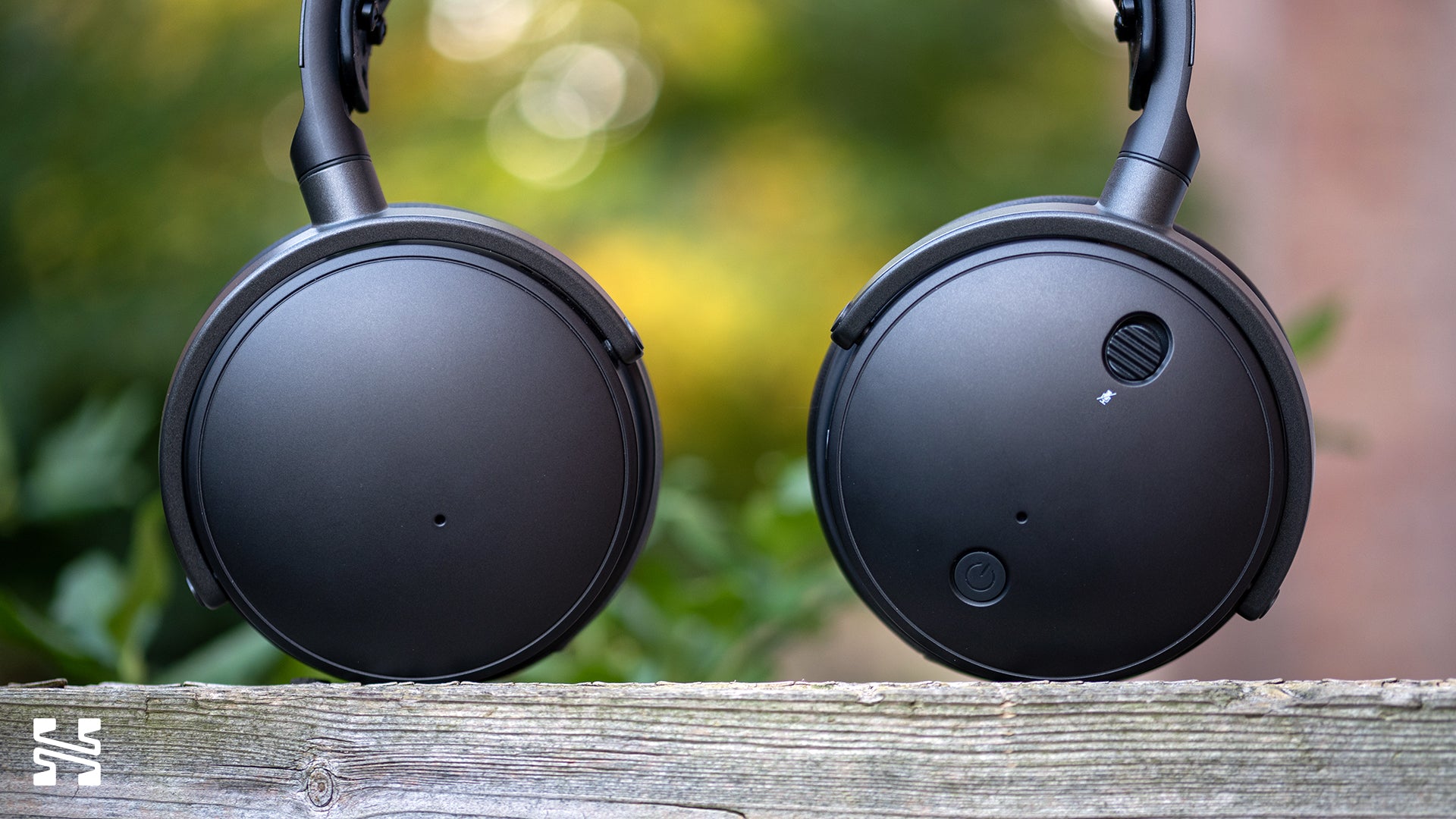 What we like
Exceptional tuning on par with what the best headphones has to offer
Wireless with a ton of features
Multipoint support
USB-C and 3.5 mm wired options
Physical control buttons and detachable boom mic
Excellent AI-enhanced noise reduction
Mostly plug-and-play
80+ hours of battery life
Very well built and fairly comfortable
What we don't like
Clunky software experience
"Artifacting" with the USB-C dongle
Sidetone doesn't work well
Middling technical performance
OK mic quality
Heavy at 500 g
Features at a Glance
At a glance, here are the key features that the Maxwell boasts. I'll go over each one individually a little later on. If you want the full marketing spiel, you can visit the Maxwell's site.
An 80+ hour battery life with a 20-min 25% quick charge for "All Day Play"
An ultra-low latency USB-C wireless dongle
Bluetooth 5.3 with Multipoint support and compatibility for LE Audio, LC3plus, and LDAC
A detachable boom mic with AI-enhanced noise reduction technology and internal mic
90 mm planar magnetic drivers
Always-on digital signal processing (DSP) sound tuning and custom EQ profiles
Wired USB-C and 3.5 mm inputs
Audeze HQ with Sidetone and EQ profiles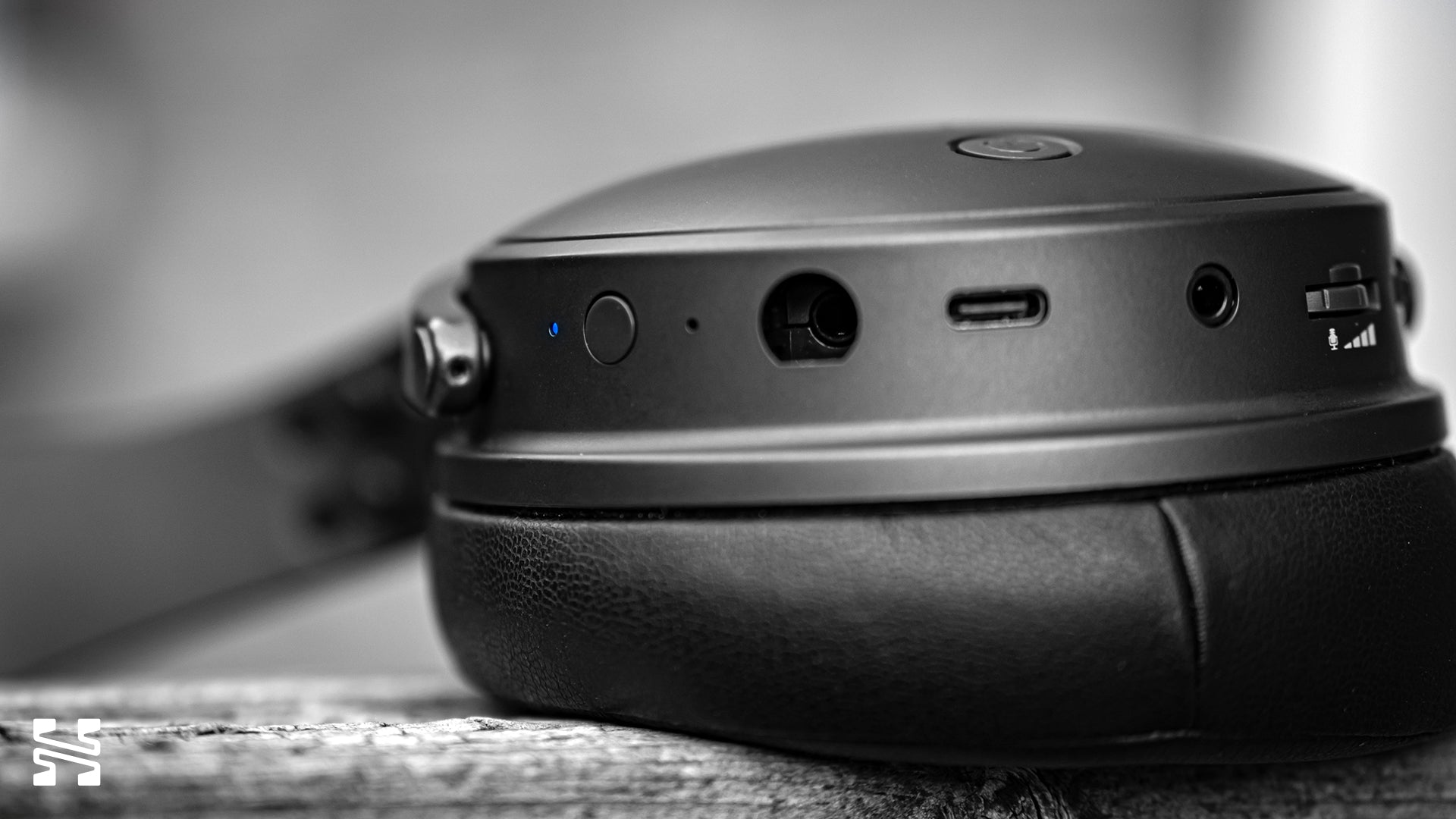 Something to clarify is that the Maxwell actually has two variants: a PlayStation version and an Xbox version. The difference is that the Xbox version supports Dolby Atmos for an extra $30. The PlayStation version supports Sony's Tempest 3D. Both of these are different implementations of spatial audio technology. Either version will work with Windows/Mac and Android with the Audeze HQ software and Nintendo Switch and iOS without. I'll be reviewing the Maxwell on Windows. The experience is largely the same on Android.
Build, Controls, and Comfort
The Maxwell comes with a decent accessory set to support its suite of features:
The detachable boom mic. It has a flexible metal arm and a removable foam windscreen.
The small USB-C wireless dongle and USB-C to A adapter. The adapter is actually a cable about 1 ft long. The dongle has a PC and PlayStation mode switch. Presumably the Xbox version has something similar.
USB-C to USB-C cable. Very basic. About 4 ft long. Supports charging and playing audio at the same time.
3.5 mm TRRS cable. Very basic. About 4 ft long.
The build of the Maxwell is quite good, especially compared to the sea of cheap plasticky gaming headsets out there. While the Maxwell does also employ a plastic throughout, it feels sturdy and is reinforced with metal elements like aluminum yokes and a spring steel headband. The use of plastic makes sense when you consider that the Maxwell weighs around 500 grams thanks to its planar drivers. That's pretty heavy. But once I got used to it, I had it on for a few hours at a time.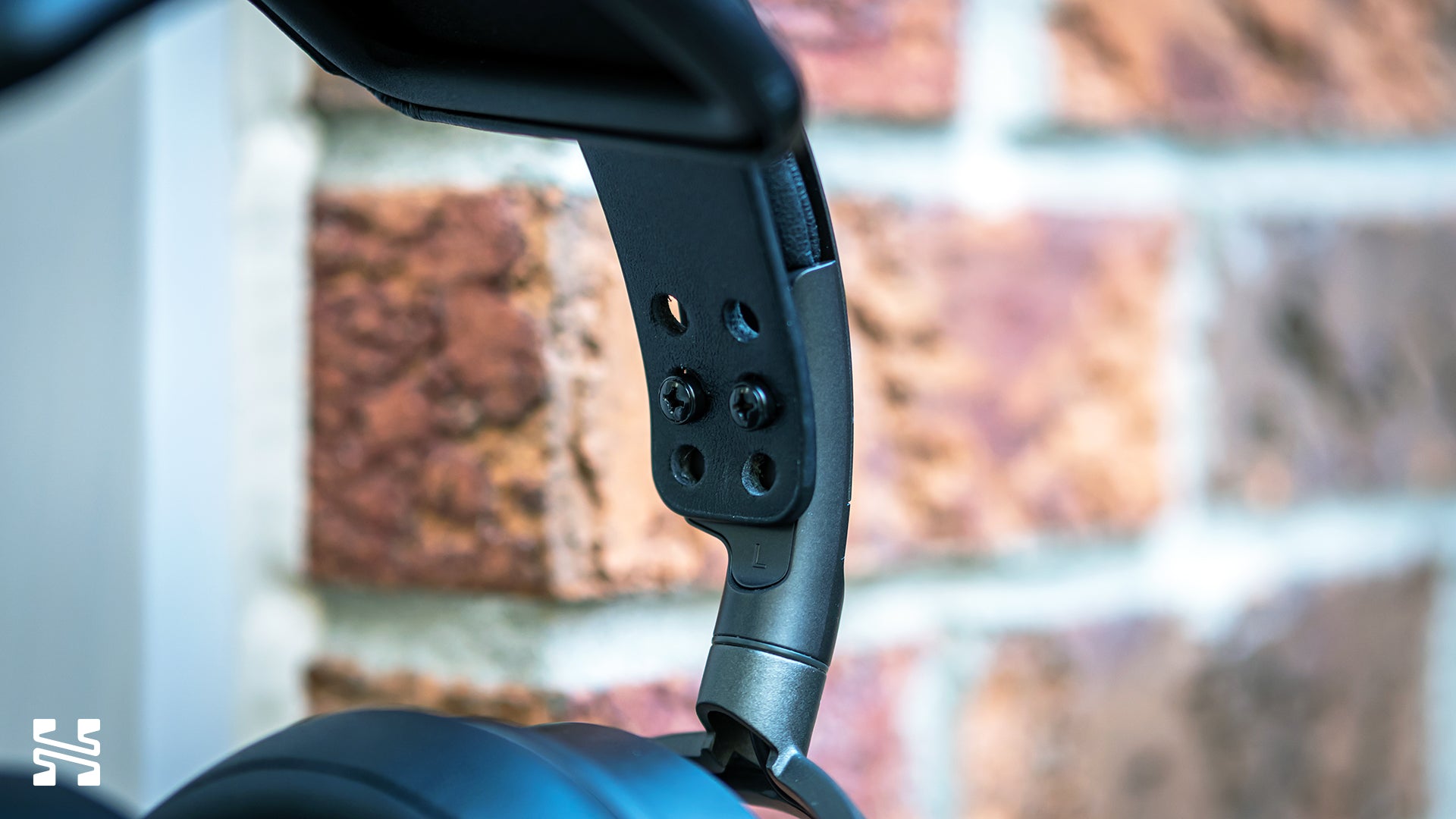 This weight is alleviated somewhat with the pleather suspension strap. This strap provides a greater surface area to spread the weight around though it's not nearly as wide as I would like. It allows you to adjust the height of the headphone to better fit your ears. There's 3 notches on each side that you can use to adjust the strap or you can remove it completely for the maximum height. This gives 7 different height options. Despite my skepticism, it works reasonably well enough. The clamp force is firm. It hugs my head nicely but without being too tight. The circular earpads on the Maxwell are also made of pleather and feel quite plush. These pads are easily removable for 3rd party pads if you so desire. Altogether, it's a fairly comfortable experience.
The cups of the Maxwell are pretty chunky. It's not out of the ordinary for gaming headsets but is definitely thicker than your average headphone. The size here is justifiable, however. Inside the cups hosts not just the drivers but the batteries for the Maxwell, the amplifiers, and all the other technologies that give it its feature set. The left cup also has a whole host of physical buttons to control the Maxwell:
On the face of the cup is the power button and mic toggle switch. Double click the power button to activate Bluetooth pairing.
On the bottom is a button for controlling the AI-enhanced noise reduction feature and two dials: one to control volume, the other for the Audeze HQ Game/Chat balance function.
On the bottom are also the jacks for the boom mic, the 3.5 mm cable, and the USB-C cable.
I love the fact that there's physical buttons here. Once I got used to the layout, it was easy to adjust what I wanted without fiddling around in the software.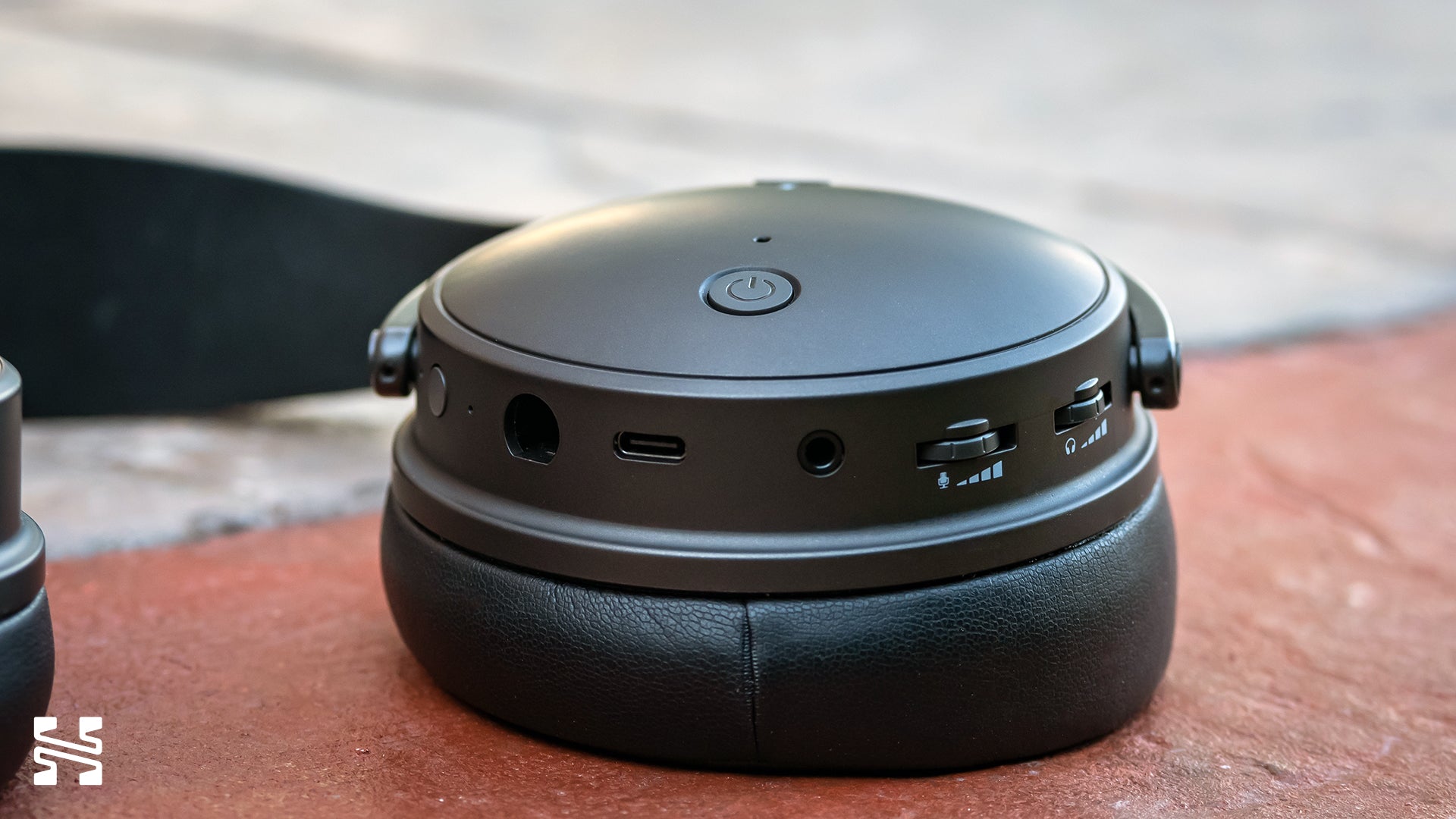 Finally, one thing you might have noticed is missing on the Maxwell is ANC (active noise cancellation). It just doesn't have it. What it does have is passive noise cancellation - the amount of noise it blocks just by having it on. Every headphone has this to varying degrees. It's pretty good on the Maxwell and once you have some audio playing you won't hear too much of the outside world.
Sound
Given that we review headphones around here, sound quality is the most important feature outside of comfort. Simply put, the Audeze Maxwell is the best sounding closed back gaming headset you can buy. In fact, it's no exaggeration to say that it's one of the best tuned closed back headphones ever. Don't believe me? Take a look at this frequency response graph, which is how we measure a headphone's sound.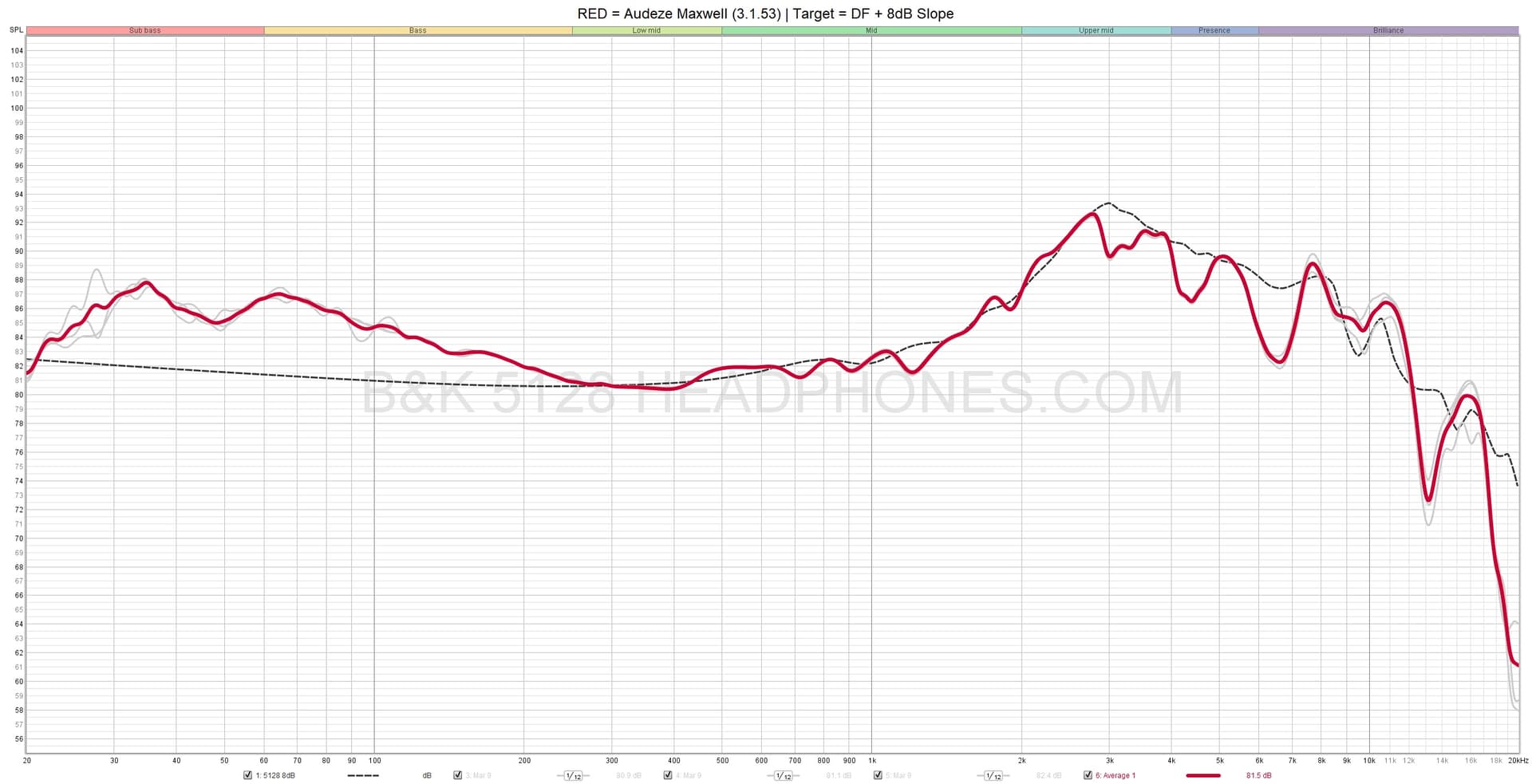 The technical details get complicated very fast so I'll keep it simple. The black dotted line is a sound tuning target. You want your headphone to look like this when you measure how it performs from 20 Hz - 20 kHz. The red line is the Audeze Maxwell with its stock settings. You can see just how closely it lines-up to the target curve, except with a nice little bass boost below 250 Hz. While there are variations of this target (known as the diffuse field (DF) + 8 dB slope), generally speaking the closer you can match the target, the "closer" it will sound to the original audio recording. How did Audeze do this? Through the magic of digital sound processing (DSP). Think of it as an advanced form of EQ. It's utilized in almost every wireless device nowadays but no one has done it quite as nicely as Audeze has here in the Maxwell.
The Maxwell's DSP is "always on". The Maxwell needs to be powered on in order to play audio, even if you use the 3.5 mm cable. Turning it on activates its internal amps and chips to engage the stock DSP to adjust any incoming sound. Even at first boot without having first installed Audeze's software or setting any sound profiles. This means that you can't really use your own dedicated amplifier or DACs (digital-to-analog converters) with the Maxwell. Realistically speaking, this would only be a concern if the internal batteries no longer hold a charge. But thankfully, the Maxwell works while charging on USB-C so you likely won't have to worry about it completely becoming e-waste in a decade. This is something I can't say for other wireless products I've tried.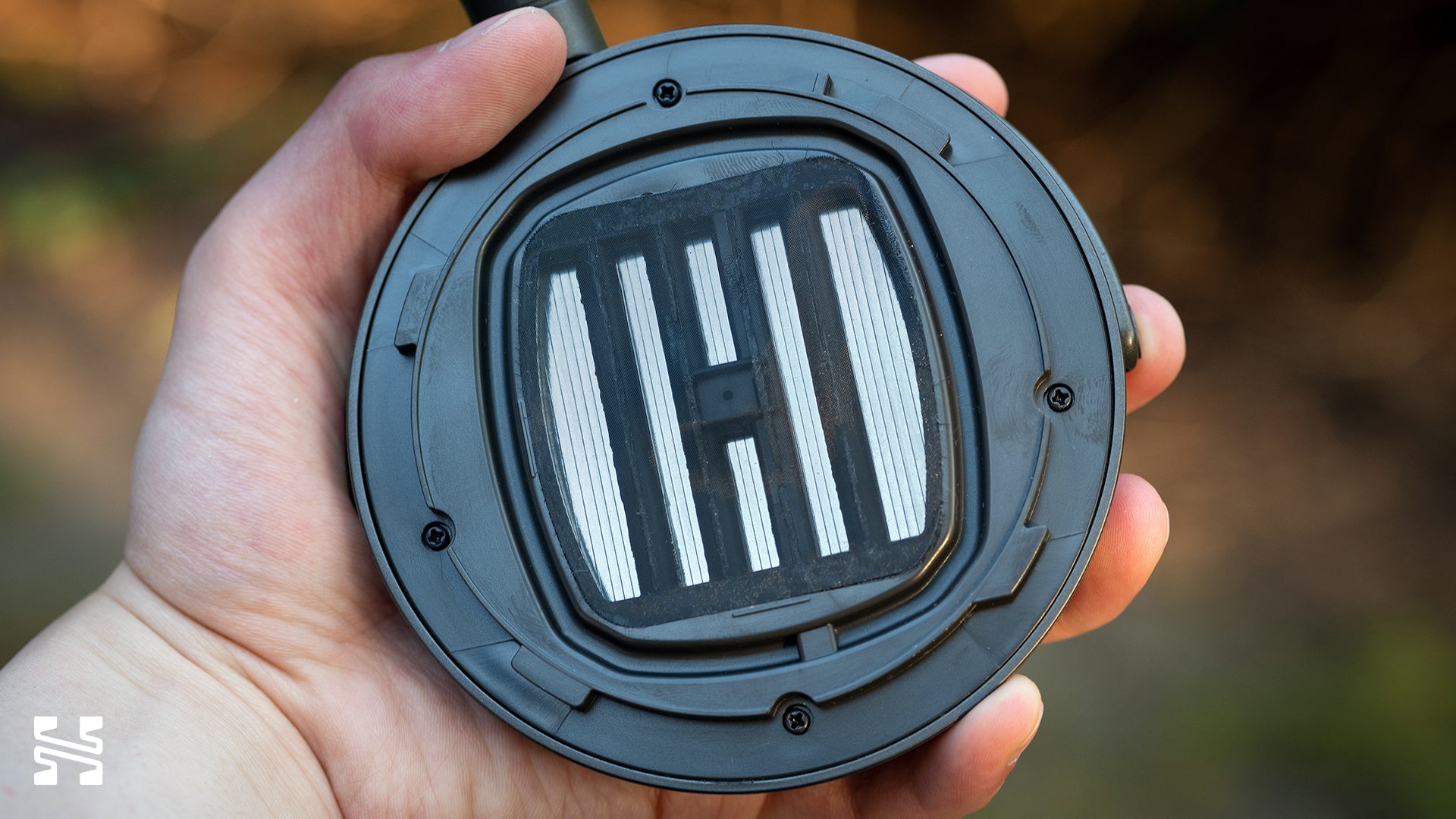 So how does this tuning sound like? In short, excellent. The bass shelf is beautifully dialed in. It provides plenty of low-end without being overbearing like many similar products. As it slopes into the mids, it provides a touch of warmth to counterbalance all the energy in the upper mids around 3 kHz. The Maxwell's midrange has a slight forwardness to it. I have no complaints with instrument timbre. The treble is a similar story. It's extremely well controlled - no sharp highs, sibilance, or harshness for me. It's a finely balanced presentation. A little bit more and the Maxwell would be bright. A little bit less and it would start to feel dark.
While its tuning is undoubtedly exceptional, I do think Maxwell sounds like a fairly normal headphone on a technical level. It doesn't have an outstanding soundstage or imaging. It isn't particularly resolving or layered. Its dynamics are rather flat and reminiscent of other planars I've heard. Unlike many of the higher-end headphones that get recommended around here, it doesn't have an "X-factor".
That said, I would easily take the Maxwell's sound over almost every closed back headphone I've heard. The only ones I'd consider over the Maxwell would be something like the $1,300 Focal Radiance or some very esoteric boutique products. In fact, I'd take the Maxwell over a lot of open-back headphones too. Sometimes, it's OK to be boring as long as you have everything else right. The only other closed-back headphone I can think of tuned this well is the $4,000 DCA Stealth. For $300, the Maxwell is unbelievable value.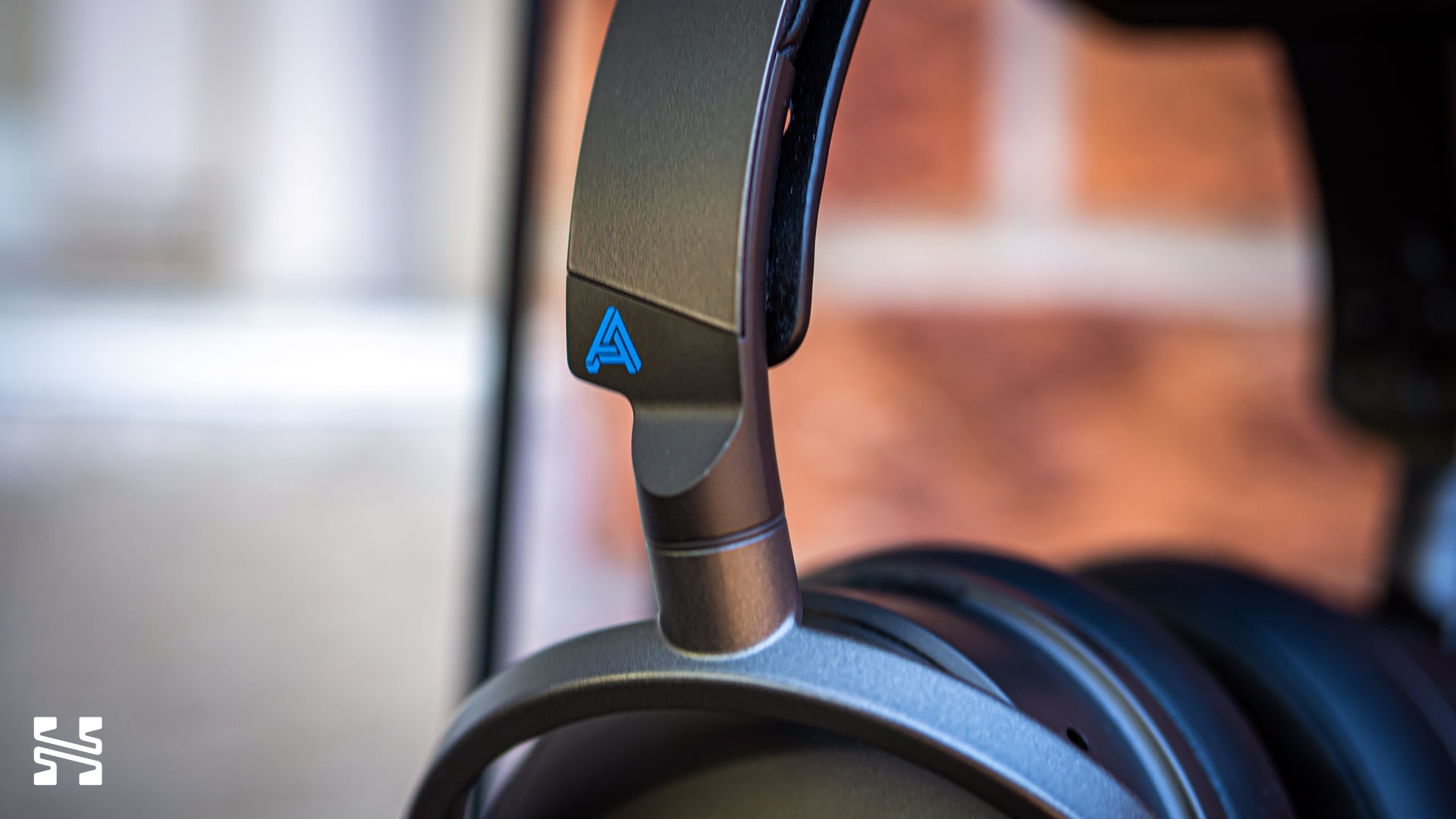 USB-C Dongle vs Bluetooth
The Audeze Maxwell is meant to be used with its USB-C dongle. It enables all of its feature-set and connects with their Audeze HQ software suite. Bluetooth performs almost identically but without Audeze HQ. The biggest difference is that you get Bluetooth 5.3 with Multipoint. This comes in very handy when swapping between multiple devices at once. Beyond the common Bluetooth codecs, the Maxwell also supports newer, higher quality standards like LE Audio and LDAC. Most devices on the market won't even be compatible with these codecs yet so it's nice that Audeze is forward thinking with the Maxwell.
Battery Life
The Maxwell's boast of 80 hours of battery life is not a joke. I had it running for like 10 hours a day for about a week trying to run down its battery and it just kept going. I lost the count of the actual battery life by the end but suffice it to say, I have absolutely zero concerns over running out of juice. The fast charging feature works as advertised. Once I finally managed to empty its battery, I charged it for about half an hour and got more than a full day of use again. It's very impressive.
Volume
The Maxwell gets plenty loud for any reasonable listening volume. I can have it at half for a comfortably loud 70 - 75 dB. You primarily control the volume using a dial on the side of the headphone. Changing the volume will change the volume of your playback device e.g. Windows volume.
Range
Audeze boasts that the Maxwell's range is 3x the traditional 2.4 Ghz connection. While I can't fully validate that claim, it didn't have any trouble covering an entire floor of my house. Once you start going up and down stairs it'll start dropping but that's to be expected.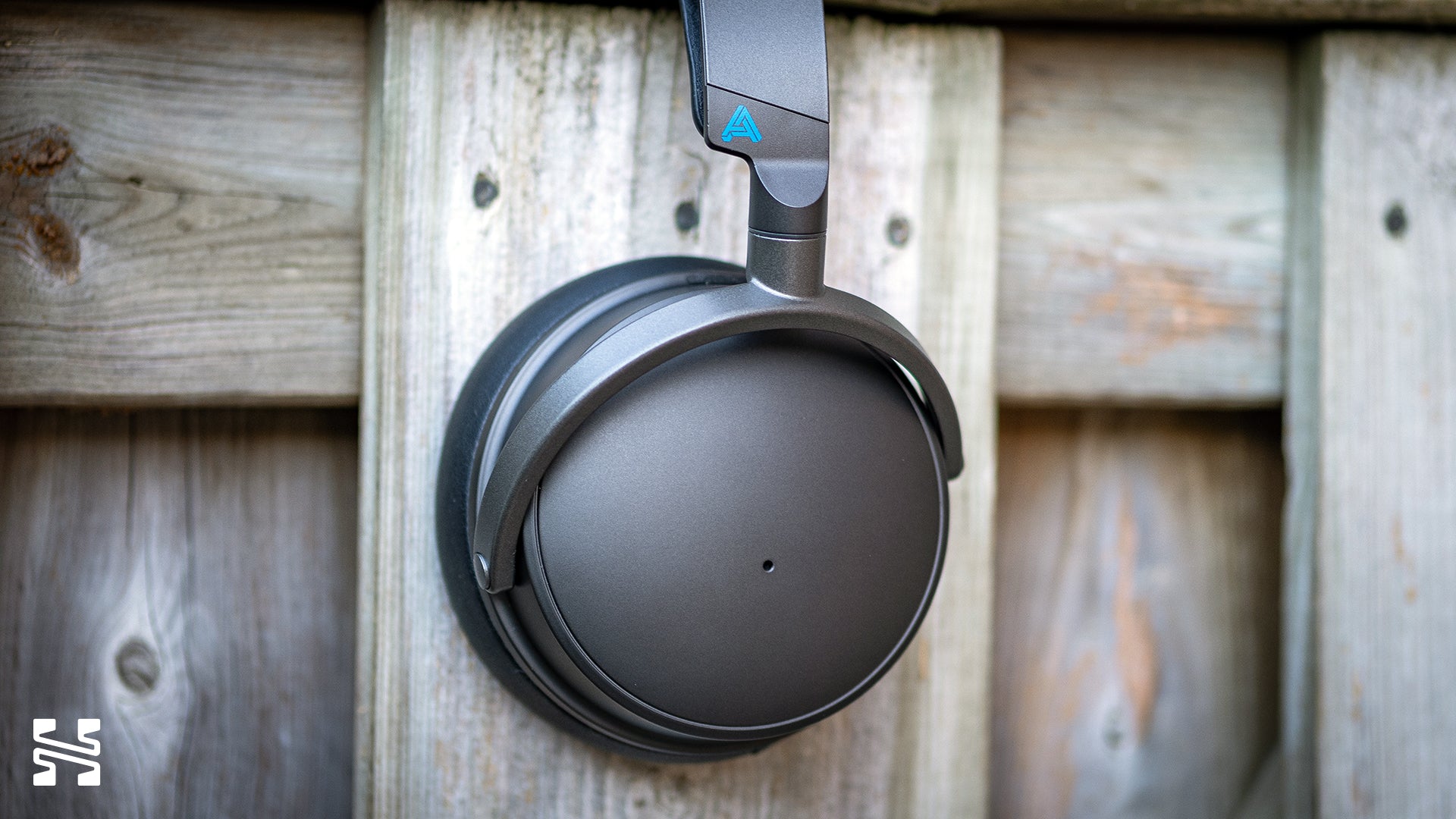 Floor Noise
One of the biggest complaints I have with the wireless headphones is the presence of floor noise whenever it's engaged. Thankfully, there's next to no floor noise or static on the Maxwell. The Maxwell hisses a little if you're out of range and it tries to reconnect but once there's a stable connection, it disappears.
Latency and Stability
Audeze also boasts that the dongle has "ultra-low" latency. I didn't notice any latency issues while playing games but I'm also not a hardcore FPS gamer by any means. However, I did notice that there can sometimes be a small lag when starting up a track or unmuting/unpausing something. This issue is rather rare and quite inconsistent and hasn't meaningfully impacted anything I do though so I'm not worried. But it has happened more than a couple of times now so I can't completely write it off. With Bluetooth, the latency is more noticeable and consistent. Skipping around to different parts of a track will incur a minor lag.
Artifacts
For a lot of the older wireless products I've reviewed, I often notice some oddities in the playback I call "artifacts". For example, I've heard products distort the music, pitch bend, or change tempo to try when trying to maintain a steady connection. With the Maxwell, there can be a strange sort of digital artifacting when using certain USB ports. It shows up as a slight breaking up of certain instruments and are most audible in hats/cymbals, wispy vocal trails, or electric guitars. 
There is a way to get around this. After doing some testing, Resolve and I found the artifacting goes away if the dongle is connected to its own dedicated USB controller that isn't shared with anything else. Essentially, when the USB controller is saturated through sharing PCIe lanes with other components, the Maxwell's dongle demonstrates this artifacting. The greater the saturation, the worse the effect. AMD motherboards seem to be particularly affected. However, I haven't seen too many others complain about this issue so your mileage may vary.
Either way, it's not a deal breaker by any means for me since it's only really noticeable in music. It's a subtle reminder that I'm still using a wireless headphone. I don't hear this issue with Bluetooth or when using wired USB-C or 3.5 mm connections. Ironically, I sometimes prefer listening to music using Bluetooth for this reason despite a lower quality playback.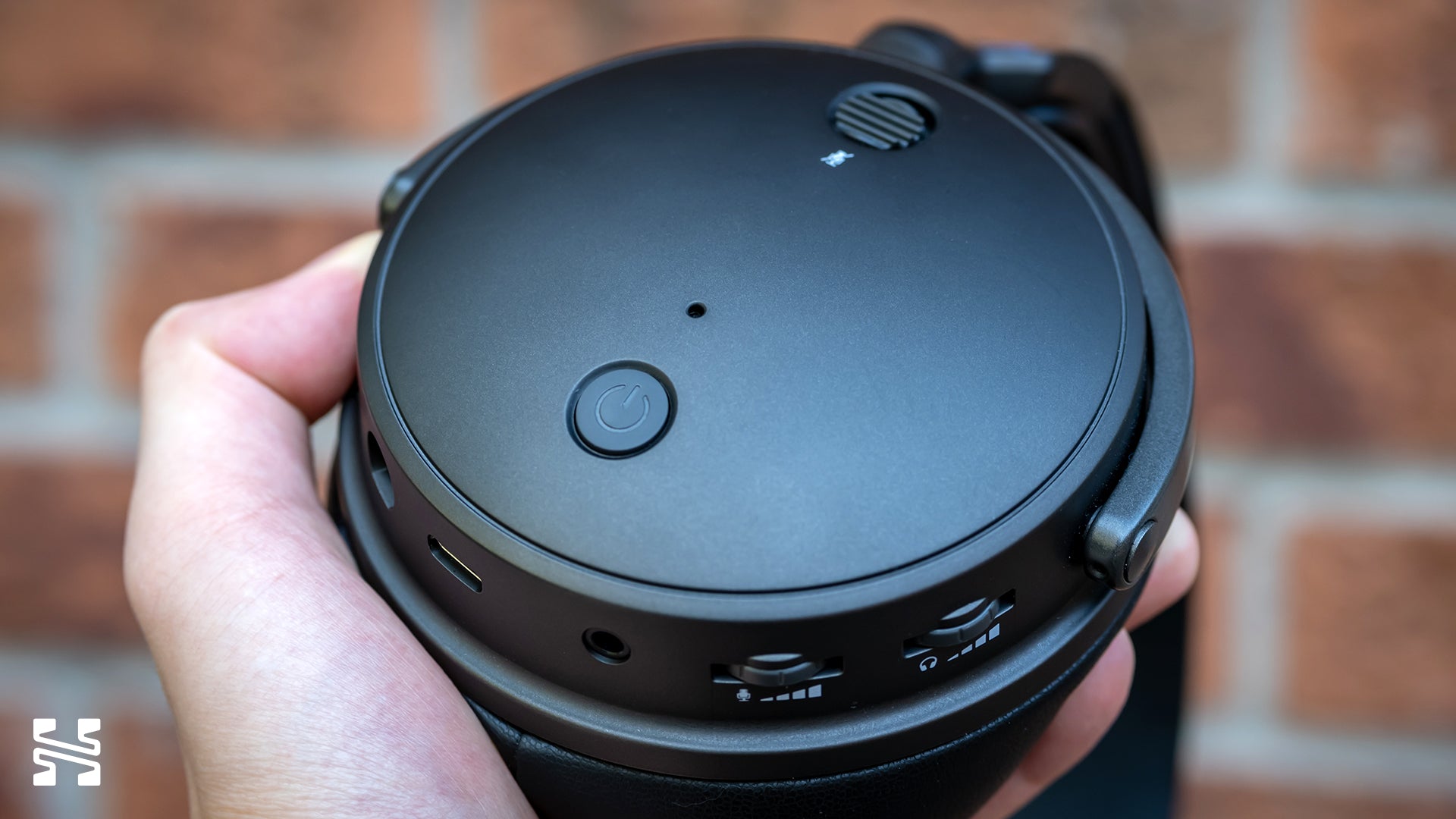 Audeze HQ
If you're on PC or Android, you can connect to the Audeze HQ app to control the Maxwell's Sidetone and EQ options. Technically, you can activate these features by clicking on the physical volume and mic dials and scrolling through but it's painfully clunky to use.
Unfortunately, Audeze HQ itself isn't much better either. While the software does give you some handy information regarding firmware and battery percentage, it feels half-baked and not very responsive. I don't find myself using it very often as the Maxwell out of the box does basically everything I want it to. That said, you will need it to update both the Maxwell and the USB-C dongle's firmware.
This review was written using Audeze HQ v3.1.81 and headphone/dongle firmware v1.0.1.51.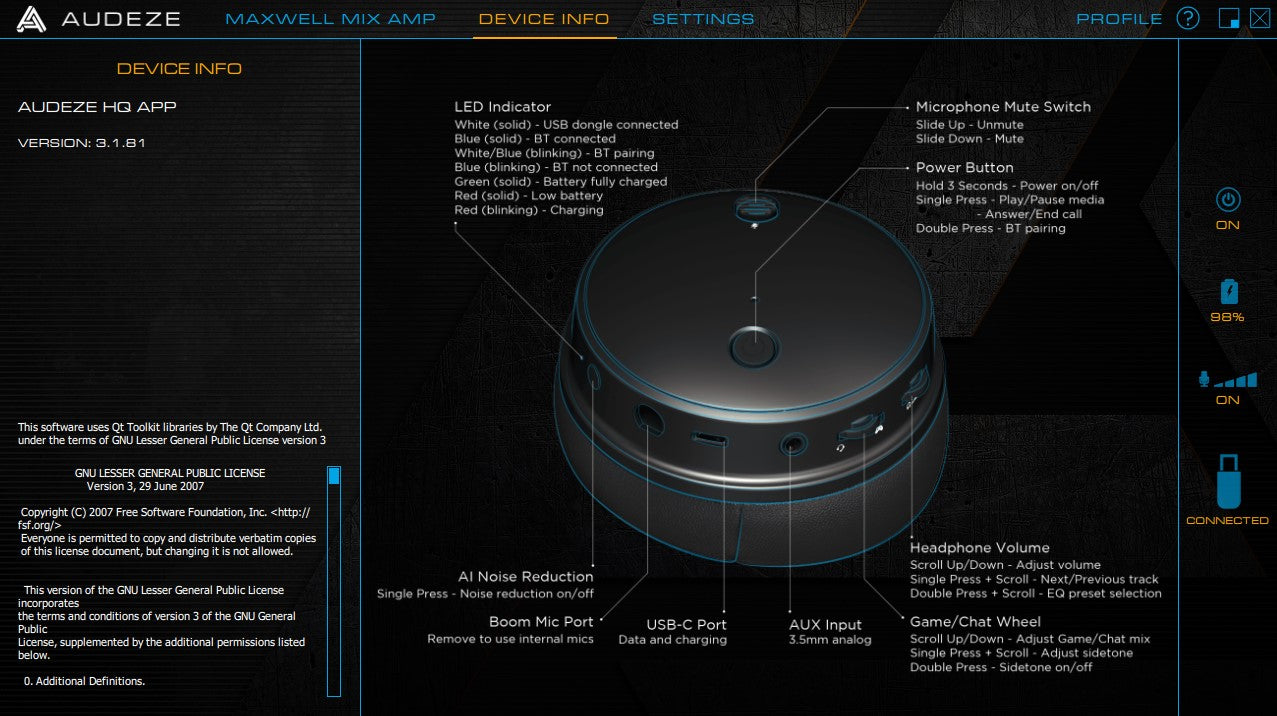 Sidetone
Sidetone is Audeze's marketing term for an audio passthrough, similar to the "transparency mode" that other wireless products like Apple and Samsung have. It pipes in external sound into the Maxwell and you can control how much is brought in. Theoretically.
But in practice, it just doesn't work well at all. Firstly, it introduces an obvious white noise to the background. Second, anything that it tries to send in ends up way over exaggerated. In particular, mouse clicks or typing noises are amplified and do not sound natural. It's bright and sharp and it's obvious the Maxwell's internal mics are being worked overtime.
It seems that Audeze is constantly updating how Sidetone works with feedback from the community. That's great except as I updated the firmware over time, I found Sidetone to be quite inconsistent in how it performed. I ended up giving up on it.
EQ Profiles
I wouldn't bother using any of the Maxwell's EQ profiles. It's tuned wonderfully to start. But trying is free so by all means. Most of them aren't anything too extreme; a light treble boost here or bass hump there. But Audeze does include a couple of gaming-specific EQs as well that sound awful for music but may help you hone in on certain sounds depending on the games you play. I'll post the measurements in the Appendix.
To their credit, Audeze does allow for four custom EQ profiles. The interface is clunky and it uses Graphic EQ (GEQ) rather than Parametric EQ (PEQ) so it limits how precisely you can shape the sound. I would still prefer to use EqualizerAPO + Peace EQ on PC for fine-tuning unless you really want to have a custom EQ profile stored onboard the Maxwell if you're using your phone.
Game/Chat Mix
By adjusting the mic dial on the Maxwell, you can adjust the Game/Chat Mix balance. Essentially, the Maxwell is able to distinguish between games and chat programs like Discord. By changing the Game/Chat Mix, the Maxwell will adjust how much of your game's volume is being played vs Discord. It works very well to help you choose what you want to hear more of on the fly. Using the Audeze HQ app, you can see and set the exact balance percentage.
Boom Microphone
What makes a gaming headset a gaming headset? A boom mic of course! The detachable microphone is a nice touch on the Maxwell for those who don't plan to game too much on it. This mic is actually made by Shure and has a hypercardoid polar pattern meaning it's highly directional to sounds directly in front and behind it. Note that the Maxwell automatically adjusts the gain on the microphone and there's no way to manually manage it yourself.
It sounds serviceable at best. Good enough for work calls or gaming but not if you plan on seriously streaming. It sounds muffled and boomy with lots of plosives. It is a step-up from other gaming head mics, however. And because this mic is detachable, it's not totally impossible for Audeze or another company to create a better sounding aftermarket mic.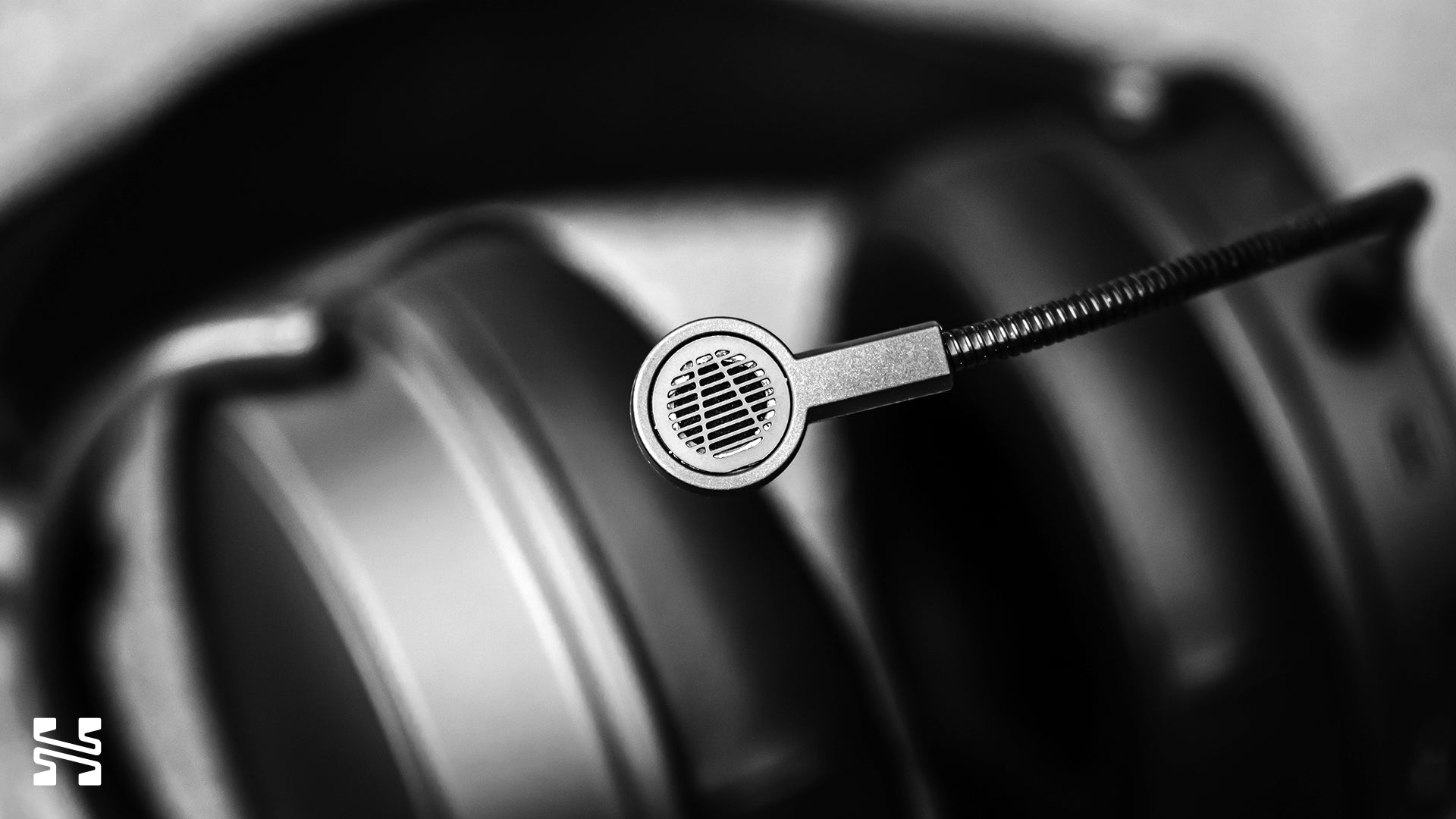 What IS very good is Audeze's AI-enhanced noise suppression technology. Much like Nvidia's Broadcast (AKA RTX Voice), it does a mind-bogglingly good job of removing unwanted background noise. There's two levels - a LOW and HIGH. I've recorded a short voice sample of the mic here in a challenging environment playing music at earbusting levels.
On a final note, the Maxwell also has an internal microphone. Don't even bother. It's extremely bad and practically unusable.
Should You Buy It?
Yes. On a hardware level, the Maxwell blows its competition out of the water. There's just no comparison. $300 might seem a lot for a gaming headset but that's typically around the price where people really start getting into the headphone hobby. The Maxwell not only competes with gaming headsets; it competes in the true audiophile space. Let's put it this way: even if the Maxwell wasn't wireless and didn't have any of its other features other than its DSP-tuned sound signature, it's still worth its asking price.
But as with human nature, now that we know what's possible, we always ask what's next. The Maxwell is clearly not a perfect product. The USB-C wireless dongle is finicky. Its software issues can be pretty annoying if you bought it looking to really make use of all its features. The microphone isn't great. And though I can wear it fairly comfortably for hours on end, there's no denying that it is heavy.
So Audeze, if you're reading this, my suggestion is to create a more traditional headphone version Maxwell and keep only its core functionality.
Keep the stock DSP tuning of the Maxwell.
Price it around $150.
Make it lighter and slimmer, around 350 g if possible. I'm fine with more plastic.
Make it wired. USB-C only if necessary for the DSP.
If being wireless is central to the whole operation, then include a better dongle, one that is more universally plug-and-play and doesn't need to interact with Audeze HQ or update all the time.
Include a better microphone. Get rid of the internal mic if it helps.
At the end of the day, I strongly recommend the Audeze Maxwell. It is unquestionably the best value wireless headphone you can buy. But instead of a gaming headset, treat it as an amazing closed-back headphone that just so happens to moonlight as a gaming headset as well.
Postscript: Sony Acquires Audeze
Before I conclude this review, I would be remiss if I didn't mention the fact that Sony Interactive Entertainment has now acquired Audeze. This was announced a day after the reveal of the PS5's new line of Pulse Elite and Explore gaming headset and earbuds where they heavily promoted the "Hi-Fi" sound quality promised by planar magnetic headphones. Resolve reported on this here and I commented on what these products might sound like, especially in light of the Maxwell. This doesn't change my recommendation of the Maxwell but it might be wise to wait to see what the new Pulse Elite offers.
Appendix
Here are the different preset EQ options for the Maxwell.
Treble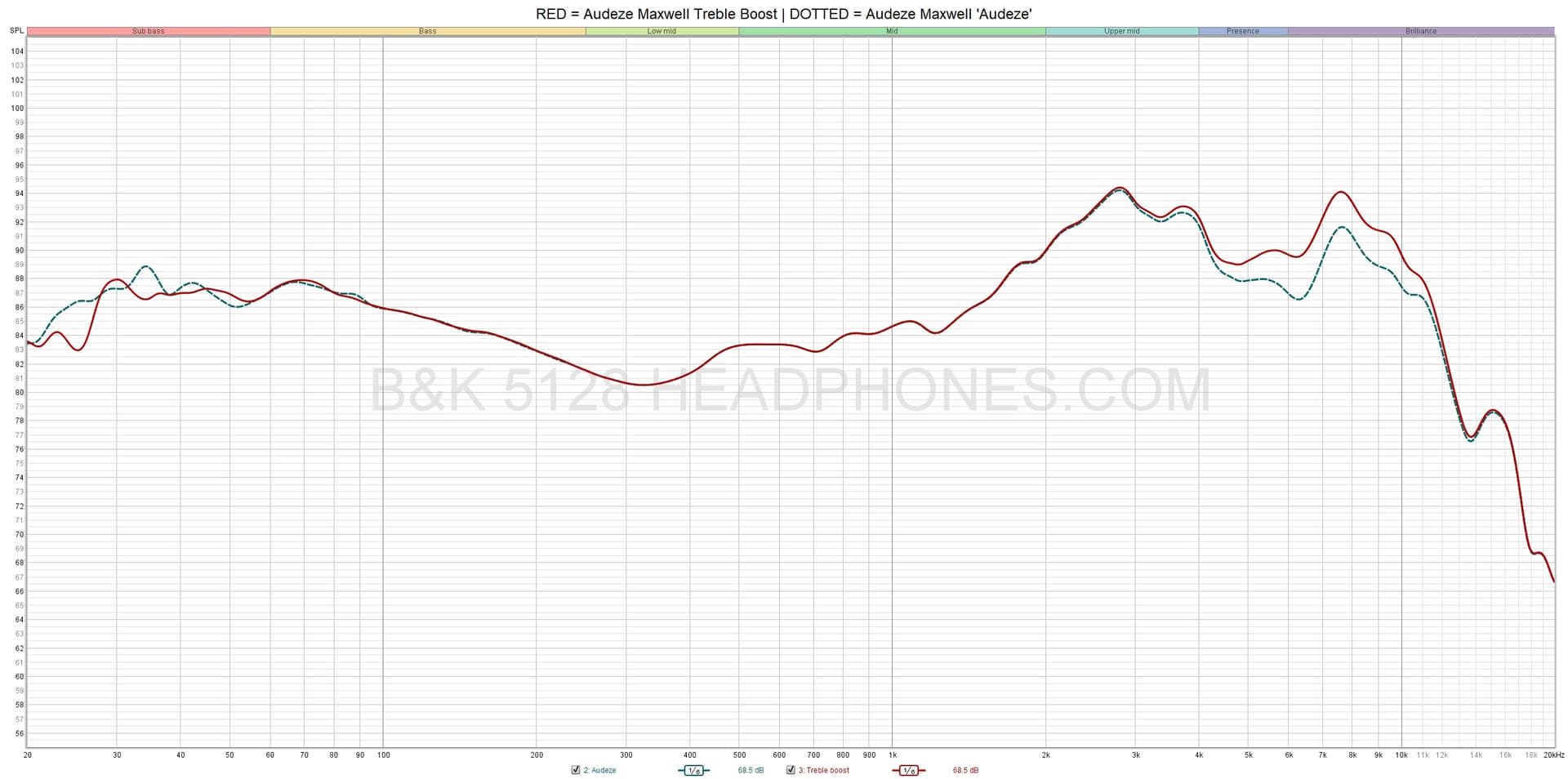 Not a big fan of this setting. It makes the Maxwell sound thin and bright.
Bass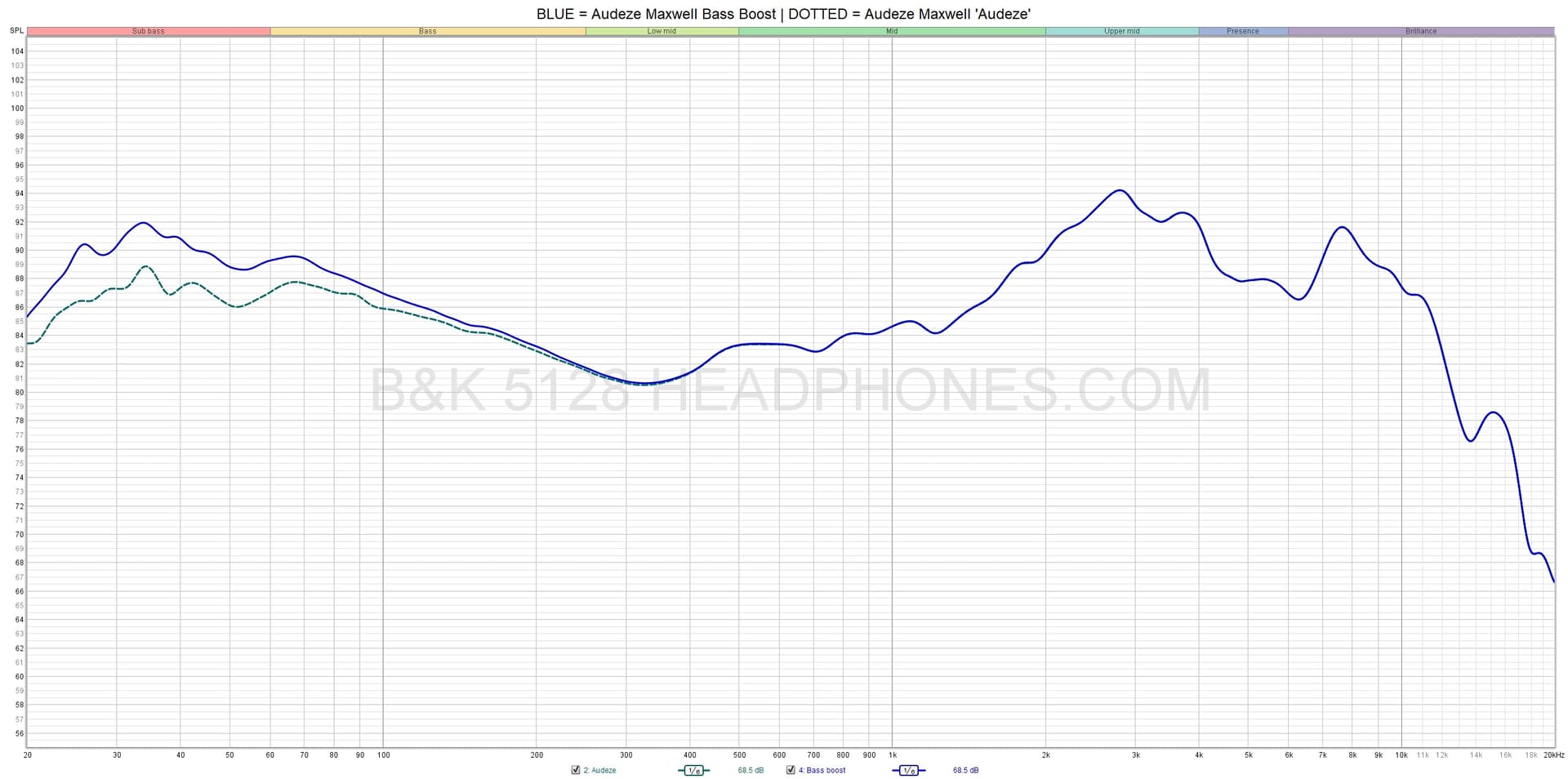 It's a nice little bass boost if you want more oomph in the low end.
Immersive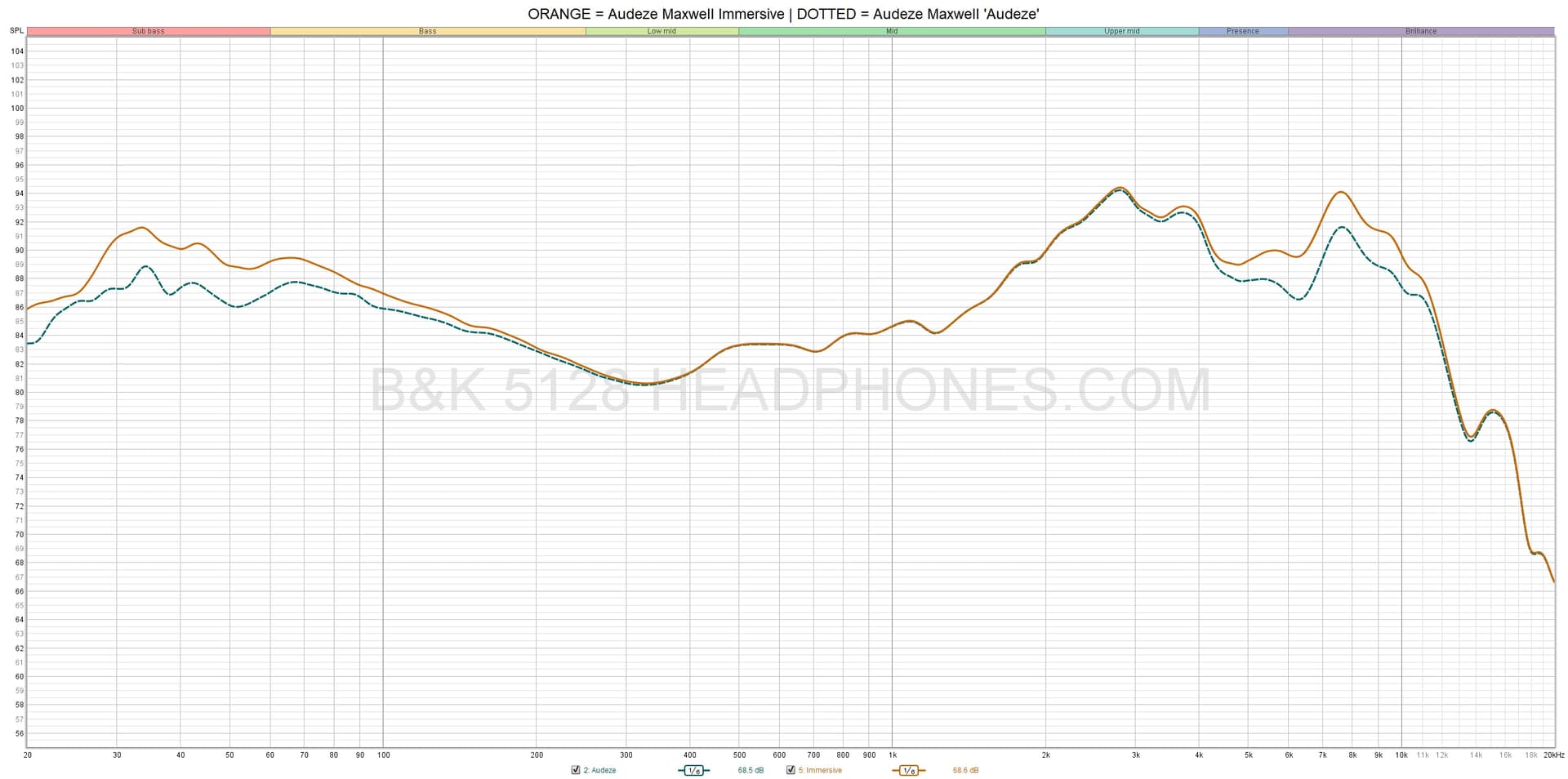 This is a combination of the Bass and Treble presets in one. It makes the Maxwell more V-shaped and because of the low-end boost, it balances out the treble bump. I think a few people might enjoy this over the stock.
Competition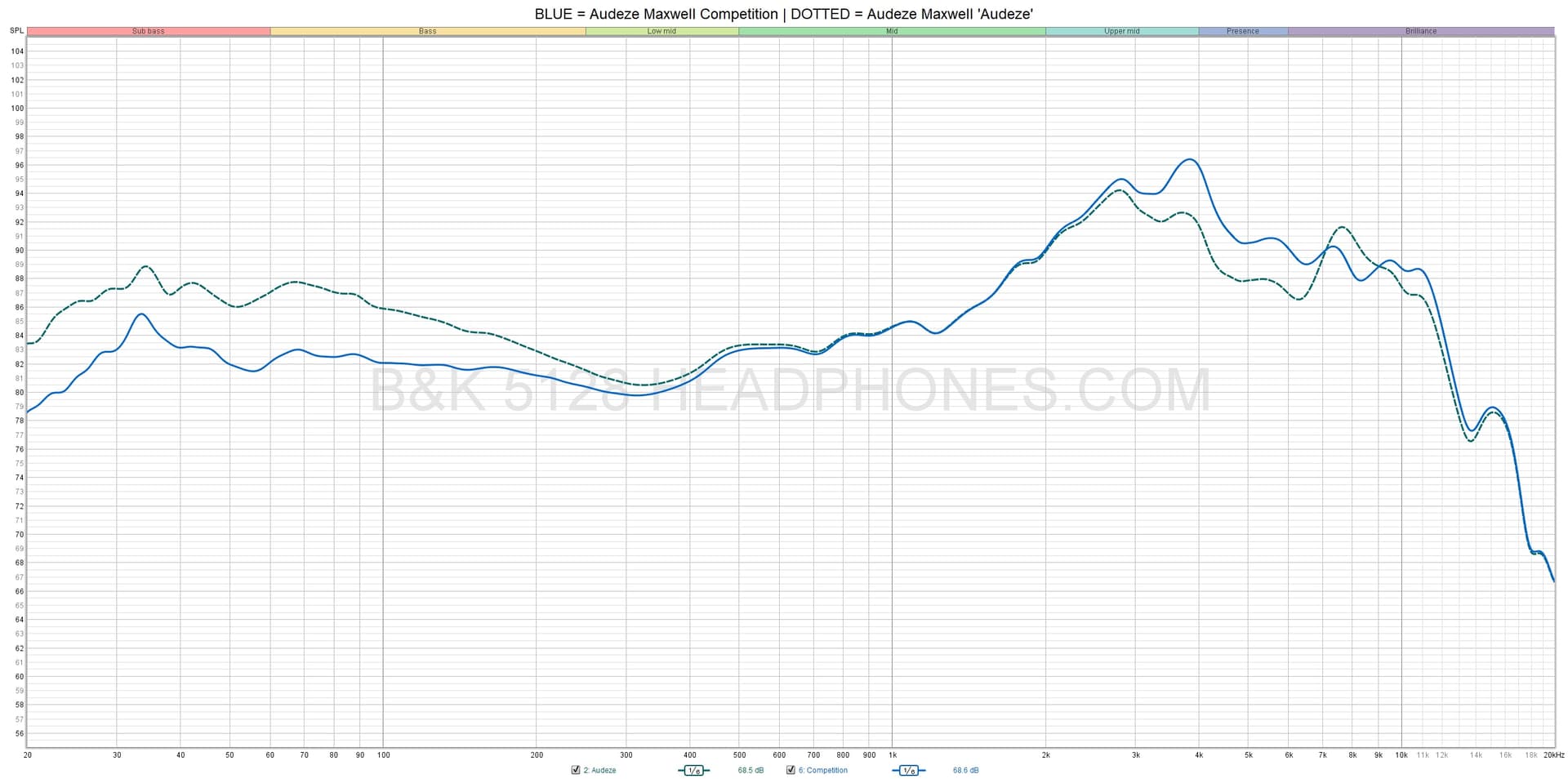 This setting is essentially a worse version of treble boost. It makes the Maxwell sound tinny and shouty. But it isn't meant for music. Rather, it's meant to emphasize team communications so having a shouty tuning makes sense to separate your teammates from the other game sounds.
Footsteps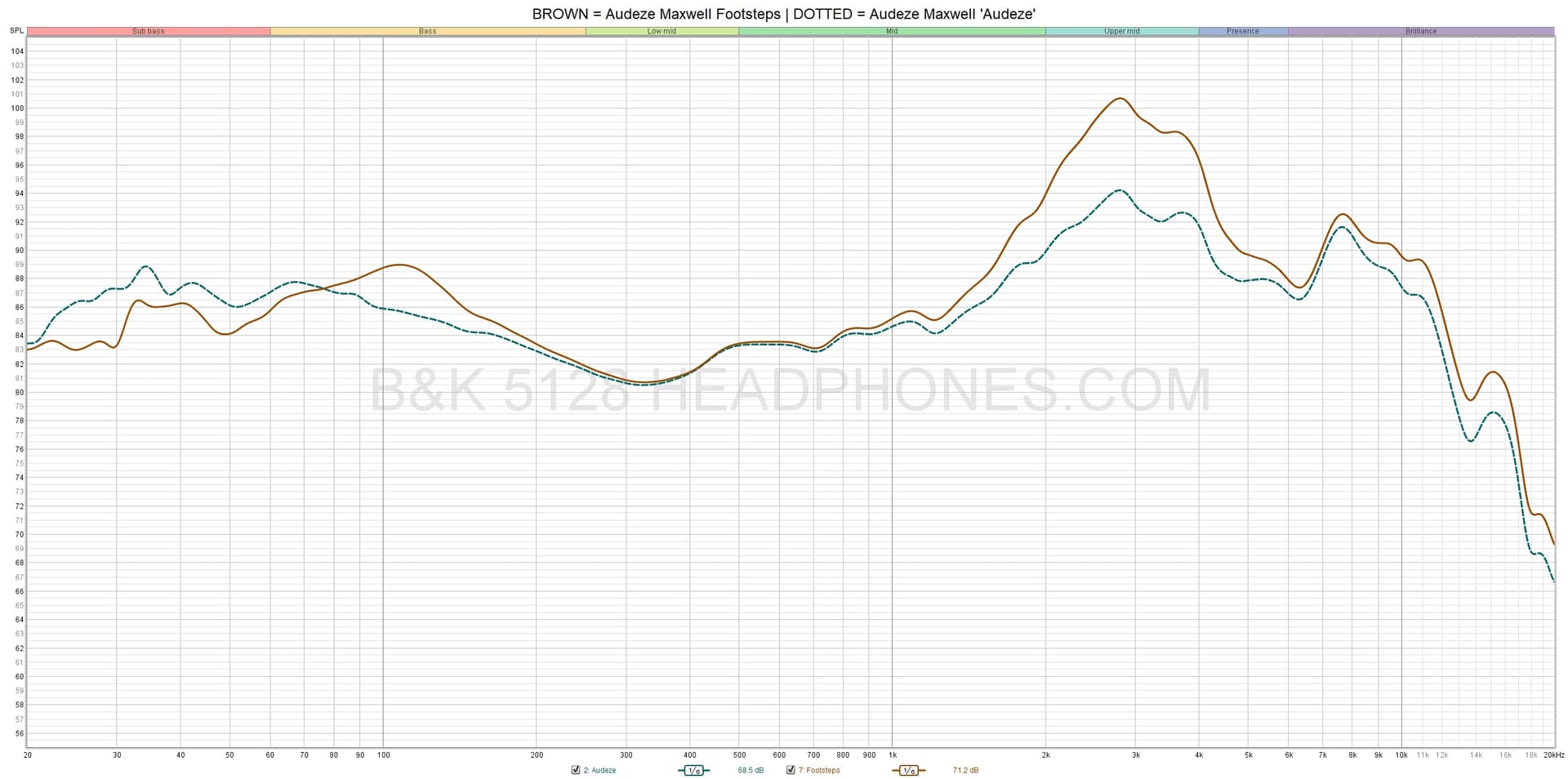 Musically, this is horrific. It sounds like someone's screaming at you. But for gaming, it does emphasize certain sounds to be more easily noticed, such as footsteps. How much it'll help you secure a better KDA is questionable.