7th Acoustics Supernova Review - Smooth Criminal
Introduction
Photography by Chitoh Yung (@chitohgraphy)
Never heard of this brand? You probably aren't alone. 7th Acoustics is a small Indonesian brand, headed by Stephen Syn, that isn't even on the fringes of the international market. Similar to South Korean brand Hidition's early days, 7th Acoustics prefers not to associate with the international market, instead opting to focus on the domestic market where they know their audience. In fact, the brand was only brought to my attention thanks to a close friend in the hobby - and from there it took almost a year to finally get my hands on a demo unit of their flagship 6BA IEM, the Supernova! Admittedly, my interest was merely piqued; I was in no rush. But now that I've listened to the Supernova for a couple weeks, I wish that I had heard it much sooner. Keep reading to find out why.
Unit was loaned for review by 7th Acoustics, and it will be returned at the end of the review period. The Supernova can be purchased by messaging 7th Acoustics on their Facebook page. At the time of this review, it is $750 USD with shipping included. As always, what follows are my honest thoughts and opinions to the best of my ability.
What we like
Effortless tonality, timbre, and coherency
Sports multiple novel tuning techniques
Beautiful faceplates with each IEM made to order
What we don't like
Not the last word in sense of detail
Upper-treble could use some more zing despite excellent extension
Source & Drivability
All critical listening was done off of an iBasso DX300 and my iPhone 13 Mini with lossless files. The stock BGVP silicone tips were used. The Supernova is a relatively easy IEM to drive and I had no issue hitting my usual listening volume of ~70dB on either device. If you would like to learn more about my listening methodology, then I would encourage you to check out this page.
In-the-Box
The Supernova arrives in a small cardboard box. Inside are the following accessories:
BGVP silicone tips s/m/l
Final E silicone tips s/m/l
Puck carrying case
2pin 0.78mm cable
Microfiber cloth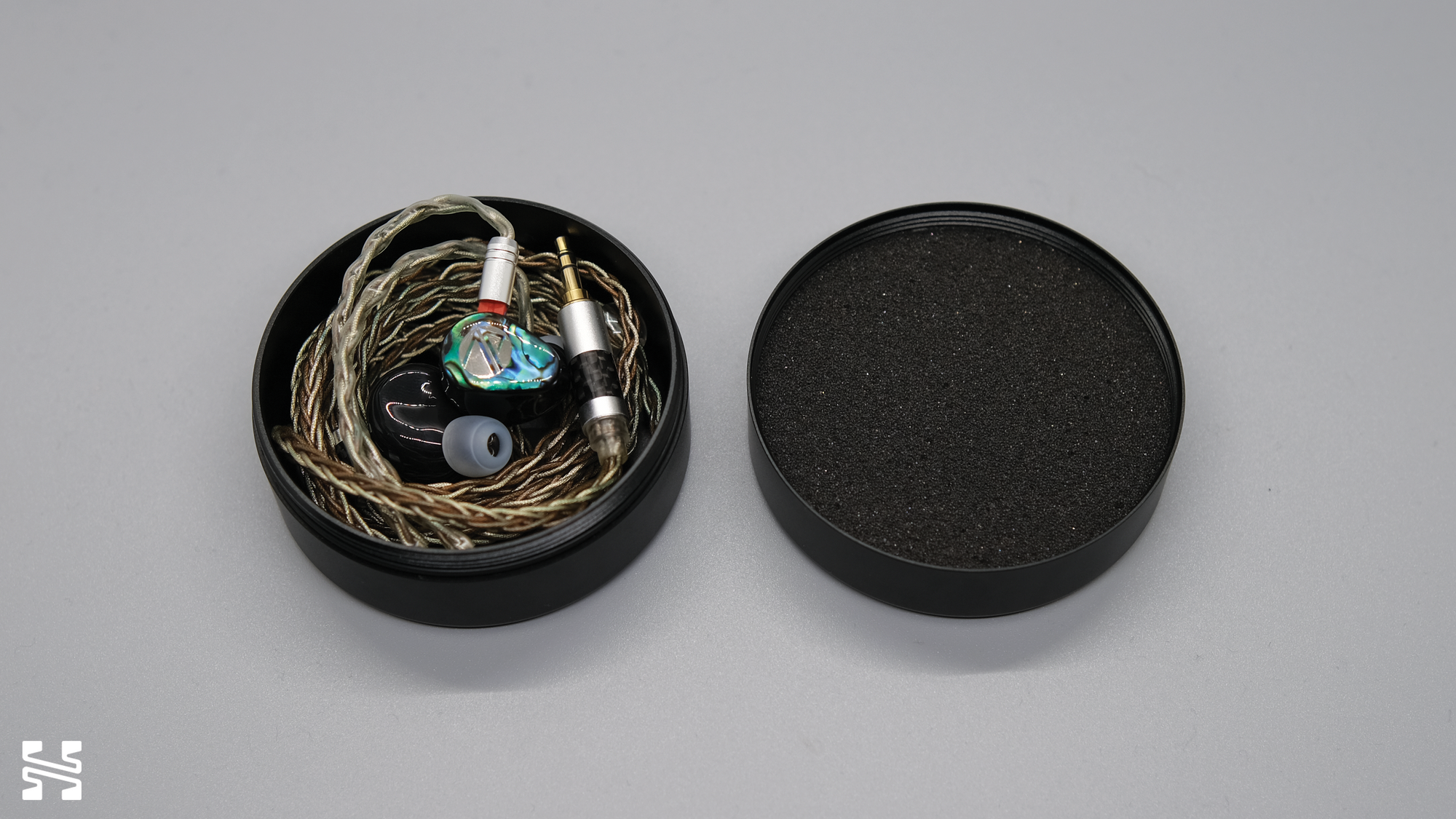 The hockey puck case of the Supernova is crafted of aluminum. There is no insert for the bottom of the case; rather, a foam insert rests in the lid. Ostensibly, when the case is closed, the lack of foam doesn't matter at the bottom of the case because of the pressure, but it would've been nice to see some extra padding. I found threading between the lid and the other half of the case to be good.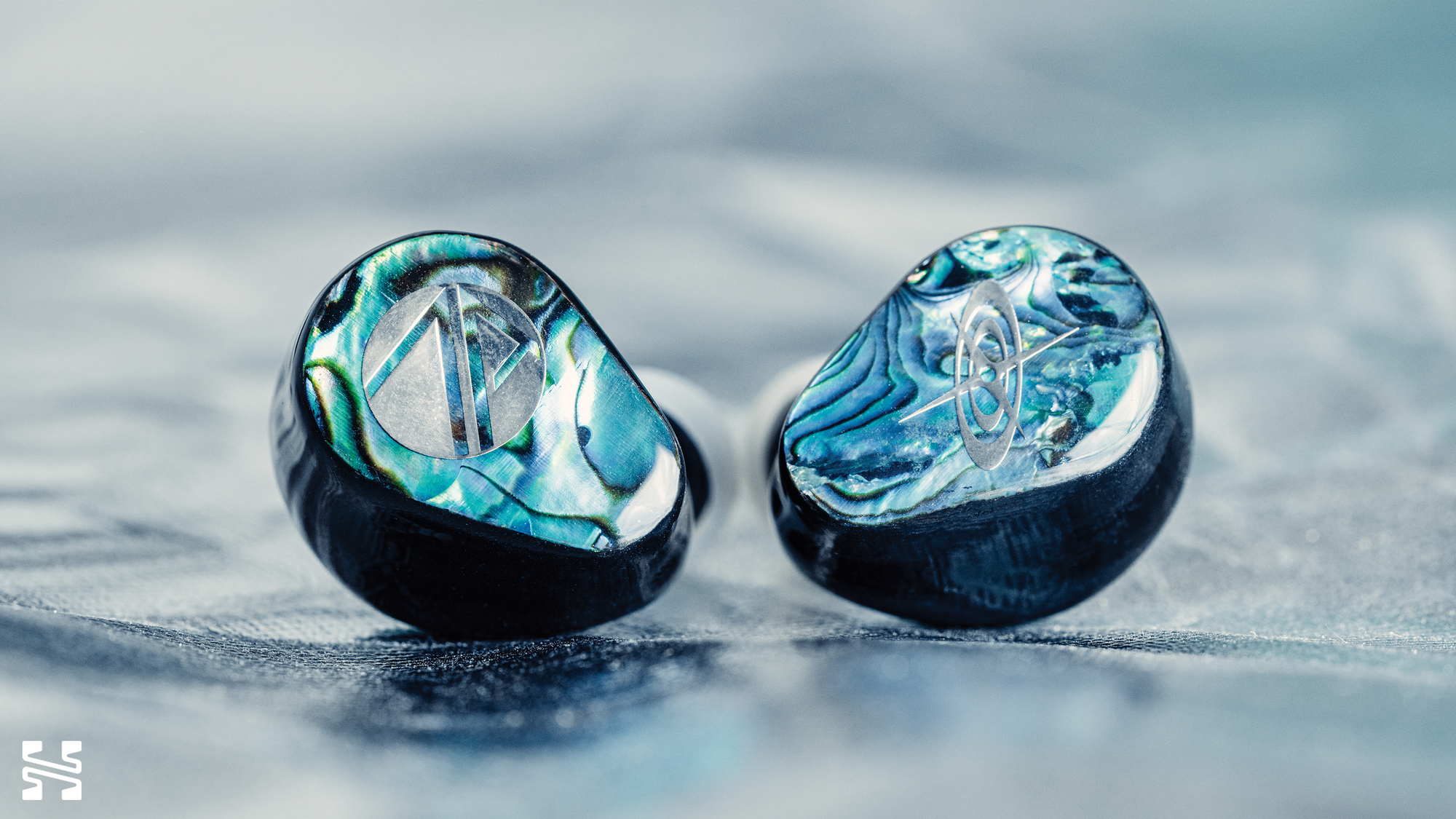 The Supernova itself is a medium-sized IEM. I had no issues with fit or comfort, but I rarely do with most IEMs and fit is always subjective to the end user. The Supernova has a shell made of smooth, black resin that I noticed has a nice thickness to it when tapped. The star of the show, however, is the Supernova's abalone faceplate that has a lacquer coating and the company's logos in silver. Because each Supernova is built to order, there are a few options of abalone color that one has when purchasing. I found the overall build quality of the IEM to be very good.
Sound Analysis
Let me preface my thoughts on the Supernova with the subject of tonal preferences and what qualifies good tuning. The bottom line is that a "tonal panacea" - a tuning that appeals to every listener - does not exist. But if we were to pretend it does for the sake of argument, then IEMs like the SoftEars RSV, ThieAudio Clairvoyance, and Blessing 2 Dusk are the usual suspects. These IEMs are renditions of Harman tuning with subtle tweaks that should at least make them sound decent to the majority of listeners. But what if someone thought outside of the box and took the idea of a tonal panacea a step further? To my ears, that is the Supernova: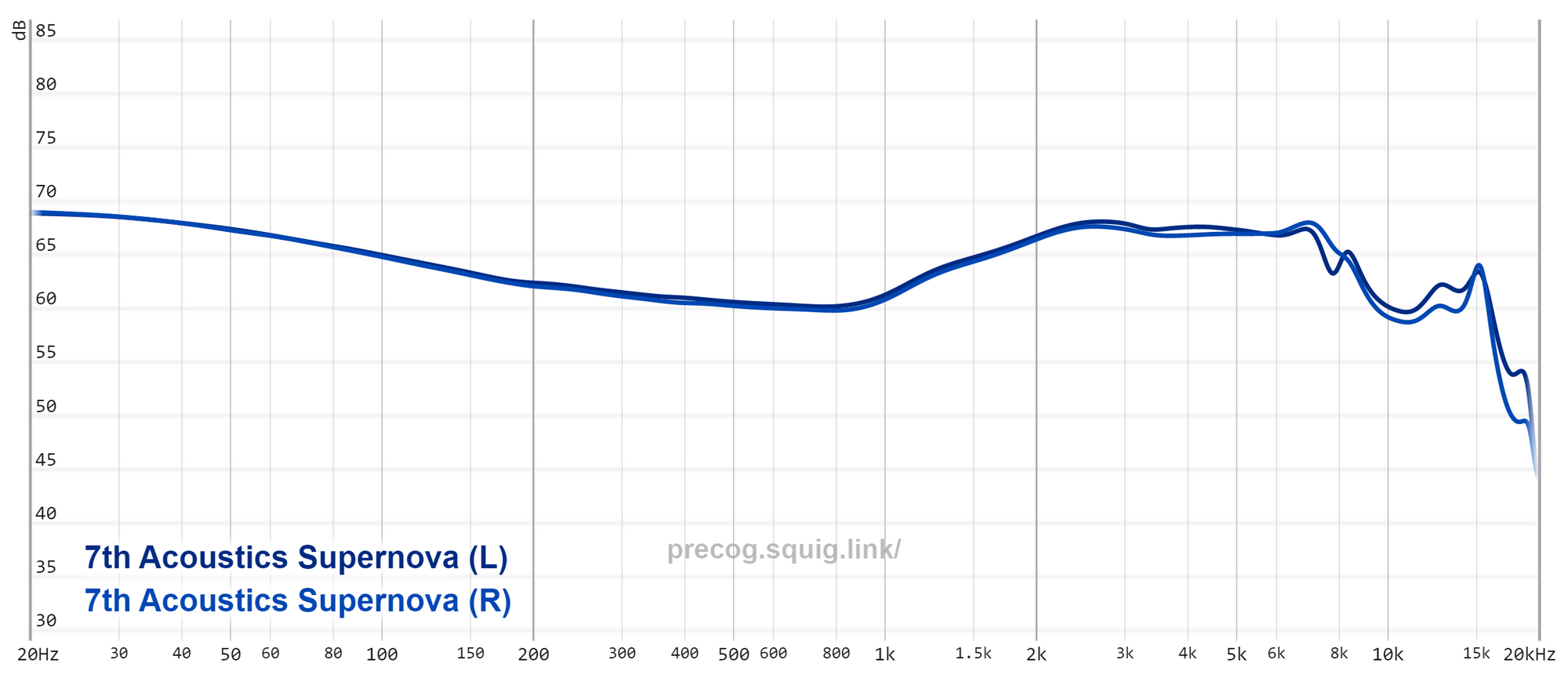 The frequency response above was taken off of a clone IEC-711 coupler. Usually, there would be a resonance peak at around 8kHz, but the Supernova is devoid of it for reasons I'll elaborate on below. If you'd like to compare the Supernova to other IEMs that I have measured, please see here.
The bass of the Supernova is about perfectly meshed with the midrange. It's sub-bass focused, then, with a slight tilt into the lower-midrange that allows for some extra bloom to bass decay. Honestly, it's a tad too much mid-bass for me coming off the likes of the Elysian Diva, my daily driver in the last few weeks. At the very least, I do find myself desiring more sub-bass on runs like Seori's "Lovers in the Night" where the track warrants a deeper bass focus. But overall, I don't think the Supernova has bad bass. It's on the better end of maligned BA bass; not something I find myself complaining much about after some brain burn-in.
In any case, the slight dash of mid-bass is critical to creating the Supernova's midrange which (and this is putting it lightly) is exemplary. I alluded earlier to most "pleasant" sounding IEMs adhering to Harman tuning with subtle tweaks. The Supernova mostly throws the book out the window. In addition to that dash of lower-midrange warmth, after rising at 1kHz, it is then about dead flat from 2kHz to 7kHz. It's fairly reigned in these regions too, so vocals are just on the thicker side in terms of note weight. Inherently, there is a slight bias to male vocals and instruments like bass guitar, as we associate these sounds with being richer. It doesn't really matter what instruments or vocals fall under the midrange of the Supernova, though: they consistently sound natural, soulful, and devoid of sibilance. It's genuinely good enough to make even the most shouty of tracks that plague my library, like SNSD's "Forever 1", sound palatable.
Moving forward, the treble response of the Supernova is not perfect to my ears, but it does have some noteworthy features. For one, it is mostly smoothed in the right places, not dissimilar to something like the Elysian Diva. One of the four bores at the nozzle of the Supernova is actually a chamber intended to precisely dampen resonance at 8kHz. It definitely works. I don't believe the treble comes back up as sharply compared to the Diva, though, and it's more of a linear path after 8kHz up to the limits of my hearing. I would prefer more upper-treble presence for added excitement, but the extension itself is there. To paint a better picture, this results in a softer treble response that sounds more sweet.
Technical Performance
A general observation of the Supernova's tuning is that it is devoid of any egregious peaks or valleys. In tandem with the more relaxed pinna compensation, this facilitates louder and longer listening. I won't say this is necessarily desirable, but it's a phenomenon you'll usually observe with the best of speakers that measure dead flat. Listening louder inherently increases perception of dynamic contrast, and - as I'm sure many will attest to - music just sounds better at higher volumes. In any case, the Supernova definitely sounds reasonably dynamic for an IEM.
Perception of detail on the Supernova is interesting. On first listen, I thought it was quite detailed, but after swapping over to other sets for A/B, I realized that I was simply listening louder with it (see my thoughts above). My consensus is that detail on the Supernova is good but not great for $750. There are certainly sets at this price that have it beat for the crispness and clarity of notes. Imaging on the Supernova is excellent in my opinion, though. While notes do not "float" in a holographic fashion, there is a good sense of being able to "feel" them and distinguish individually between them on the stage.
On this line of thought, I find the Supernova's transients to be very pleasant. There is a softer edge to its attack transients; a combination of the warmer lower-midrange and dampened mid-treble. Decay also tapers off extremely cleanly in a fashion that I often associate with dynamic drivers. Indeed, on the topic of timbre, I would not hesitate to suggest that the Supernova is superior in timbre to most DDs I've heard. Yes, you read that correctly. Driver stereotypes aside, I find timbre is mostly just tonality which this absolutely nails. The Supernova is also incredibly coherent with a perceptively even attack/decay pattern from top to bottom.
Now, there is some science behind this. The crossover network - components that control the roll-off and intersection of the frequencies that drivers output - of the Supernova is uniquely integrated. But that description doesn't do it justice. More specifically, the crossovers in the Supernova are integrated in a fashion where there is minimal overlap between frequencies of different drivers. Scientifically, this is all captured in the resulting frequency response, but there's no question that the Supernova sounds different than any BA IEM that I have heard - in a good way.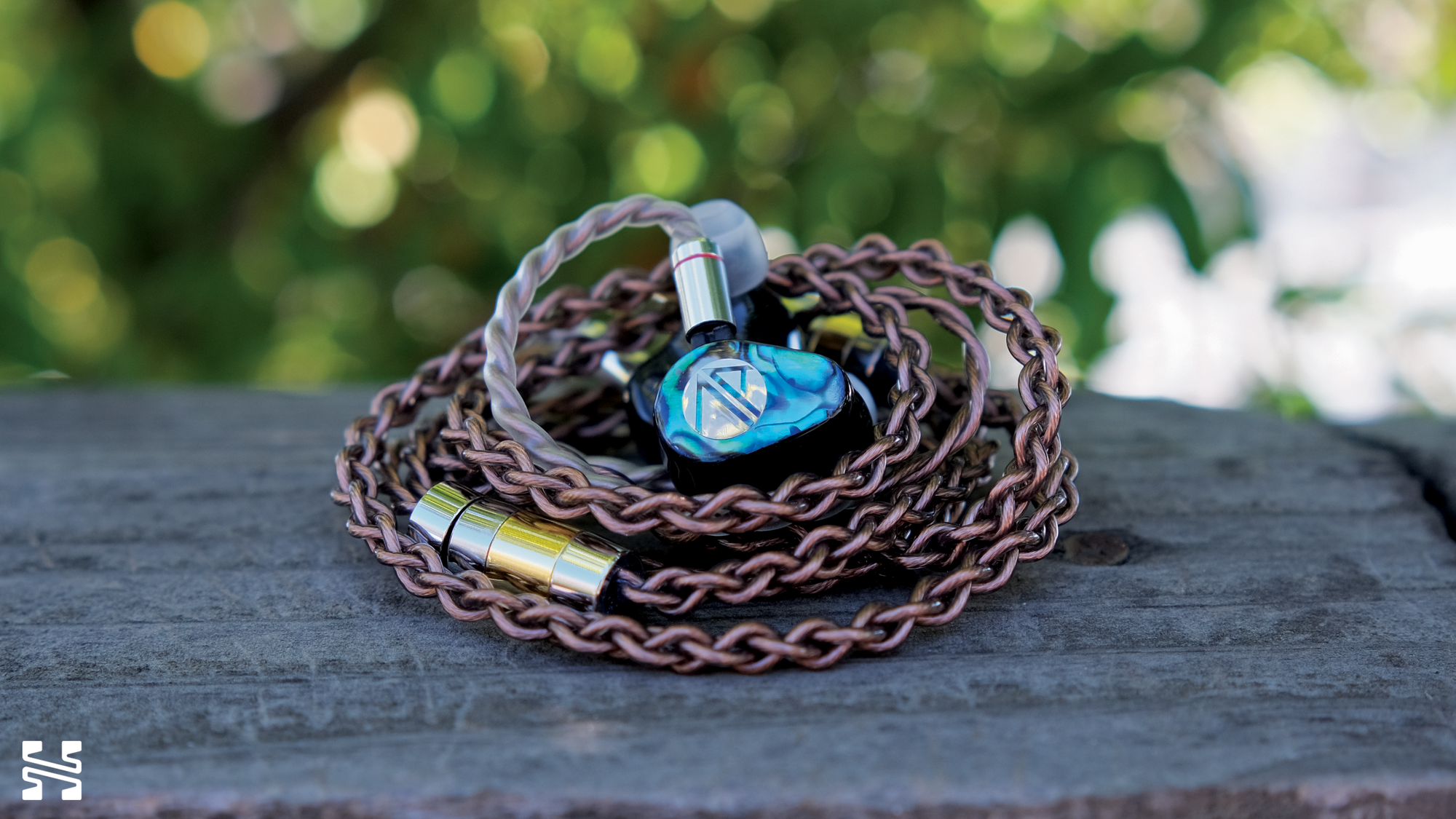 Assessment of Value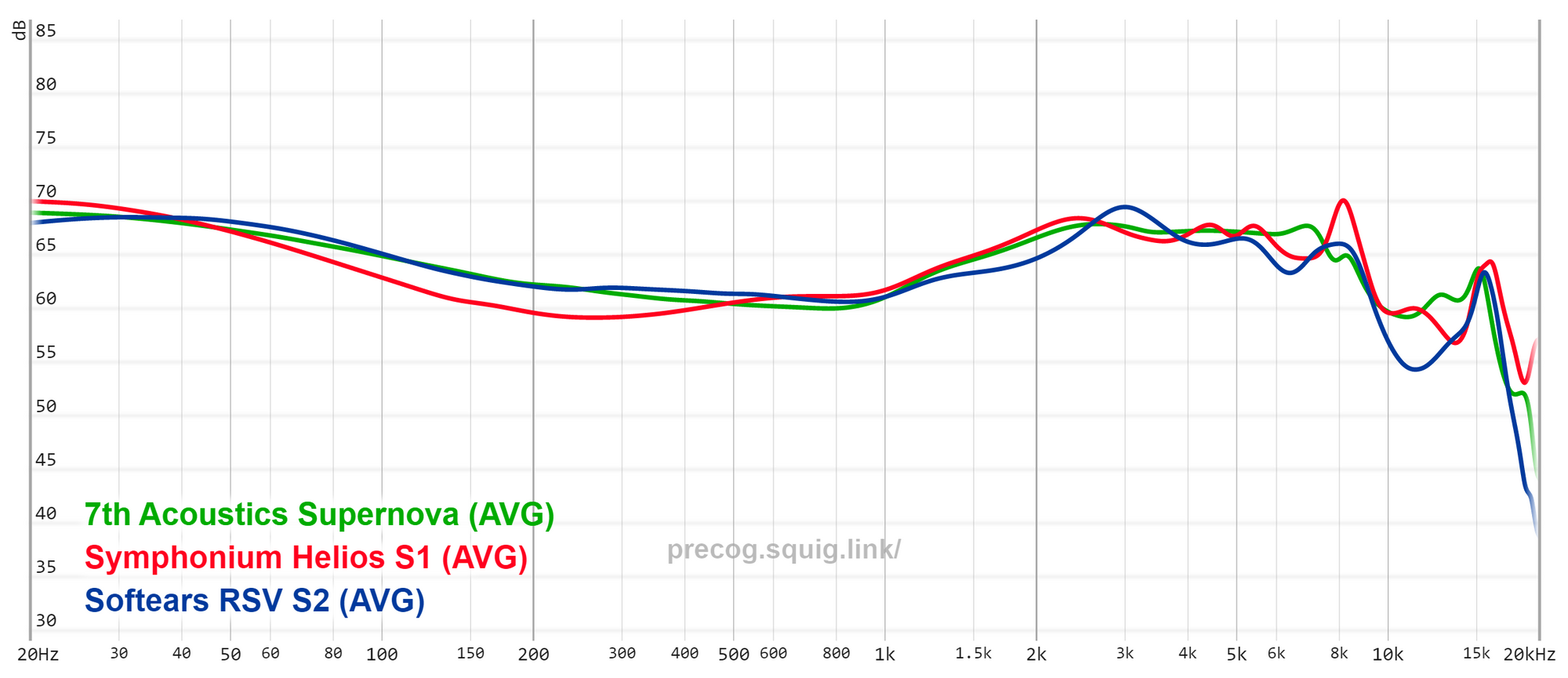 A good IEM for comparison is the SoftEars RSV which, as I mentioned earlier, is usually considered a benchmark for tonality in the $700 range. Like the Supernova, it invokes a sense of "dynamic driver" timbre. However, head-to-head, I find the Supernova to be even more pleasing for its transients and to be more coherent. This observation possibly stems from the RSV's bass response which is more sub-bass focused and its mid-treble which is more recessed by comparison. Both have a similar sense of detail, while I'd give an edge in imaging and dynamics to the Supernova. Generally, I find the Supernova to take most of the things that the RSV does right a step further.
Interestingly, the Supernova measures quite similarly to the Symphonium Helios outside of the bass and lower-midrange. But this is deceptive as these IEMs sound very different in practice. Whereas the Supernova leans into a smoother, softer ethos for its presentation, the Helios sounds like a supercharged, conventional BA IEM. Snappy, quicker, and sharper are adjectives that describe the Helios by comparison - it definitely has a more technical focus to its sound. At the end of the day, my preferences do align more with the Helios overall, but it's not necessarily a fair comparison as 1) these IEMs sound very different and 2) the Helios is several hundred dollars more. I just thought it was an interesting comparison.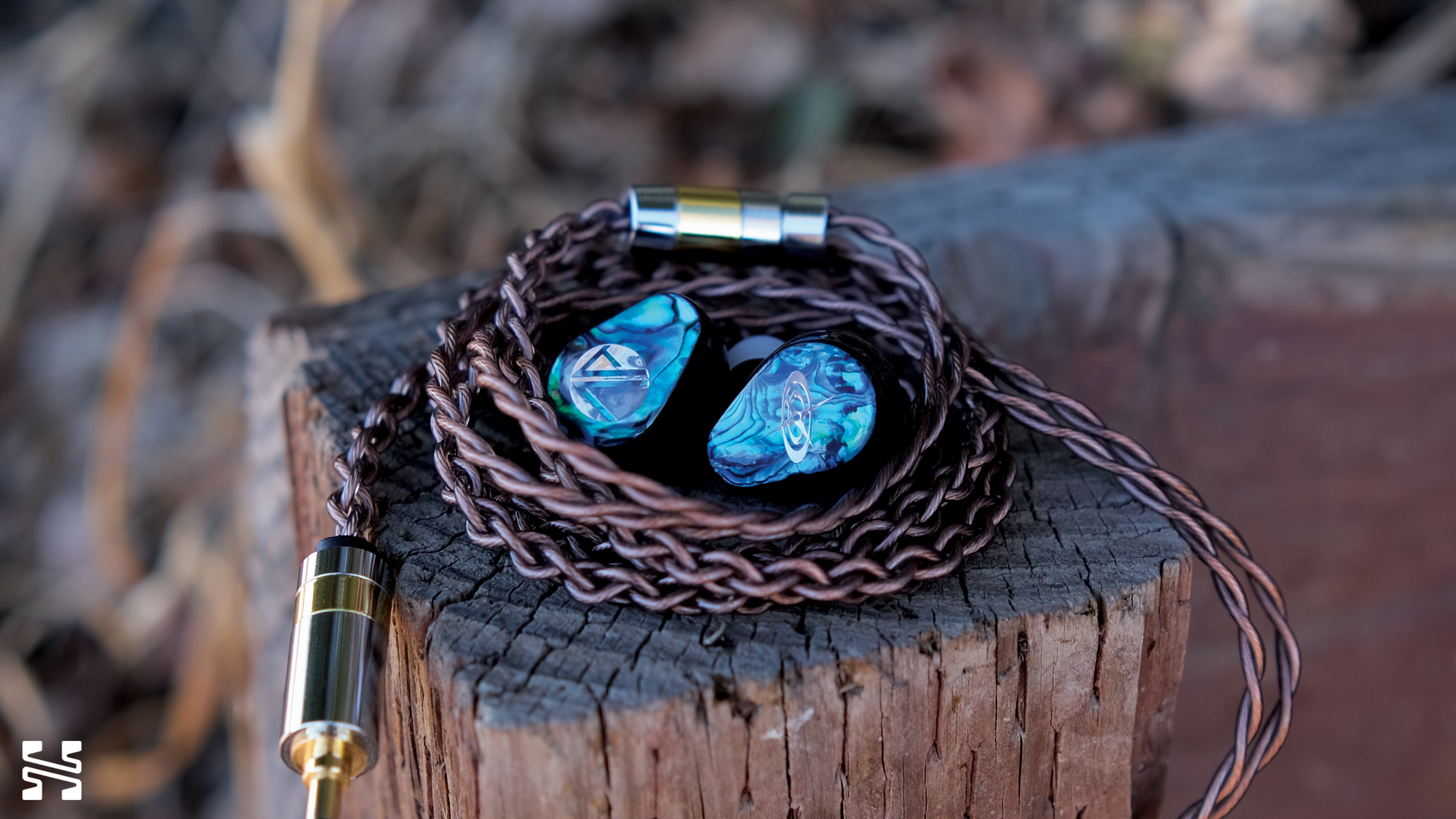 The Bottom Line
Ultimately, the Supernova is a noteworthy IEM that I feel warrants more attention. It employs multiple novel tuning techniques, and the results speak for themselves both on paper and in my ears. But I don't blame Stephen for being hesitant to enter the international market. The market is incredibly competitive nowadays at this price range even if I think the Supernova certainly contends at the top of its price bracket. And hey, I have to admit that, in some sense, it's exciting being one of the few in the know about a gem like this.