iBasso DX300 Review - It's a brick, but it sounds so good
iBasso recently released the DX300, the brand's latest flagship DAP (digital audio player), to the tune of $1250. Incidentally, I've been on the lookout for an upgrade to my trusty iBasso DX160 for some time, so I decided to take the plunge. In this review, I'll be sharing my thoughts on how I think the brand's latest player stacks up after a couple weeks of use. Before we get into the review, though, I want to note that there are currently two versions of the DX300's AMP11 module out in the wild. iBasso was forced to release a second iteration of the AMP11 due to a recent chip shortage. What I will be taking a look at in this review is the AMP11 MK2, the latest version, so you can expect my assessment to reflect what current buyers will receive. 
This unit was purchased at a discount for review from Headphones.com with my own money. As usual, what follows are my honest thoughts and opinions to the best of my ability. 
Presentation & Accessories
The DX300 arrives in a royal blue, hard-cardboard box. There is a silver sleeve to the left that slides off; on the sleeve, you will find the model specifications and other related information. Lifting the lid of the box, you're presented by the DX300 nestled in foam. Underneath, the following accessories are included:
2.5mm burn-in cable
Coaxial cable
Leather case
Screen protectors (film + tempered glass)
USB-A to USB-C charging cable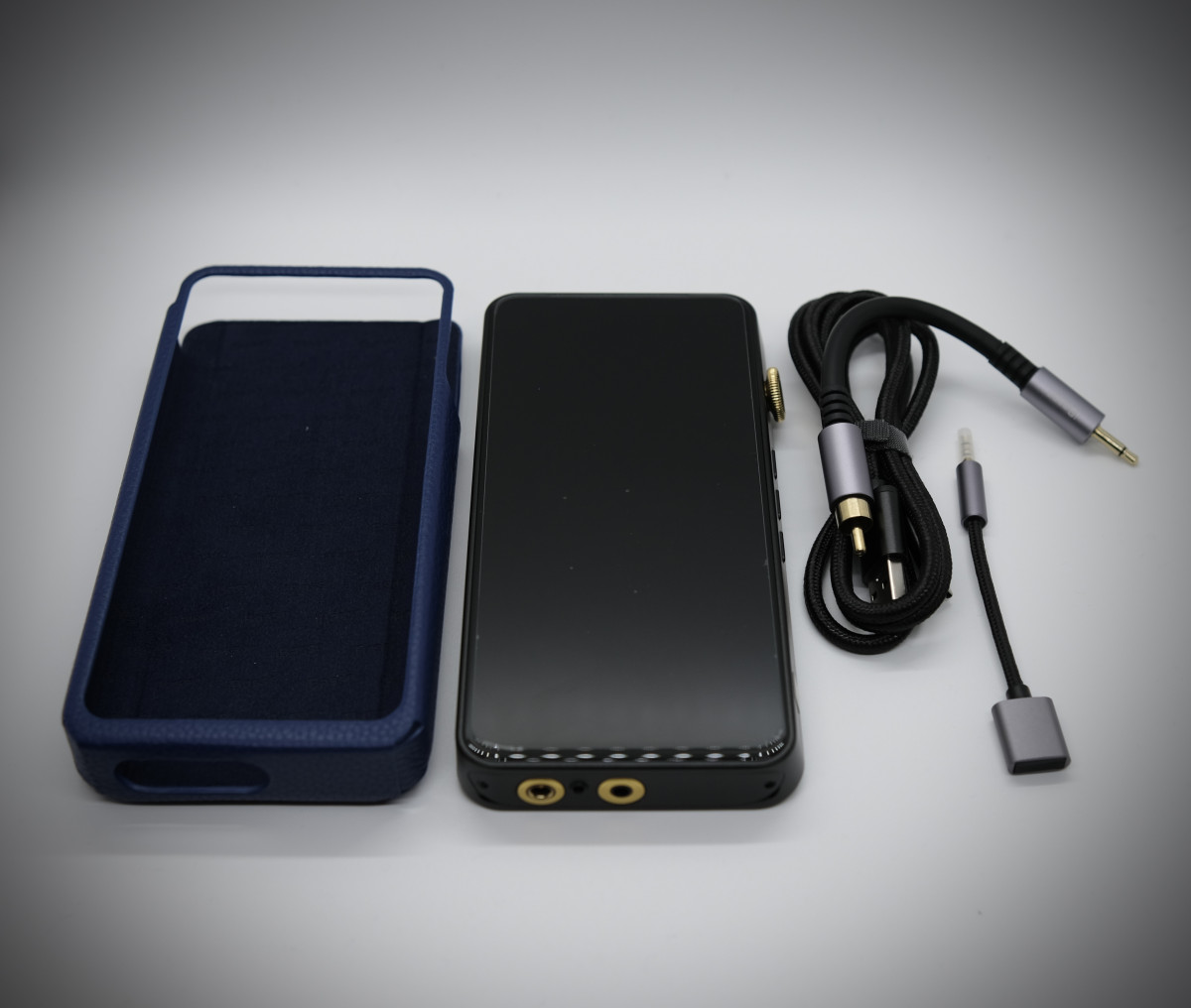 Yeaaah, I spent a minute or two trying to figure out what the burn-in cable was for. And then it hit me. Certainly a nice touch if you're into that, though. I was also satisfied with the quality of most of the accessories, but let's just say the included leather case is not quite ideal. It obfuscates the DX300's LED strip at top if you don't have an optimal fit, brushes up against the volume knob, and makes accidentally pressing the buttons a frequent affair. Don't get me wrong, it's certainly usable, but I wish iBasso had put some more consideration into the included case. 
Hardware
The DX300 is a beefy DAP, clocking in at 162mm x 77mm x 17mm and 300 grams. For reference, that's my iPhone X stacked twice over and with a larger screen to boot! Luckily, there's some added benefits, namely the screen. The screen to body ratio on the DX300 bests even a lot of smartphones I've seen, and it sports a resolution of 2340x1080 pixels and 397dpi. Just think about it: All of your album artwork in juicy, high-definition and an easy-on-the-eyes display that, unlike most other DAPs, doesn't make it feel like you're wearing gloves while navigating. I can certainly get on board with that. At the top of the screen, you also have a cool LED strip that shows when music is playing and when the DAP is charging. 
Other hardware features include, on the right side of the DAP, a gold, metal volume knob (which also controls on/off) and three thin, rectangular buttons for pause/play and moving the track forward/backward. The knob is of high quality with zero play; there are slight ridges for catching your finger and it presents a pleasant tactile feedback. To the left, you have a single slot for a Micro-SD card. At the top, you have a USB-C charging port and Coaxial 3.5mm input. At bottom, there are ports for 2.5mm, 3.5mm, and 4.4mm, so you're covered in all the most common terminations. Finally, the build quality of the DX300 itself is, of course, excellent and inspires a sense of confidence in-hand.
Under the hood, you have some interesting stuff going on. The DX300 sports an 8-core, Qualcomm Snapdragon 660 chip and 6GB of RAM. While this is a middling chip by smartphone standards, it's big news for a DAP. If you're not familiar with DAPs, most manufacturers try to get away with using the cheapest chips possible because DAPs are niche products. This often results in sluggish performance and a harrowing end user-experience. To show what we're working with, I regularly have to manually close my recently used apps just to clear up memory on my DX160! But dang, the DX300 is snappy. I could rarely detect lag, and the DAP was able to handle the various applications (Discord, YouTube, Google Docs, etc.) I downloaded with ease. It's the little things like this that go a long way in my book when it comes to DAPs. 
Finally, the DX300 has two batteries. There is a 4000mAh battery for digital tasks, and a 2000mAh battery for analog tasks. In layman's terms (which is basically the extent of which I'm capable of understanding it), the idea here is that separate batteries eliminates unwanted distortion that may occur with a single battery, particularly under heavy load. Whether this has tangible benefits in practice, well, I couldn't really tell you! I believe the iBasso DX220 made use of a similar scheme where the batteries had to be charged separately. Thankfully, this inconvenience has been rectified with a new chip on the DX300 which trickle-charges the battery if one fills up before the other. I'd still recommend picking up a fast-charger for the DX300, as it requires a considerable amount of power to charge quickly. Battery life was generally good in my experience, and I'd imagine it would hold up well for a workday's use.
Software
Forgive me if I'm rusty on some of the details here, as I've not used an Android phone in the last five years! The DX300 is an Android DAP, meaning it uses Android 9 Pie. The DAP comes pre-installed with APKPure; I would recommend downloading the Google Playstore from there to get set up. The flexibility of having an Android-based system really shines with a DAP like the DX300 which has plenty of power under the hood. The WiFi and Bluetooth of the DX300 work terrifically too; I was able to stream reliably from anywhere in my house and pair my AirPods Pro without a problem.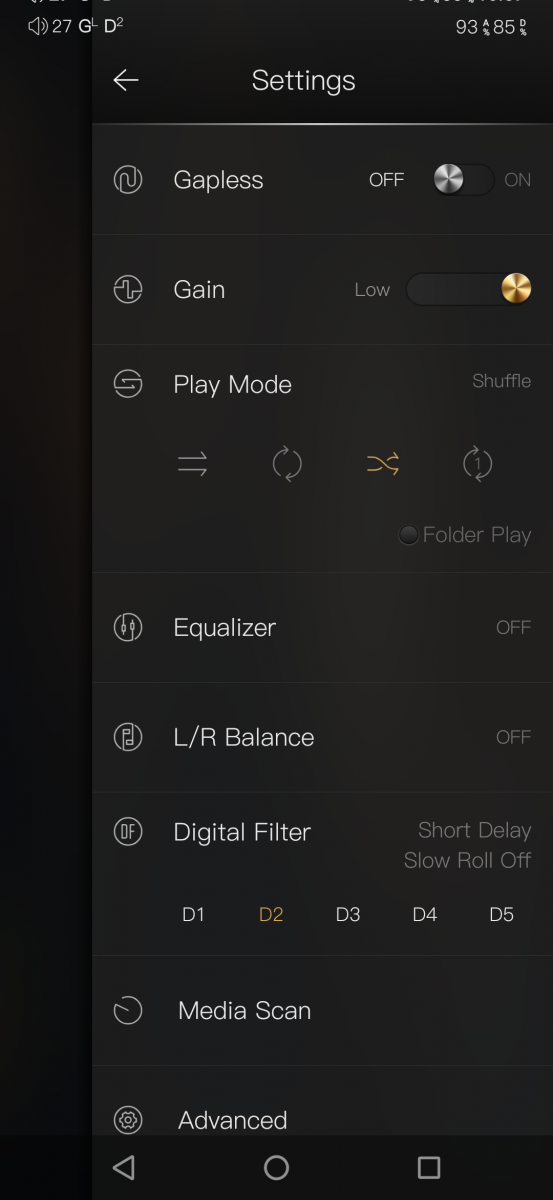 Now, the DX300 technically has two operating systems, the second one being Mango OS which is a stripped down version intended for audio only. It's not very useful if you ask me, and it actually runs noticeably slower than Android OS! I can only imagine that it's not been optimized very well. Thankfully, I'm perfectly content with iBasso's stock Mango app on Android. It has all the basic stuff you might want like:
Shuffle/Loop/Order settings
Playlists
Low/Medium/High gain
Gapless Playback
In the advanced settings, you'll find access to a sleep timer (which unfortunately only fully shuts down the player), an option to turn off the LED indicator strip, and USB/Bluetooth DAC modes. The app quickly scans the internal SD card (you get 128GB stock, not too shabby) and the external SD card if you have one. Perhaps the biggest selling point of Mango, though, is the inclusion of a Parametric EQ with six settings and six bands. You also have a graphic equalizer with ten preset bands if that's more your speed. I'll talk more about the various digital filters and their effects in my sound analysis. A final, nice touch about the Mango app is that it'll showcase the album artwork of the track currently being played, at full-size, on the unlock screen. You can certainly disable this, but why would you want to?
I will say there are still some small bugs in the system. This is pretty normal for any DAP (again, niche products and all that); thankfully, iBasso is one of the better manufacturers when it comes to software support/updates. For example, they've recently added a "double-tap to wake" feature which is quite useful...when it works. Another one of the more noticeable bugs for me is that when clicking to turn off the DX300's screen, if my finger touches the screen as the device turns off, the DX300 will turn back on like nothing happened. Hopefully, these issues will be addressed in a future update.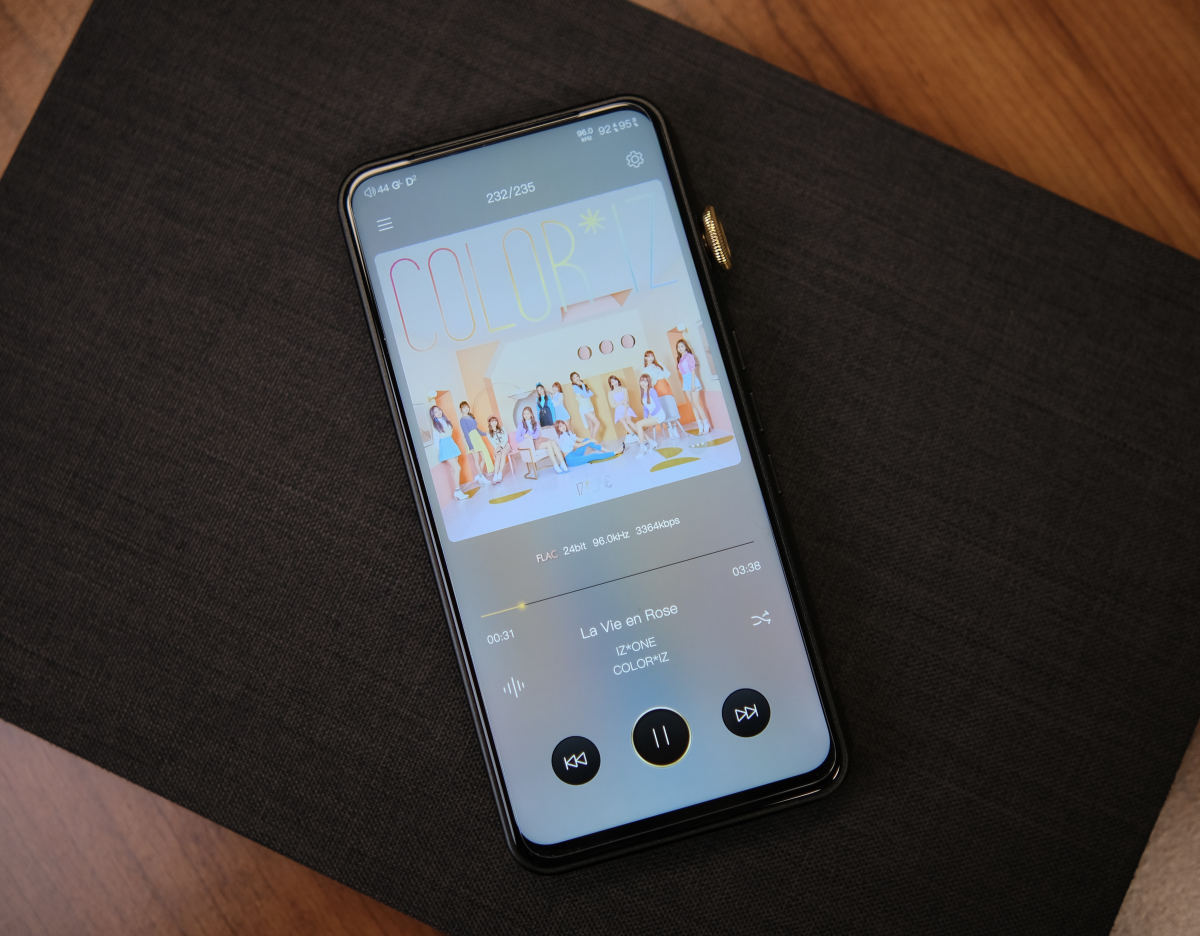 Sound Analysis
As a disclaimer, the differences that I generally hear between sources are not major, although I would definitely attest to differences existing. Listening was done with a variety of sources including my 64 Audio U12t, Campfire Andromeda 2020, and Moondrop Blessing 2. Burn-in is not a consideration in my assessment. Your mileage might vary per usual. 
For my sound analysis of the DX300, I will draw comparisons to the iBasso DX160 which has served as my reference DAP for the past year. To lend some context, I generally hear the DX160 as having a neutral-bright presentation. Bass on it is quite uncolored - almost hollow, really - with the midrange and treble sounding thinner, fairly plasticky in transient density. You can see that the DX160 doesn't exactly have my favorite tonality even if it's one of the better DAPs in its price range. 
Let's get this out of the way: the DX300 sounds nothing alike. If you were hoping for a direct upgrade to the DX160 (and likely the DX220), then this isn't it; however, I have to admit that I was pleasantly surprised. The DX300 presents a south of neutral, warm and smooth presentation. Bass is considerably thick and leans slightly toward the midbass; despite this, it maintains respectable nuance with slam and texture present in spades. I can't get enough of it. The midrange of the DX300 follows suit with a more organic presentation. I hear a slight blunting to the midrange's transient attack - the pleasant kind, I might add - which I believe aids this perception. Of course, the trade-off is that the DX300 could be a smidge more resolving than it is. Treble is clean, with adequate sparkle, and with perhaps just a hint more glare than I'd prefer.  Overall, this type of tonal balance aligns with my preferences very closely. 
Of course, you'll want to know about technicalities too. In this vein, the DX300's macrodynamics immediately caught my attention. I've been on something of a K-Pop kick lately - fine, I always am - and I believe the first track I played was Girls Generation's "Whisper". Mind you, this is a track with pretty horrid dynamic range (like pretty much all else K-Pop). But immediately, I could just feel the intensity and sheer punch to the opening bassline; this was aided by the DX300's meaty, rotund bass. Tracks with more pronounced dynamic swings (quiet-to-loud shifts), such as Sawano Hiroyuki's "e of s," likewise exhibit terrific contrast. 
Staging and layering are quite expansive on the DX300, besting any DAP that I've heard thus far. The most apparent issue to my ears, then, is a lack of center image incision. I struggle to pinpoint vocals positionally on the soundstage despite there being the "feeling" of considerable depth to the center image. It almost sounds as if vocals have been pushed upwards, and upfront, more than I'd prefer. That aside, there is a good sense of physicality, authenticity if you will, to the DX300's timbre, even if it does not quite reflect what I would consider "lifelike". This sense of authenticity can be partly attributed to the aforementioned, slight blunting to transient attack in the midrange. Notes also decay more cleanly relative to what I hear on the DX160, thus circumventing the etched, plasticky quality that characterizes most lesser DAPs. Detail retrieval is appropriate for what I would expect for the price point; that is to say excellent. 
As for adjustments, the DX300 has five filters (D1-D5) that you can play with. To my ears, the first four filters make very small differences:
D1 (Fast Roll Off) has the slowest attack and the most distant presentation.
D3 (Short Delay, Fast Roll Off) has the sharpest, thinnest sound to my ears - not a fan.
D2 (Short Delay, Slow Roll Off) and D4 (Slow Roll Off) fall in-between the aforementioned filters; D4 sounds slightly smoother than D2 - or was it the other way around?
'Honestly, I doubt I could pass a blind test between the filters, so I wouldn't worry too much about them. However, the fifth filter, the NOS filter, makes the most audible difference. I don't like it. It sounds more...analog, perhaps, but there does appear to be added distortion akin to a thin blanket being smothered over the DX300's presentation.

I'm sure some will also wonder whether using the 3.5mm port versus the 2.5/4.4mm balanced ports makes a difference. I will say I prefer the balanced ports; however, whether they actually sound better is a different story. The balanced ports provide more juice than the 3.5mm port which makes volume matching difficult and, as we all know, music just sounds better when it's played louder. It's the same story with Mango OS. I wouldn't feel comfortable saying it sounds different (much less better) and frankly, the access to other features with stock Android seals the deal for me. Hey, just keeping it real. And speaking of keeping it real, the DX300 probably isn't going to fly very nicely with uber-sensitive IEMs like the Andromeda 2020; I hear a good amount of hiss. Although I'd wager that's more so an issue with those IEMs themselves than it is with the DX300.

For other power considerations, I was able to use the DX300 to drive a variety of headphones like the Focal Clear, Sennheiser HD6XX, and Sennheiser HD800S without a problem. In fact, even ~40 volume on the low gain was adequate volume for my listening with these headphones. So I don't think you'll have trouble driving most headphones unless you've got something that requires a ton of juice. Driving any IEMs I had on-hand was a non-issue of course.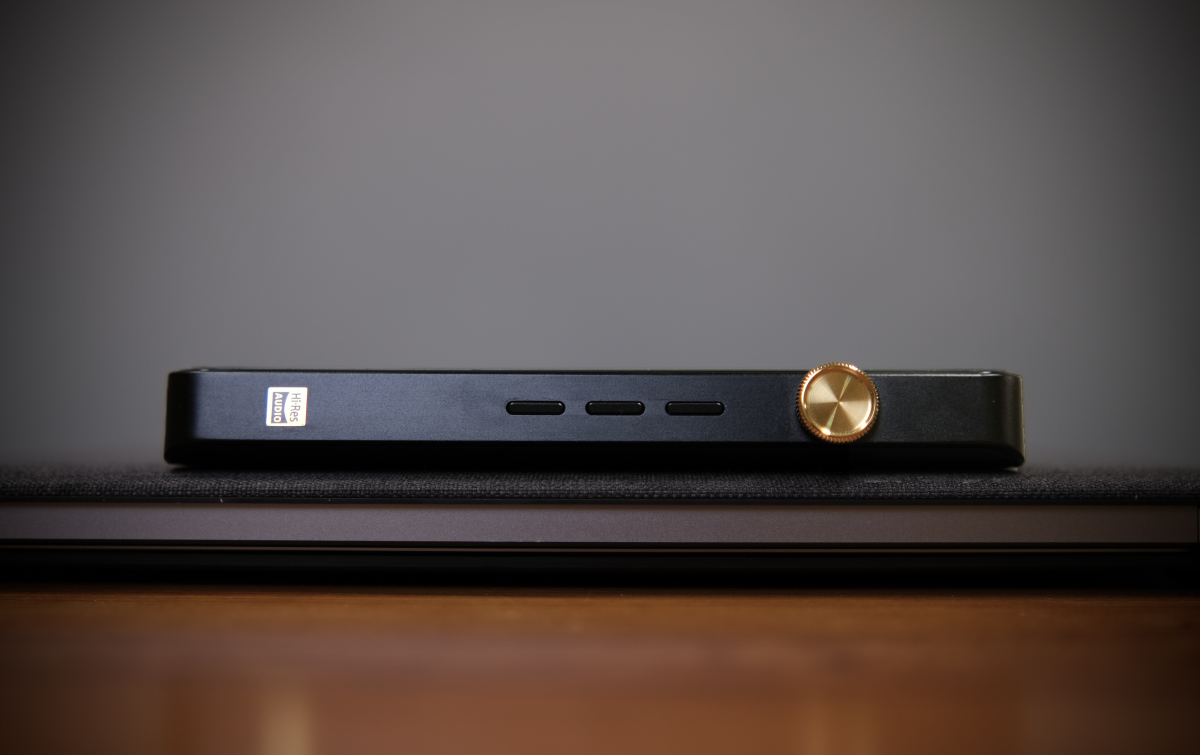 The Verdict
iBasso's DX300 certainly surprised me, but it was mostly for the right reasons. While there are still minor bugs that need to be ironed out, the DX300 combines class-leading (for a DAP) hardware with a smooth, pleasant, yet technically competent sound that I think most would be hard-pressed to find fault with. The biggest limitation, in my eyes, is the DAP's size. But for listeners who don't mind sacrificing a considerable chunk of pocket real estate (or plan to carry it in a backpack while on the go like myself), the DX300 is a DAP that I'm pleased to recommend.


Watch the video review here:


Discuss the iBasso DX300 on the HEADPHONE Community Forum.