Topping
Sale price
$249
Regular price
$349.00
Save 29%
Unit price
per
Amplifier type

More information

Translation missing: en.products.product.amplifier_type_info
Solid-state
Connectivity

More information

Connectivity refers to the method in which the headphones connect to the audio source. Headphones can be either wired or wireless.
Wired
Portability

More information

DACs and amplifiers can either be carried around or meant for static desktop use
Not Portable
View full details
Topping
Topping A30 Pro Desktop Headphone Amplifier
Sale price
$249
Regular price
$349.00
Save 29%
Unit price
per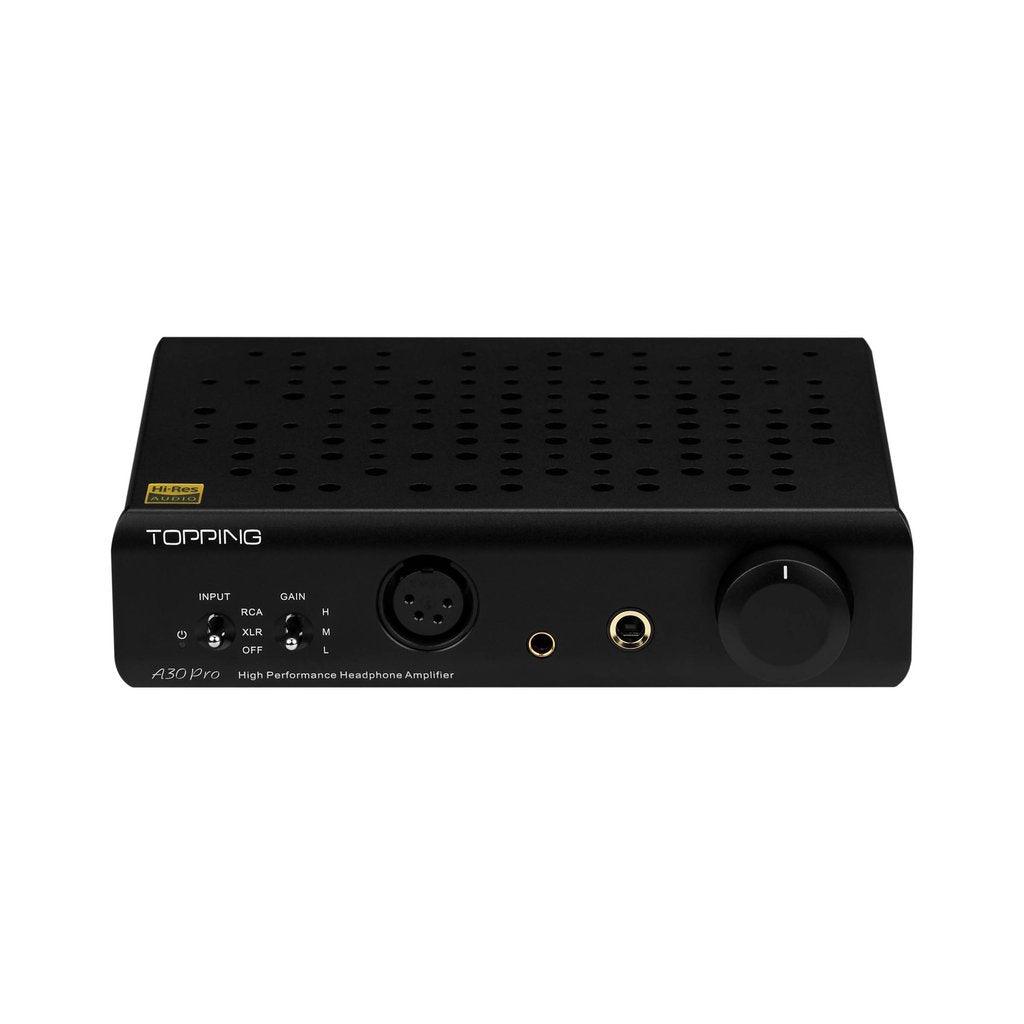 NFCA Headphone Amplifier
The Topping A30 Pro Desktop Headphone Amplifier uses the new specifically redesigned NFCA based circuit is optimized for terrific single ended performance. Massive paralleled high performance audio opamp architecture along with UHGF technology provides excellent DC and AC performance. High output current drive capability allows the amp driving low impedance headphones with ease. APX555B limited our measurement again
4PIN XLR+4.4mm+6.35mm Output
Built with a few outputs, you do not have to worry about compatibility while buying headphones. Designed with commonly seen 4.4mm, 6.35mm and 4 Pin-XLR connector, the Topping A30 Pro headphone amplifier covers most occasions and types of headphones. Functional but also compact, TOPPING A30 Pro desktop headphone amplifier in ready to perfect your HiFi Audio system with its amazing features
3 Steps Gain Settings
The Topping A30 Pro headphone amp provides 3 step gain settings which can easily adapt to the huge sensitivity span from IEMs to high impedance and full size over-ears. Just connect the earphones and leave the rest to the Topping A30 Pro desktop headphone amp.
SE + BAL input pass through
When shutting down, the input signal is directly output to RCA or TRS without amplification, which will be more suitable for active speakers/monitor speakers when the DAC has pre-amplifier functions. Even better is when used with D30Pro, the excellent noise performance of D30Pro is not wasted.
Say Goodbye to Ground Loops Noise
When multiple equipment are used, RCA Connection may encounter ground loop noise. A30 Pro introduces a GND/LIFT switch as the solution. When in normal use, set it to GND; when encountering ground loop noise, switch to LIFT to change the ground point of the A30PRO from the it's chassis to other equipment which it connected to.
Specifications
Dimension: 17.4cmx13.8cmx4.5cm

Weight: 870g

Power: 100-240VAC 50Hz/60Hz

Gain: L/M/H

Amplifier inputs: 1 xXLR (L+R) / 1 xRCA (L+R)

Headphone Amplifier outputs :

1 X 6.35mm headphone output jack 

1 X XLR headphone output jack 

1 X 4.4mm headphone output jack,

Pass through outputs: 1x6.35mm TRS(L+R)/1xRCA (L+R)

Power consumption: <9.0W
What's In the Box?
A30 Pro

AC cable

6.35mm to 3.5mm adaptor

User manual

Warranty card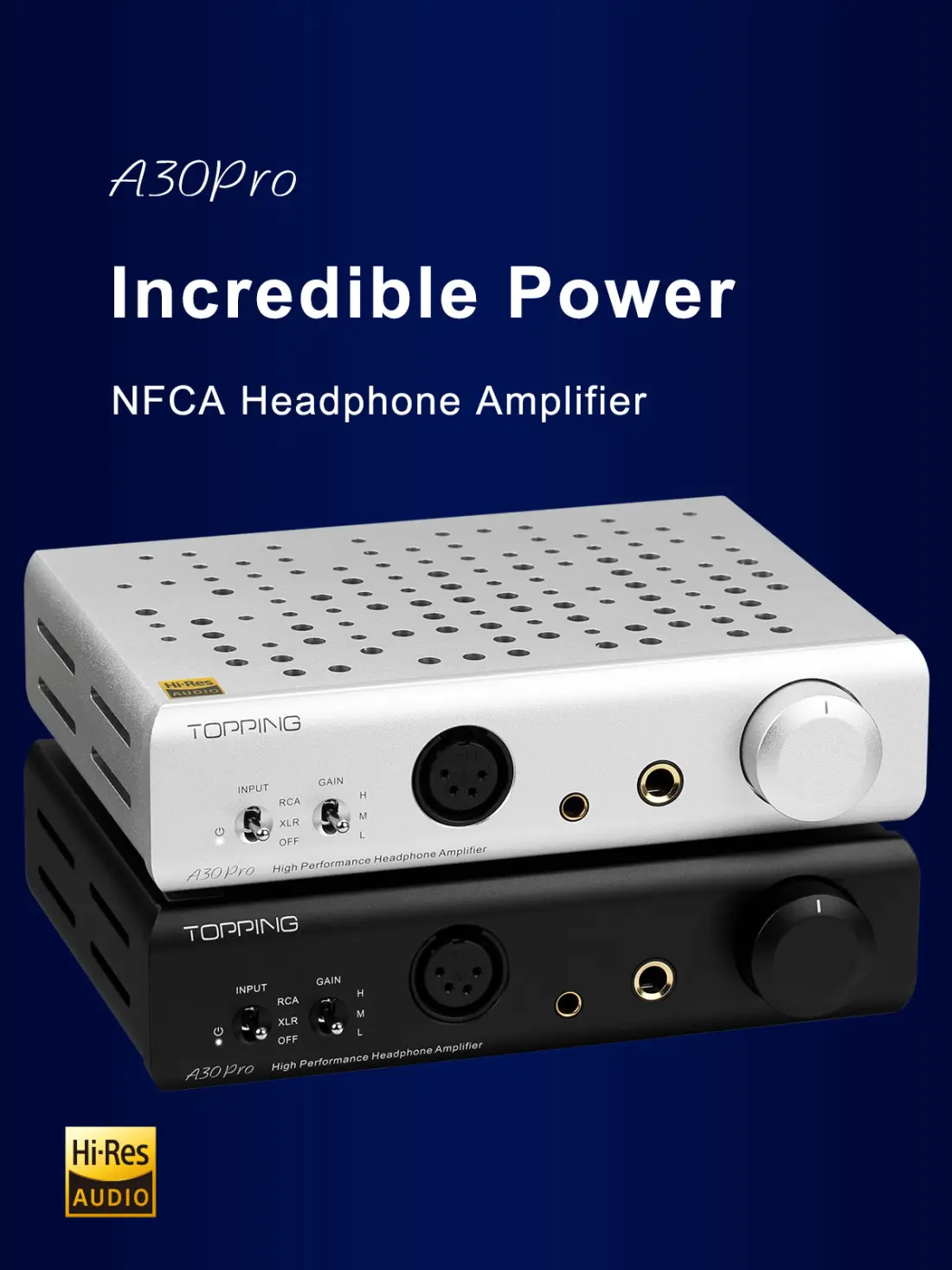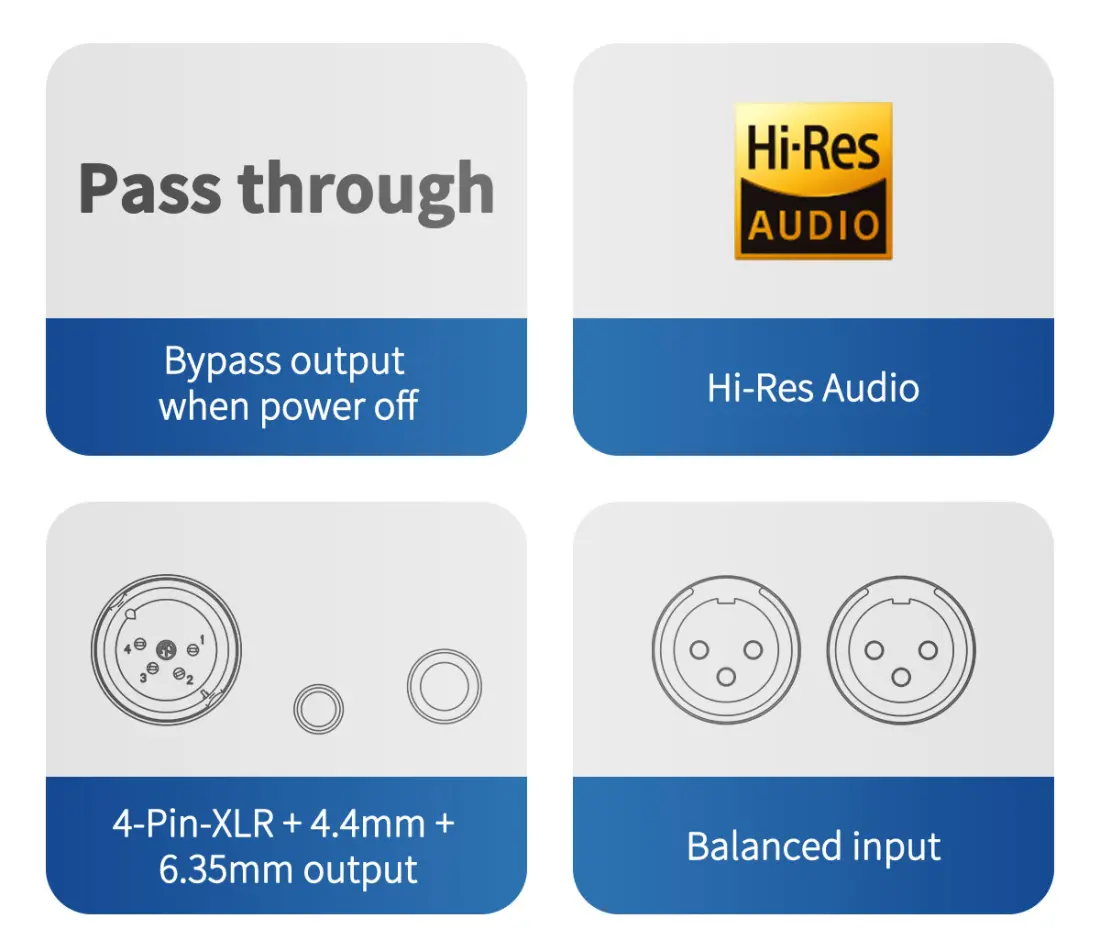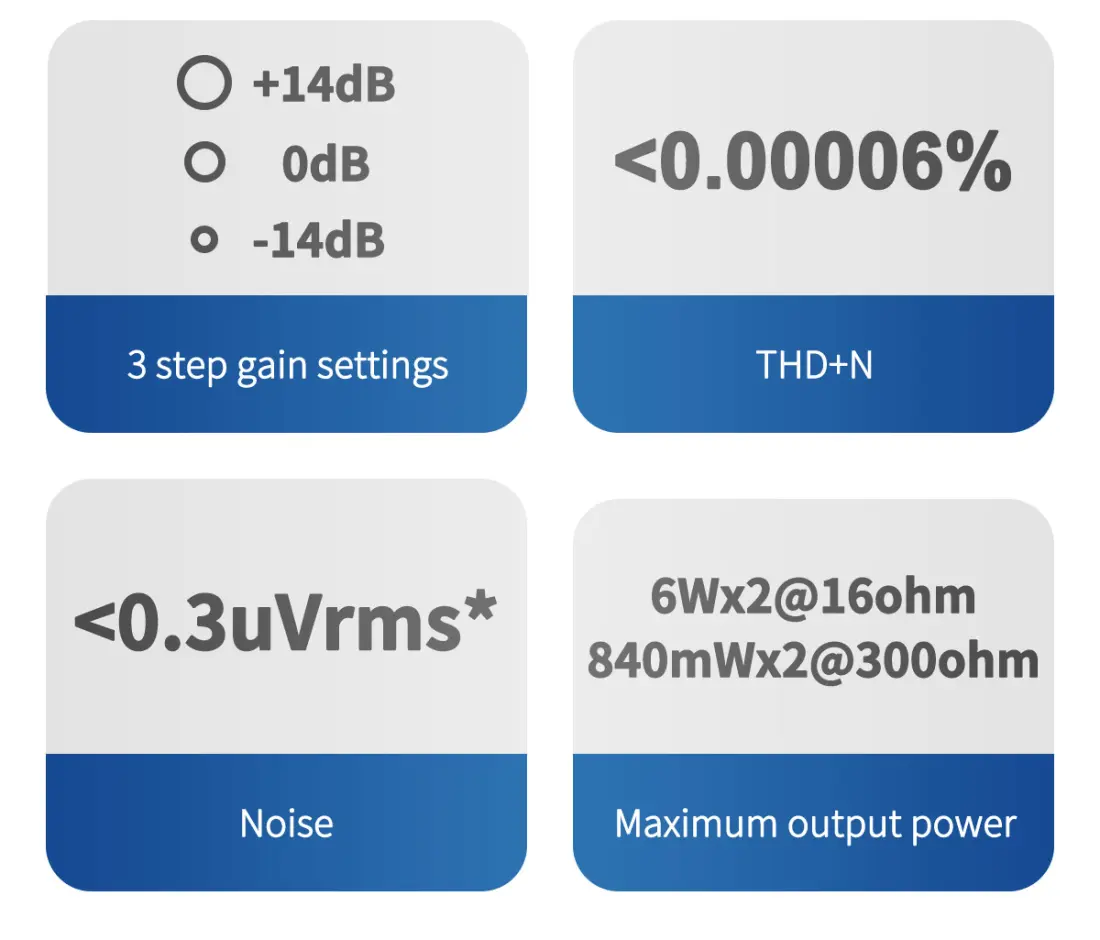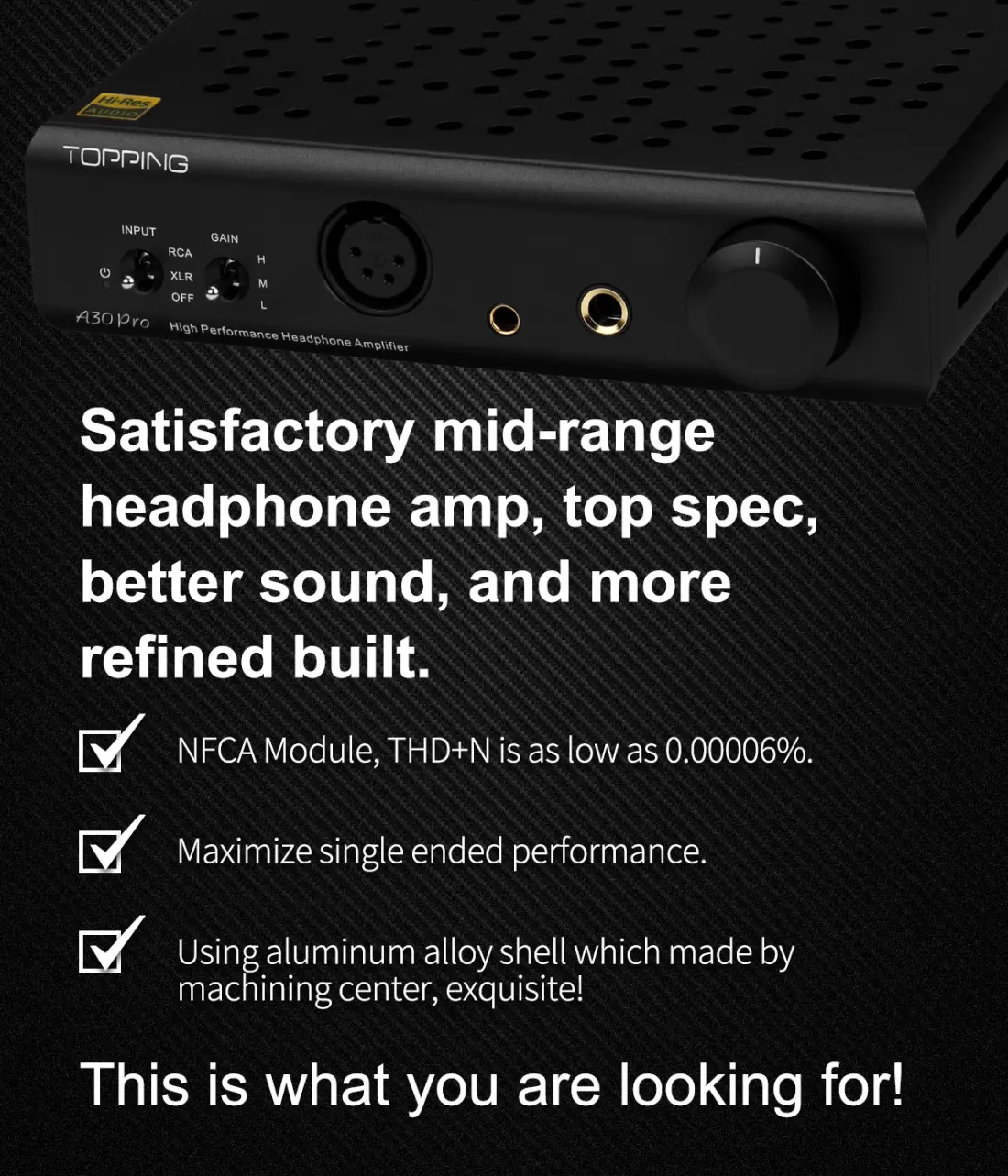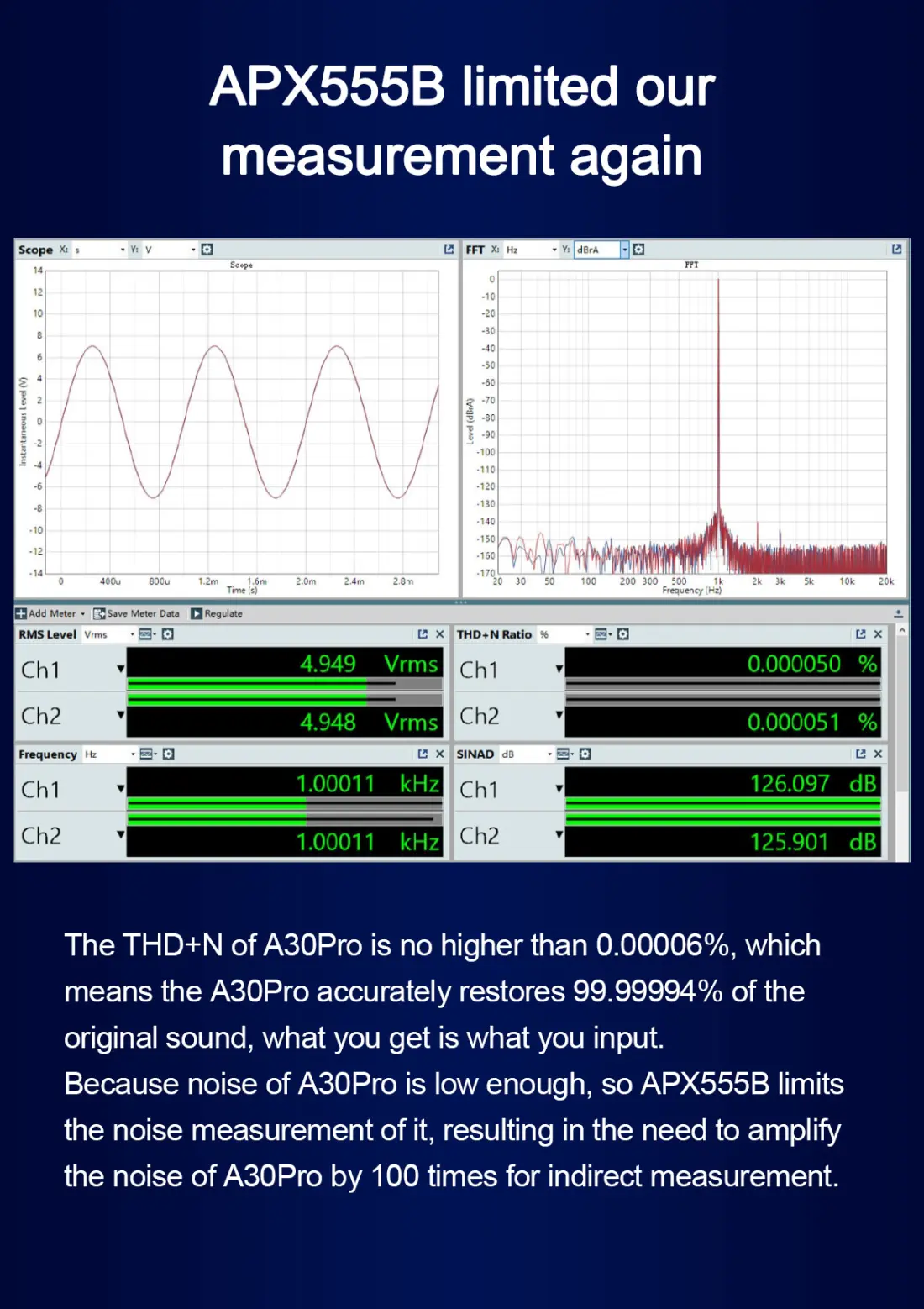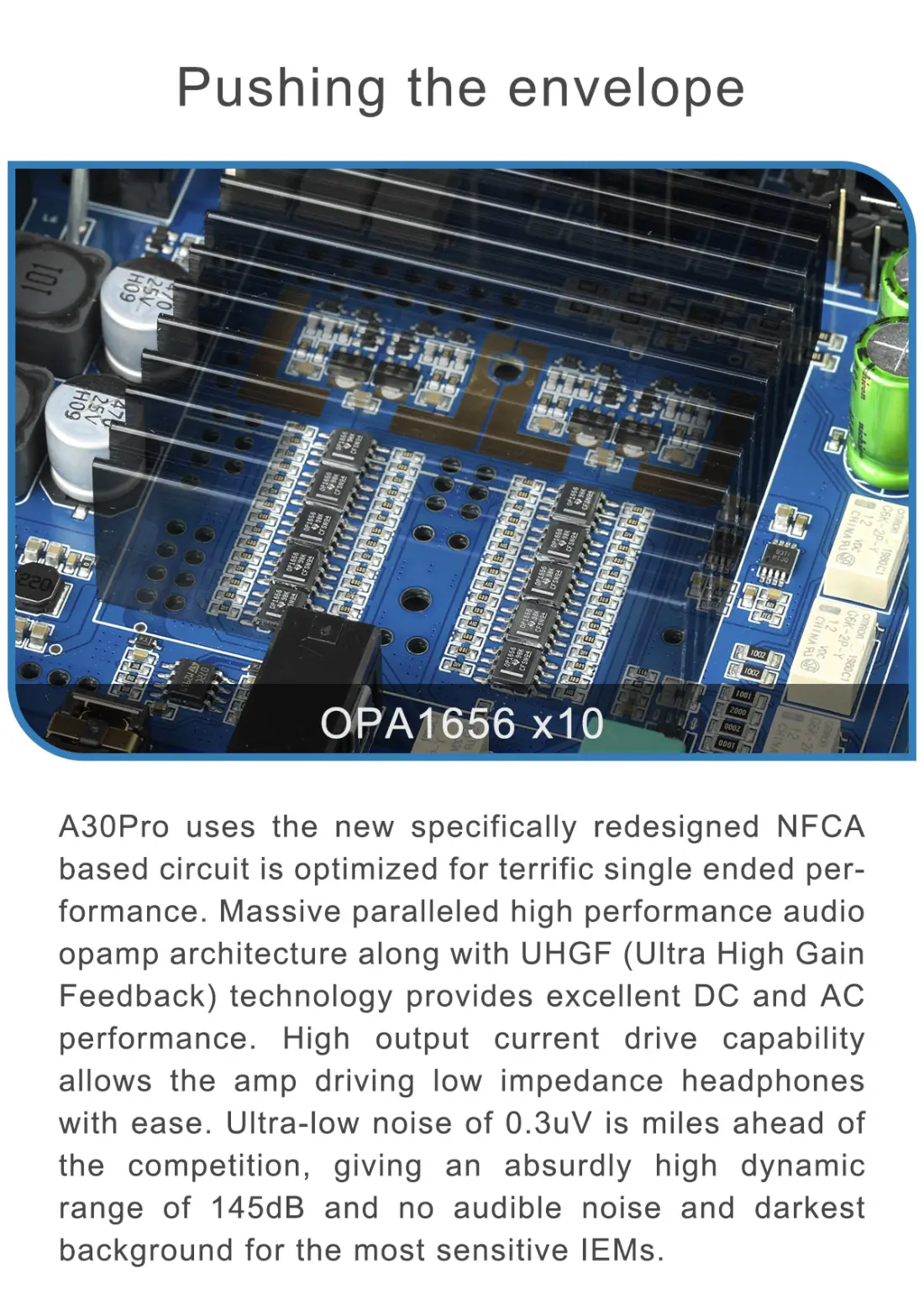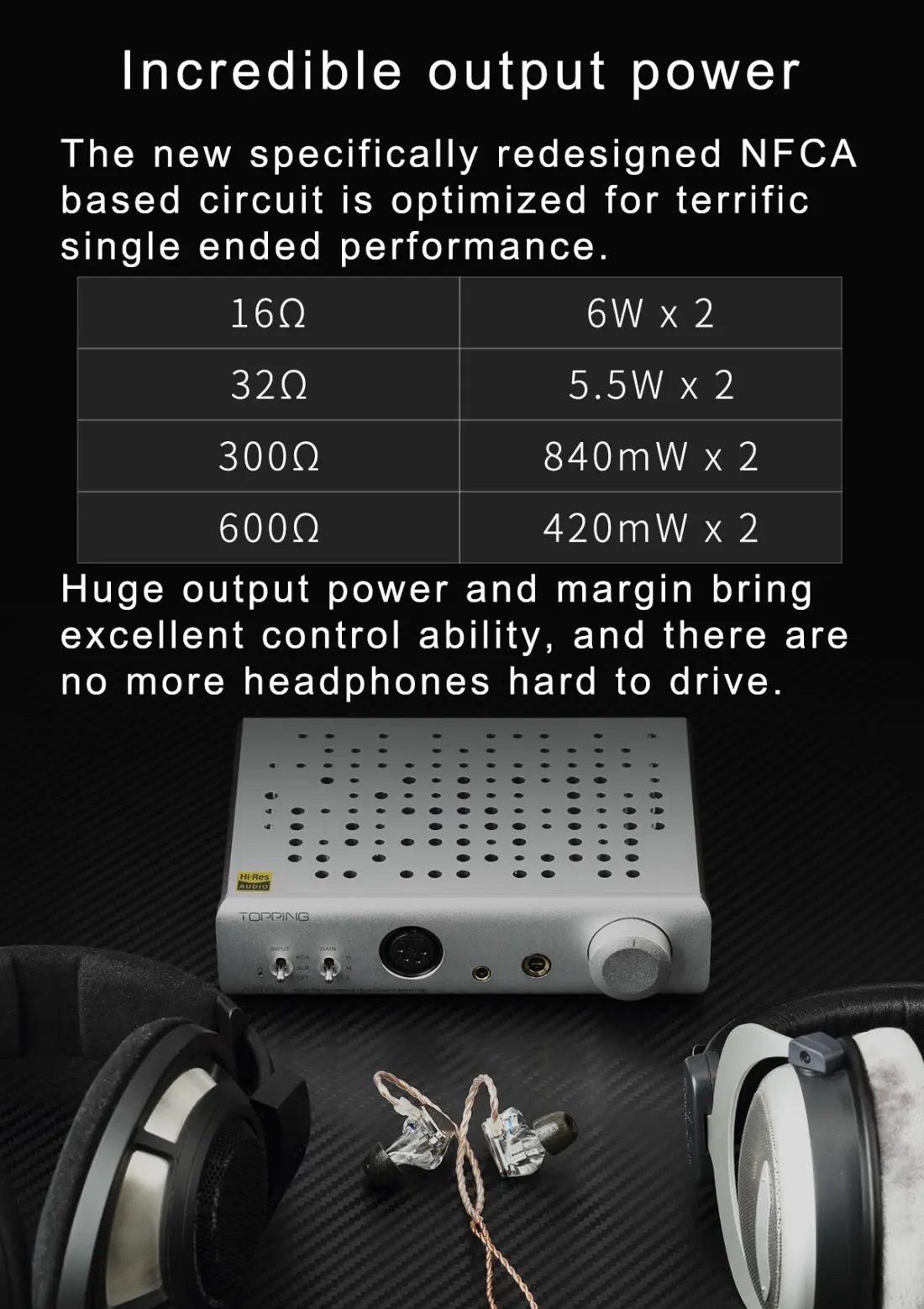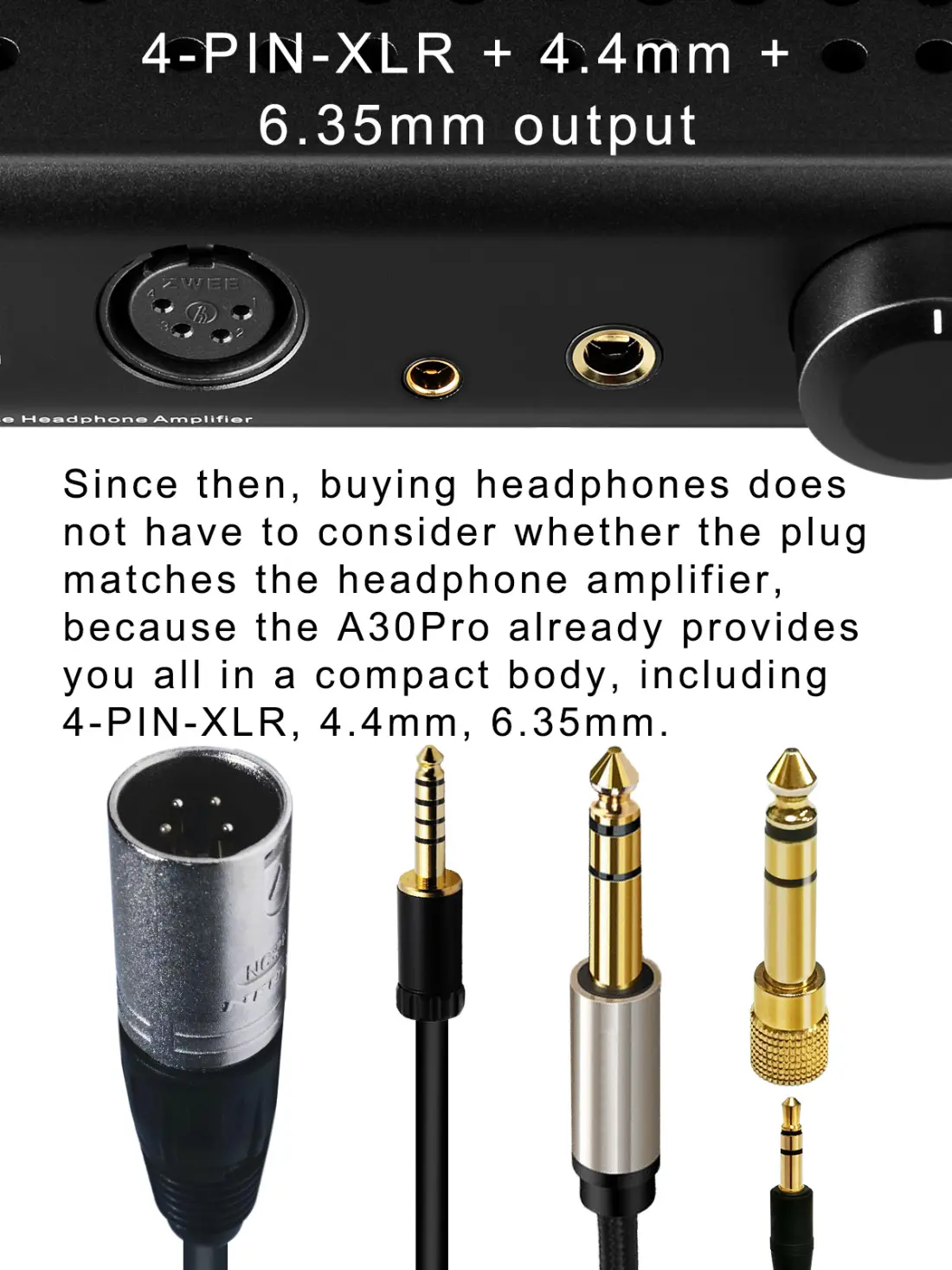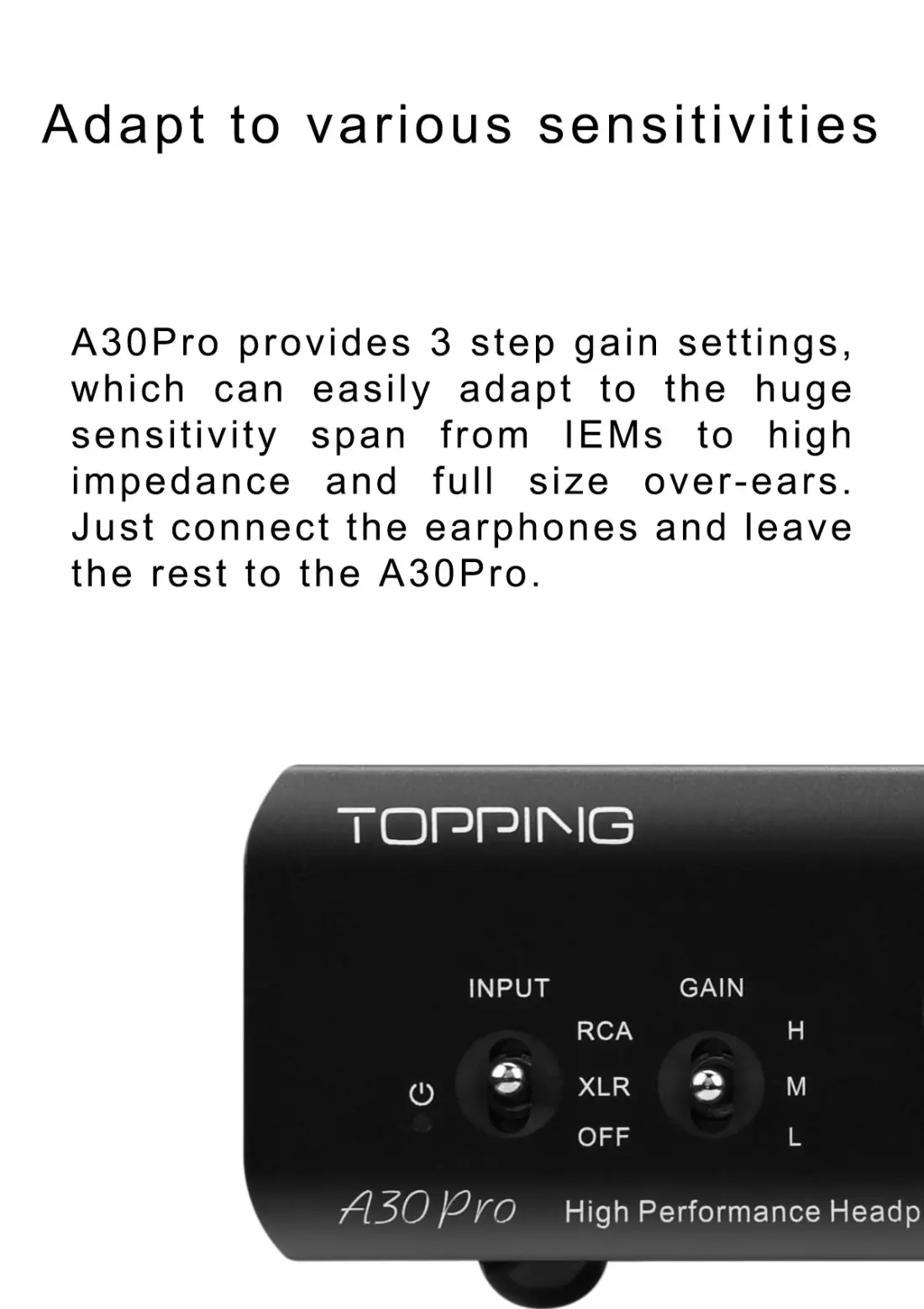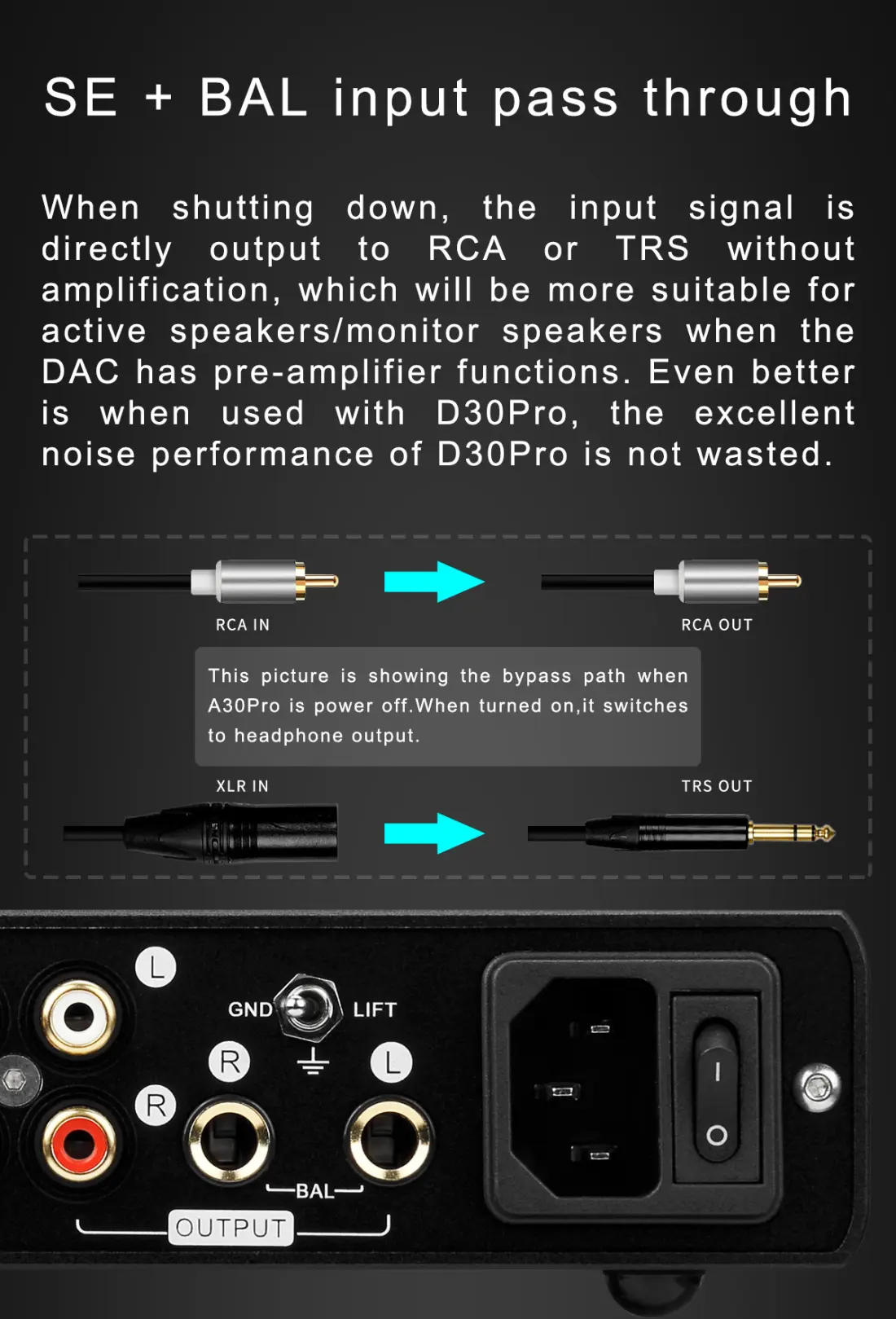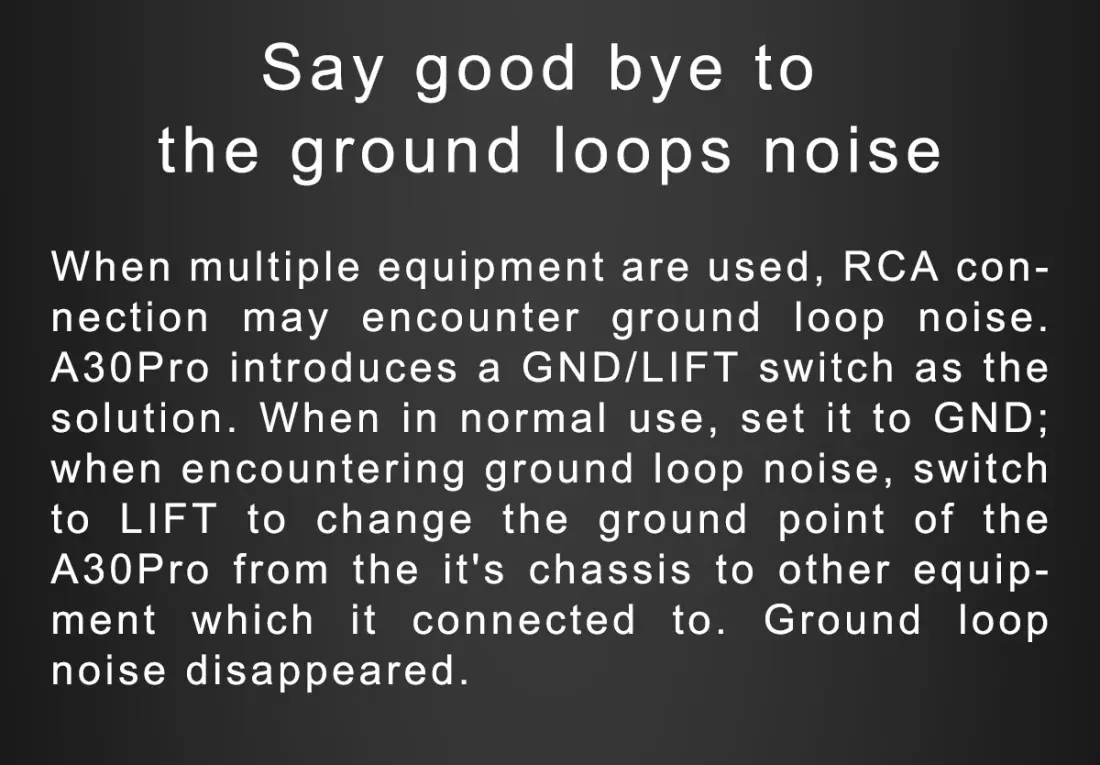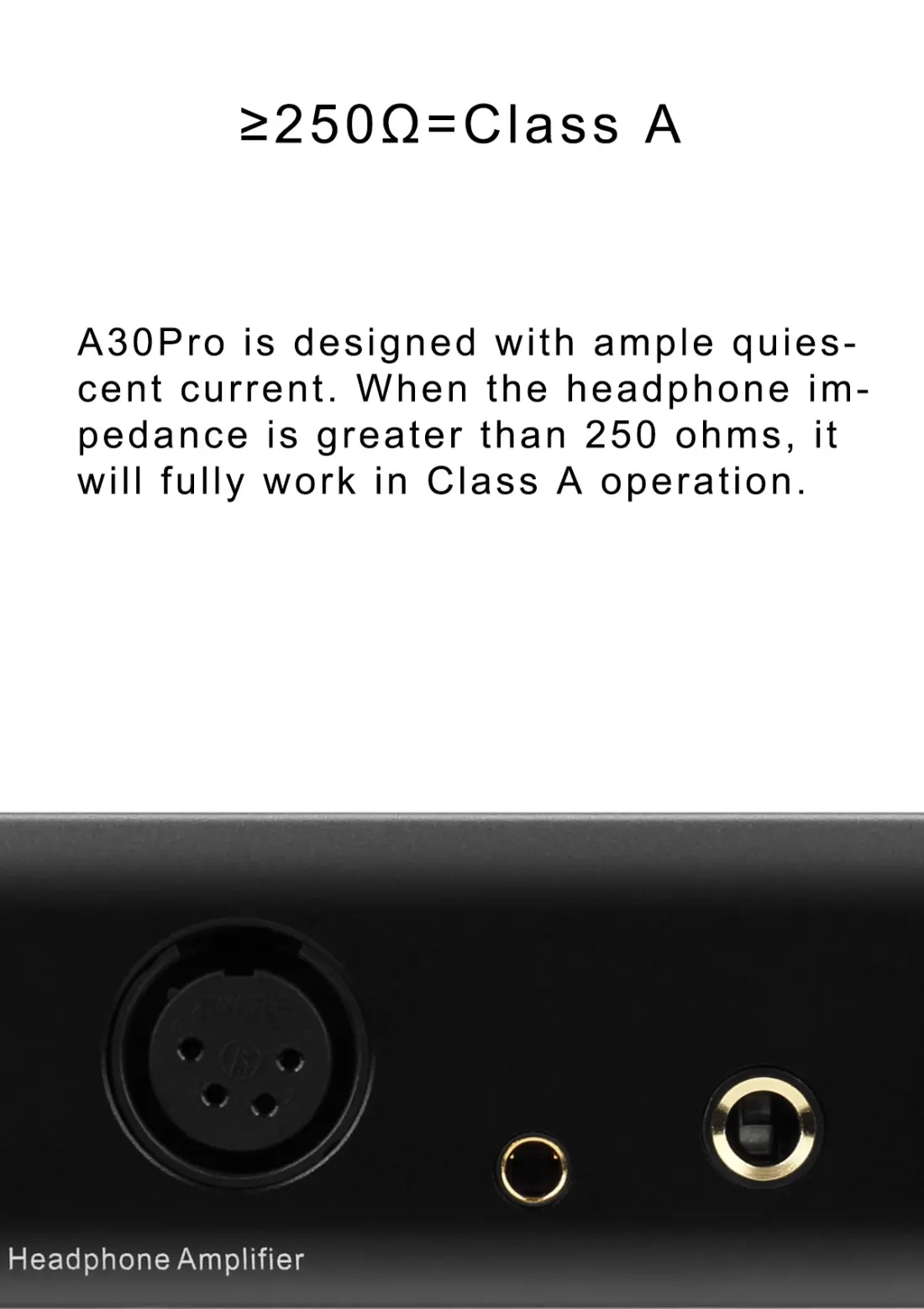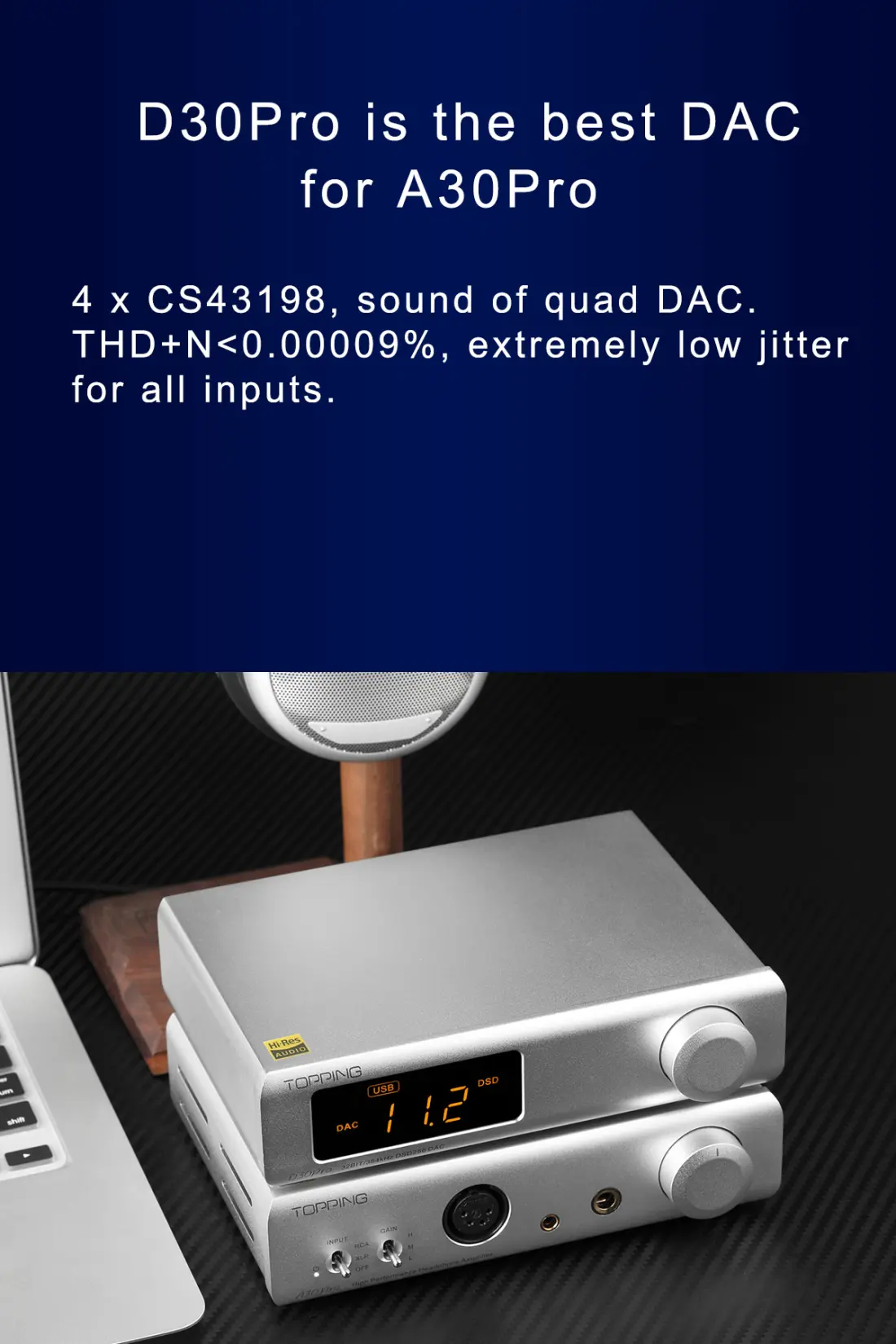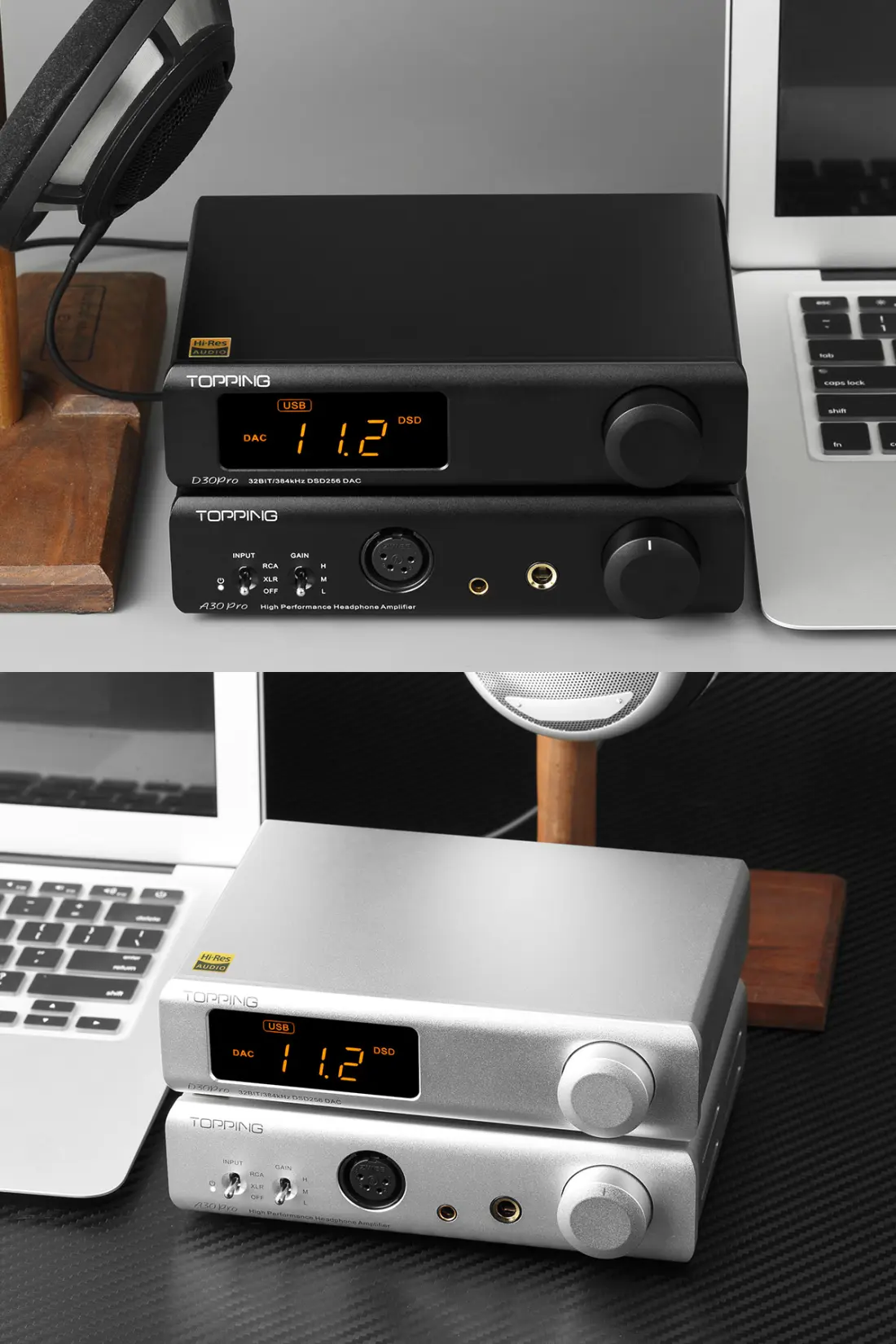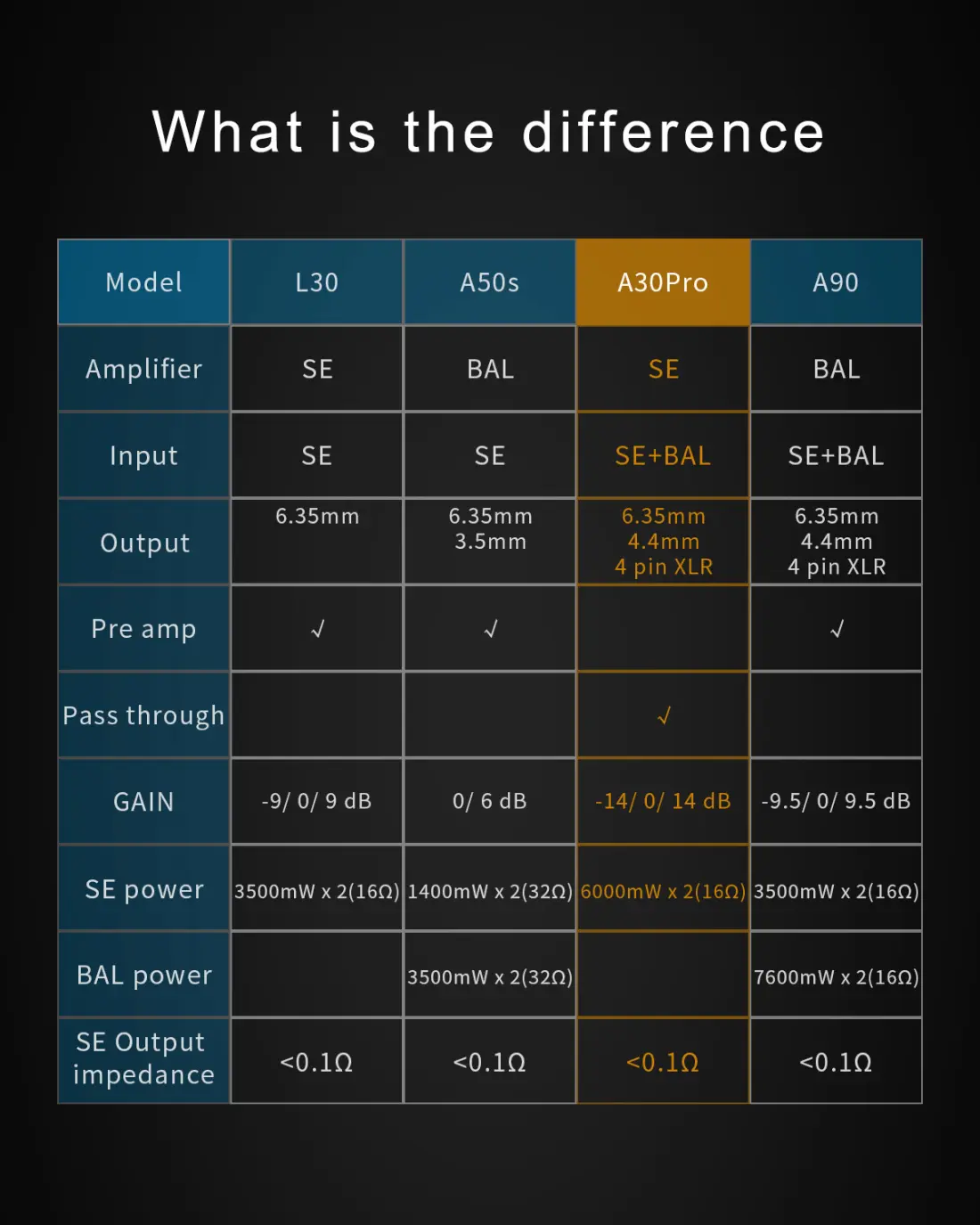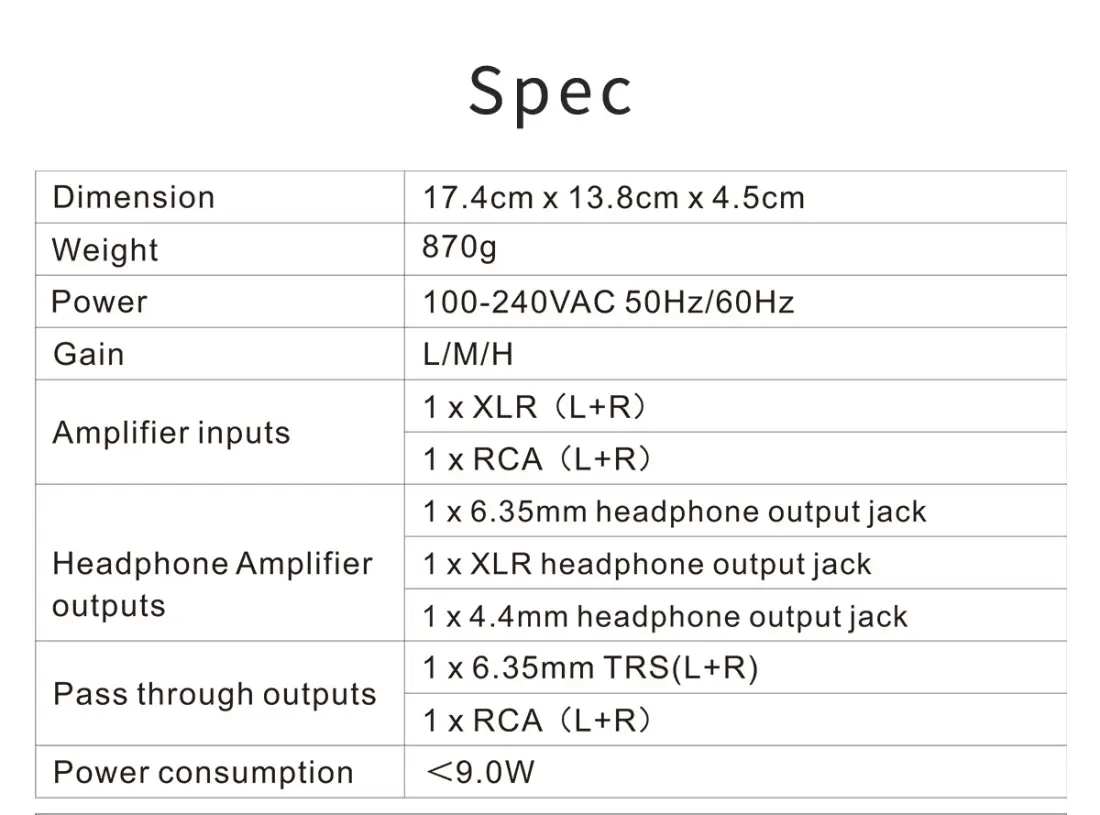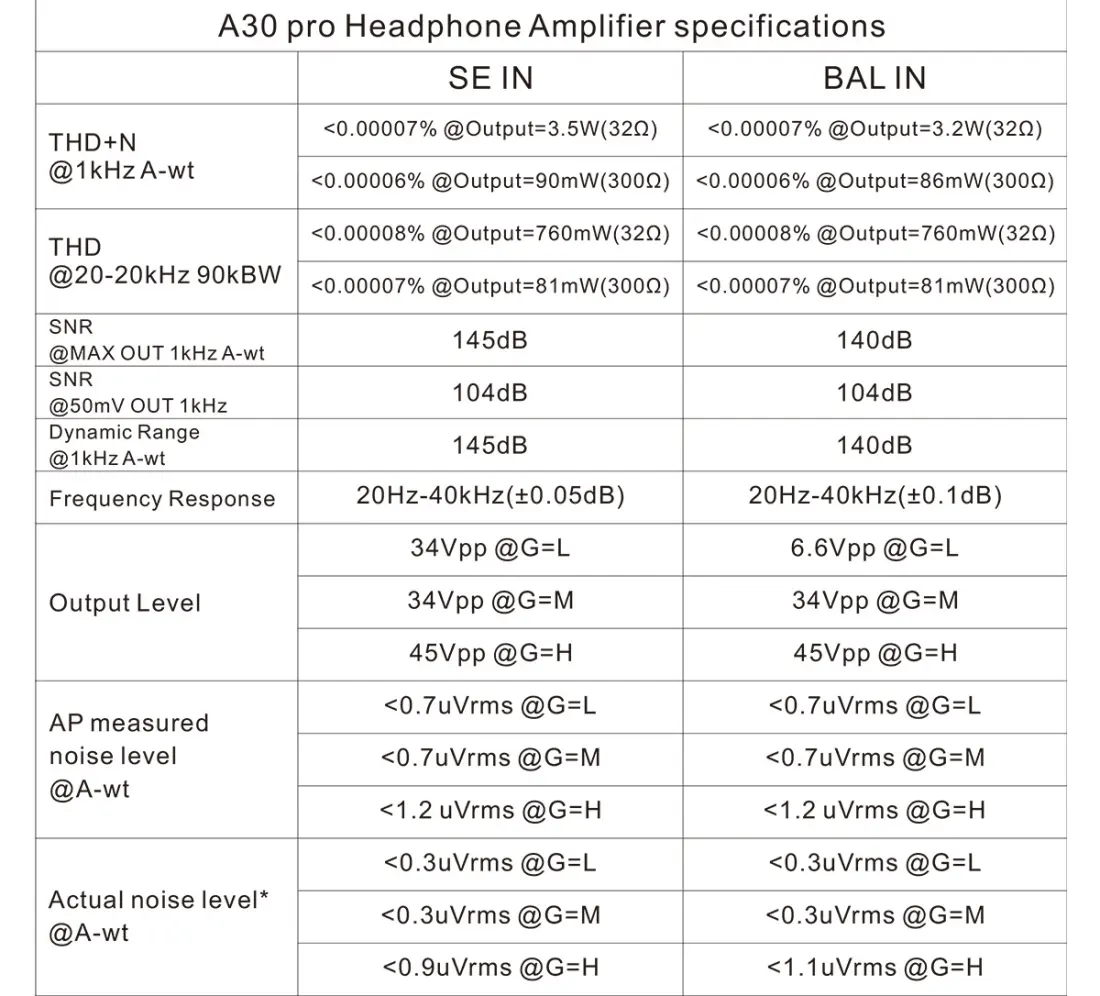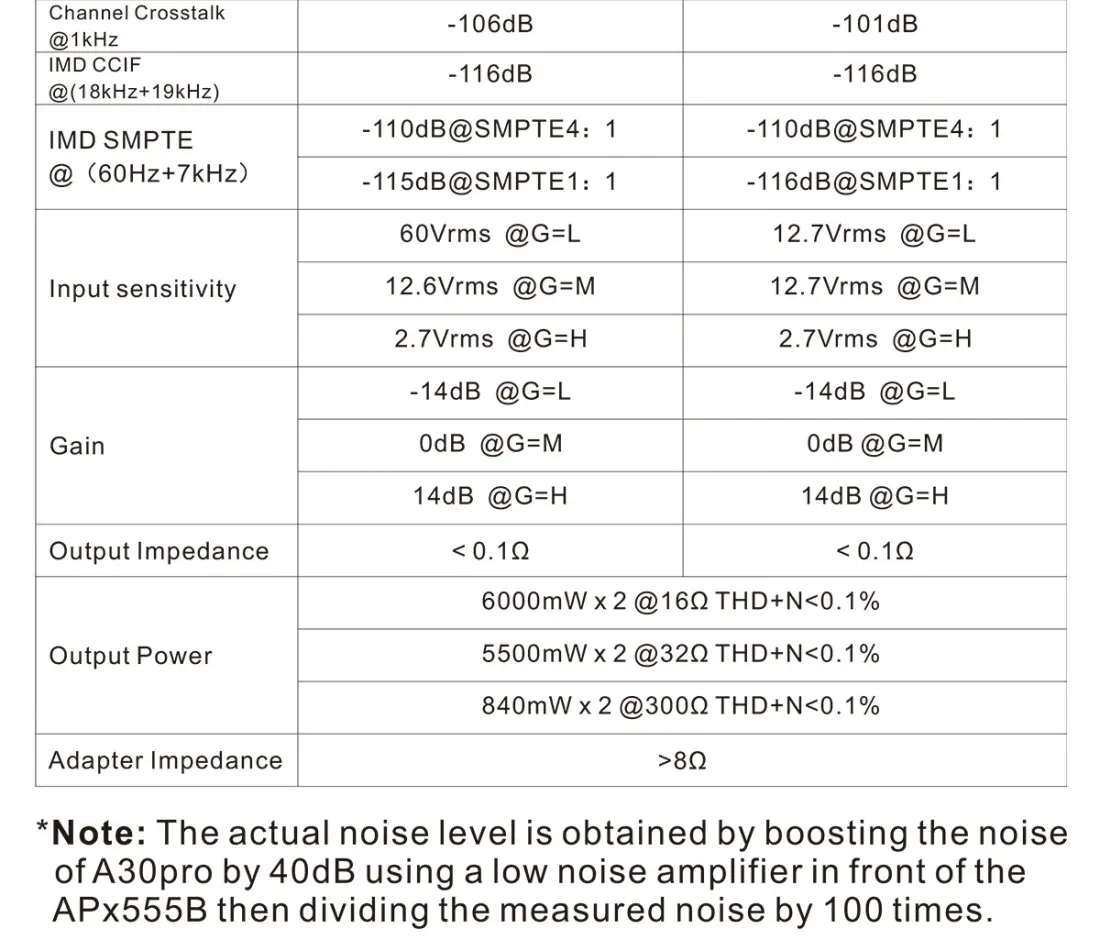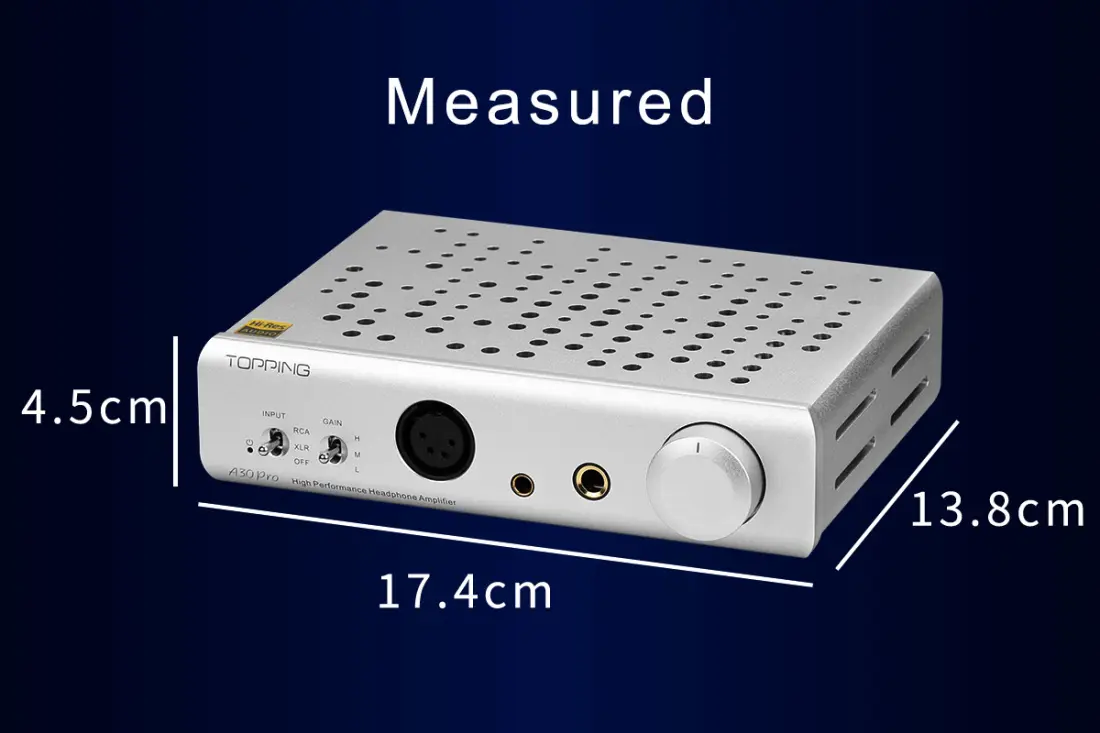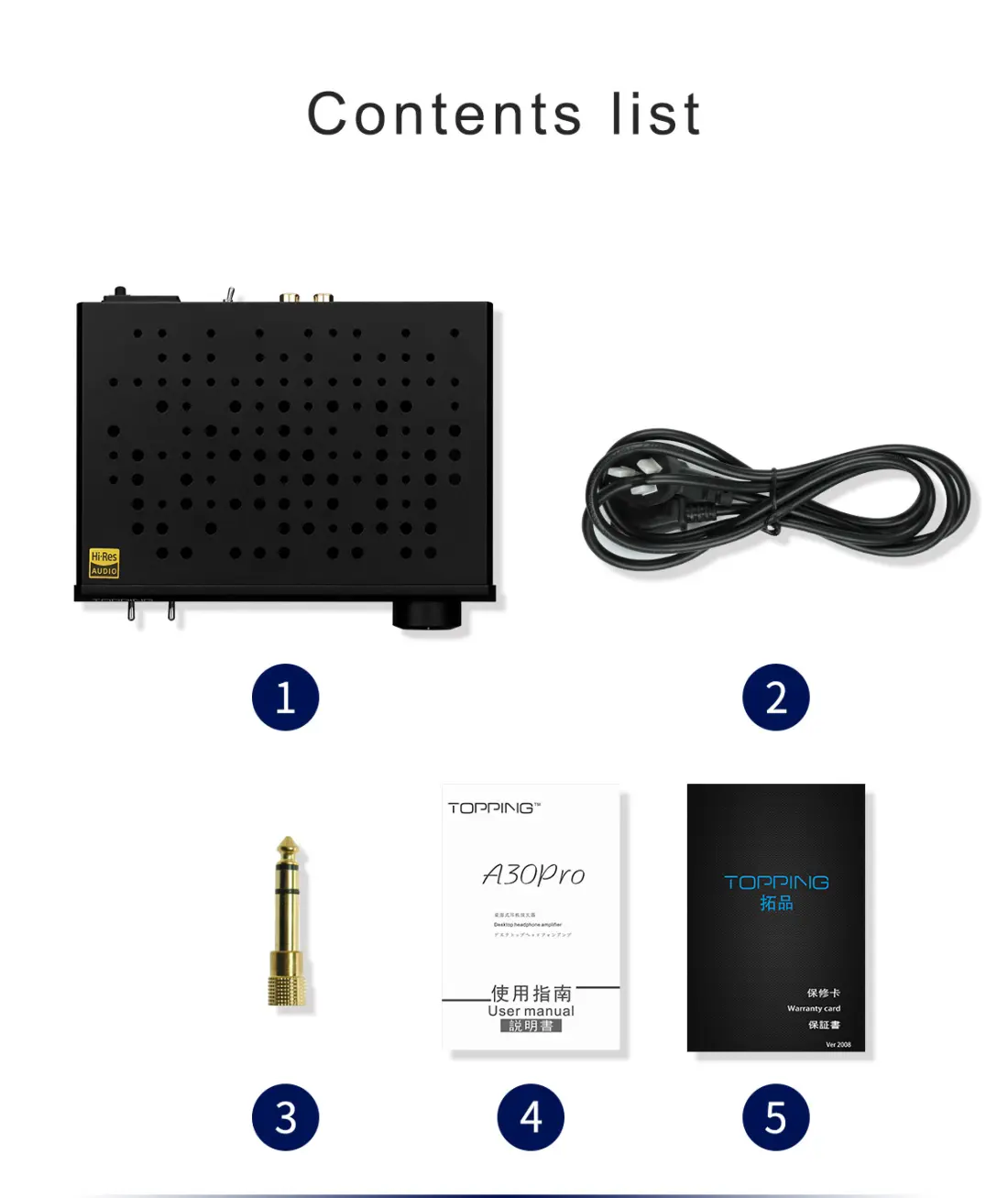 Reviews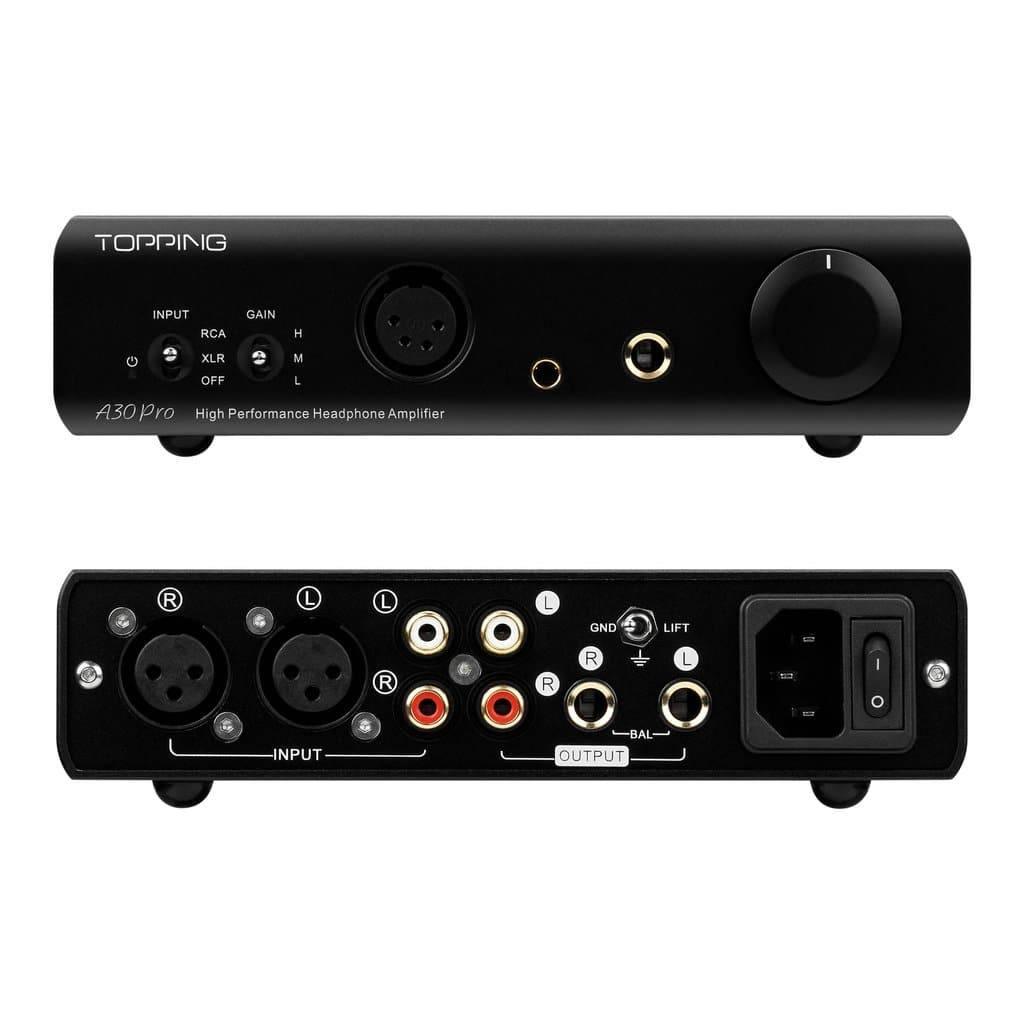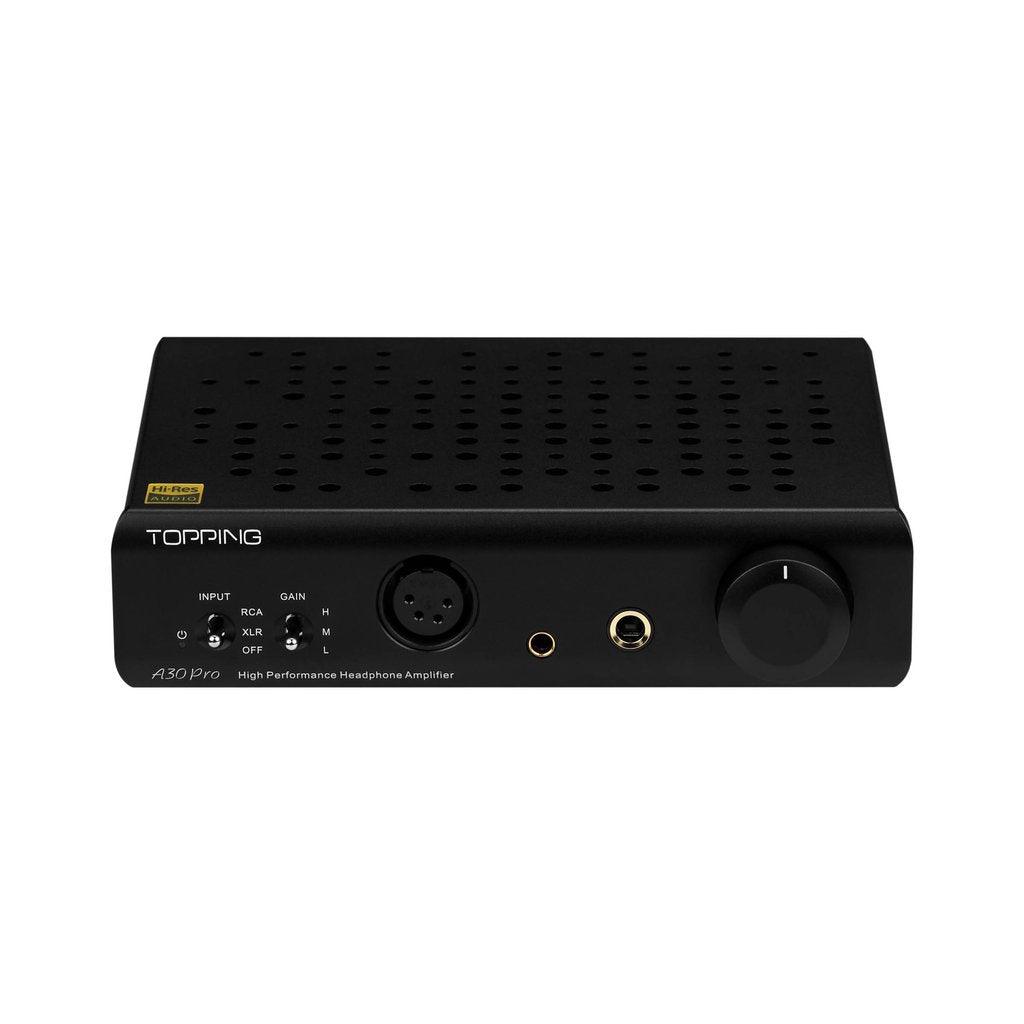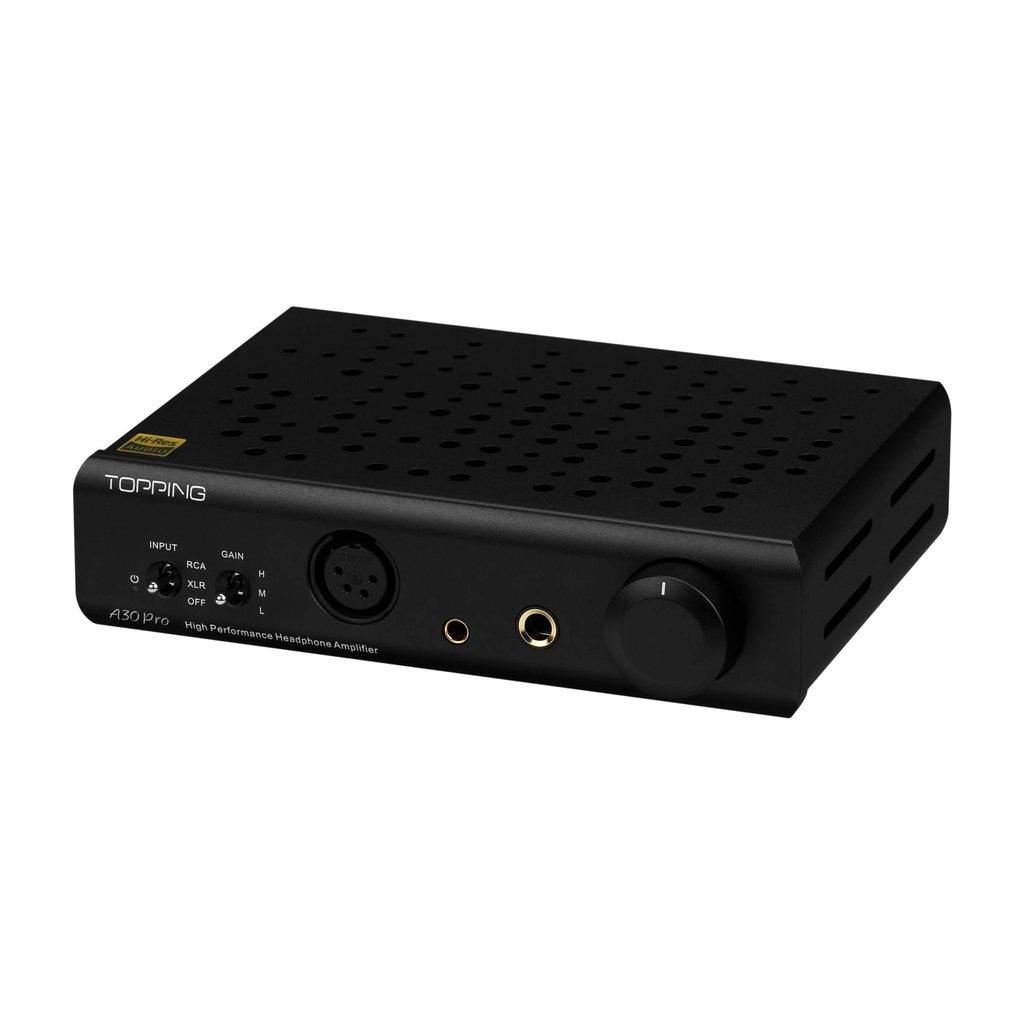 Add to cart