Thieaudio
Sale price
$1,299
Regular price
Unit price
per
Cup style

More information

Open-back headphone designs are often higher-performance but have poor noise isolation and leak sound. Closed-back designs provide better noise isolation and leak less sound.
Closed-Back
Wearing style

More information

Over-ear headphones sit over your ear and surround your ear with a ring of padding. On-ear headphones are padded but rest on top of your ear. In-ear monitors are worn inside your ear canal.
In-ear
Driver type

More information

Speakers and headphones use a device called a 'driver' to create sound. Different types of drivers have different strengths and weaknesses, but can all produce great sound. Common varieties include dynamic, planar magnetic, and electrostatic.
Dynamic, Balanced Armature, Electrostatic
Connectivity

More information

Connectivity refers to the method in which the headphones connect to the audio source. Headphones can be either wired or wireless.
Wired
View full details
Thieaudio
Thieaudio Prestige In-Ear Headphones
Sale price
$1,299
Regular price
Unit price
per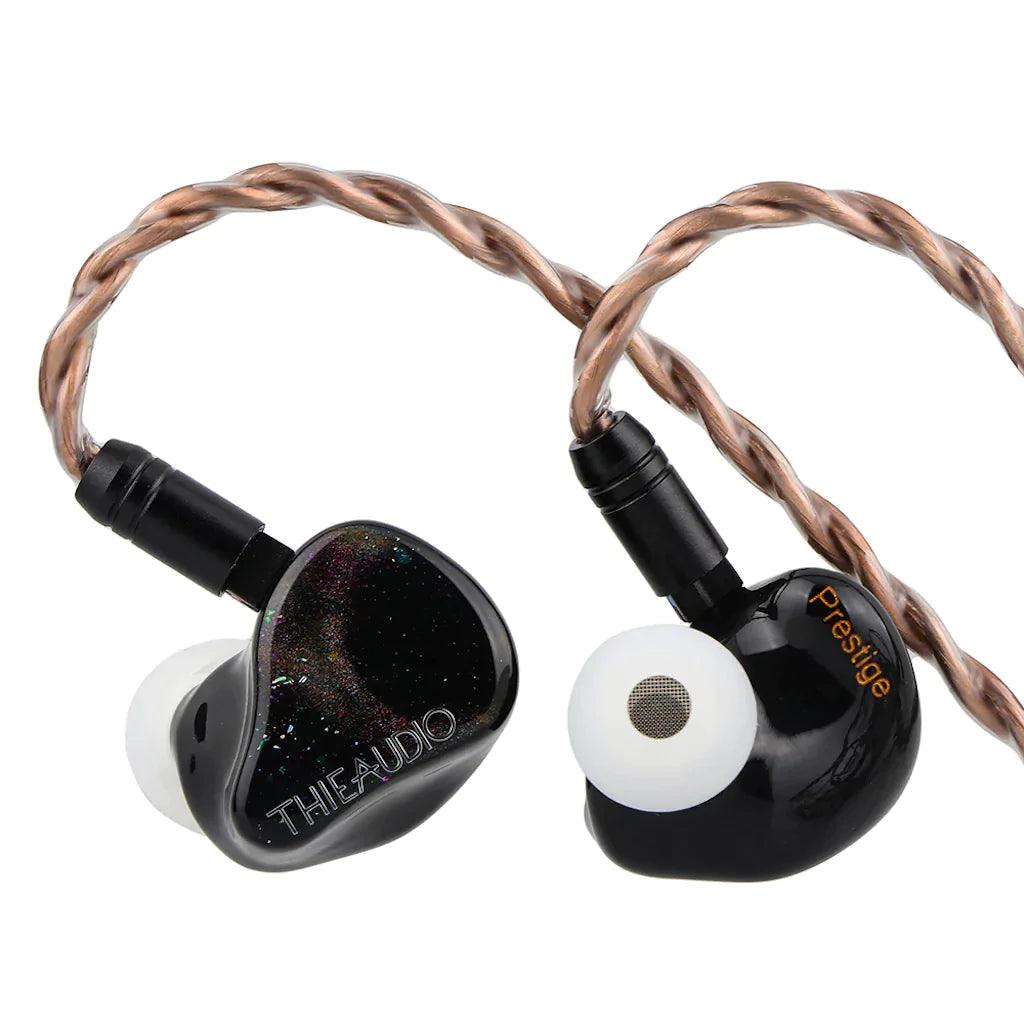 The Thieaudio Prestige is a tribrid in-ear monitor featuring 4 electrostatic + 2 mid-treble balanced armature + 2 low-mid balanced armature + 10mm dynamic drivers. These 9 drivers deliver an unparalleled reference class sound. Beyond the novelty of the drivers utilized in the Prestige, its engineering and manufacturing represent the pinnacle of innovation in the field.
Highlights
Five-way Crossover with 9 drivers in three different types: 1 Dynamic + 4 Balanced Armatures + 4 Electrostatic
Modular 22AWG 6N OCC Silver-Plated and Graphene Silver-Plated Cable with modular plugs (3.5mm, 4.4mm, 2.5mm)
Reference Tuning with Reference Technicalities
Unparalleled audio resolution, comparable to the world's best speakers and headphones
5-Way Passive Crossover Network
The Prestige from Thieaudio presents an all-tech, no gimmick true 5-way passive crossover network system. In multi-driver speaker or earphone systems, passive crossovers allow distribution of specific frequency ranges to each respective driver. This allows each driver to present the sound it is specifically manufactured for, reducing overall harmonic distortion and allowing the audio engineer to tune the tonal signature of the device.
Reference Tuning with Reference Technicalities
The Prestige has been acoustically engineered to deliver a reference studio monitor-like sound signature. The total sound is uncolored, and is deliberately designed for stage and studio monitoring. Featuring a flat midrange, the mids are neither warm nor sterile, representing a true and natural tone.
The sub-bass has been dedicated to a 250Hz shelf to present authoritative and robust impact, but without compromising the overall sound signature. The highlight of the Prestige is its treble and ultra-treble extension, which delivers airy-treble unlike anything we have produced so far. This extension allows every micro-detail to be heard, but remains natural sounding to the ear, as we focused on its extension, rather than a peaky quantity of treble. Use of paramount driver quality and our innovative 5-way crossover network allows unparalleled audio resolution, comparable to the world's best speakers and headphones.
Medical Grade Resin Housing
Each Prestige unit is individually handmade by our dedicated engineers. The housing is constructed from 3D-printed medical-grade resin, which is safe on the skin and durable. The shell structure has been based off of the V16 Divinity, which was popular for its ergonomic fit and comfort during long listening sessions. Additionally, each faceplate of the Prestige is individually decorated and coated, presenting a truly bespoke experience.
Premium Cable
The Thieaudio Prestige stock cable maintains the ultra-pure 6N OCC silver-plated and graphene silver-plated cable in Litz structure , but the additional strand incorporation gives it a slightly meatier feel and a richer sound. Most significantly, this new stock cable features the proprietary "Smart Switch", a new modular plug design, allowing you to choose between 4.4mm balanced, 2.5mm balanced and 3.5mm unbalanced terminations, simply by swapping out the plug ends. This reduces the need for bulky adaptors, giving your setup a more complete look and feel. The 2-pin connectors on the stock cable are also updated to provide a more secure fit with your IEMs.
In The Box
Thieaudio Prestige In-Ear Monitors
22AWG 6N OCC Silver-Plated + Graphene Silver-Plated Cable w/ Modular System
3 Pairs of Silicone Ear-tips
3 Pairs of Foam Ear-tips
Carrying Case
Reviews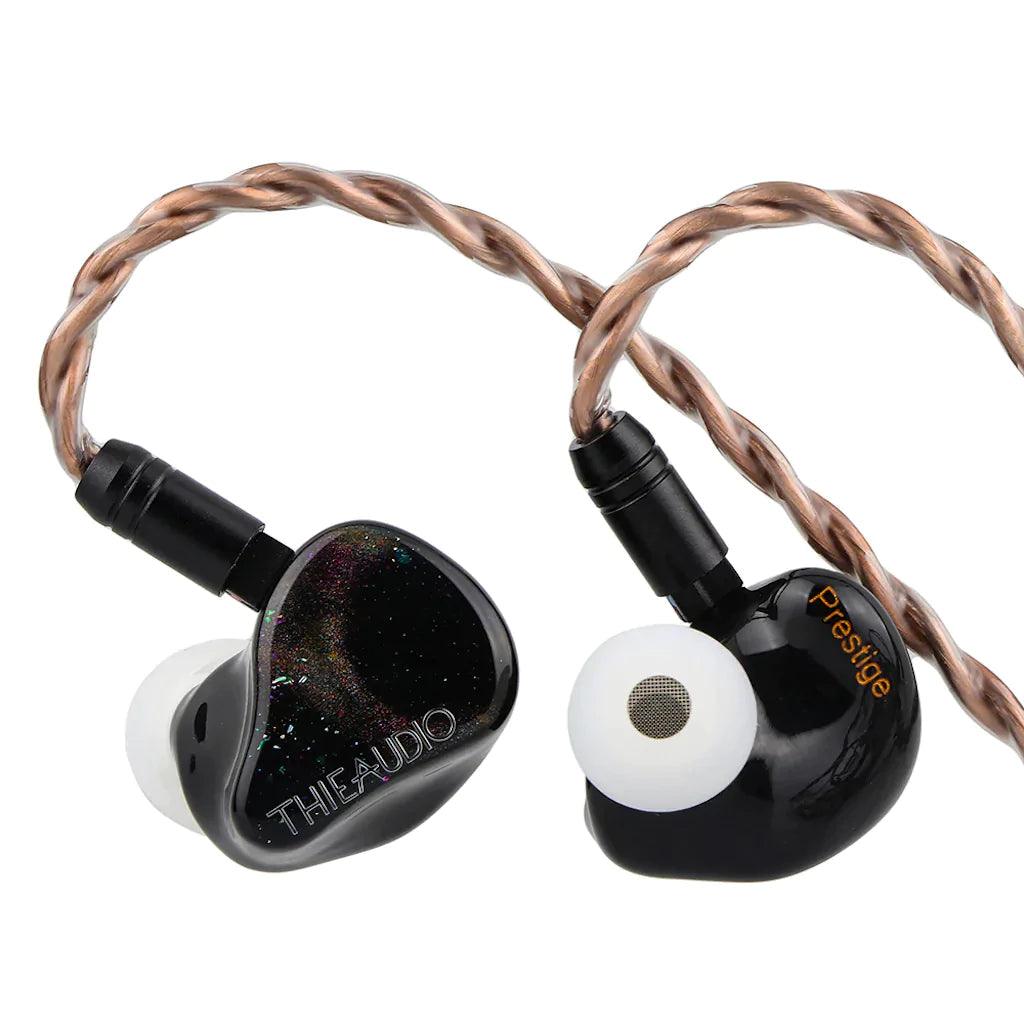 Add to cart