PSB
Sale price
$

849
Regular price
Unit price
per
Driver type

More information

Speakers and headphones use a device called a 'driver' to create sound. Different types of drivers have different strengths and weaknesses, but can all produce great sound. Common varieties include dynamic, planar magnetic, and electrostatic.
Dynamic
Connectivity

More information

Connectivity refers to the method in which the headphones connect to the audio source. Headphones can be either wired or wireless.
Wired
Portability

More information

DACs and amplifiers can either be carried around or meant for static desktop use
Not Portable
Pre-order now
Your order will ship as soon as this product is in stock!
365-day returns
Don't love it? Return it any time in the first year of ownership for a small fee
View full details
PSB
PSB Alpha T20 Tower Speakers
Sale price
$

849
Regular price
Unit price
per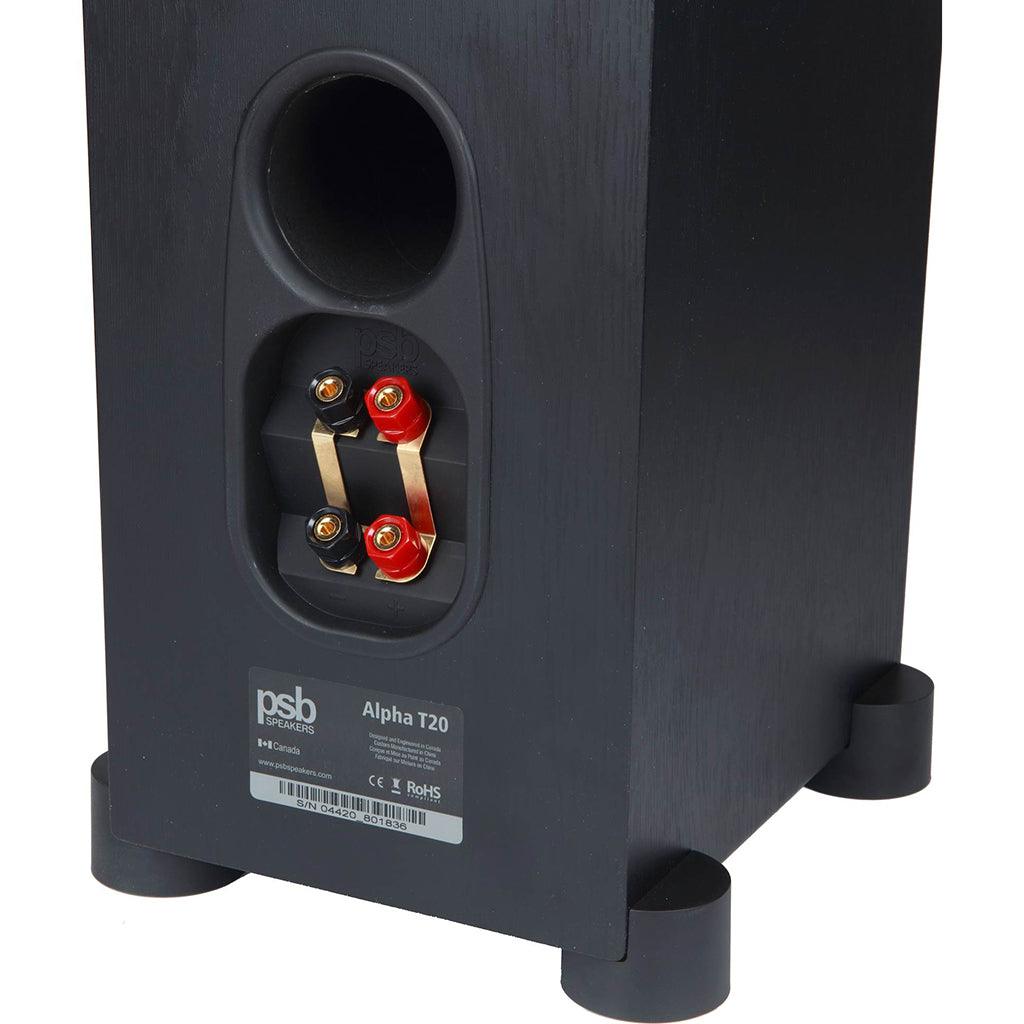 The PSB T20 Tower Speakers delivers the highest quality acoustics in the Alpha Series of Speakers and will easily fill any size room with lush, full-bodied sound. Leveraging the latest research in acoustic design and the most advanced cabinet and driver technologies, the all-new Alpha tower has dual custom 5¼" (133mm) woofers, while utilizing the Alpha Series' patent tweeter and crossover design, to deliver bigger and bolder sound with flawless imaging. The new T20 tower is the perfect start to creating the ultimate affordable surround, or stereo system.
¾" (19mm) Black anodized aluminium dome tweeter with front waveguide
Two 5¼" (133mm) Textured polypropylene woofers with rubber surround
Bass reflex cabinet design with a rear-firing port
Lifelike acoustics and detail
The T20 uses a ¾" (19mm) black anodized aluminium dome tweeter to extend the high-frequency response further than any Alpha ever before while lowering distortion to deliver a lush soundstage full of details. Unlike lesser designs at this price, all of the new Alpha Series tweeters employ ferrofluid cooling to prevent dynamic compression and a neodymium magnet for high sensitivity.
Developed for deep, detailed bass
Featuring PSB Speakers exclusive dual 5¼" (133mm) woofer connected to a dual-layer voice coil for incredible conductivity, the newest Alpha Series tower provides remarkable low-frequency response and exceptional efficiency for a speaker at this price. Starting with a specially textured polypropylene cone that lowers distortion and reduces breakup, the woofer is perfectly matched with the tweeter at the crossover for a smooth sounding transition between high and low frequencies. It's also backed with a rear-firing port that uses bass flex to tightly control the bass response and extend it even lower.
Reference crossover design
The redesigned Alpha Series tower features a new crossover that exceeds speaker standards with an innovative design that delivers the tightest control and the flattest frequency response. Developed for more than directing low and high frequencies to the individual drivers, the crossover used in the T20 employs a very advanced Acoustic Linkwitz-Riley filter design in the cross to lower distortion and create a large, detailed soundstage for the best listening experience.
Crafted with precision
Using a special MDF material and a unique combination of wall thickness and bracing, the Alpha T20 Tower flawlessly controls resonances while leveraging a light internal material that has been accurately positioned to reduce standing waves. The sturdy, well-constructed cabinet is finished with a high-quality woodgrain vinyl and features acoustically-transparent magnetic grilles that make the speakers disappear into your décor without sonic interference.
¾" (19mm) Black anodized aluminium dome tweeter with front waveguide
Two 5¼" (133mm) Textured polypropylene woofers with rubber surround
Bass reflex cabinet design with a rear-firing port
Acoustically-transparent detachable magnetic grilles
Dual five-way gold-plated binding post speaker terminals
High-quality woodgrain vinyl finish
Available in Black Ash or American Walnut
Reviews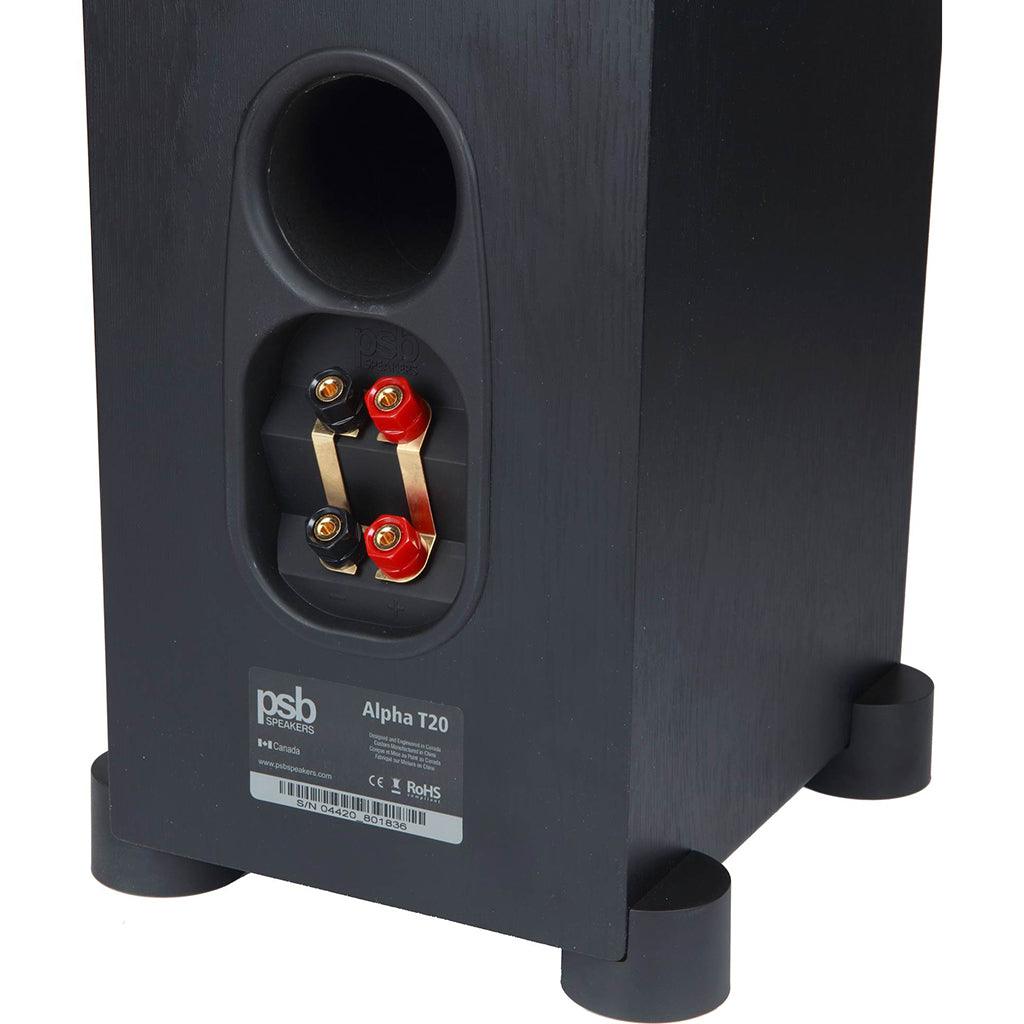 Preorder now