Moondrop
Sale price
$

279.99
Regular price
$

319.99
Save 13%
Unit price
per
The upgrade to the Moondrop Blessing 2 is finally here
Wearing style

More information

Over-ear headphones sit over your ear and surround your ear with a ring of padding. On-ear headphones are padded but rest on top of your ear. In-ear monitors are worn inside your ear canal.
In-ear
Driver type

More information

Speakers and headphones use a device called a 'driver' to create sound. Different types of drivers have different strengths and weaknesses, but can all produce great sound. Common varieties include dynamic, planar magnetic, and electrostatic.
Dynamic, Balanced Armature
Connectivity

More information

Connectivity refers to the method in which the headphones connect to the audio source. Headphones can be either wired or wireless.
Wired
Portability

More information

DACs and amplifiers can either be carried around or meant for static desktop use
Portable
View full details
Moondrop
Moondrop Blessing 3 In-Ear Headphones - Open Box
Sale price
$

279.99
Regular price
$

319.99
Save 13%
Unit price
per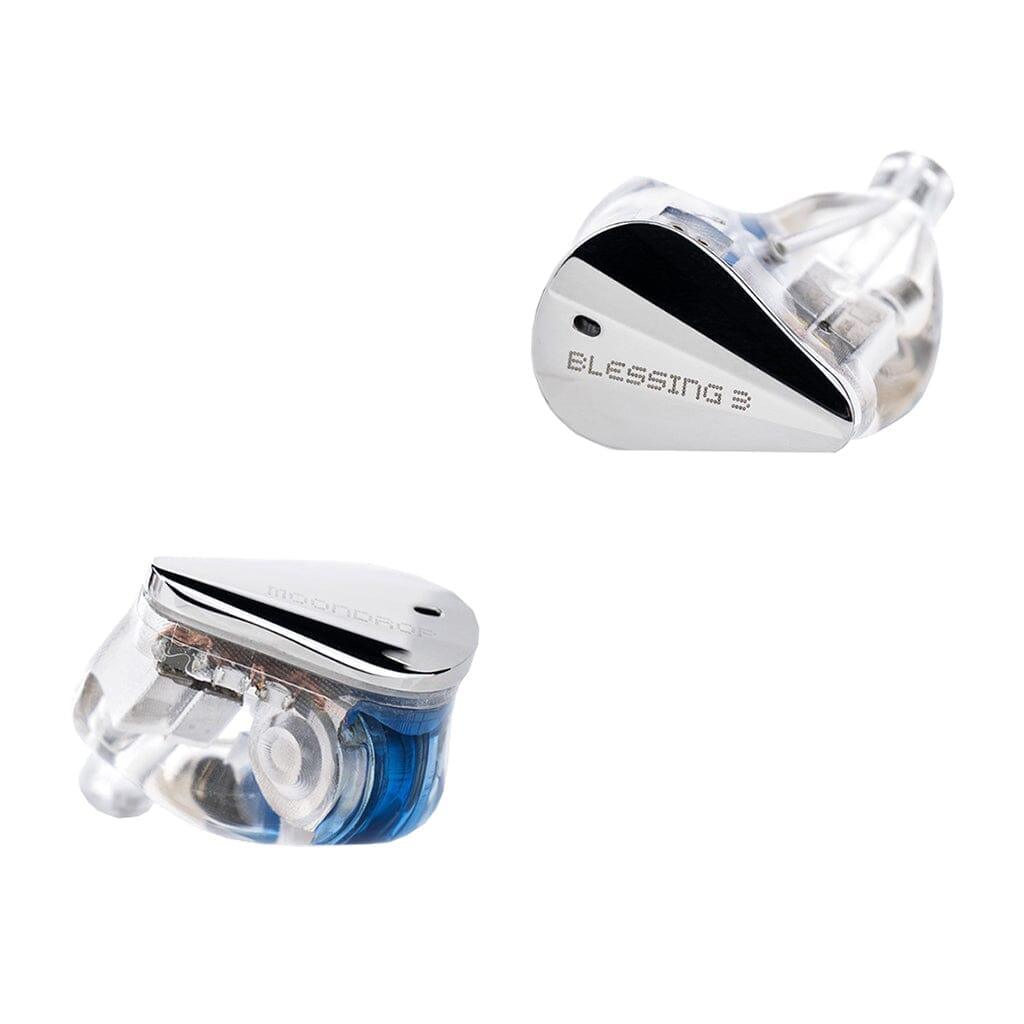 The follow-up to Moondrop's most successful in-ear monitors ever, the Moondrop Blessing 2 is finally here in the Moondrop Blessing 3. Featuring a 2 dynamic drivers and 4 balanced armatures, the Moondrop Blessing 3 is a true successor in every way. 
The Moondrop Blessing 3 boasts a hybrid crossover triple-frequency design with 2 dynamic drivers and 4 balanced armature drivers, providing a superior listening experience with exceptional sound quality.
The Next Generation Of The Iconic Hybrid Earphone
The first generation Moondrop Blessing In-Ear Monitors achieved global recognition thanks to its reasonable price, innovative acoustic design and excellent performance. Its successor, Blessing 2, built on this success with reference sound quality, impeccable details and all-round improved hardware performance, overturning the hybrid headphone rankings and attaining the status of a benchmark product.
After more than three years of constant development and tuning, the long-awaited successor of Blessing 2 have arrived: Introducing the Moondrop Blessing 3 In-Ear Headphones.
2 Dynamic Drivers and 4 Balanced Armature Drivers Advanced Hybrid Triple-Frequency Division
The Moondrop Blessing 3 continues the physical frequency division framework of previous versions through the use of state-of-the-art 3D printing. It utilizes a new horizontally opposed double dynamic bass driver module that delivers higher dynamic range and lower dynamic nonlinear distortion than previous versions.
Improved implementation of hybrid frequency division has further optimized the continuity and smoothness of mid-highs, ensuring the ultra-high detail. Combined with a brand new bass module, the result is a full-bodied and authentically natural sound.
H.O.D.D.D.U.S - Horizontally-Opposed 2DD Module based on 3D Printing Technology
The new scientifically designed horizontally oppposed double dynamic driver module further demonstrates the advantages of the hybrid earphone in bass dynamics.
The H.O.D.D.D.U.S uses 10mm dynamic drivers arranged closely and symmetrically using 3D-printed modular components. The components form a physical band pass filter comprising two independent structures and damping devices, thereby facilitating acoustic adjustment.
Thanks to the use of dual 10mm drivers, the maximum sound pressure of the Blessing 3 is double that of the Moondrop Blessing 2. The diaphragm stroke under the same sound pressure is less than half of the Blessing 2, giving the Moondrop Blessing 3 a larger dynamic range and lower nonlinear distortion while significantly improving the sound quality and lower frequencies.
The symmetrical H.O.D.D.D.U.S arrangement focuses the magnetic field at the magnetic gap of the two dynamic drivers, leveraging the same principle found in planar magnetic earphones. This not only improves energy conversion efficiency, but also further reduces nonlinear distortion.
Each of the dual dynamic drivers consists of a flexible suspension diaphragm with a paper dome and the high damping characteristics of the paper dome ensure that the dynamic driver generate additional resonance due to the split vibration in the mids and the highs. This results in a smooth and natural sounding timbre.
3D-Printed High-Precisison Acoustic Filtering Nozzle Structure
As in previous versions, frequency division in Blessing 3 is performed by both a physical filter and crossover circuit. The physical filter consists of a compact and efficient 3D-printed acoustic structure.
The frequency division design of the Blessing 3 is the result of a long period of repeated experimentation and modification that has resulted in a doubling of the parameters and accuracy of the earlier Blessing 2 and even better acoustic indices.
In-Depth Strategic Cooperation With Leading 3D-Printing Suppliers
Compared with the physical filtering structure of the Blessing 2, the structural complexity of the innovative H.O.D.D.U.S. module adopted by the Moondrop Blessing 3 presents significant challenges in the manufacturing accuracy and reliability of 3D printing.
After several years of in-depth cooperation, Moondrop has established a long-term strategic relationship with HeyGears, a leading 3D printing supplier. By upgrading and improving its high precision DLP 3D-printing technology and equipment, Moondrop is constantly adapting to the increasingly stringent requirements of manufacturing accuracy and stability. The end result? The ability to manufacture the Moondrop Blessing 3 with high-volume production while mantaining accuracy to the Blessing 3's complex build structure.
Eye Catching Stainless Steel Faceplate
The brand new Blessing 3 faceplate features an eye-catching interplay of light and shadow which was achieved by precision CNC machining followed by meticulous hand-polishing of the esthetically satisfying angular design.
Highly Consistent Full-Band Phase
The classic hybrid triple-frequency division of the Blessing series is the culmination of Moondrop's unparalled acoustic expertise, backed up by repeated testing in the company's measurement laboratory and ensuring high full-band phase consistency.
Leveraging the proven excellence of previous Blessing models and related products, the Moondrop Blessing 3 has been carefully tuned resulting in an even more pleasing and accurate sound quality than its predecessor.
Interchangeable Cable Design
The Blessing 3 uses an universal 0.78 interchangeable cable which allows for extreme flexibility for you. Whether you want to plug in an upgraded cable, a bluetooth adapter or a cable with a microphone, the options are open for you.
What's In The Box
Moondrop Blessing 3 In-Ear Headphones
Silver plated 0.78 2-Pin cable with 3.5mm termination
Storage bag
Aviation adapter
3 pairs of silicon ear tips (S,M,L)
QC Certificate
Instruction Manual.
Technical Specifications
Model: Moondrop Blessing 3 Hybrid In-ear Monitor
Impedance: 14.8Ω ±15% (@1kHz)
Frequency Response: 10Hz-30kHz
Effective Frequency Response: 20Hz-20kHz (IEC60318-4, -3dB)
Sensitivity: 120 dB/Vrms (@1kHz)
THD: THD @ 1kHz ≤ 0.5%
Driver: 2DD+4BA
Jack: 3.5mm single-ended jack
Housing processing: 3D printing of imported medical resin
Headphone Jack: 0.78 2-pin
Reviews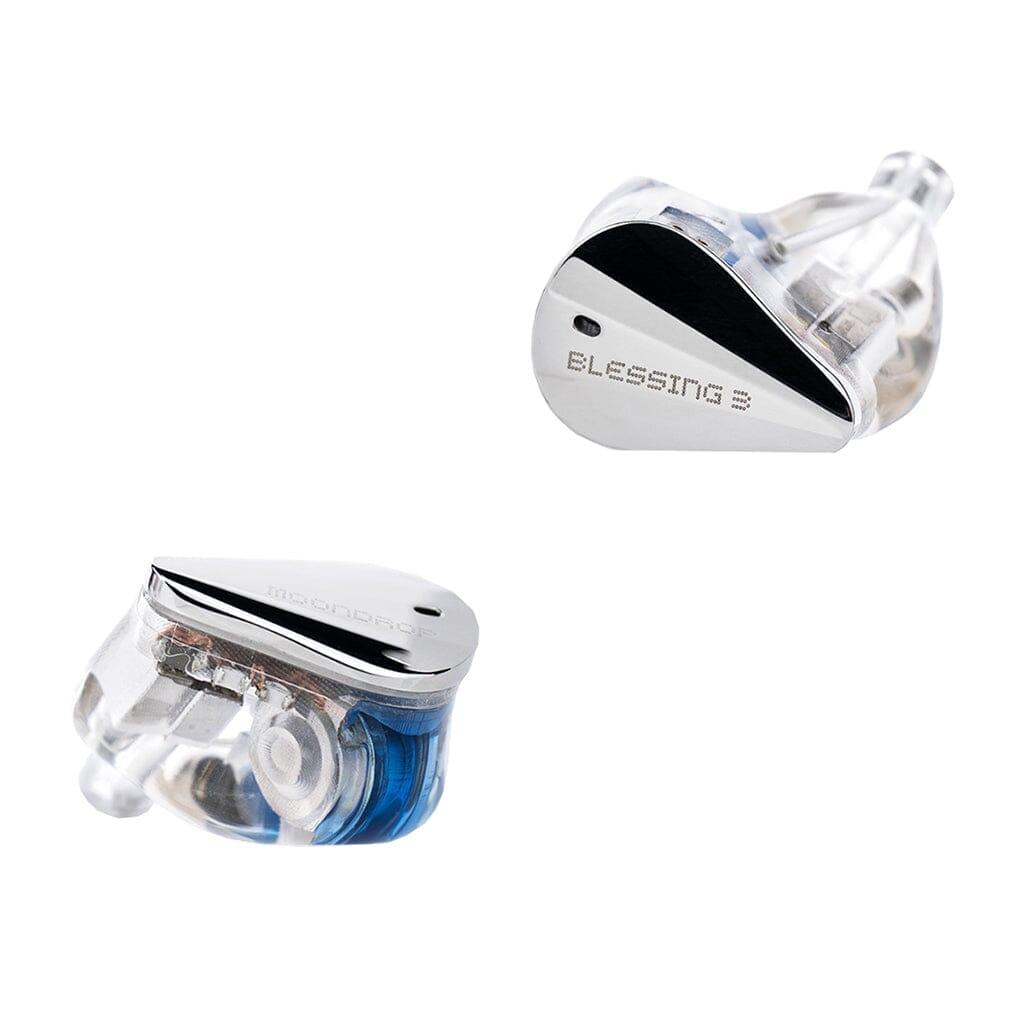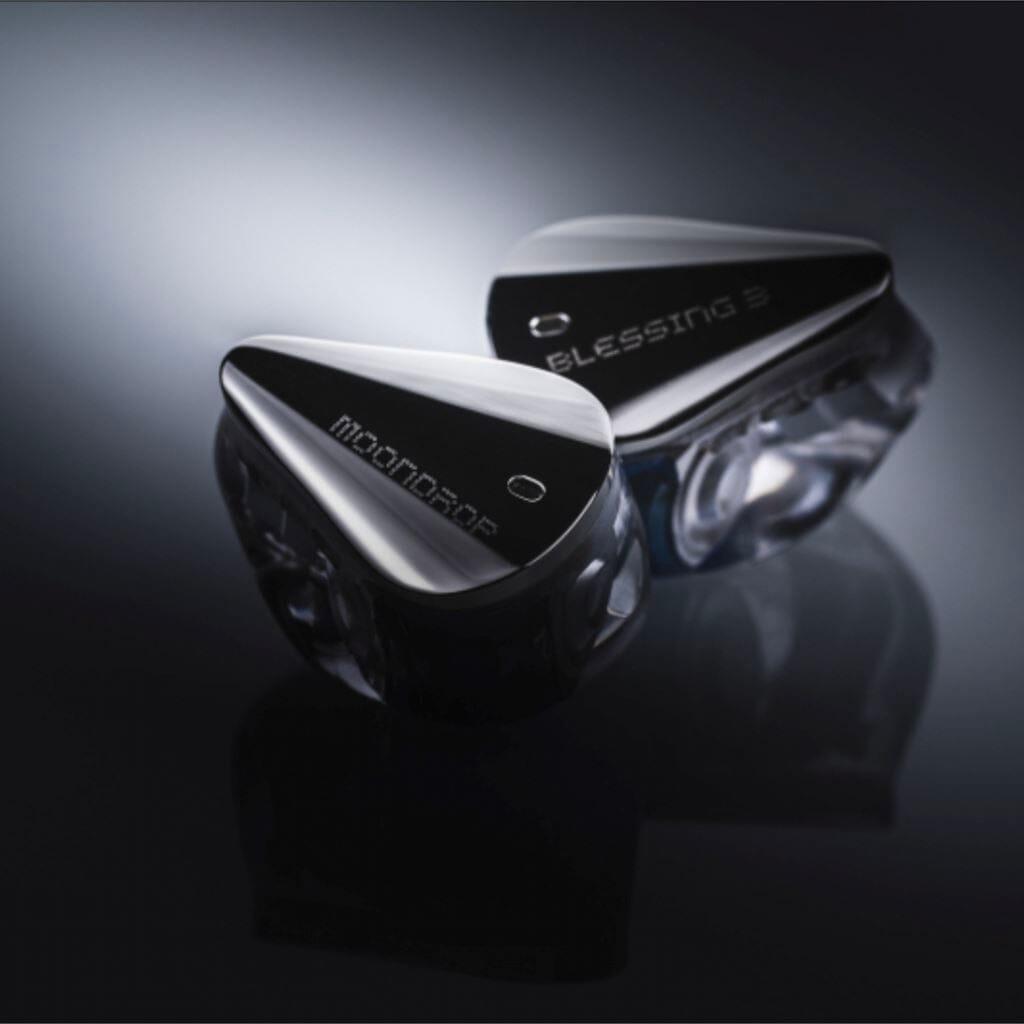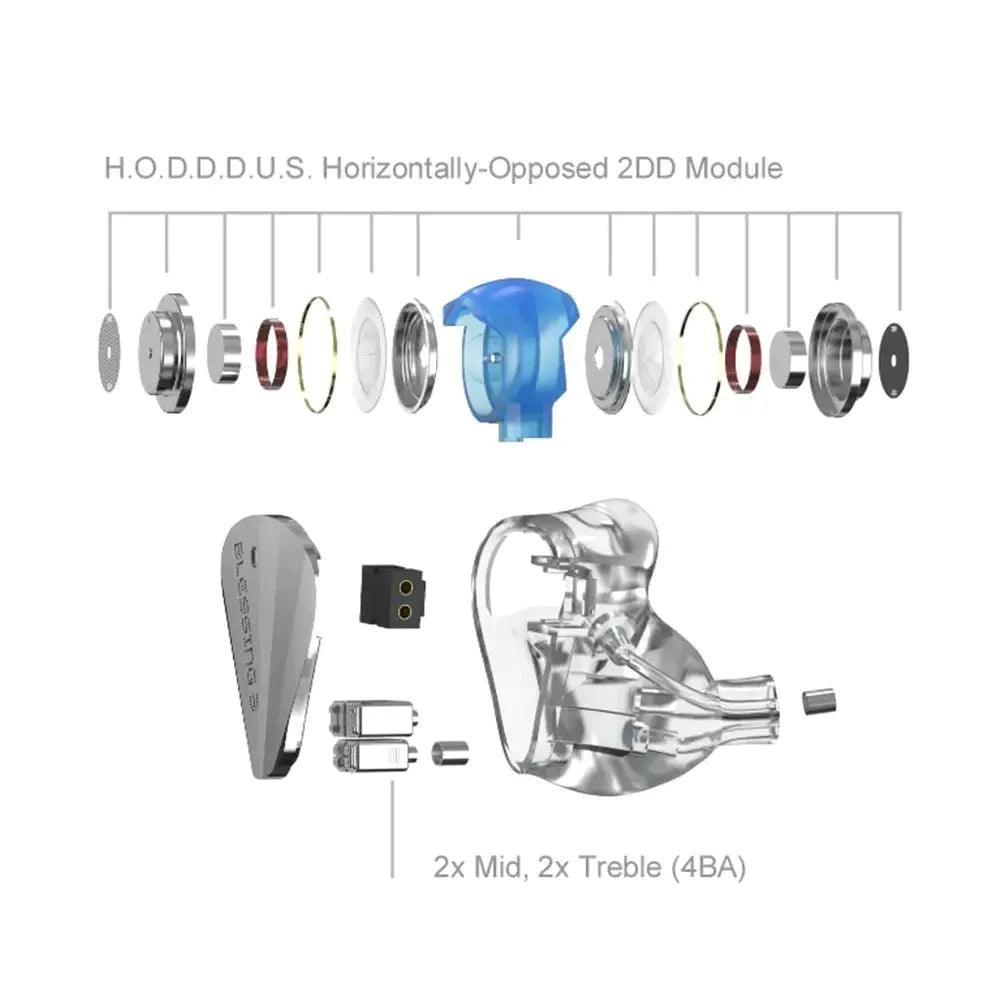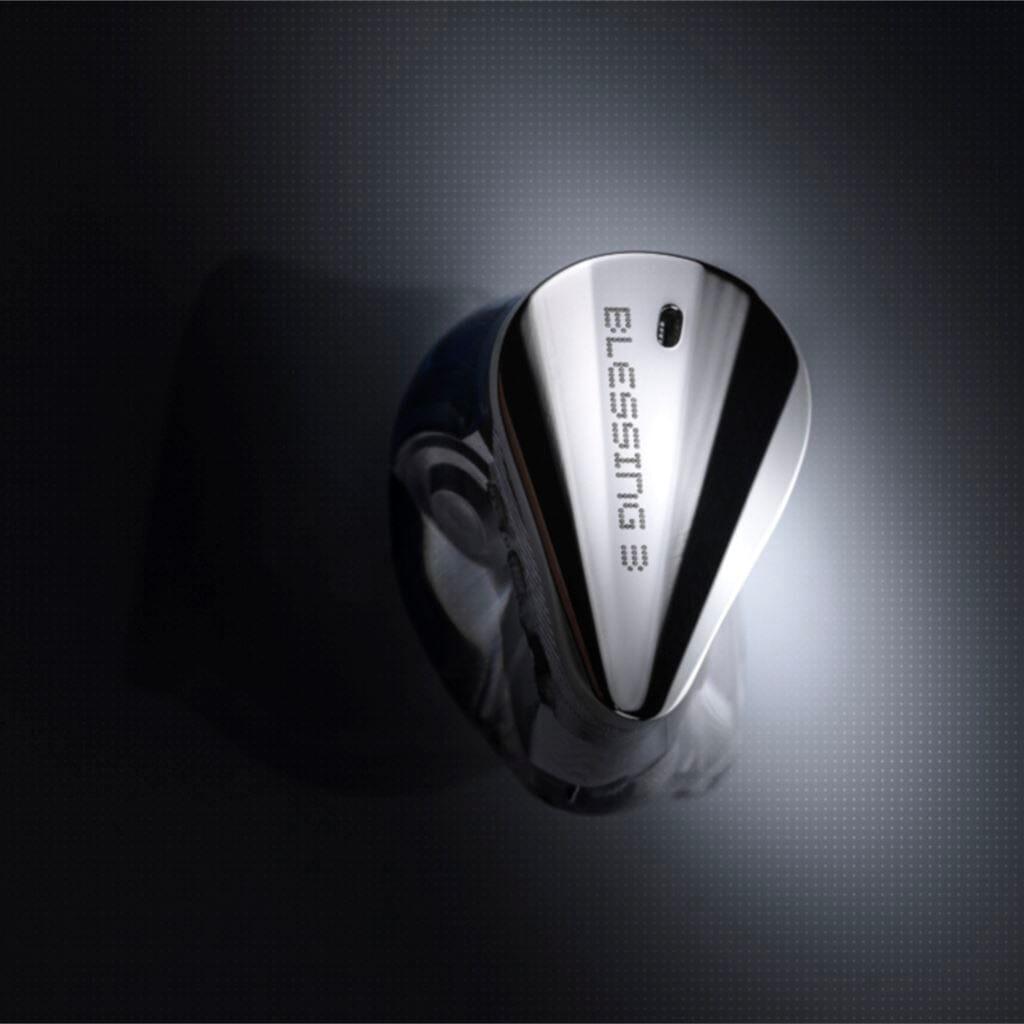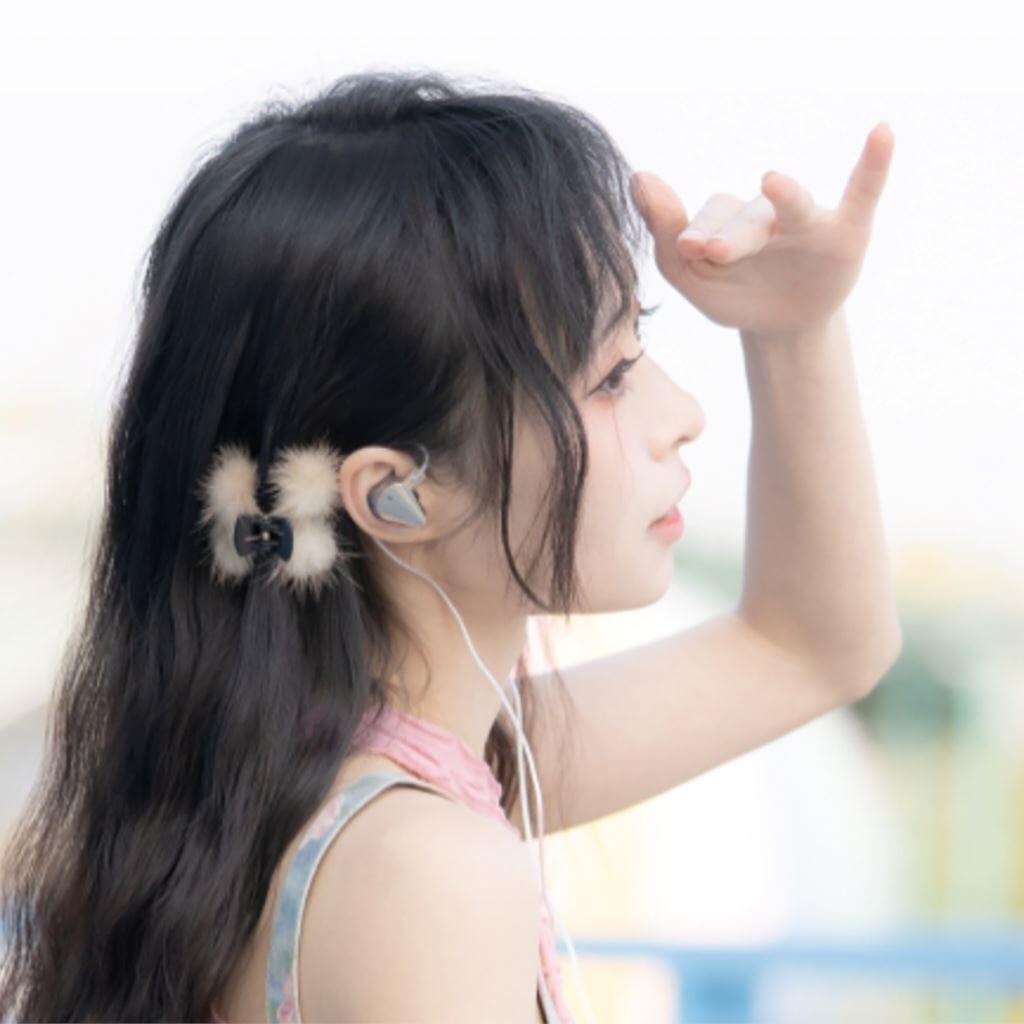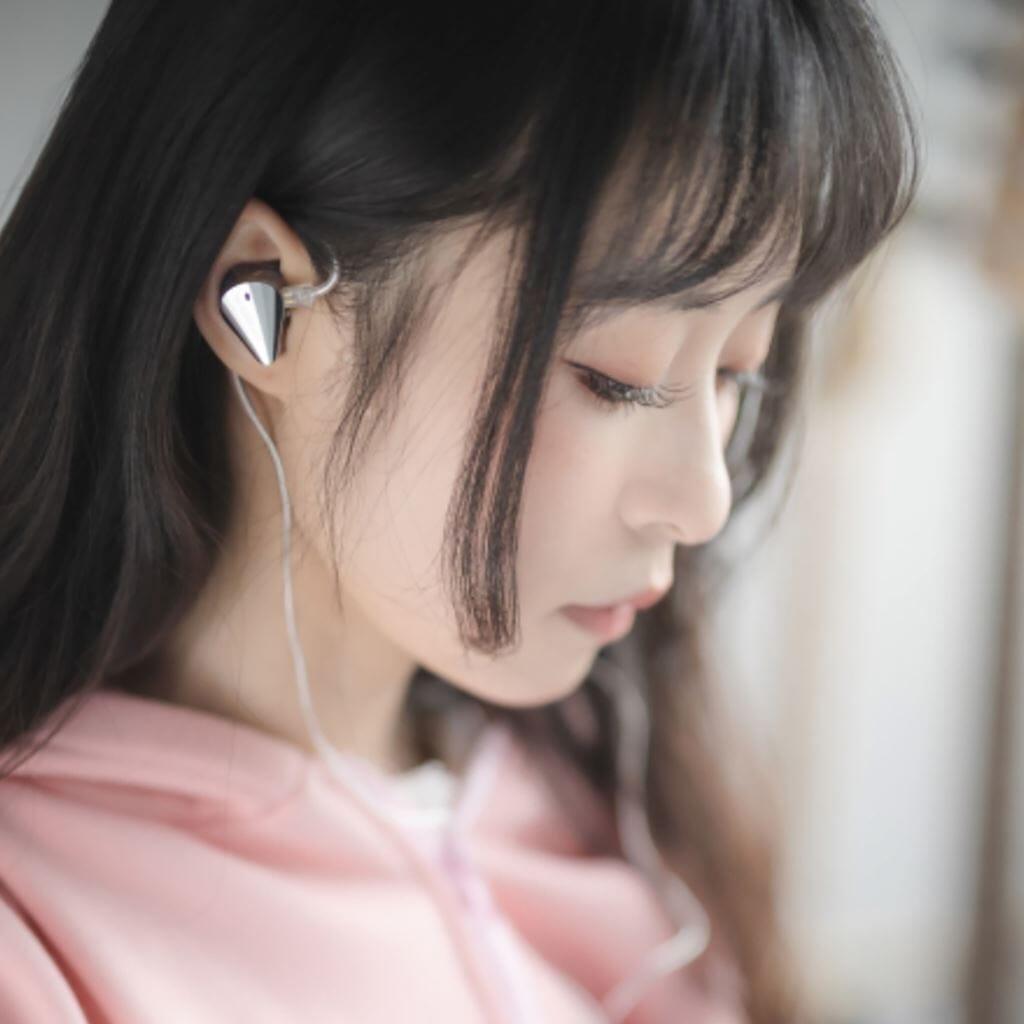 Add to cart