Meze
Sale price
$649
Regular price
$799.00
Unit price
per
Cup style

More information

Open-back headphone designs are often higher-performance but have poor noise isolation and leak sound. Closed-back designs provide better noise isolation and leak less sound.
Open-Back
Wearing style

More information

Over-ear headphones sit over your ear and surround your ear with a ring of padding. On-ear headphones are padded but rest on top of your ear. In-ear monitors are worn inside your ear canal.
Over-ear
Driver type

More information

Speakers and headphones use a device called a 'driver' to create sound. Different types of drivers have different strengths and weaknesses, but can all produce great sound. Common varieties include dynamic, planar magnetic, and electrostatic.
Dynamic
Amp required

More information

Some headphones require the power of an amplifier to reach comfortable listening volumes.
Yes
Connectivity

More information

Connectivity refers to the method in which the headphones connect to the audio source. Headphones can be either wired or wireless.
Wired
On back order
Join our email list to be notified as soon as it is back in stock.
View full details
Meze
Meze Audio 109 PRO Headphones - Open Box
Sale price
$649
Regular price
$799.00
Unit price
per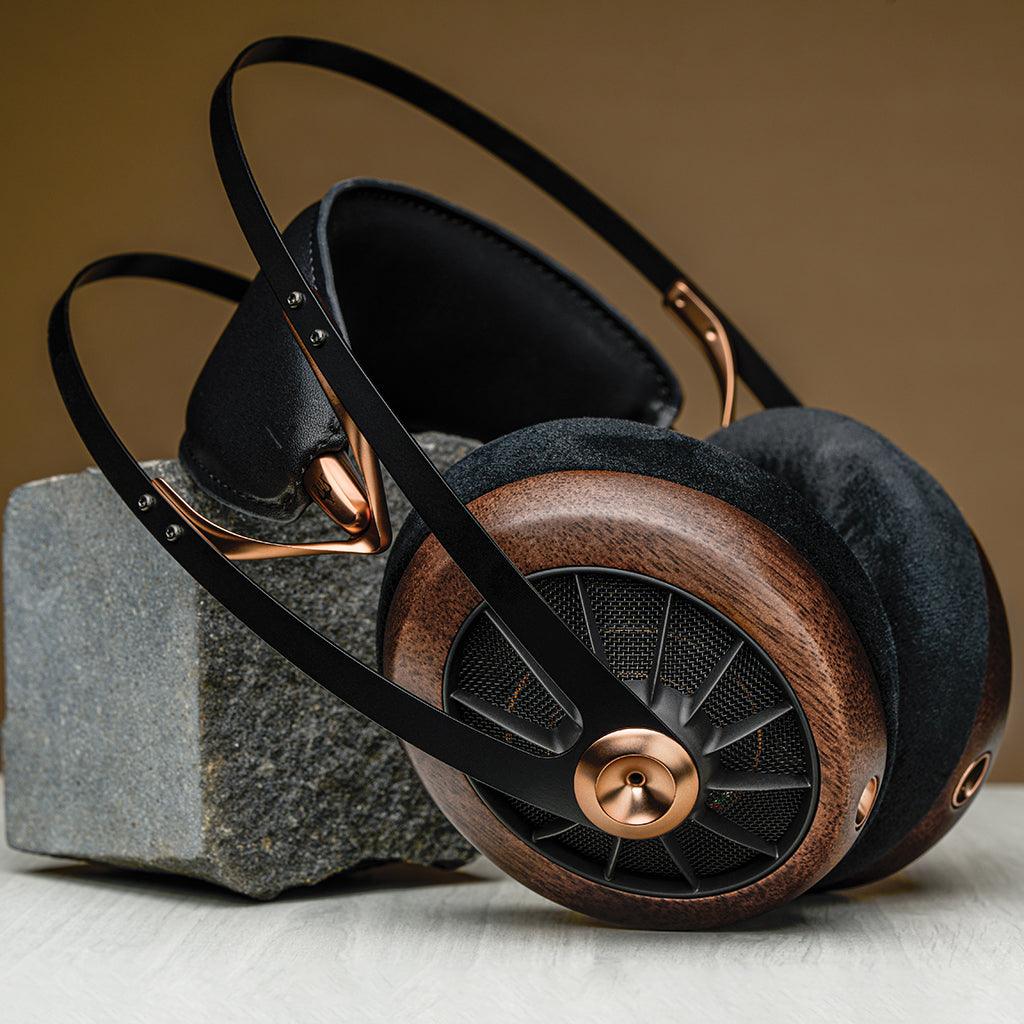 The Meze Audio 109 PRO is a dynamic driver headphone with an open-back, over-ear design from Antonio Meze and his team from Meze Audio. Coming in at $799, the Meze 109 PRO is easily one of the best looking and most comfortable pairs of headphones you'll find in this price range. The 109 PRO's dynamic drivers produce incredible detail and have upper treble airiness that will satisfy anyone looking at more expensive options like the Hifiman Arya or the Sennheiser HD 800S but are not looking to spend over $1k. 
Meze Audio 109 PRO - the most anticipated release of 2022 - is finally here
The Meze Audio 109 PRO is Meze Audio's first dynamic open-back headphone, demonstrating Meze Audio's commitment to go beyond faithful reproduction of sound and convey pure emotion.

 

In a world of fast-moving technology, Meze relies on proven foundations.
The new 50mm dynamic driver, assembled and tuned with the utmost precision, allowed Meze to push the boundaries of speed, accuracy and dynamic range.
To achieve the acoustic goals set for the 109 PRO, Meze Audio focused their R&D work on materials research, looking for the perfect balance between cone mass and stiffness to maximize the headphones' sonic capabilities.

Meze Audio's search led to the development of the 109 Series dual cone diaphragm - a combination of beryllium-coated polymer, cellulose and carbon fibre composite and a copper-zinc alloy.

Acoustic design at its finest - the spider-like structure and acoustically transparent grille inside the ear cup exposes the driver from both sides, creating Meze's most open soundscape yet.

The velour pads comfortably enclose the ears and ensure an optimal seal to produce a natural sound.

 

Since velour is much softer and more breathable than leather, it also prevents sweat build-up and overheating during extended listening sessions.

The 109 PRO is all about comfort - from the headphone's structural design to the choice of materials, all decisions have been carefully made to ensure the final product meets our highest standards of ergonomics.

With this in mind, Meze Audio have combined walnut wood, zinc, manganese steel and vegan leather into a comfortable, lightweight yet extremely strong structure.

Meticulously tuned by Meze's in-house engineering team, the 109 PRO offers an emotionally engaging sound with great detail, clarity and just the right amount of punch.

Its organic character, coupled with superior dynamics, excellent imaging and full-bodied voices, brings soul-stirring details to life.

 

Plus, it's easy to control from most devices, whether they're portable sources or complex home systems.
Highlights
Dynamic open-back circumaural (over-ear) headphone
Driver features the 109 series Dual Membrane Diaphragm – a combination of Beryllium-coated polymer, cellulose + carbon fibre composite and copper-zinc alloy
Easy to drive from most devices, from portable sources to full home setups
Dark walnut wood ear cups, zinc, manganese steel, vegan leather headband and soft velour ear pads for a comfortable, lightweight, yet highly durable structure
WHAT'S IN THE BOX?
Case: Hard EVA pouch
Included cables:
1.5m soft TPE cable, with black aluminum casings, ending with 3.5 mm jack
3m soft TPE cable, with black aluminum casings, ending with 3.5 mm jack
Headphone termination: 3.5 mm TRS jack
Included adapters: 6.3mm gold-plated jack
TECHNICAL SPECIFICATIONS
Transducer Size: 50mm
Frequency Response: 5Hz - 30KHz
Sensitivity: 112dB SPI at 1KHz, 1mW
Impedance: 40 Ω
Weight: 375 gr (13 oz) without cables
Ear Cups: Walnut Wood
Reviews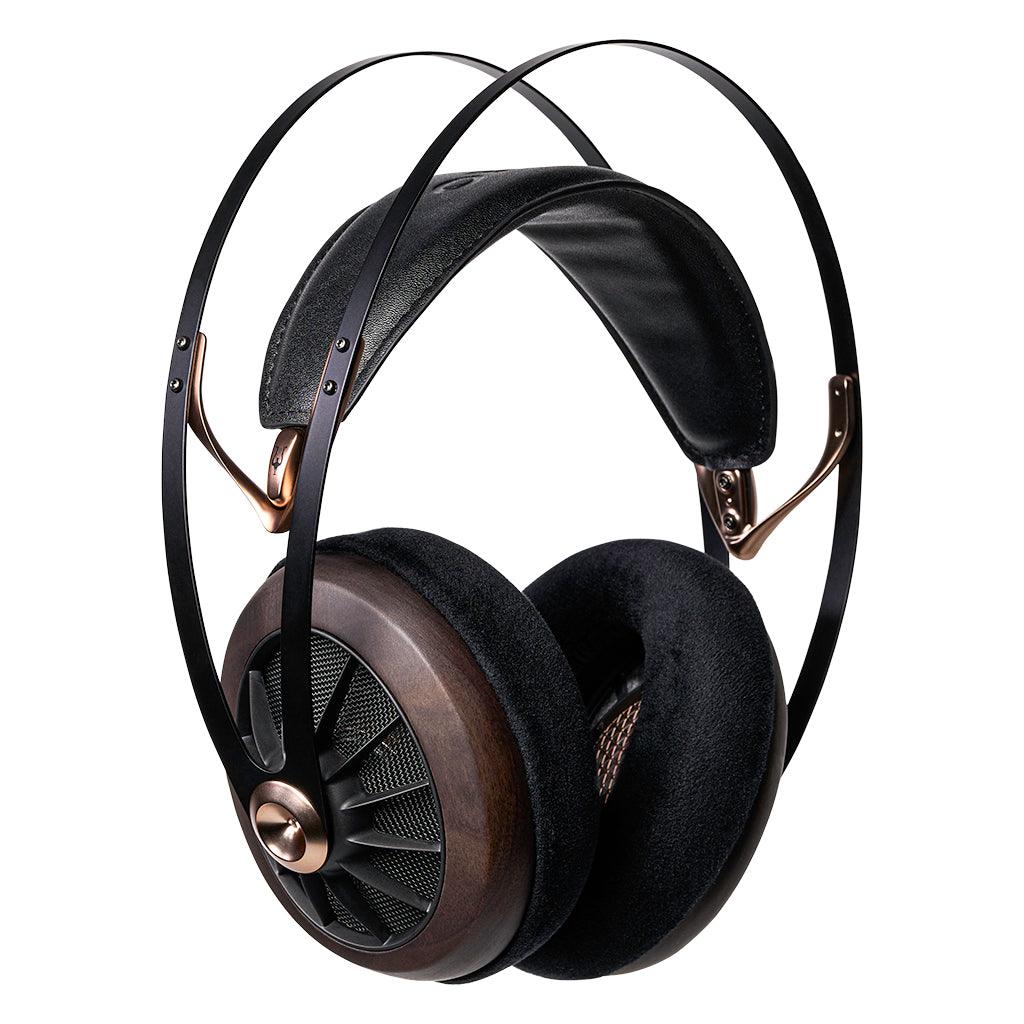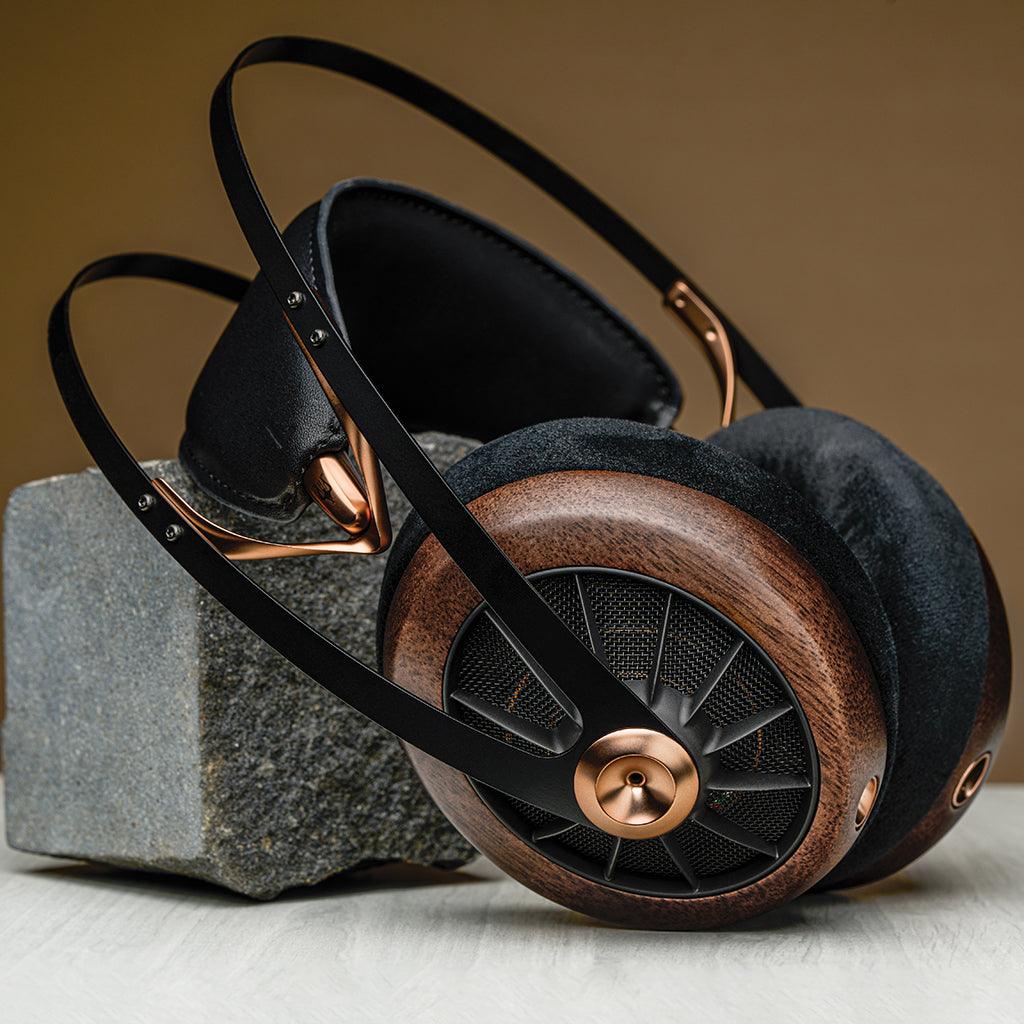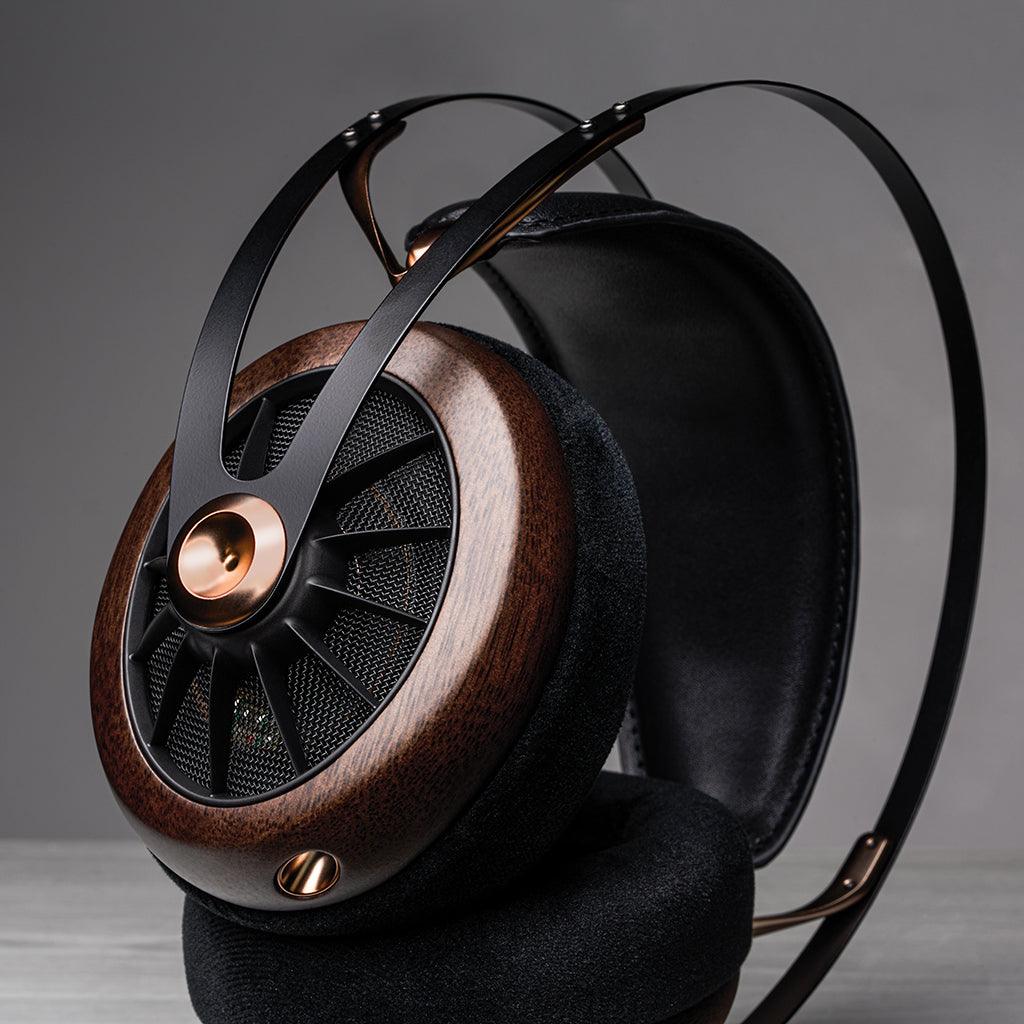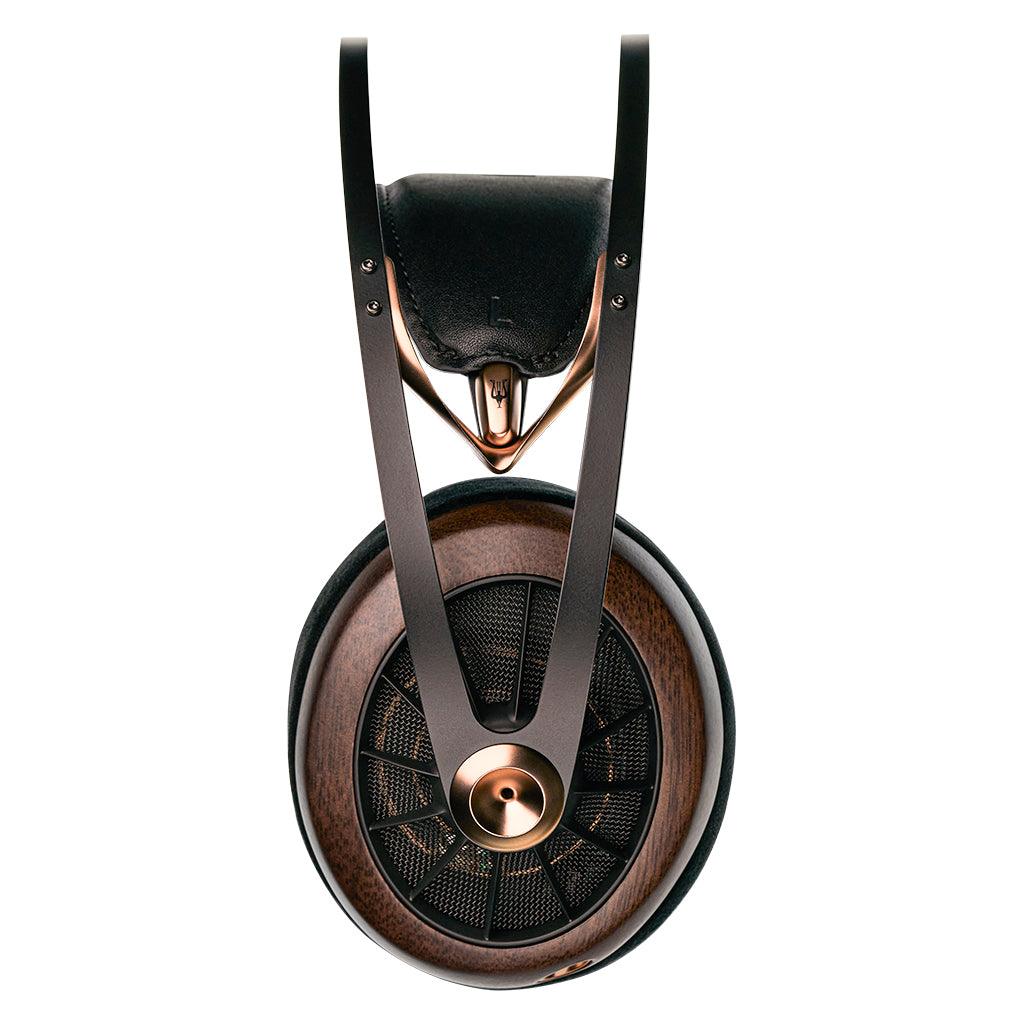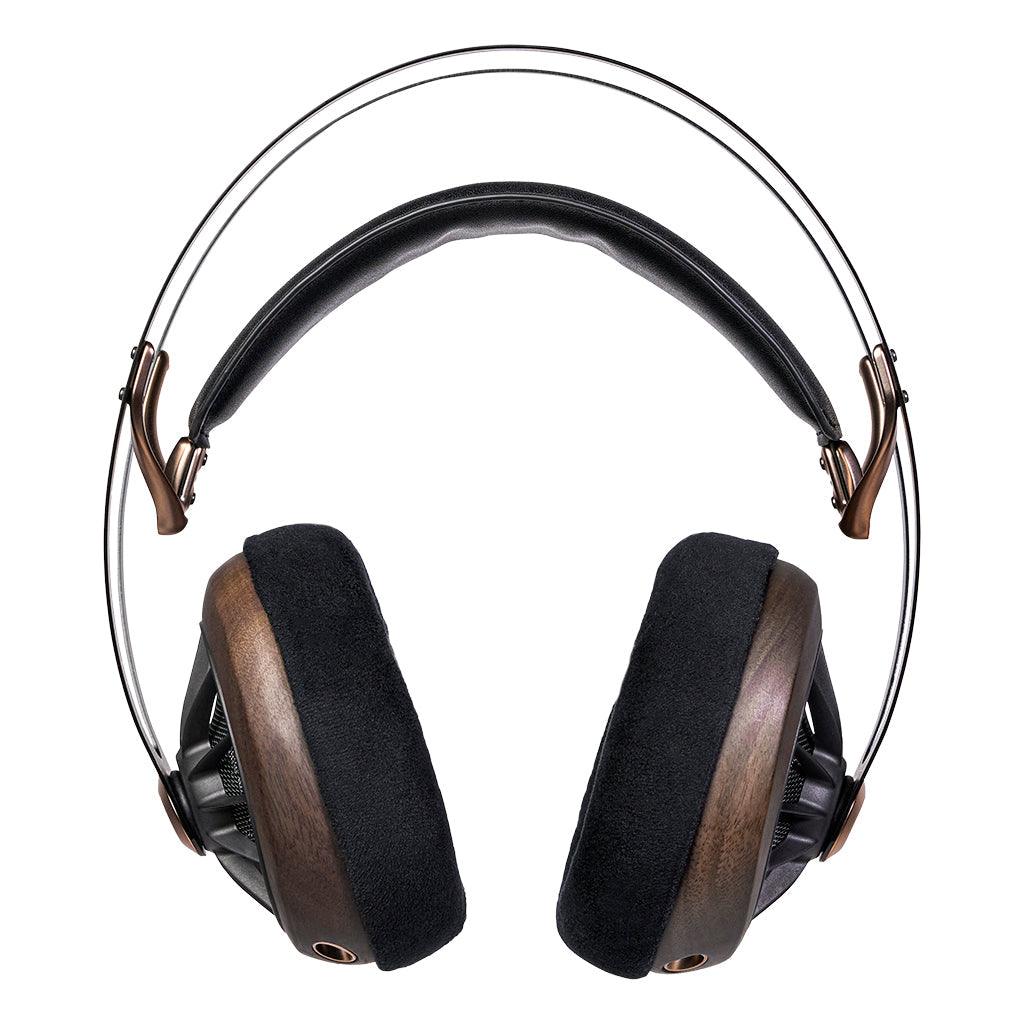 Sold out