Kanto Living
Sale price
$

899.99
Regular price
Unit price
per
Driver type

More information

Speakers and headphones use a device called a 'driver' to create sound. Different types of drivers have different strengths and weaknesses, but can all produce great sound. Common varieties include dynamic, planar magnetic, and electrostatic.
AMT, Dynamic
Connectivity

More information

Connectivity refers to the method in which the headphones connect to the audio source. Headphones can be either wired or wireless.
Wired, Wireless
Portability

More information

DACs and amplifiers can either be carried around or meant for static desktop use
Not Portable
View full details
Kanto Living
Kanto TUK Powered Bookshelf Speakers
Sale price
$

899.99
Regular price
Unit price
per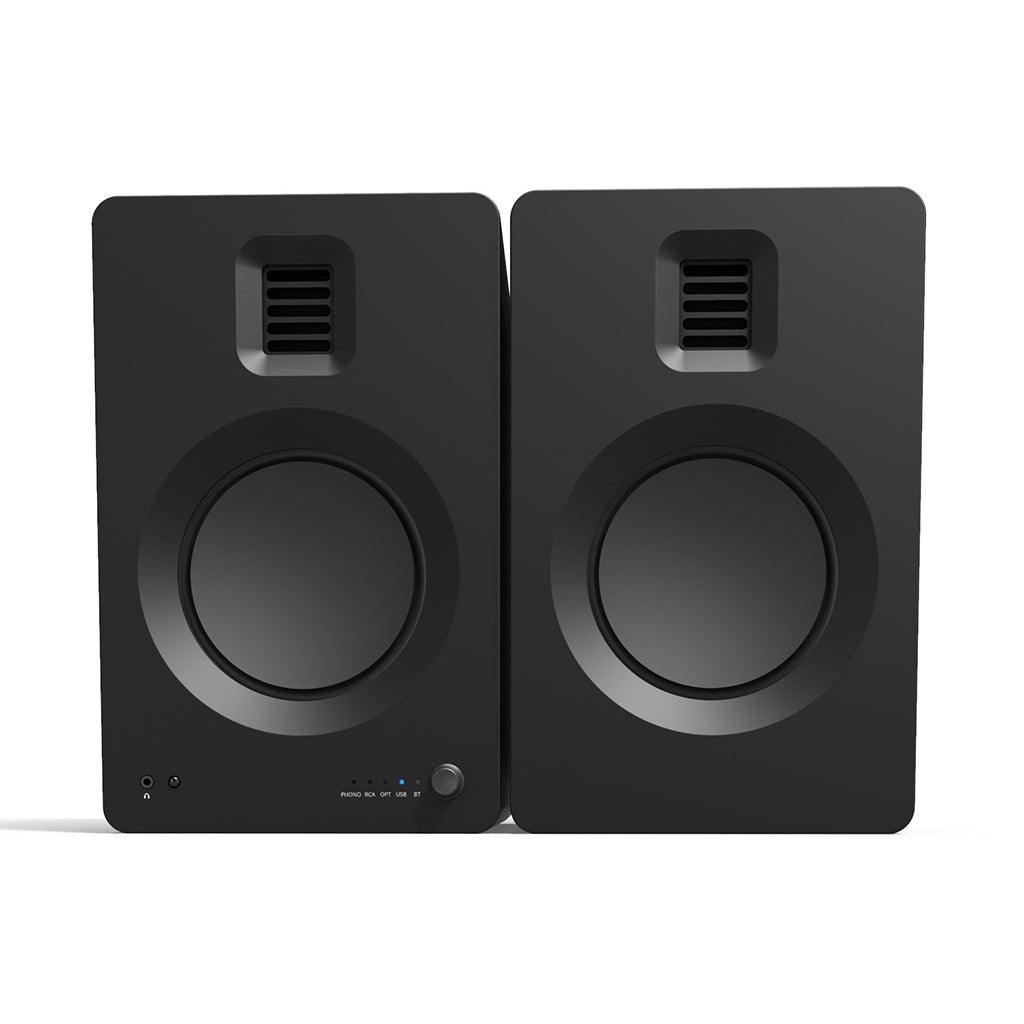 Our Take: The Kanto TUK Powered Bookshelf Speakers are Kanto's flagship speakers and with good reason. Using Class-D technology, the Kanto TuK delivers a rich, full sound with strong low-end impact and wonderful treble response through it's AMT tweeter. In addition, the Kanto TUK features a plethora of connectivity making it a versatile beast in your home audio set-up. You can even pair them directly with a turntable!
Designed for Enhanced Stereo Imaging
The AMT (Air Motion Transformer) tweeters are designed to deliver bright, accurate highs for an enhanced soundstage, regardless of your position in the room. Further, the high rigidity and low mass of the aluminum drivers allow them to operate efficiently while reducing distortion for clarity at nearly any volume.
DSP Control
The TUK features integrated DSP (digital signal processing) to help optimize audio quality and provide greater accuracy in sound reproduction.
Active Crossover
When enabled, the active crossover in the TUK filters out frequencies below 80 Hz and sends them directly to a connected subwoofer to help augment sound resolution.
Swap Channels to Accommodate Your Setup
When the location of your power outlet or other factors require that the active speaker be placed on the right, the TUK lets you maintain proper stereo imaging by allowing you to reconfigure it so that the active speaker outputs right channel audio.
Custom EQ Presets
You can save custom EQ settings for each input, enabling you to control how each of your devices sound.
Active Signal Detection
Automatic standby and power-up modes help conserve power when you're away and ensure virtually immediate playback when a wired or Bluetooth source is detected. Standby mode can also be disabled to keep your speakers on at all times.
Night Mode
The TUK features a button on the remote that lets you mute your connected subwoofer, reducing bass output. You can also reduce distractions when the room lights are off by adjusting the brightness of the input display.
Phono Input
Instead of a single, switchable RCA input, the TUK features separate phono and line-level inputs to provide uninterrupted access to its built-in preamp.
HD Audio Streaming with aptX HD
Supporting aptX HD offers sound quality better than that of CD while streaming over Bluetooth. AAC is also supported for enhanced streaming from Apple devices.
Direct Computer Connection
The TUK features a built-in DAC, allowing you to connect it to your computer directly via USB. This is designed to help eliminate interference from your computer's sound card while providing a fully digital connection. For private listening, plug your headphones into the 1/8" output on the front of the powered speaker.
Use in Home Theater
You can connect the TUK to your display via the optical input, and for an even more immersive experience, connect a subwoofer and activate the active crossover.
Remote Control
The included remote control allows you to switch between sources, set your EQ preferences, and control playback while streaming via Bluetooth or USB.
Additional Features
A rear-mounted switch allows you to flip between Phono and Line RCA input types.
Keep your phone charged with the rear-mounted 5V USB port.
Auto-standby mode helps conserve energy when the speakers are not in use.
Reviews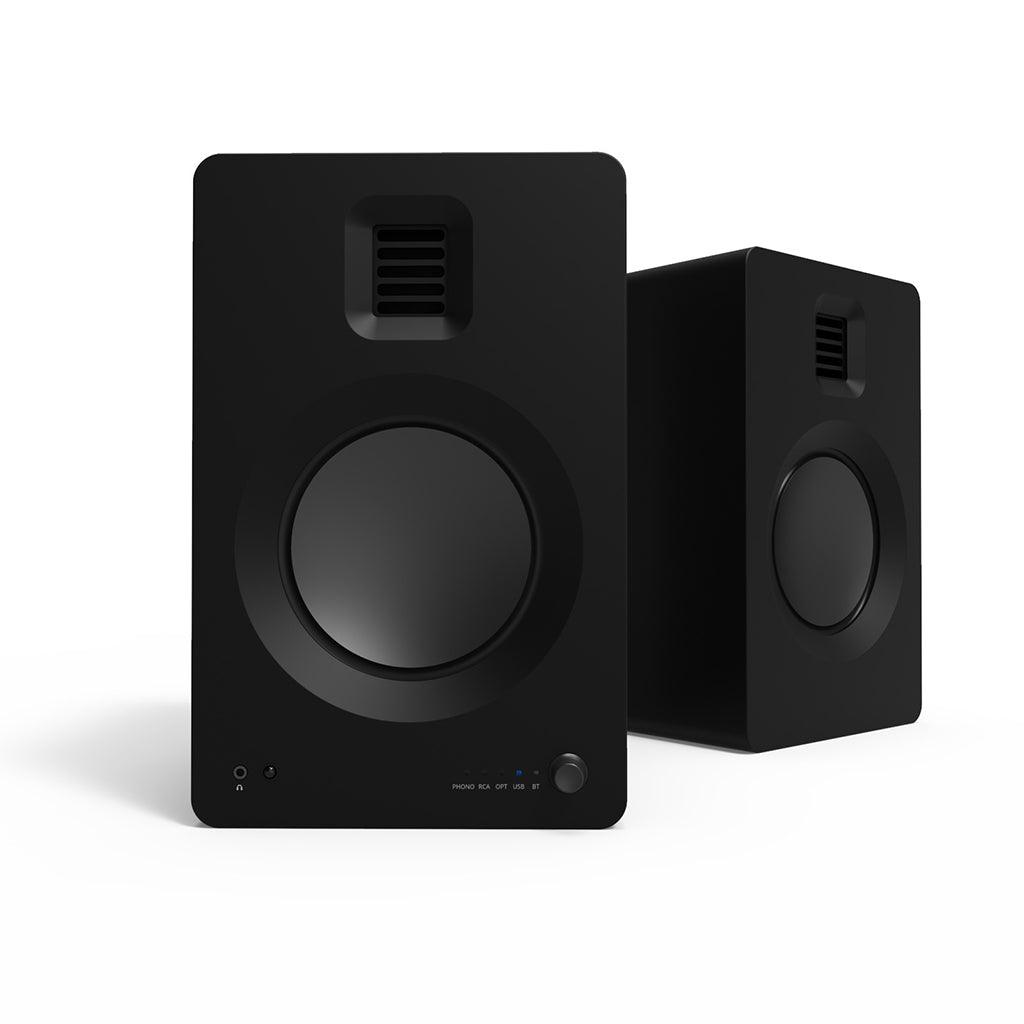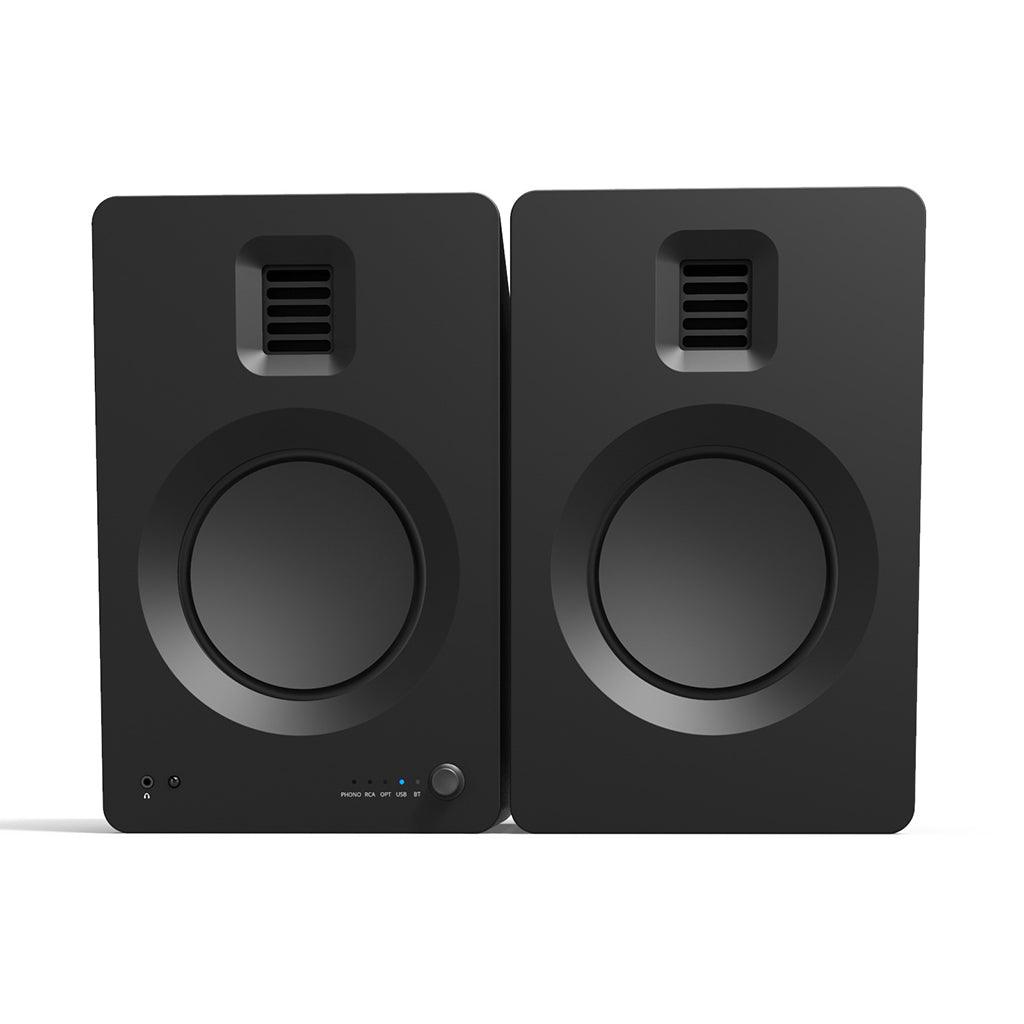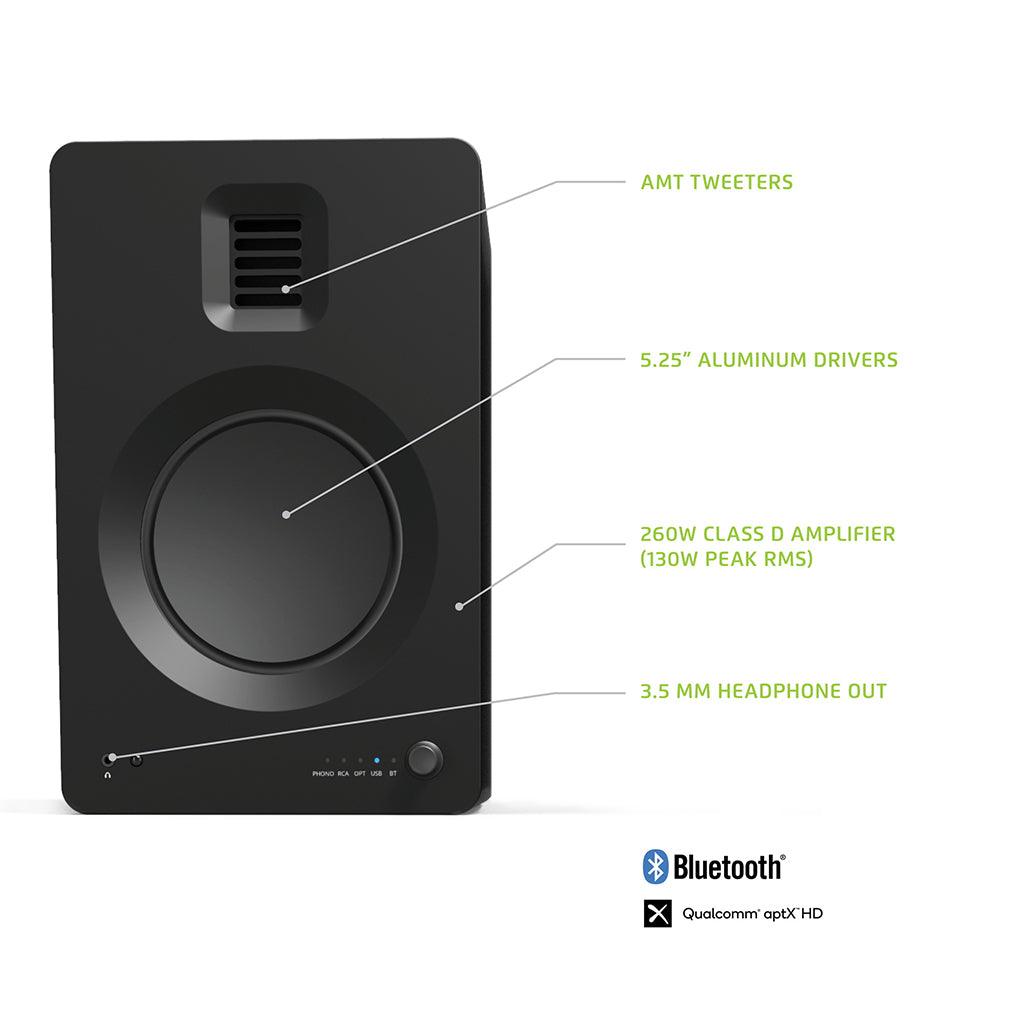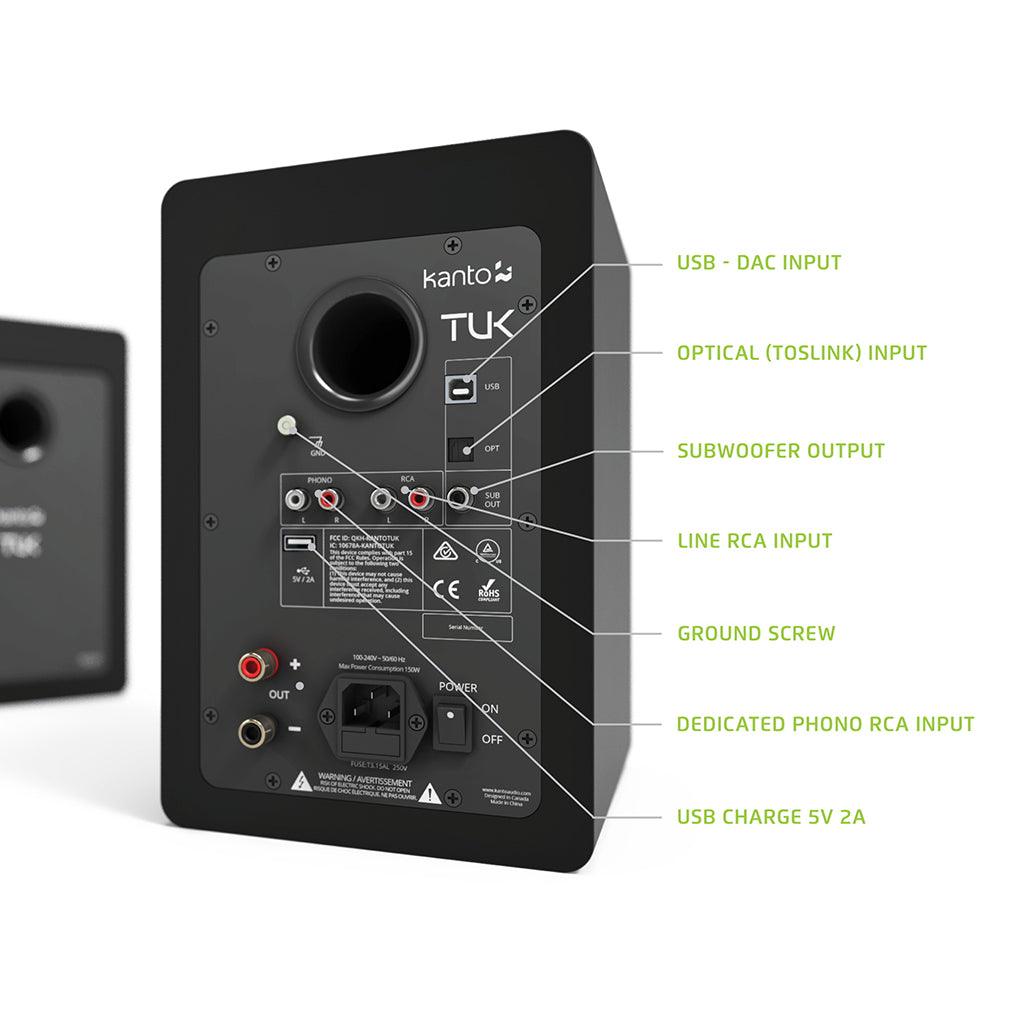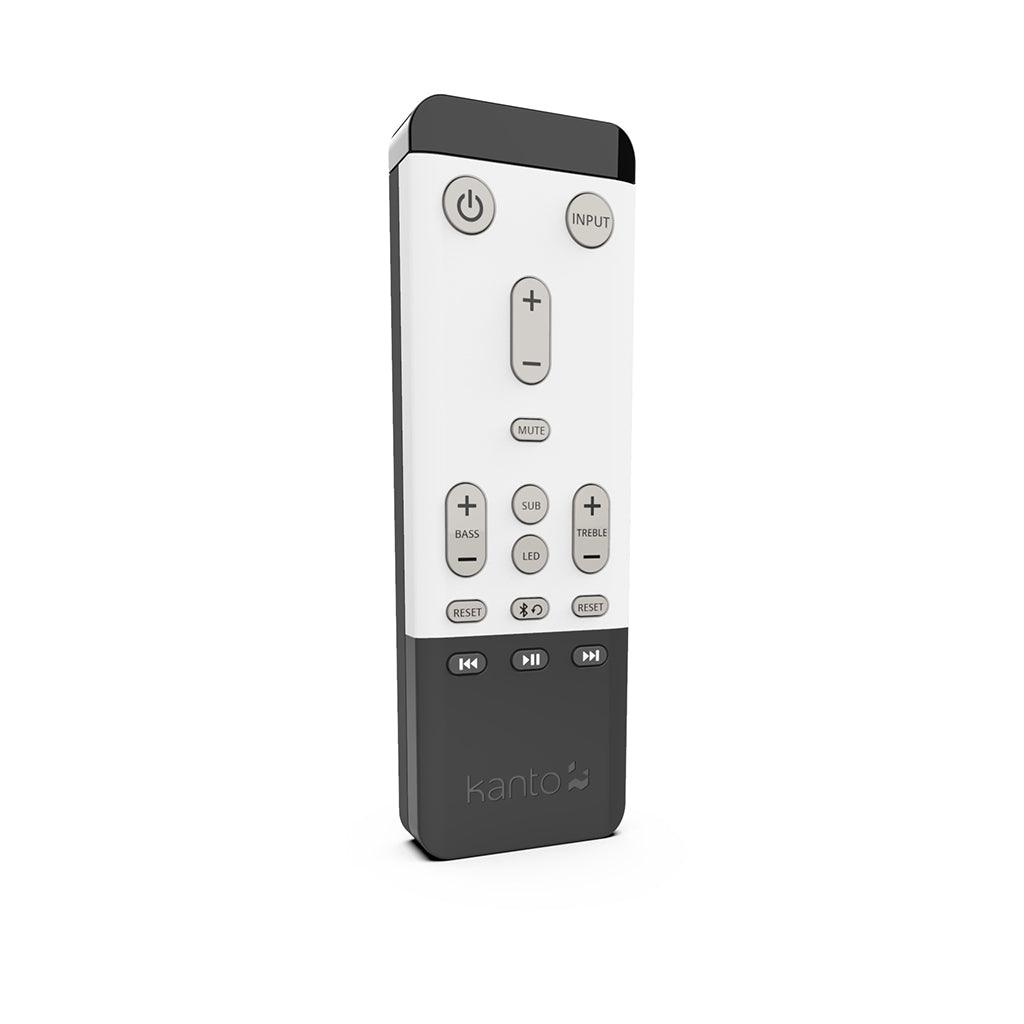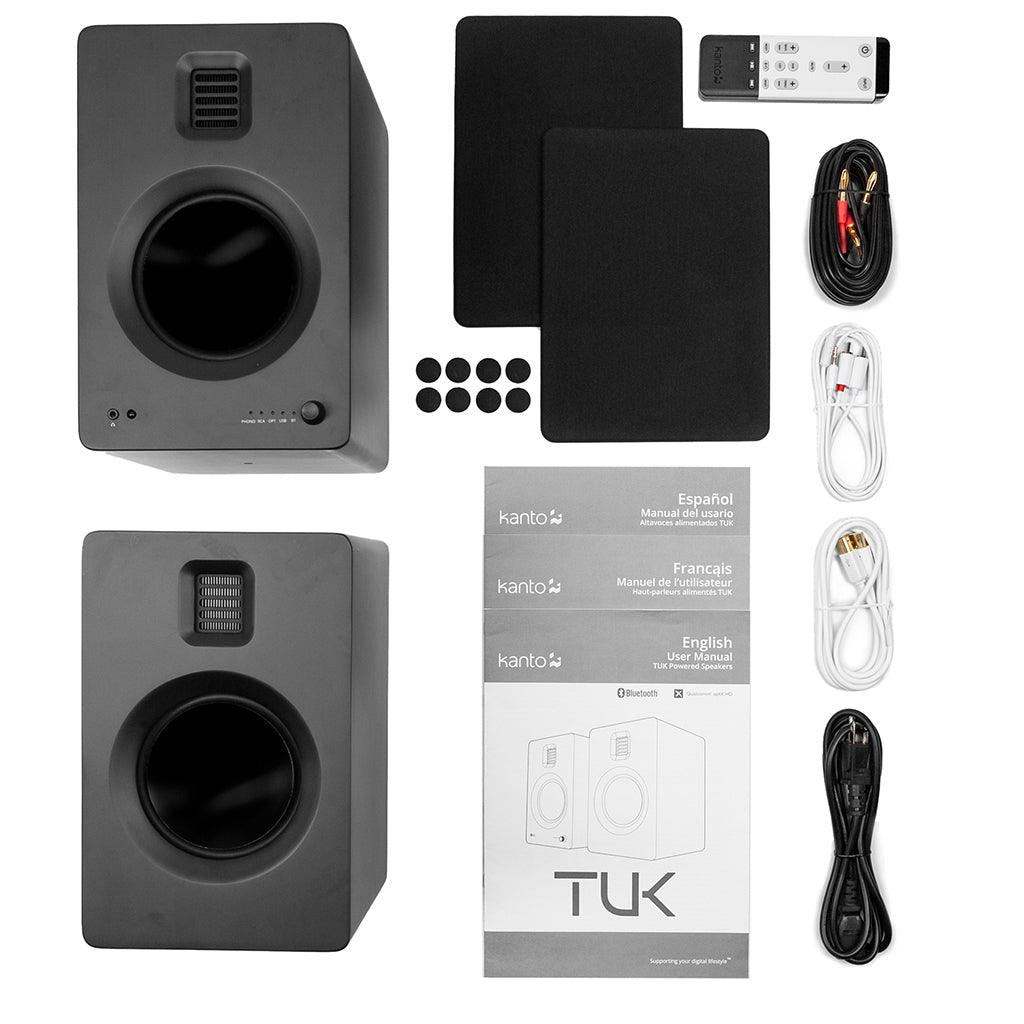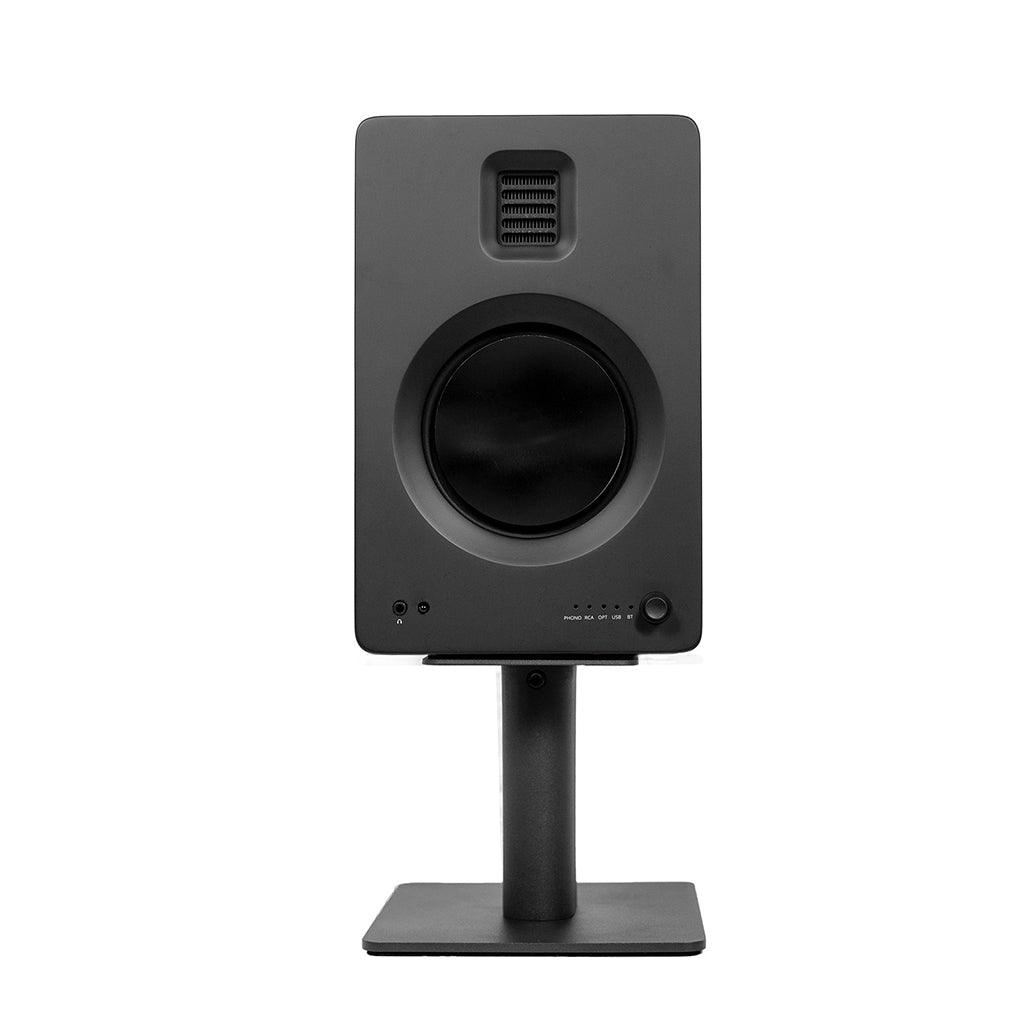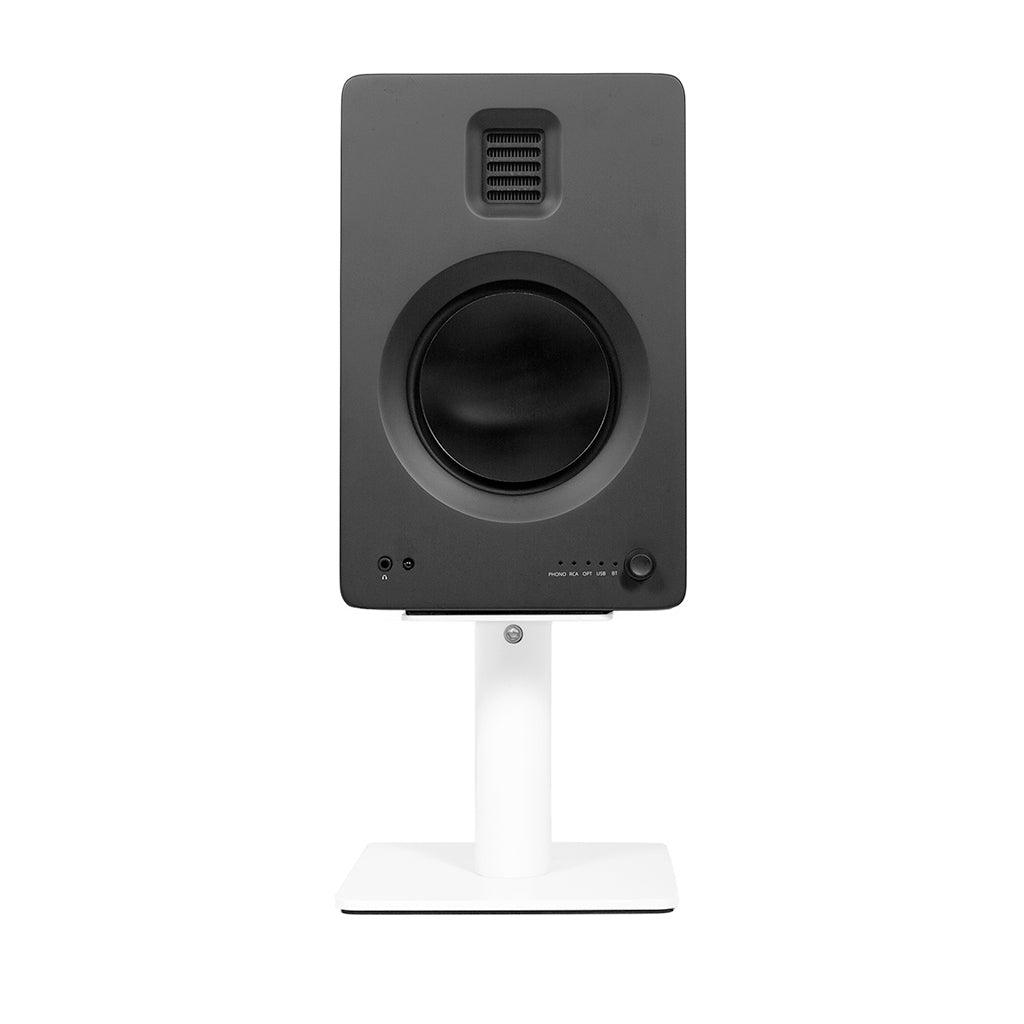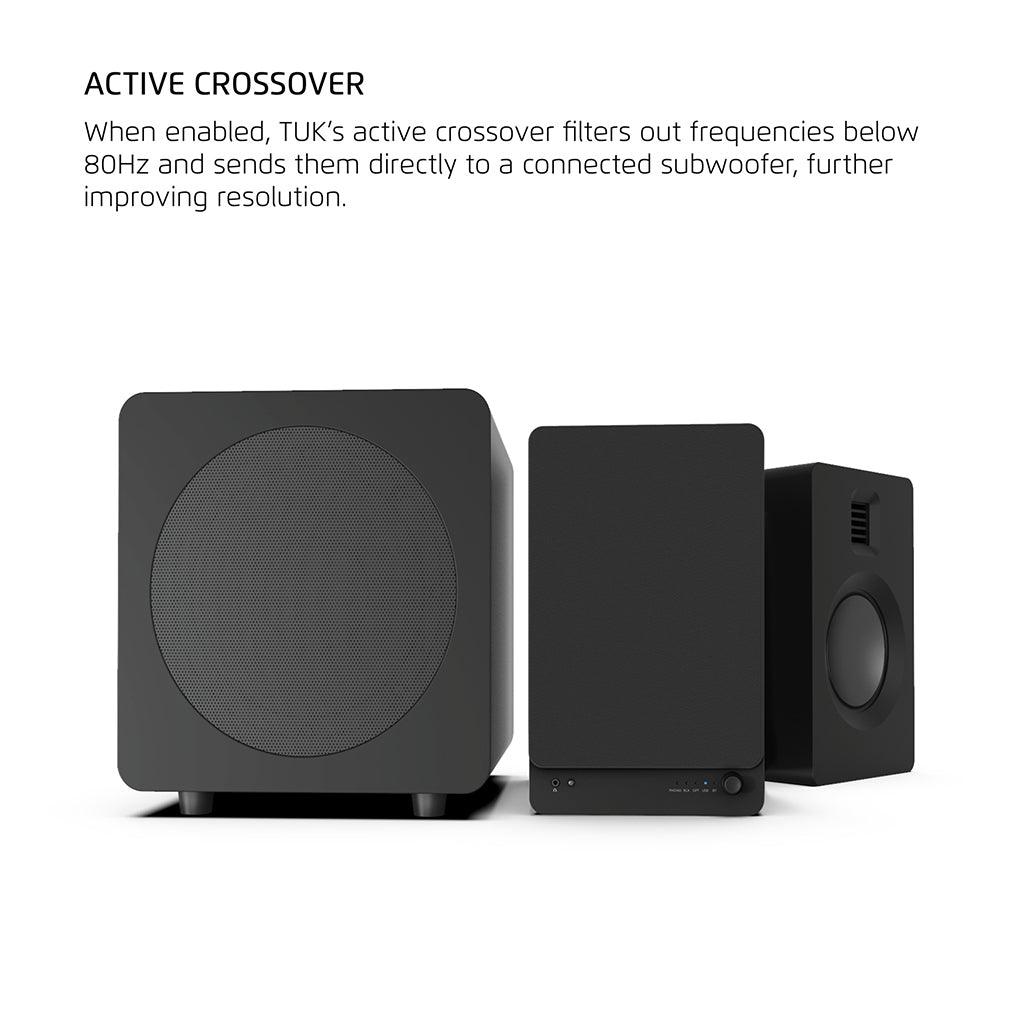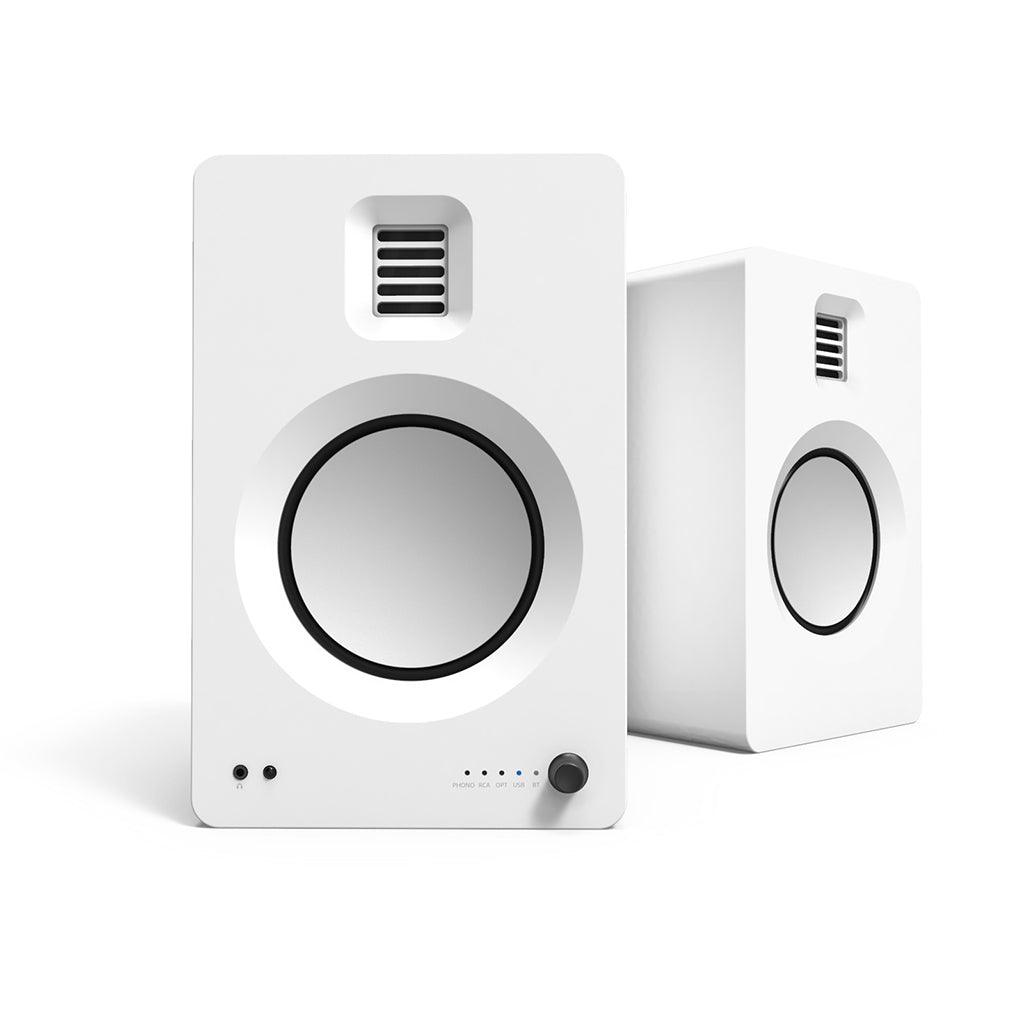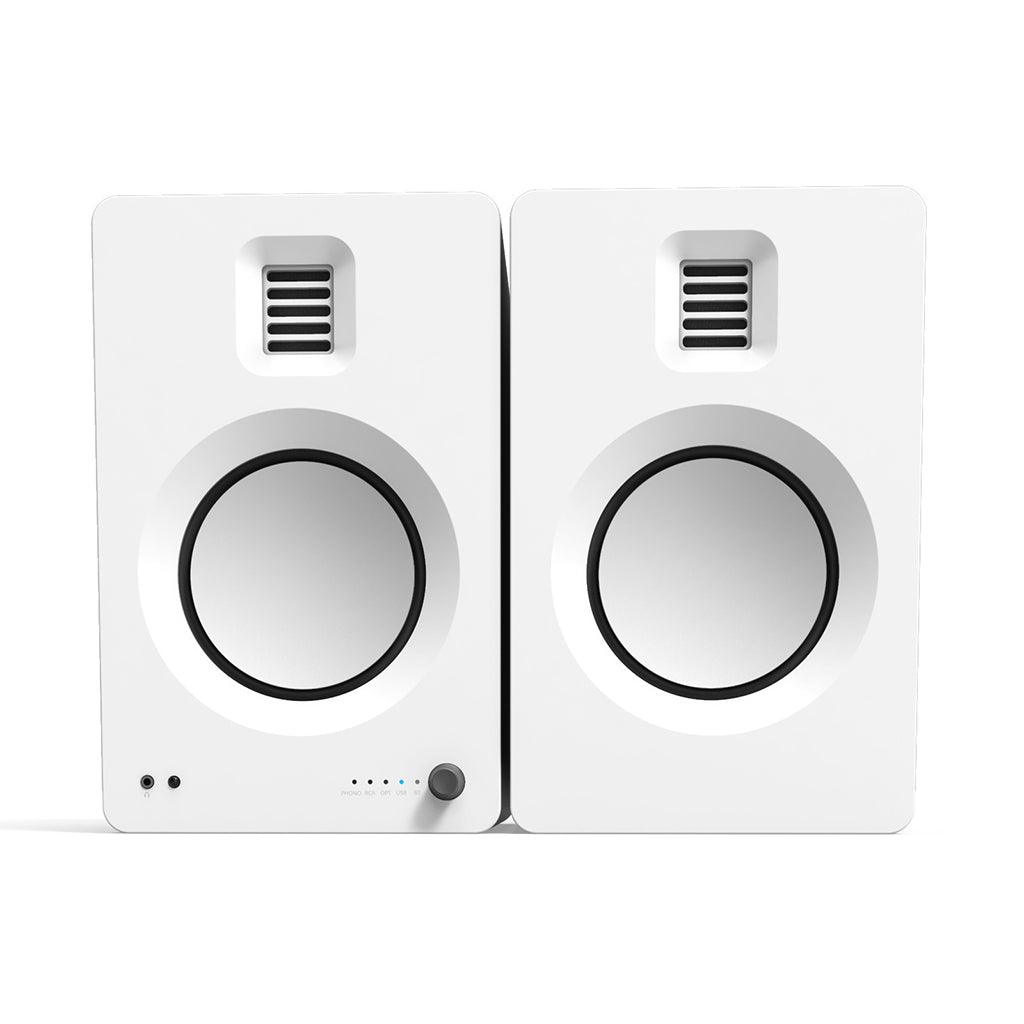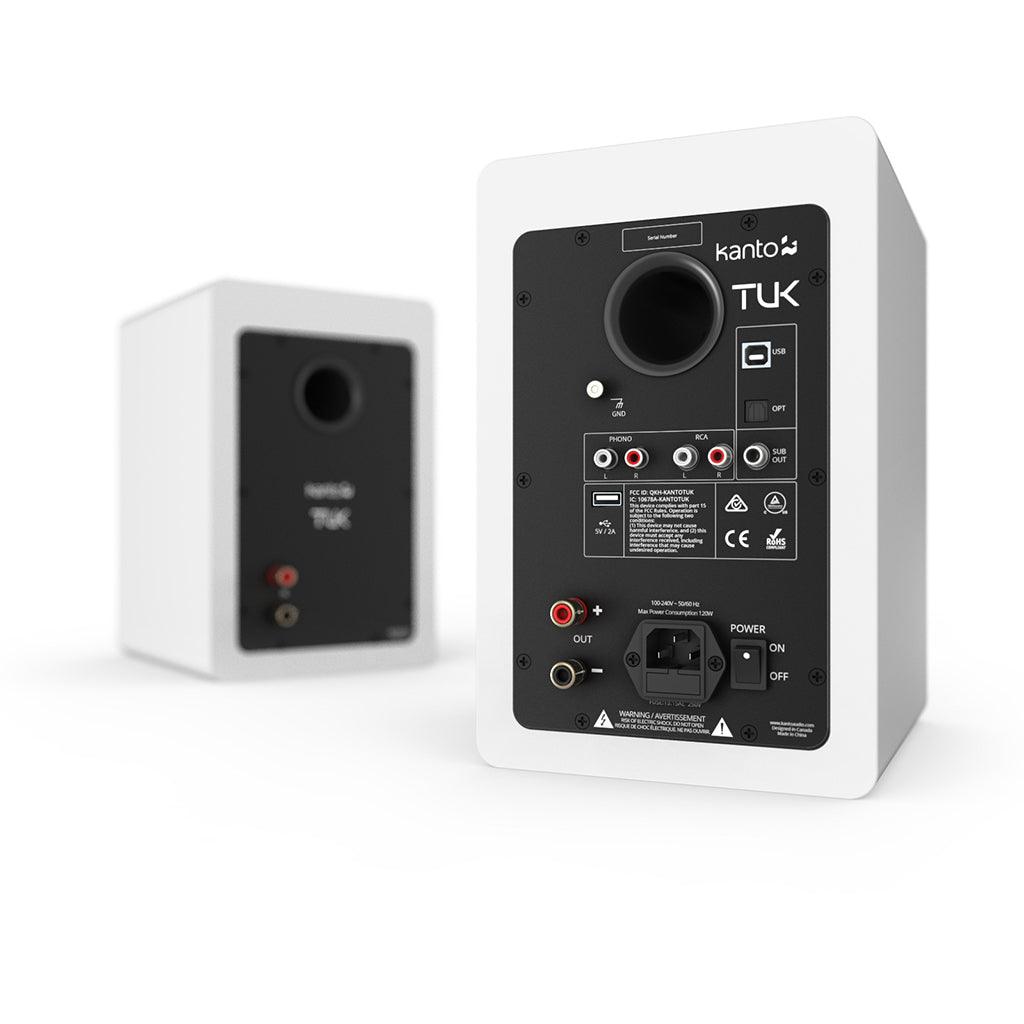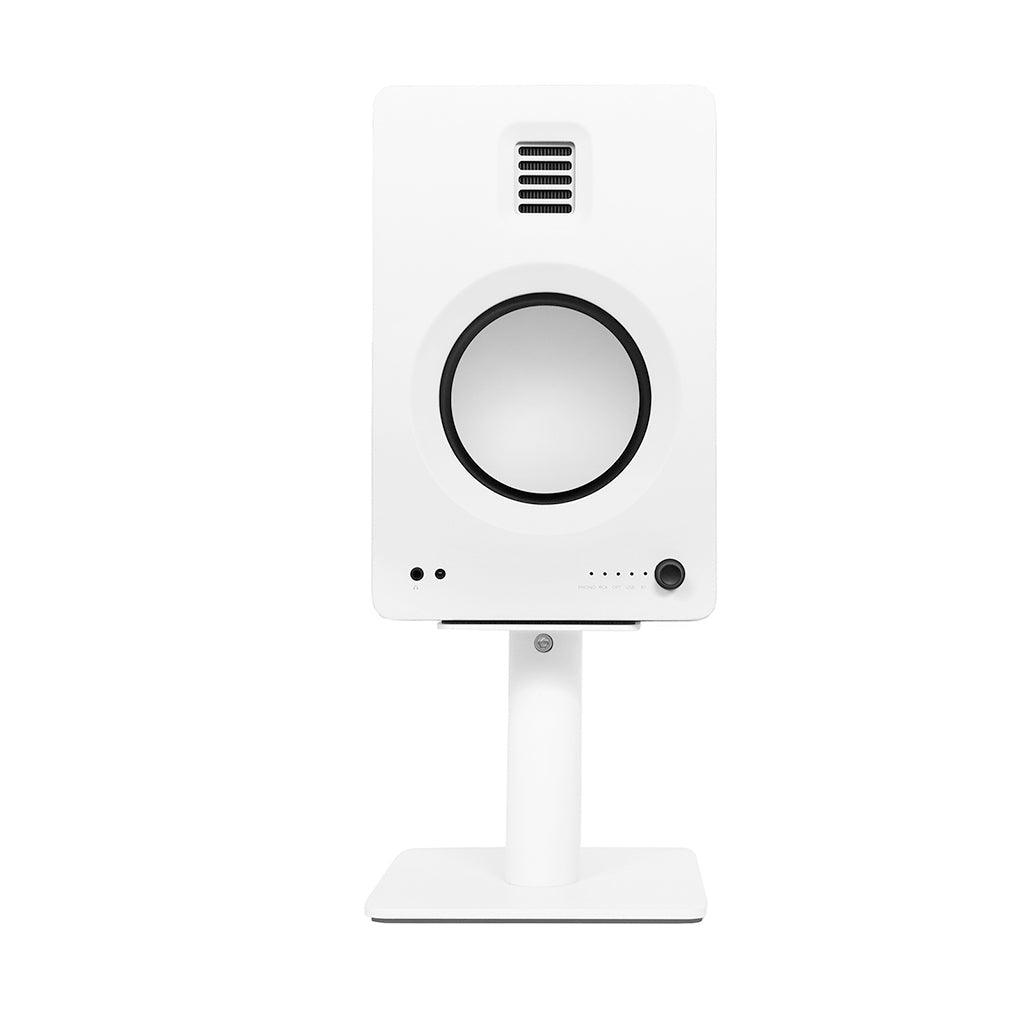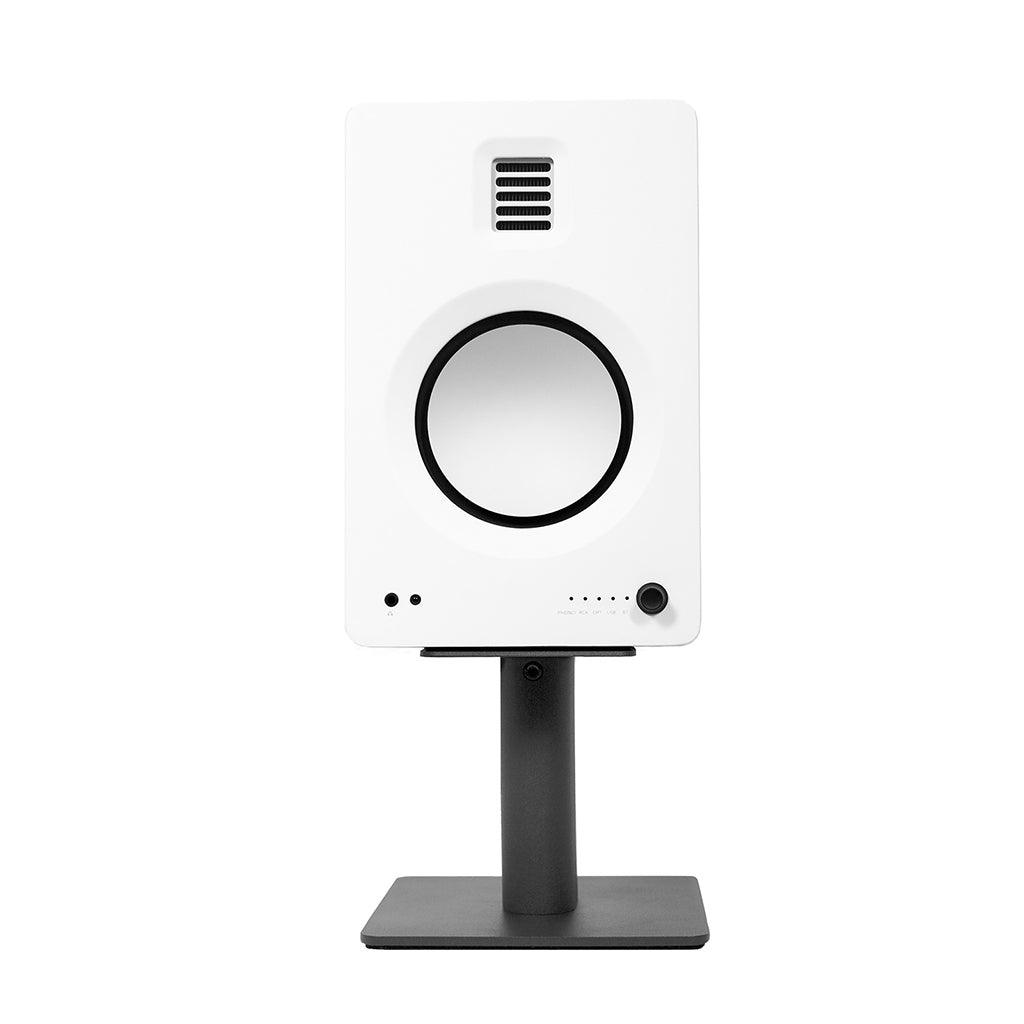 Add to cart