iFi Audio
Sale price
$

3,749
Regular price
Unit price
per
Amplifier type

More information

Translation missing: en.products.product.amplifier_type_info
Hybrid
Connectivity

More information

Connectivity refers to the method in which the headphones connect to the audio source. Headphones can be either wired or wireless.
Wired
Portability

More information

DACs and amplifiers can either be carried around or meant for static desktop use
Not Portable
View full details
iFi Audio
iFi Audio iCAN Phantom Headphone Amplifier and Energizer
Sale price
$

3,749
Regular price
Unit price
per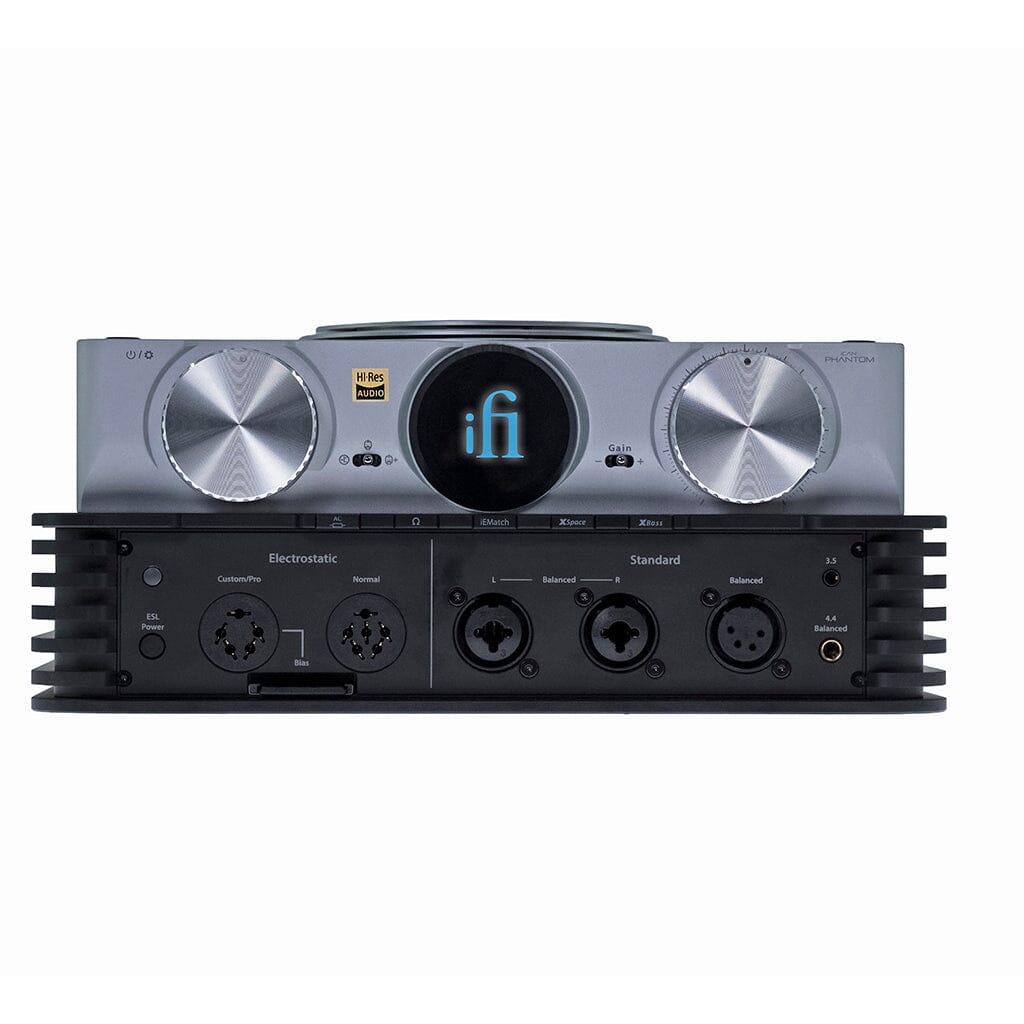 Elevate Your Headphone Experience with iFi Audio iCAN Phantom
Introducing the iFi Audio iCAN Phantom – a remarkable reference-class analogue headphone amp that transcends boundaries and sets new standards in performance. With an innovative combination of cutting-edge technology, exceptional build quality, and versatile features, the iCAN Phantom offers an unparalleled listening experience that caters to all audiophiles. Whether you're a fan of ultra-sensitive IEMs, dynamic driver headphones, planar magnetic headphones, or even power-hungry electrostatic designs, the iCAN Phantom is here to redefine your perception of sound.
A New Extraordinary Reference
The iCAN Phantom is more than just a headphone amp; it's a groundbreaking reference that takes inspiration from the acclaimed Pro iCAN and elevates it to new heights. This flagship device refines and enhances every aspect of its circuitry to deliver unmatched performance. It seamlessly incorporates technology from the Pro iESL – a component dedicated to electrostatic headphones – to provide a complete solution for all headphone types. Additionally, the iCAN Phantom introduces an advanced user interface and a network-connected control system, making it a truly exceptional flagship headphone amp.
Exemplary Build Quality and Sonic Potential
Crafted with meticulous attention to detail, the iCAN Phantom boasts exemplary build quality that reflects its flagship status. The device features a dual-layer design, with a bottom layer housing cable connections and a top layer showcasing tactile controls and a vibrant OLED display. The smoked glass panel on top offers a glimpse into the amp's circuitry and glowing audio valves. The circular aluminium vents ensure optimal cooling to maintain peak performance. A magnetic aluminium panel hides front and back sockets when not in use, adding to the unit's sleek aesthetics.
A Tale of Two Input Stages
The iCAN Phantom presents a unique sonic journey with its two distinct input stages. Users can seamlessly switch between a solid-state input stage, offering precision and immediacy, and a valve/tube-based stage that introduces fluidity and dynamic richness. The valve stage is further enriched by two selectable modes – Tube and Tube+ – each delivering a distinct audio character. This innovative design empowers users to tailor their listening experience according to their preferences, creating a truly personalized sound signature.
Electrostatically Good!
Setting new standards in versatility, the iCAN Phantom offers support for electrostatic headphones through its incorporated iESL energizer technology. This ingenious integration ensures impeccable performance with electrostatic headphones while also enhancing audio quality across other headphone types. The iCAN Phantom's engineering expertise shines through, offering a listening experience that is unparalleled in its depth, clarity, and precision.
Bias Voltage Simplified
Electrostatic headphones often require specific bias voltages for optimal performance. The iCAN Phantom simplifies this process with its two electrostatic outputs – one offering normal bias voltage and the other providing variable bias voltage within a user-selectable range. Data cards are included, specifying bias voltage settings for various headphone brands, ensuring seamless compatibility and reducing the risk of damage due to incorrect voltage selection.
Comprehensive Connectivity
With a comprehensive array of balanced and single-ended connection options, the iCAN Phantom ensures compatibility with a wide range of audio sources and headphones. From balanced XLR and RCA inputs to various headphone outputs, including balanced XLR, 4-pin XLR, 4.4mm balanced, and more, this headphone amp is ready to deliver exceptional sound quality no matter the setup.
Advanced Network-Connected Control
The iCAN Phantom pioneers the iFi Nexis module, introducing a new era of control and connectivity. The Nexis app allows you to harness the power of your Android or iOS device as a "super remote control" for the iCAN Phantom. Real-time monitoring, diagnostic information, over-the-air firmware updates, and more are accessible through the app. As iFi expands its Nexis-compatible devices, a comprehensive ecosystem of control and support services will be at your fingertips.
Technical Specifications
Source Inputs: 1x BAL XLR (L/R), 3x RCA (L/R)
Headphone Outputs: 1x 3-pin BAL XLR (L/R), 1x 4-pin BAL XLR, 1x 4.4mm BAL, 1x 6.3mm (positive phase), 1x 6.3mm (inverted phase), 1x 3.5mm (with S-Balanced technology)
Electrostatic Headphone Outputs: 1x 5-pin normal bias, 1x 5-pin custom bias
Preamp Outputs: 1x BAL XLR (L/R), 1x RCA (L/R)
Gain: 0dB, 9dB, and 18dB user-selectable
Frequency Response: 0.5Hz to 500kHz (-3dB)
THD+N: BAL ≤0.0015% / ≤0.002% / ≤0.012% | UnBAL ≤0.007% / ≤0.006% / ≤0.2%
SNR: BAL >145dB(A) | UnBAL > 130dB(A)
Output Power (BAL): >15,000mW @ 16Ω
Output Voltage (BAL): >27.0V @ 600Ω
ESL Output Voltage: Pro: 640V RMS max | Normal: 320V RMS max
Input Voltage: DC 12V/4A or 15V/3A
Power Consumption: < 27W idle, 75W max
Dimensions: 10.1" x 7.3" x 4.7"
Weight: 9.3 lbs
Package Contents
iFi iCAN Phantom
iPower Elite AC adapter
RCA Cable
iR Remote Control
Quick Start Guide and Instruction Manual
iFi 1 Year Warranty Card
Reviews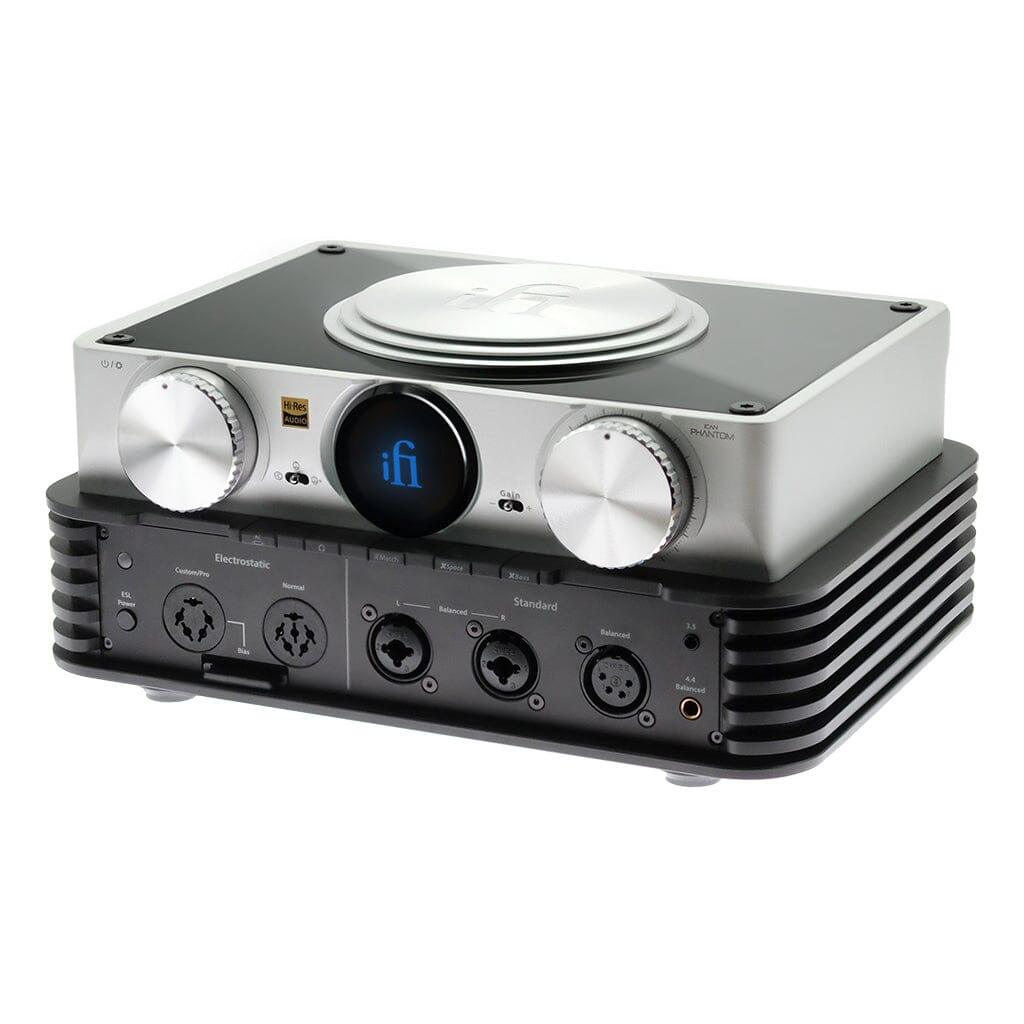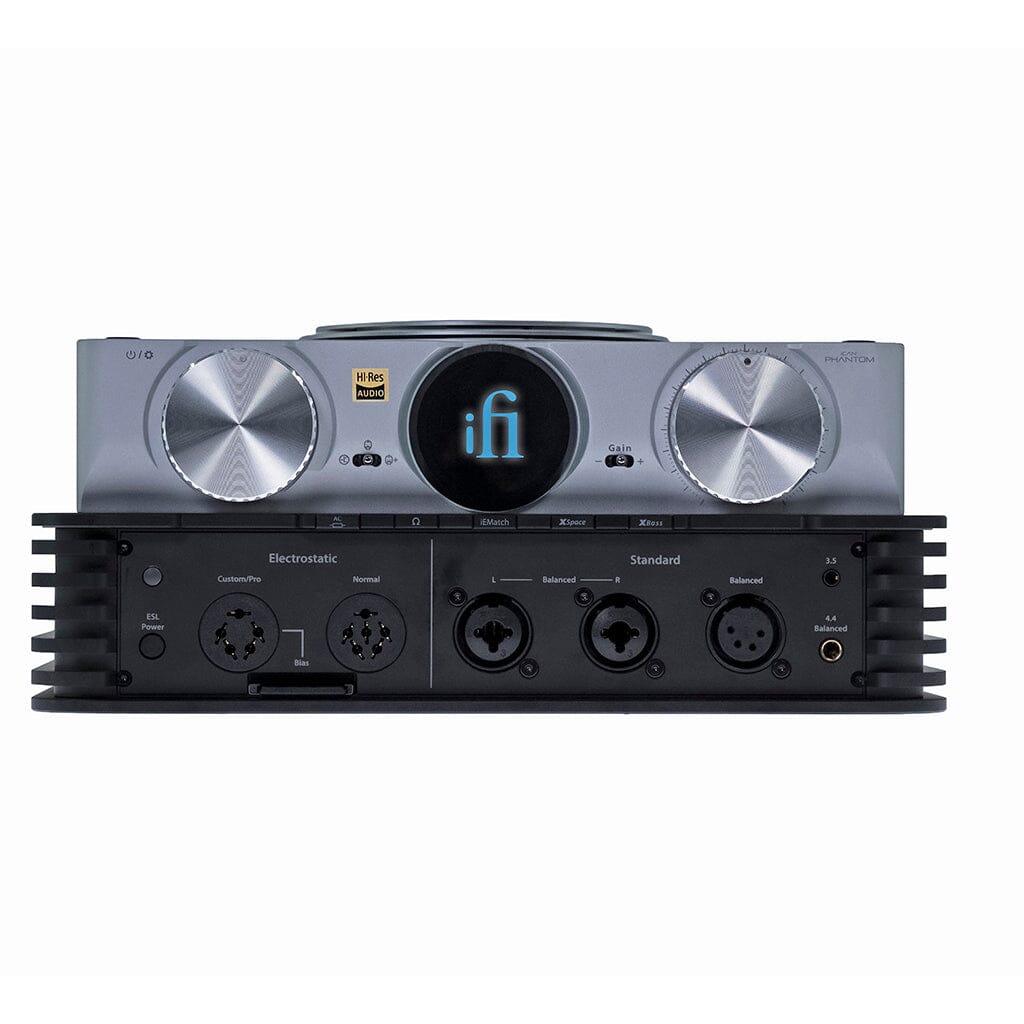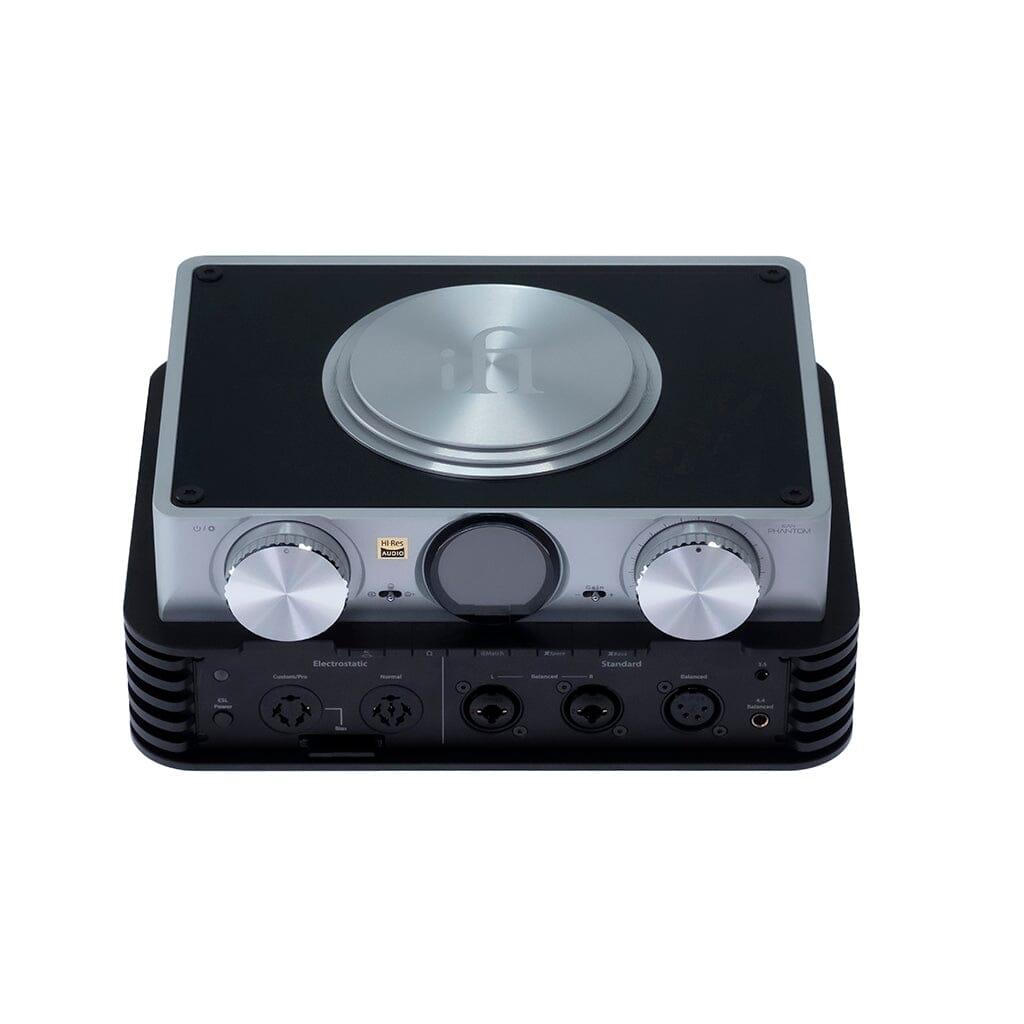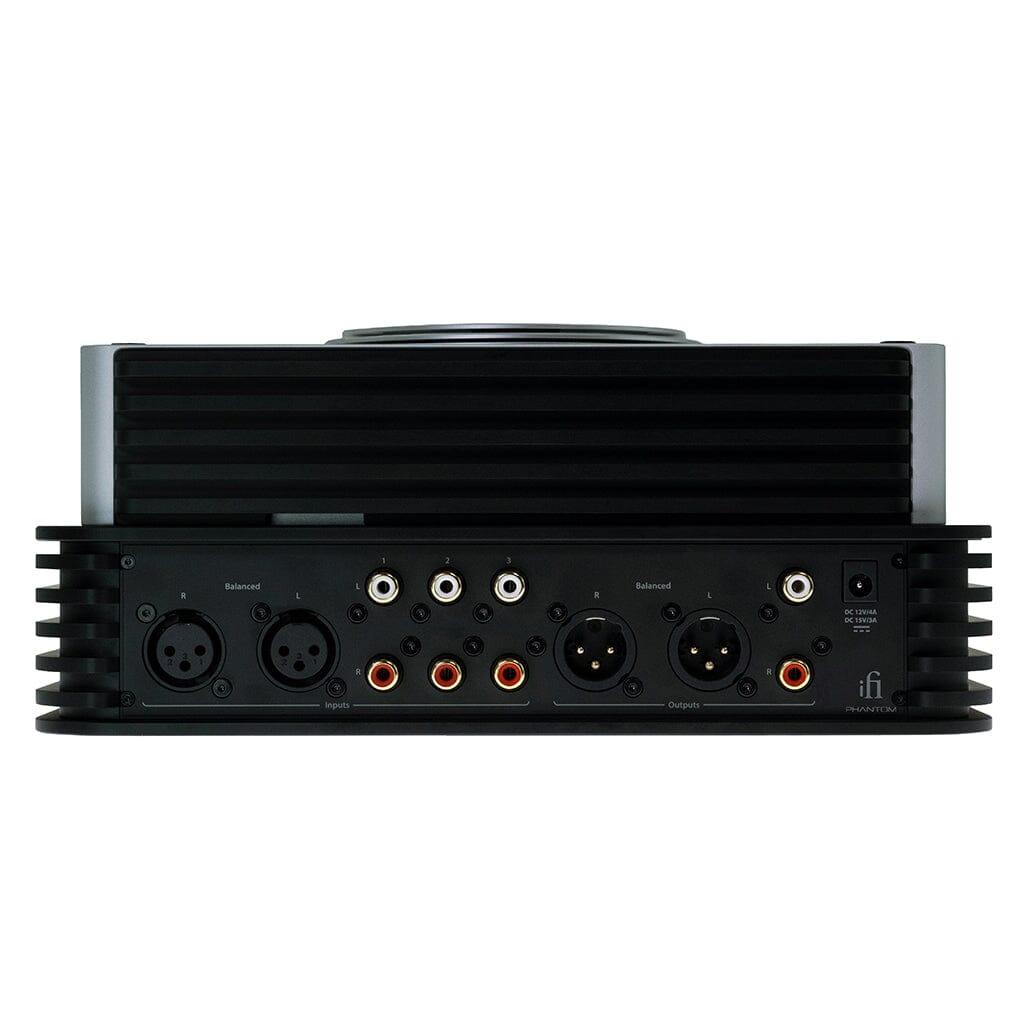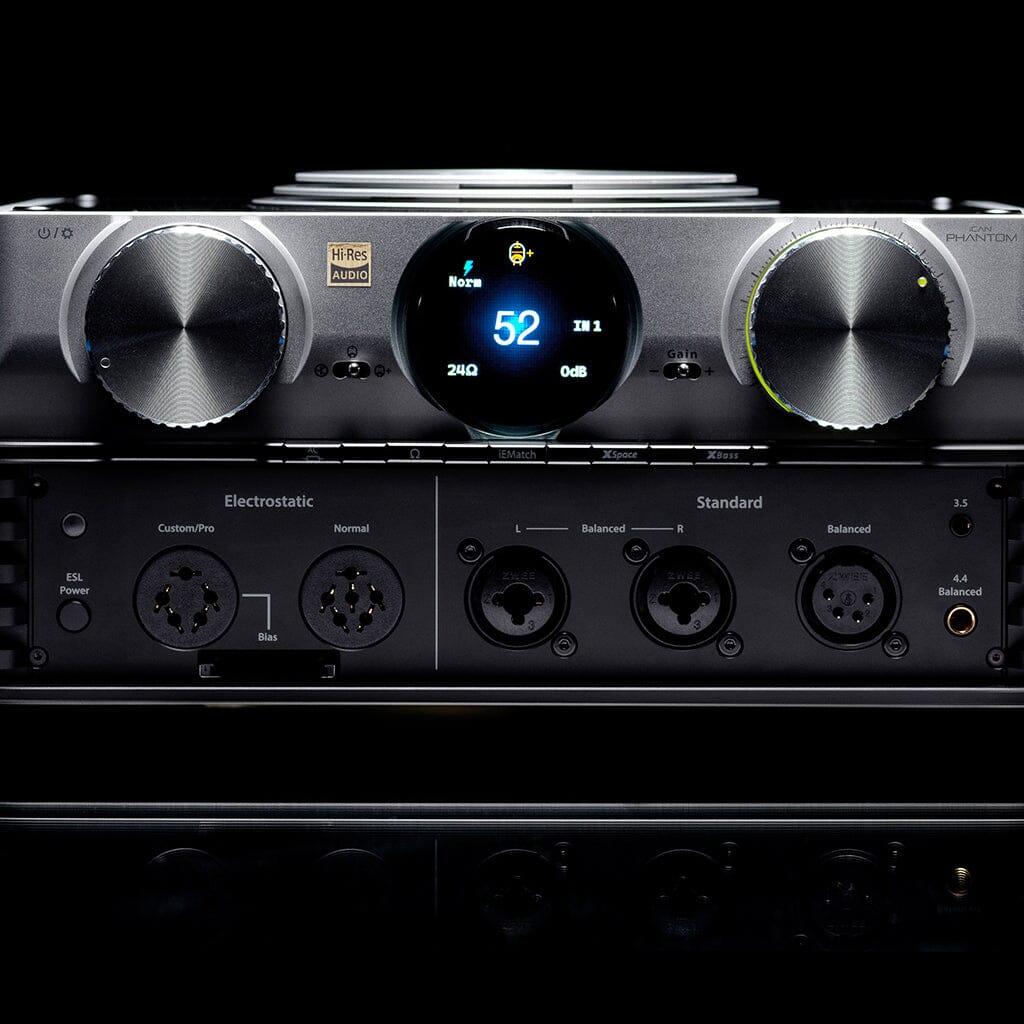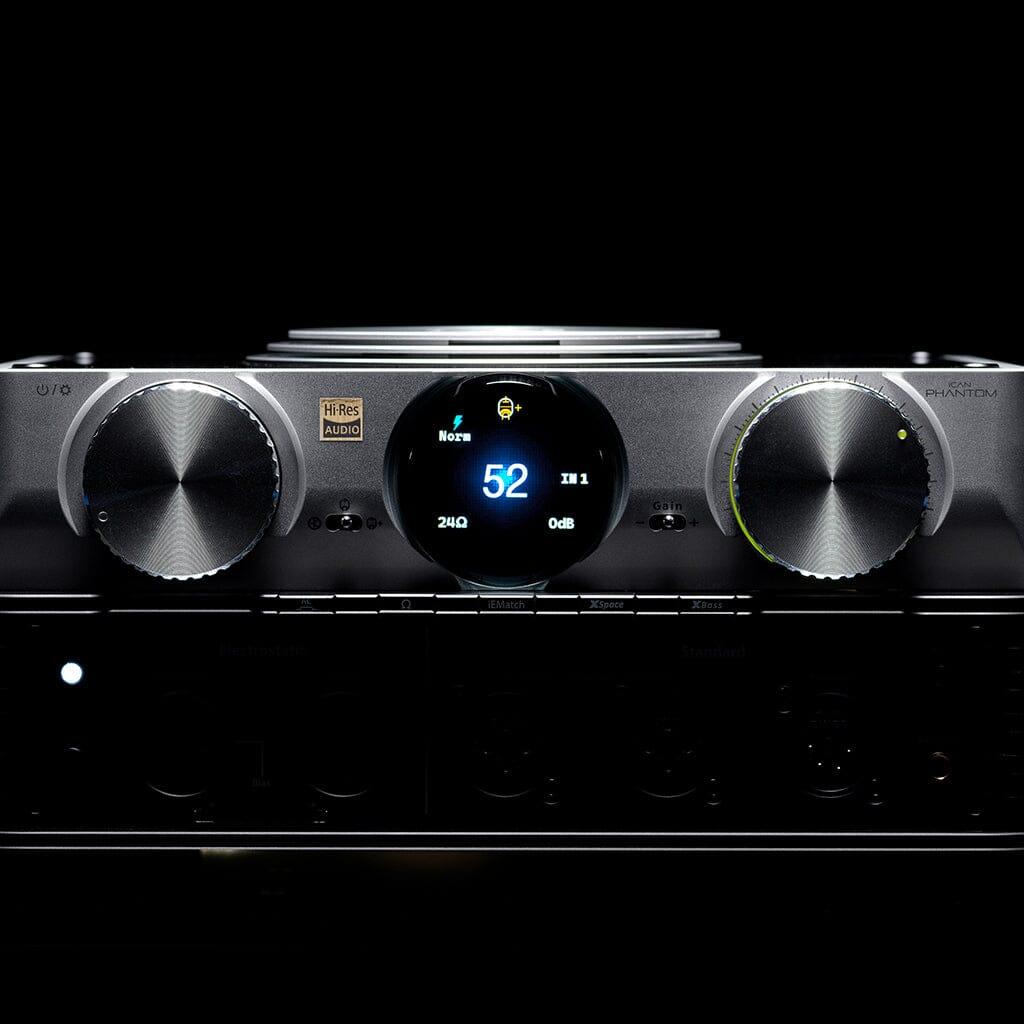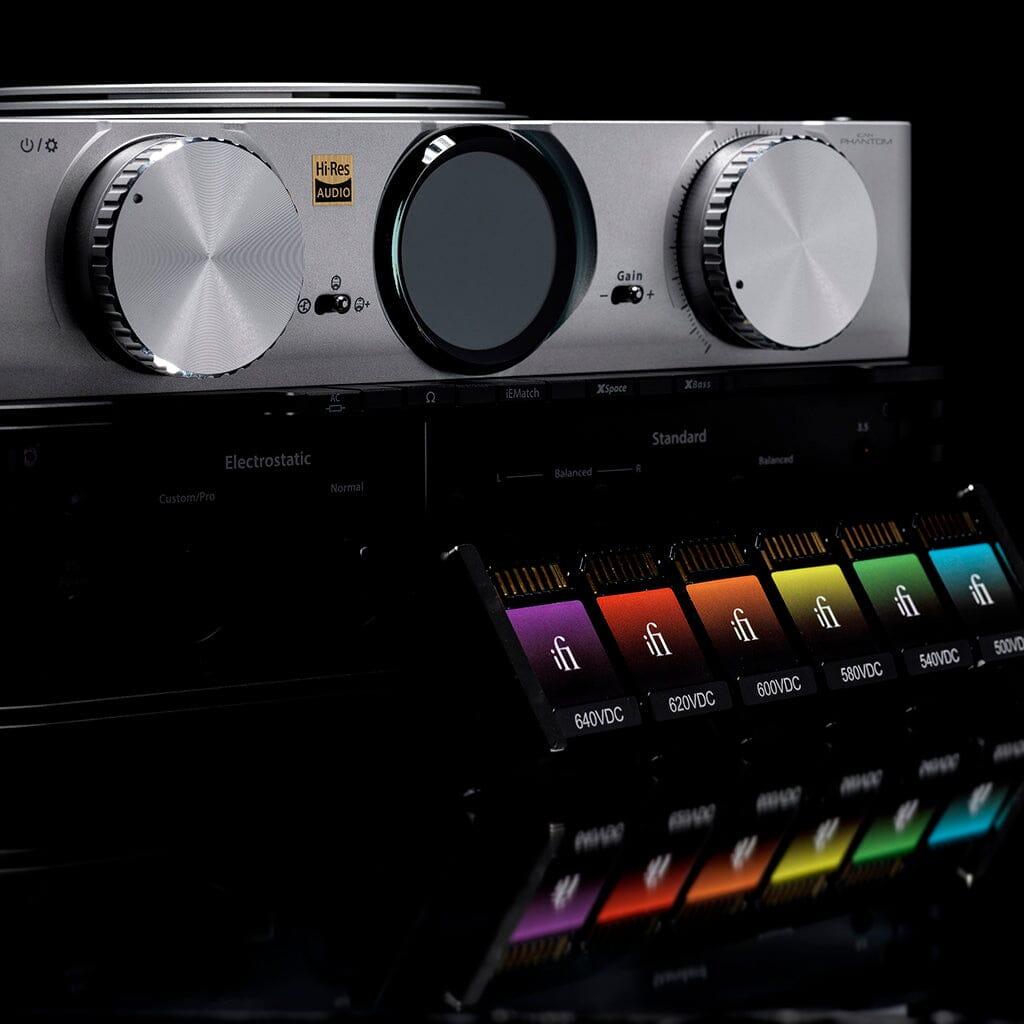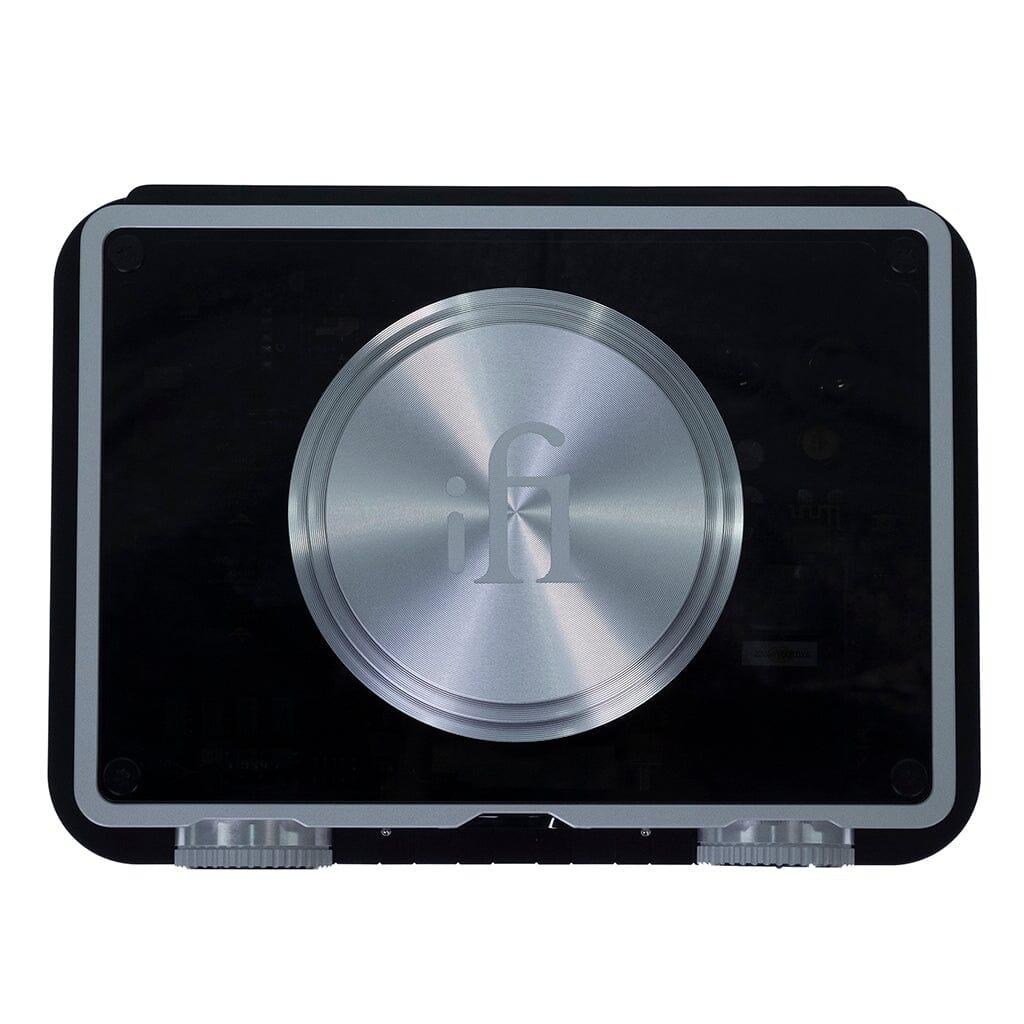 Add to cart