HiFi Rose
Sale price
$

6,995
Regular price
Unit price
per
On back order
Join our email list to be notified as soon as it is back in stock.
365-day returns
Don't love it? Return it any time in the first year of ownership for a small fee
View full details
HiFi Rose
HiFi Rose RA180 Integrated Amplifier
Sale price
$

6,995
Regular price
Unit price
per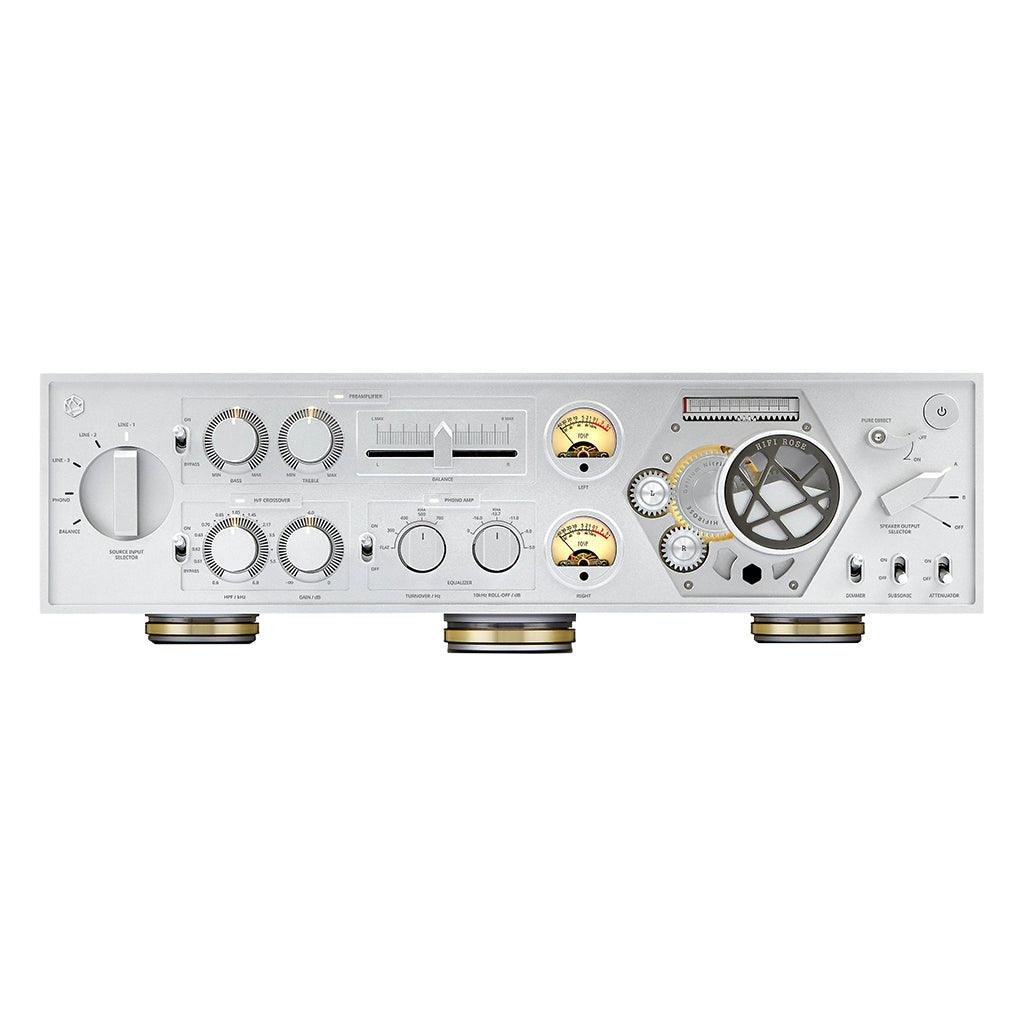 The HiFi Rose RA180 is a state of the art integrated amplifier that uses all of HiFi Rose's latest knowledge and technology to produce their best amplifier ever, along with one of the best integrated amplifiers on the market today.
Through HiFi Rose's dedication to progress, they've made significant strides with their advanced class D amplifier technology to generate an amp that has near perfect linearity, resulting in a sound that perfectly balances the analog and digital domain.
New Generation Class AD Amplifier
A true revolution in the world of amplification, Rose HiFi unveils an innovative Class AD architecture taking advantage of both the benefits of Class A/AB amplifiers and Class D structures. This particular design allows for improved linearity, in particular through the use of a new material, GaN (Gallium Nitride).
Furthermore, the RA180 opens the doors to bi-amplification by integrating four independent amplifier modules. Each module supports a response up to 100kHz, allowing the use of super tweeter.
To power these modules, the RA180 features a massive power stage capable of delivering 1100W of power to meet the needs of the most demanding audio systems.
FET Gallium Nitride (GaN)
In terms of power amplifier design, the Class D topology theoretically offers full linear output at 0% distortion and 100% efficiency. To achieve this theoretical perfection, the speed and accuracy of switching operations must be secured.
To correct this concern, the RA180 features a perfectly linear output using a Gallium Nitride FET instead of a silicon FET which directly affects the switching accuracy and speed. This fully linear output exceeds the capabilities of the Class D topology and allows for a natural sound reproduction, close to that of an analog amplifier.
Four new mono amplifier modules
The RA180 offers a stereo output and provides two channels for each right and left output. Each amplifier offers a power of 200W under 4Ω and 8Ω, allowing a bi-amplification integration, in order to feed separately the different channels of your speakers and offer a more natural and musical restitution. It is also possible to activate the BTL mode to reach a power of 2x400W.
A generous design that covers even the range of the super tweeter
The RA180 is able to reproduce the original audio signal as closely as possible by covering an extremely wide frequency range. Thus, even the highest frequencies are not filtered out, with a frequency response ranging from 20Hz to 100kHz (±1dB).
Phono amplifier with variable equalizer
The Rose HiFi RA180 can be used with both MM and MC turntables. To adapt to different recordings and audio systems, it integrates TurnOver and Roll-Over filters with an extremely precise equalization system.
Active crossover for H/F output
The RA180 has H/F speaker outputs and an active crossover function to adjust the response when using a super tweeter.
Tone control
The RA180 offers a linear reproduction for the most faithful reproduction of the original signal. However, it offers a tone control that allows you to adjust the bass (100Hz) and treble (10kHz) levels over an adjustable range of ±15dB. This makes it possible to adapt the output of the amplifier to your audio system and your listening preferences. The tone control circuit is equipped with a high fidelity active equalizer (type AOP: 12dB slope) rather than a passive system (type CR: 6dB slope).
High efficiency power supply
The on-board power supply has been developed specifically for the RA180 and does not use silicon FETs but silicon carbide FETs. These allow high power and efficiency to be achieved with low heat generation. A 2.5kW PFC circuit and a high capacity capacitor allow the RA180 to respond quickly to high power requirements.
A convenient remote control
The RA180's remote control allows you to remotely control the volume level by acting directly on the motorized potentiometer, and also to select an input. In addition, the LED indicators on the source selector automatically detect input signals, with a flashing light indicating that a signal is being received.
Bypass · Power Amp Mode & Speaker selector
The RA180's Bypass - Power Amp mode connects the LINE 3 input directly to the power amplifier, without passing through the preamplifier stage. Furthermore, the unit also offers the possibility to select an active speaker group easily by means of a switch.
Reviews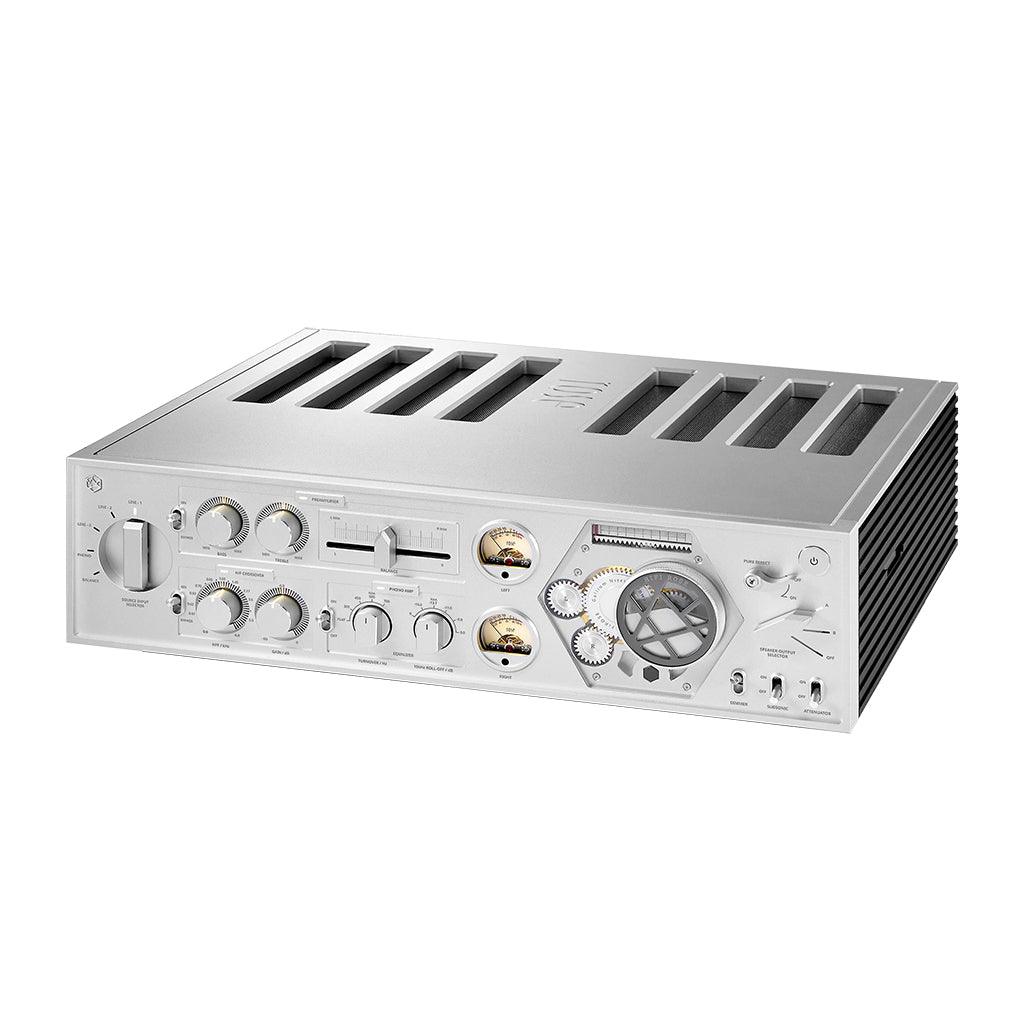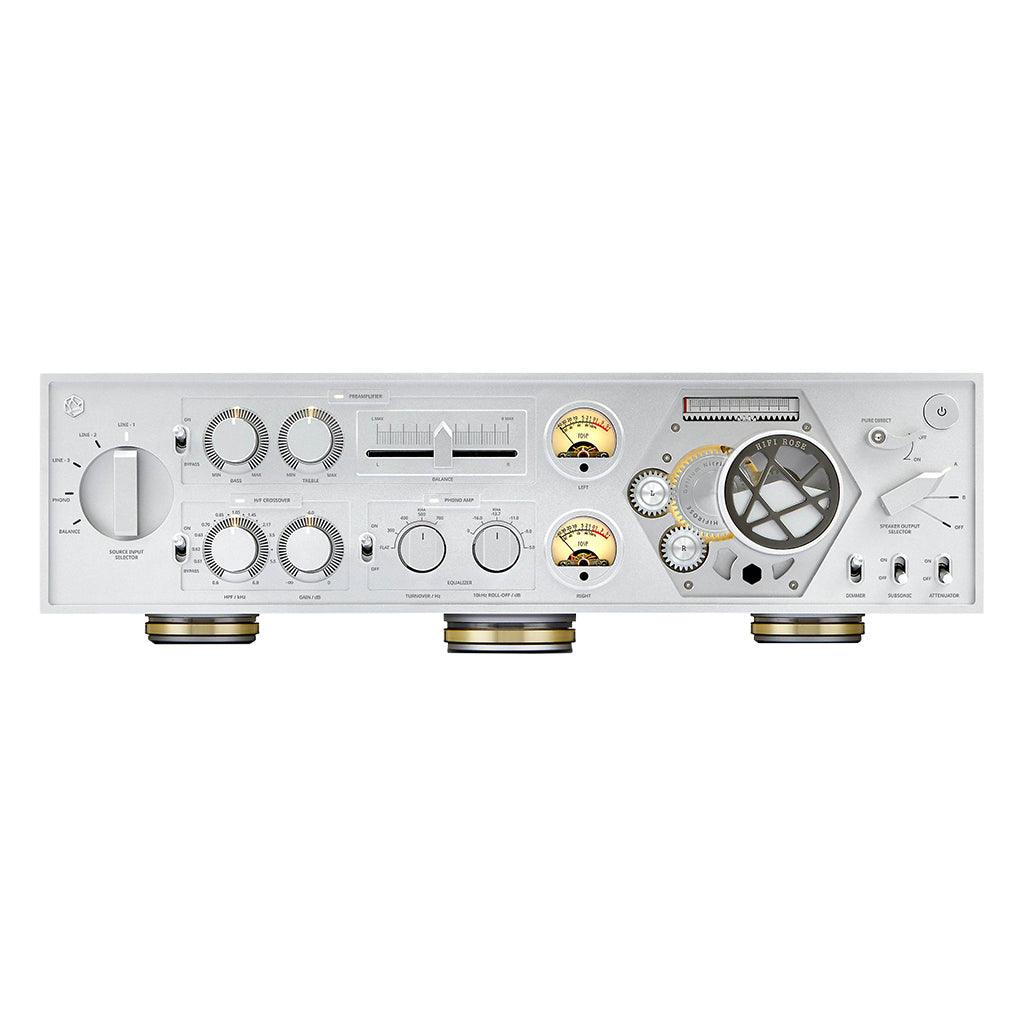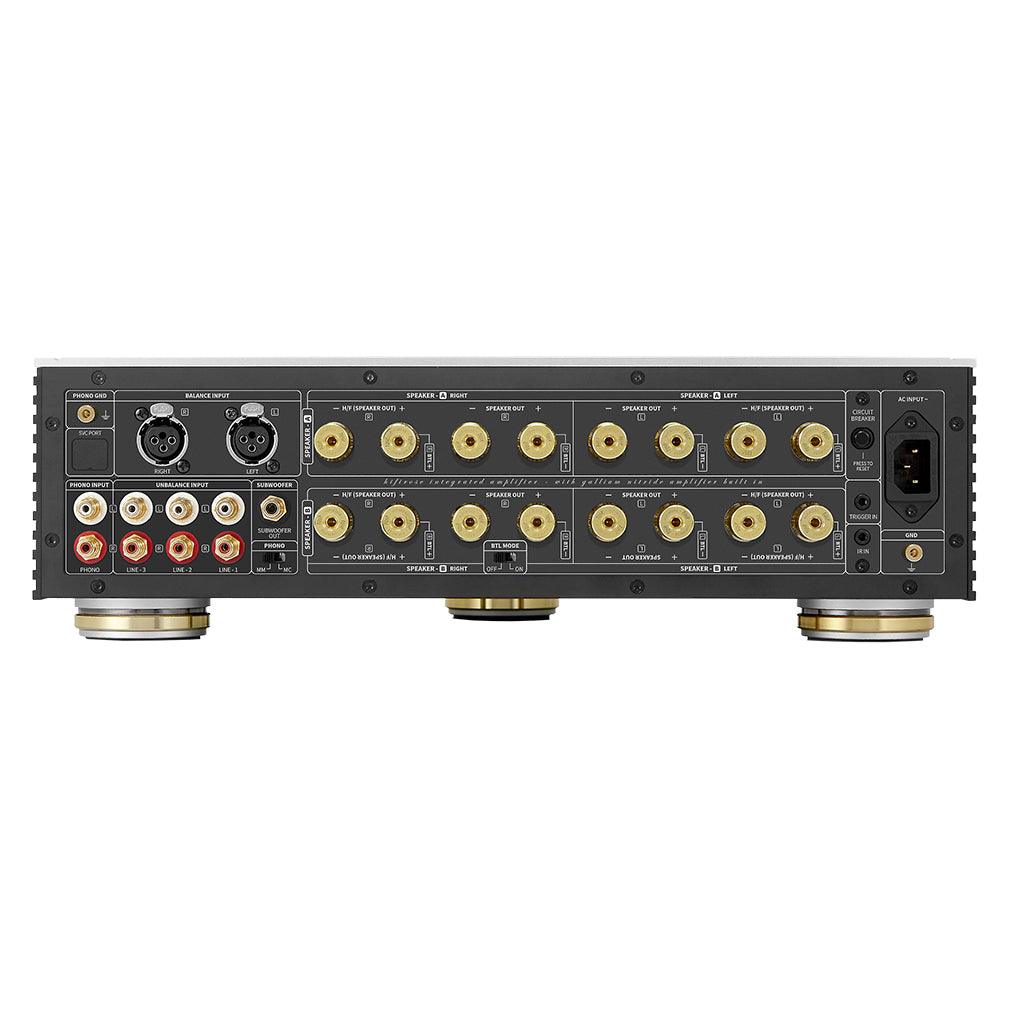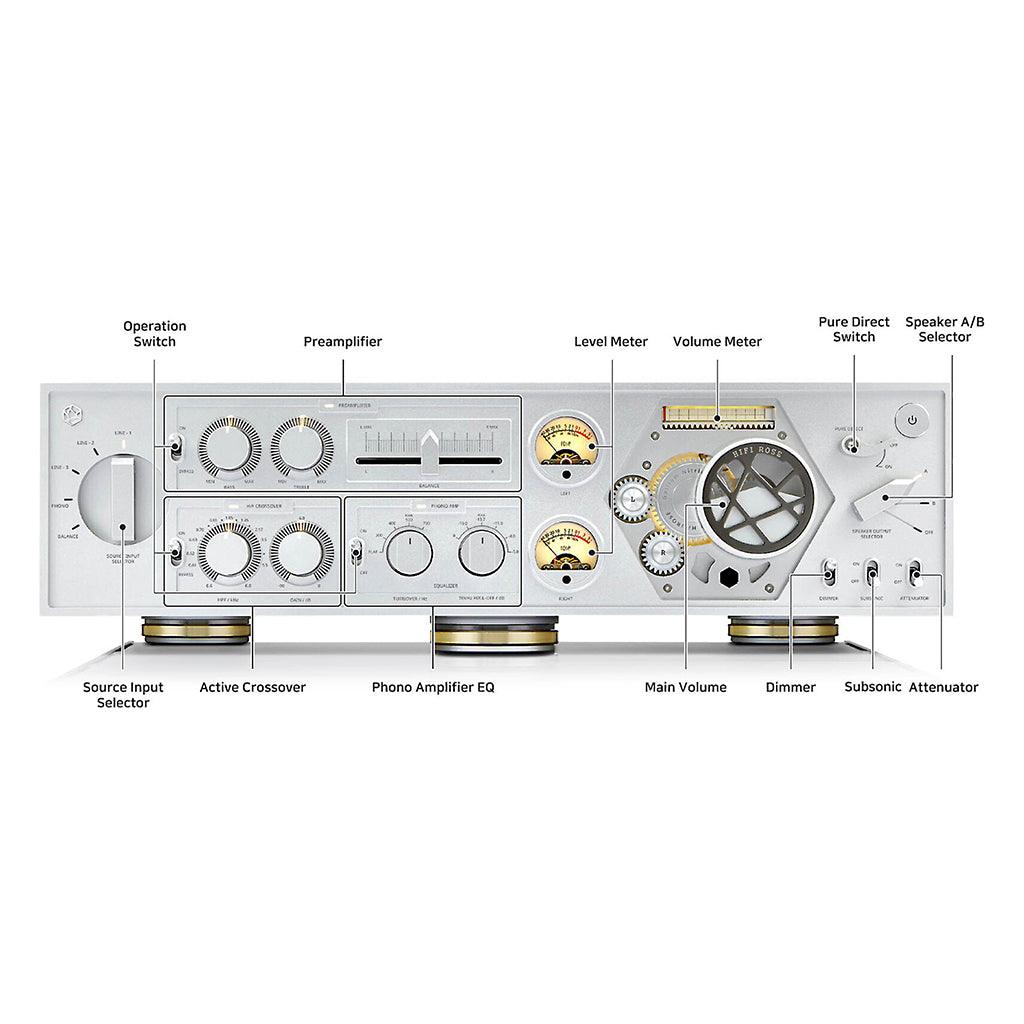 Sold out