Grado
Sale price
$

99
Regular price
Unit price
per
Cup style

More information

Open-back headphone designs are often higher-performance but have poor noise isolation and leak sound. Closed-back designs provide better noise isolation and leak less sound.
Open-Back
Wearing style

More information

Over-ear headphones sit over your ear and surround your ear with a ring of padding. On-ear headphones are padded but rest on top of your ear. In-ear monitors are worn inside your ear canal.
On-ear
Driver type

More information

Speakers and headphones use a device called a 'driver' to create sound. Different types of drivers have different strengths and weaknesses, but can all produce great sound. Common varieties include dynamic, planar magnetic, and electrostatic.
Dynamic
Connectivity

More information

Connectivity refers to the method in which the headphones connect to the audio source. Headphones can be either wired or wireless.
Wired
On back order
Join our email list to be notified as soon as it is back in stock.
365-day returns
Don't love it? Return it any time in the first year of ownership for a small fee
View full details
Grado
Grado SR 60x Headphones
Sale price
$

99
Regular price
Unit price
per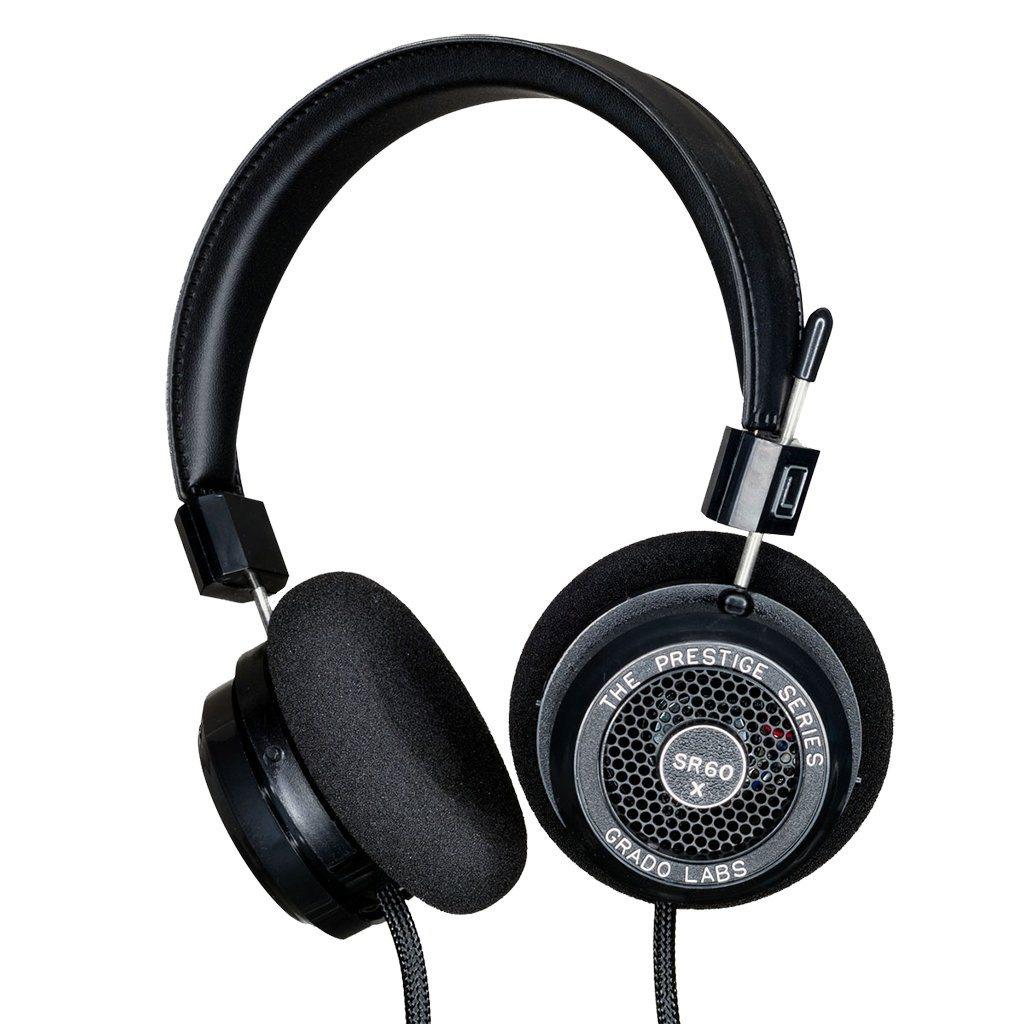 The simplest way to experience Grado sound, the SR60x produces an impressive soundstage in an affordable headphone.
The entry-level headphone in the Brooklyn lineup, the SR60x produces the best audio quality at its price point and proves the Grado sound is never out of reach.
The clarity and range of Grado headphones can reveal new notes and details in songs heard hundreds of times. The driver and housing working in tandem react to sound vibrations and virtually eliminate transient distortions. With harmonic colors, full bodied vocals, and a world renowned mid-range, the SR60x produces easily obtainable Grado sound.
4th Generation Grado drivers are here. Specifically tuned for the SR60x, this new speaker design features a more powerful magnetic circuit, a voice coil with decreased effective mass, and a reconfigured diaphragm. Reengineering these components for our 44mm drivers improve efficiency, reduces distortion, and preserves the harmonic integrity of your music.
Along with the speakers, the cables and headband have been redesigned for the SR60x. Now housed in a more durable exterior, the 4-conductor cable features a super annealed copper wire for improved purity of the audio signal. The new headband features more cushion for a comfier experience. 
Each SR60x is hand-built by our team in Brooklyn. This headphone goes from workbench to workbench until it's ready for your ears. We started building on a kitchen table in 1953, and every experience since then has led to the creation of the SR60x.
Specifications
Transducer Type: Dynamic
Operating Principle: Open Air
Frequency Response: 20 - 20,000 hz
SPL 1mW: 99.8 dB
Nominal Impedance: 38 ohms
Driver Matched dB: .1 dB
Old Model Grado SR60e Information below
Widely regarded as the top affordable headphone, the Grado SR60e is a superb choice for listeners seeking amazing sound quality at a fabulous price.
It's hard to imagine any music fan would be disappointed hearing these unassuming yet potent cans. The SR60e may look slightly retro but the audio performance is perfectly modern with a cheerful, balanced tone on both portable or home gear.
Universally considered the 'entry level' headphone to beat, the Grado SR-60e could officially rate as "The Best Headphone Ever" at this price.
The Grado SR 60e are a classic open-back design with a smooth, intelligible midrange and impressive detail in the upper highs perched above a sweetly punchy low bass response. Our sole minor quibble is a slightly 'sparkly' tone in the uppermost treble ranges rather than the silky sound of extremely well-extended - and certainly MUCH more expensive - audiophile headphones.
Some folks mention that the earpad comfort can become an issue, but gently bending the headband to conform more closely to the top of the head helps alleviate that problem for many wearers.
The style thing is another matter altogether: use the old-school Grado SR 60 e out on the streets or at the club and you may be busted by the ever-vigilant Hipster Fashionista Beats Police.
All kidding aside, this is a surprisingly enjoyable and highly musical headphone that almost every listener will appreciate - and the price sure is right.
Like all Grado headphones ever, the SR-60e employs an open earcup construction with zero isolation from external ambient noise. By the same token, others nearby will hear audio "leakage" coming from open-back headphones when you are listening in quiet places (i.e, libraries, workplace cubicles, late night listening, etc.).
A study in effective minimalism, the Grado SR-60e has a simple flexible headband with basic metal height adjusters that connect the earpieces to the headband and allow for up & down adjustment plus complete 360 degree earpiece rotation. This feature is ideal for laying the headphones down flat for packing them in a briefcase or backpack.
The Grado SR 60e are highly efficient and sound robust from any source you plug them into. The headphone cord length is about 7ft and terminates to a 1/8" [3.5mm] 'mini' plug perfect for smartphones, tablets or laptops. A full-size 1/4" stereo plug adapter handily comes provided with the SR60e.
Product Features
Classic headphones for music lovers wanting best sound at lowest price
Top 'entry level' model of all time
Excellent efficiency ideal for smartphones, laptops and tablets
Strong build quality with replaceable earpads for long lifespan
Proudly designed & made in Brooklyn USA
Specifications
Driver Type: Dynamic
Impedance @ 1kHz: 32 Ohms
Sensitivity: 98 dB SPL/V
Connector Type: 3.5mm (1/8")
Cable Length: 7 ft.
Cable Style: Straight Y
Weight: 4.4 oz w/o cord
Manufacturer Warranty: 1 year
What's In The Box
Grado SR60e headphones
Grado 1/4" (6.3 mm) stereo plug adapter
Warranty insert
Grado SR60e Frequency Response
Our review
Video review
Written review
Reviews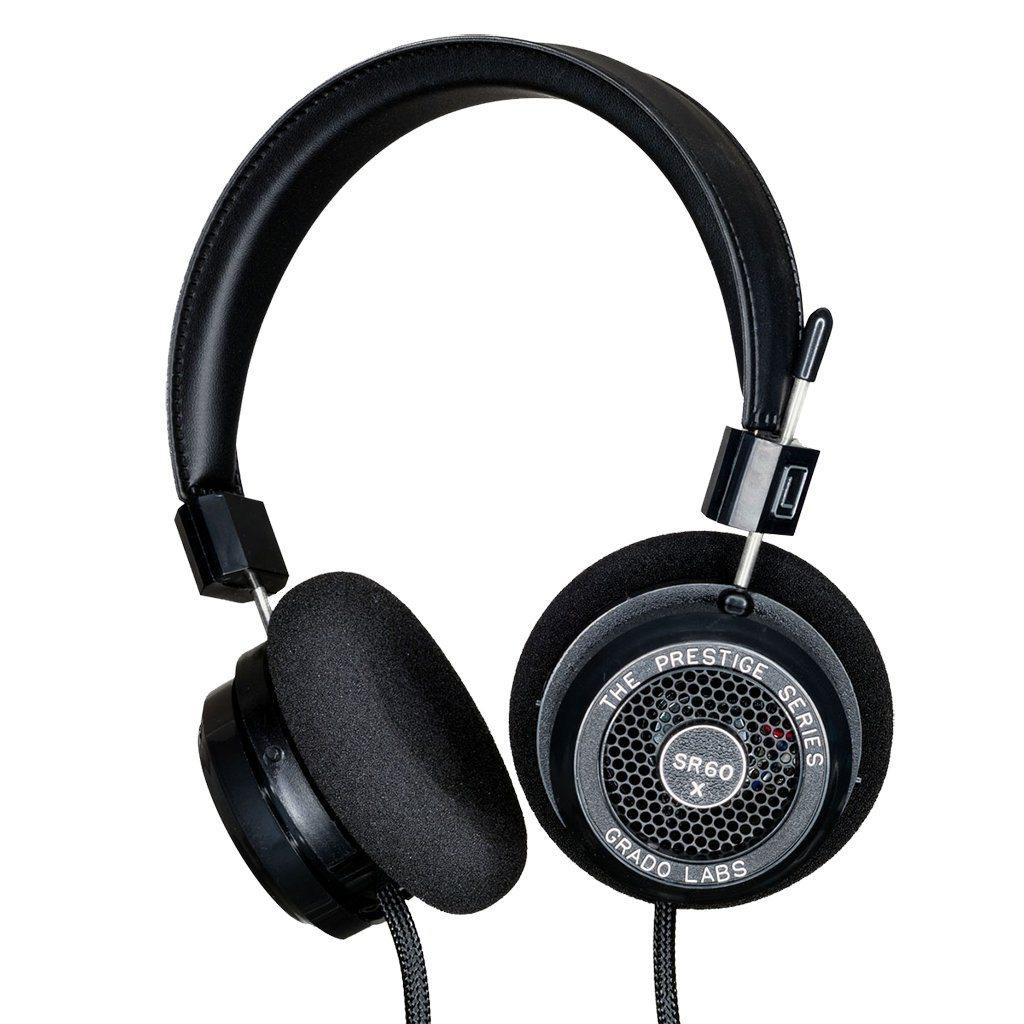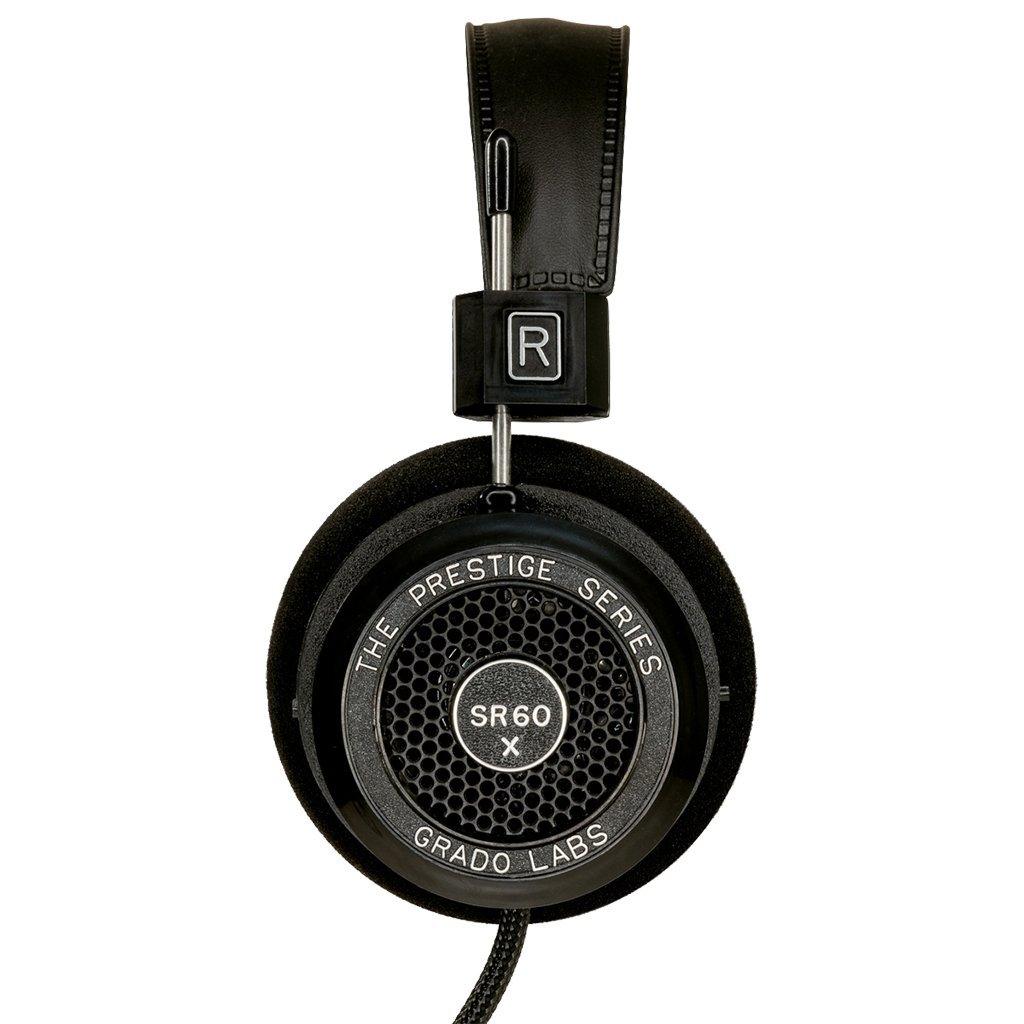 Sold out