Enleum
Sale price
$

6,250
Regular price
Unit price
per
Amplifier type

More information

Translation missing: en.products.product.amplifier_type_info
Solid-state
Connectivity

More information

Connectivity refers to the method in which the headphones connect to the audio source. Headphones can be either wired or wireless.
Wired
Portability

More information

DACs and amplifiers can either be carried around or meant for static desktop use
Not Portable
View full details
Enleum
Enleum Amp-23r Desktop Headphone & Speaker Amplifier
Sale price
$

6,250
Regular price
Unit price
per
ENLEUM: ENLIGHTMENT AND EUM

In 2021, Enleum (previously manufacturing under Bakoon International) took a big leap forward. Actively establishing their own brand identity with technology advancements and unique award-winning designs.
AMP-23R: REFERENCE COMPACT AMPLIFIER
Introducing the Enleum AMP-23R, the follow-up model on the Bakoon International Amp-23r.
While the AMP-13R has been praised all around the world for its utmost performance and unique design, Enleum have pushed their boundaries to create the new AMP-23R with a new circuit that further enhances the existing performance. And they have also drastically improved the PCP circuit board artwork down to the most minute details.
The AMP-23R's physical size and footprint is identical to the AMP-13R but comes with an all new chassis and thermal heatsink design. The AMP-23R is a product that's fit for the next generation reference compact amplifier. The unique design was awarded the Red Dot Award: Product Design 2021. The AMP-23R proudly showcases Enleum's expertise in technology and design.
TECHNLOGY HIGHLIGHTS
ENSENCE: ESSENCE OF ENLEUM
The AMP-23R's newly developed Ensense Circuit was born from years of expertise acquired form previous generation technologies. Now with a completely new and advanced PCB artwork, the circuit employs all discrete transistors with zero negative feedback and features an ultra-fast and ultra wide frequency response. All these advanced technologies are concentrated into a compact module, called "Ensence" which takes its important role at the input of the amplifier. The Ensence module then delivers its incoming music signals to output circuits through a precise attenuator taht sets the lossless amplification factor, or gain.
DESIGN HIGHLIGHTS
"ENLIGHTMENT" OF DESIGN
Our philosophy of pursuing "simplicity" remains unchanged in the course of our journey. Enleum's design is focused on perfection with minimalistic originality and beauty, excluding all unnecessary elements in the development process. And as a result, Enleum's productshave made a solid mark on the audio industry. With years of experience and expertise in precision design and metal crafting technology, Enleum have once again raised the bar with the AMP-23R.
TECHNICAL SPECIFICATIONS
MAXIMUM POWER: 25 watts (8 ohms, 1kHz)
45 watts (4 ohms, 1kHz)
4 watts (60 ohms, 1 kHz)
GAIN: 22.5 dB max (Speaker, Headphone High Gain)
7 dB max (Headphone low gain)
GAIN CONTROL: MPU Controled 1,024 Stepped attenuator
FREQUENCY RESPONSE: 10 Hz ~ 100 1kHz
INPUT IMPEDANCE: 10 kohms (Voltage)
10 ohms (ENLINK)
INPUT: 2 Voltage (RCA)
1 ENLINK (Balanced)
OUTPUT: 5 Way Speaker Binding Post
1/4" Headphone Out
USER INTERFACE: One Button & Gain Phase Control
Remote Controller
POWER CONSUMPTION: 30 watts (Idle)
100 watts (Max)
DIMENSIONS: 230mm (W) x 230mm (D) x 55mm (H) or 82.5mm with Isolation feet
WEIGHT: 4kg (Product)
4.5kg (Shipping)
Reviews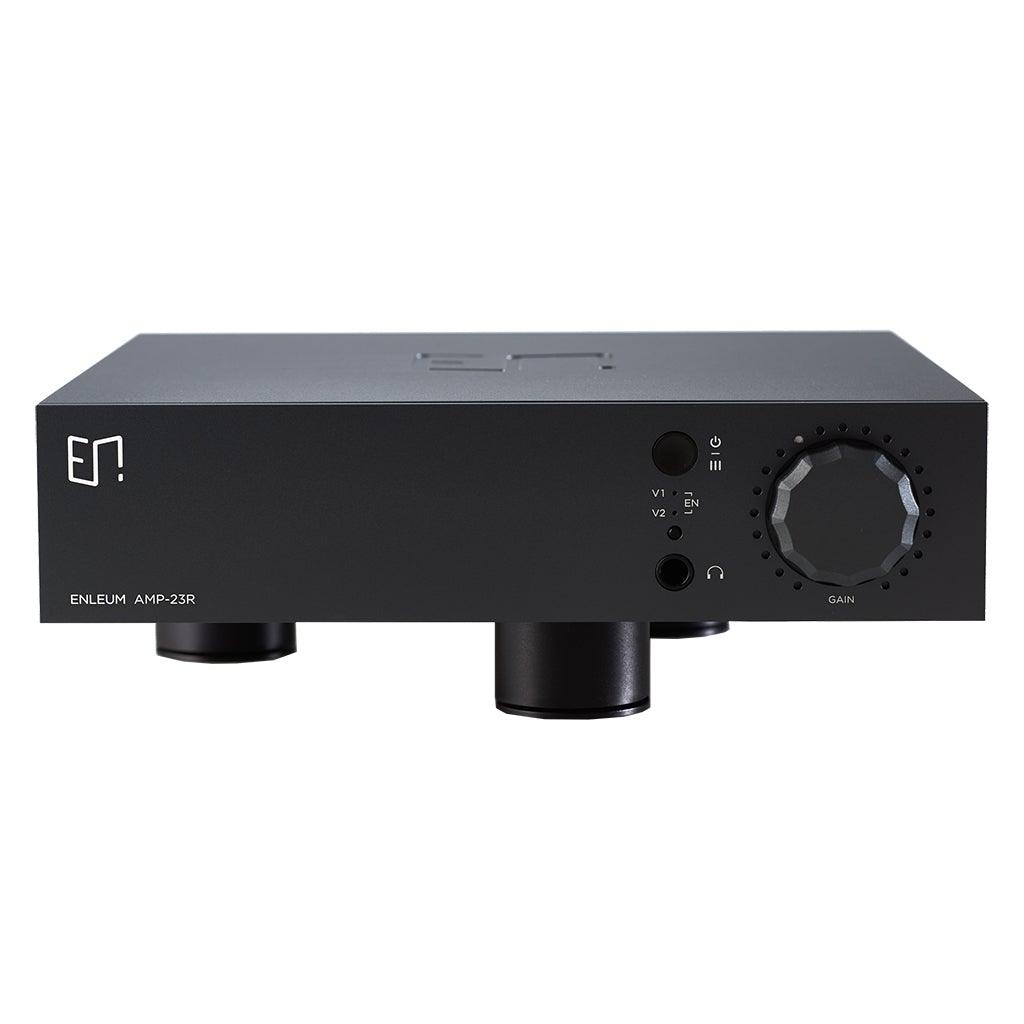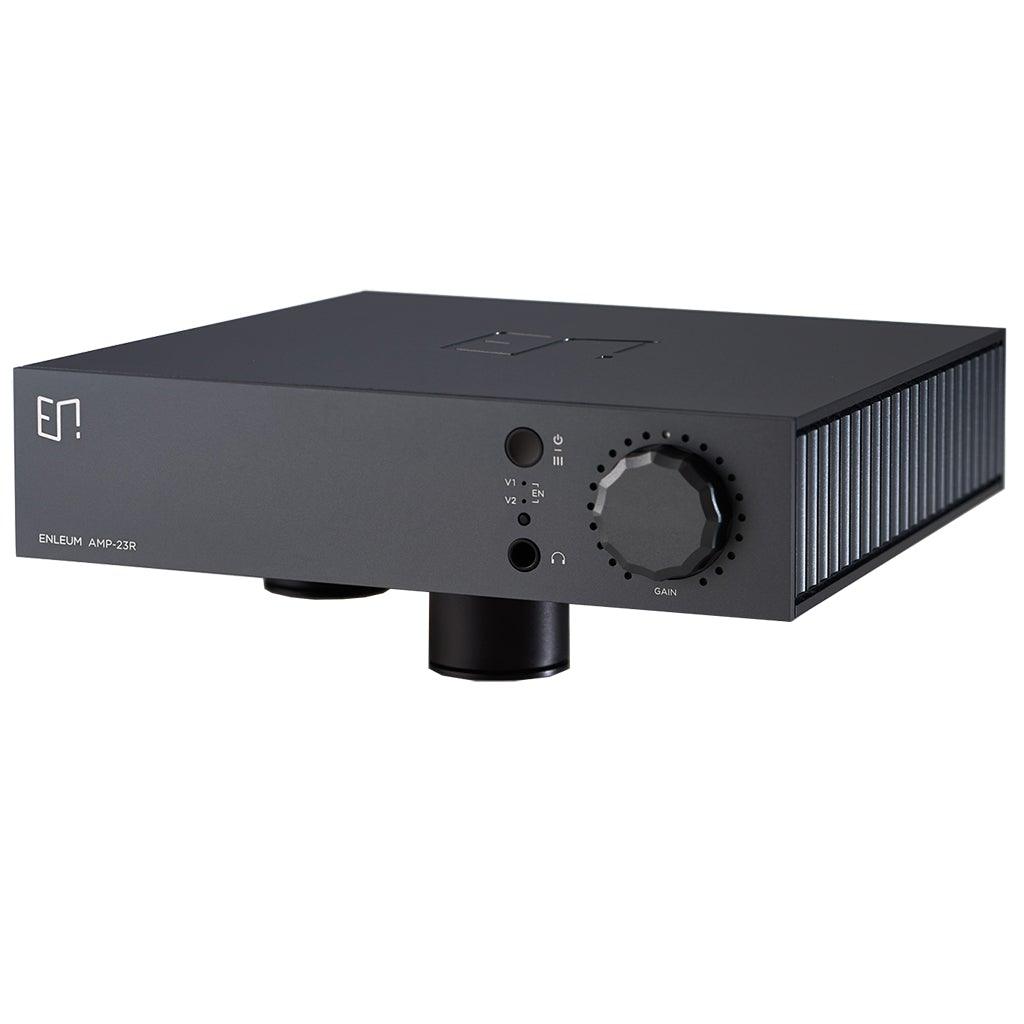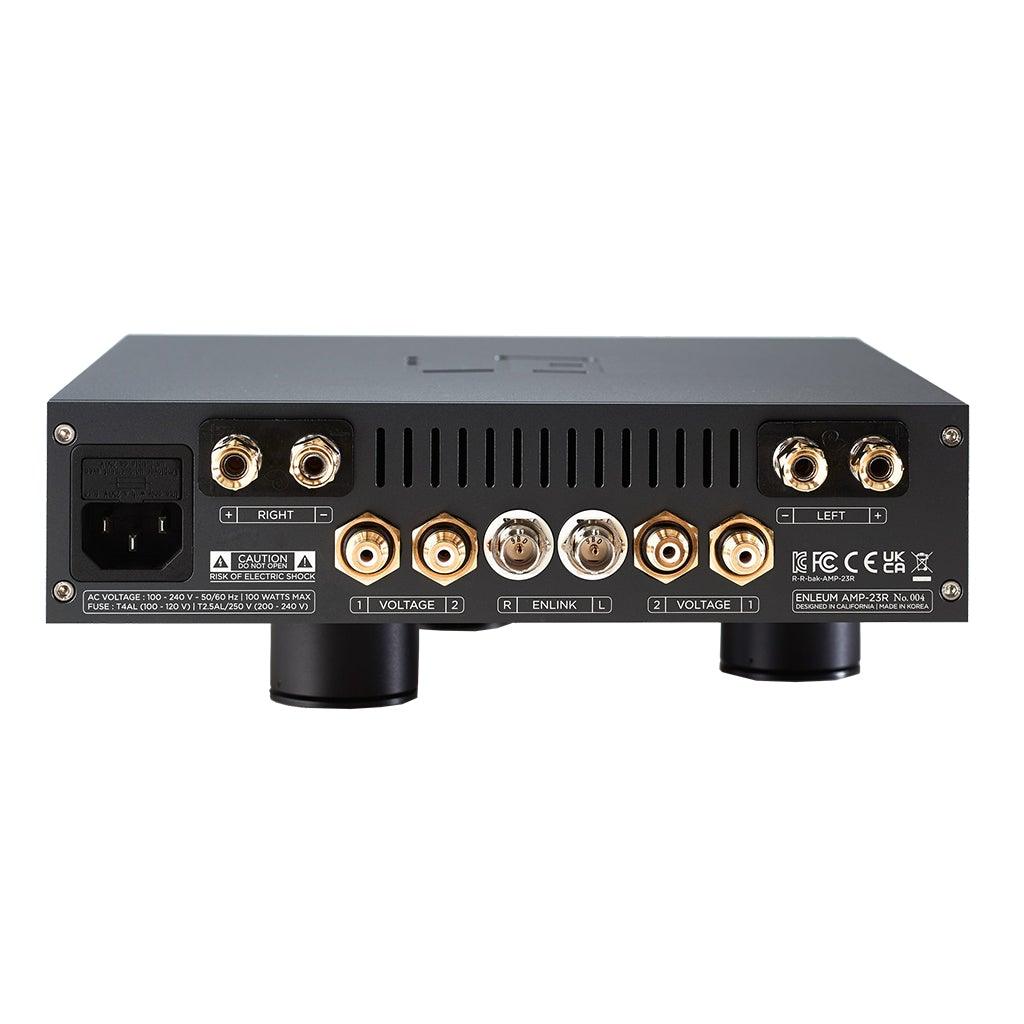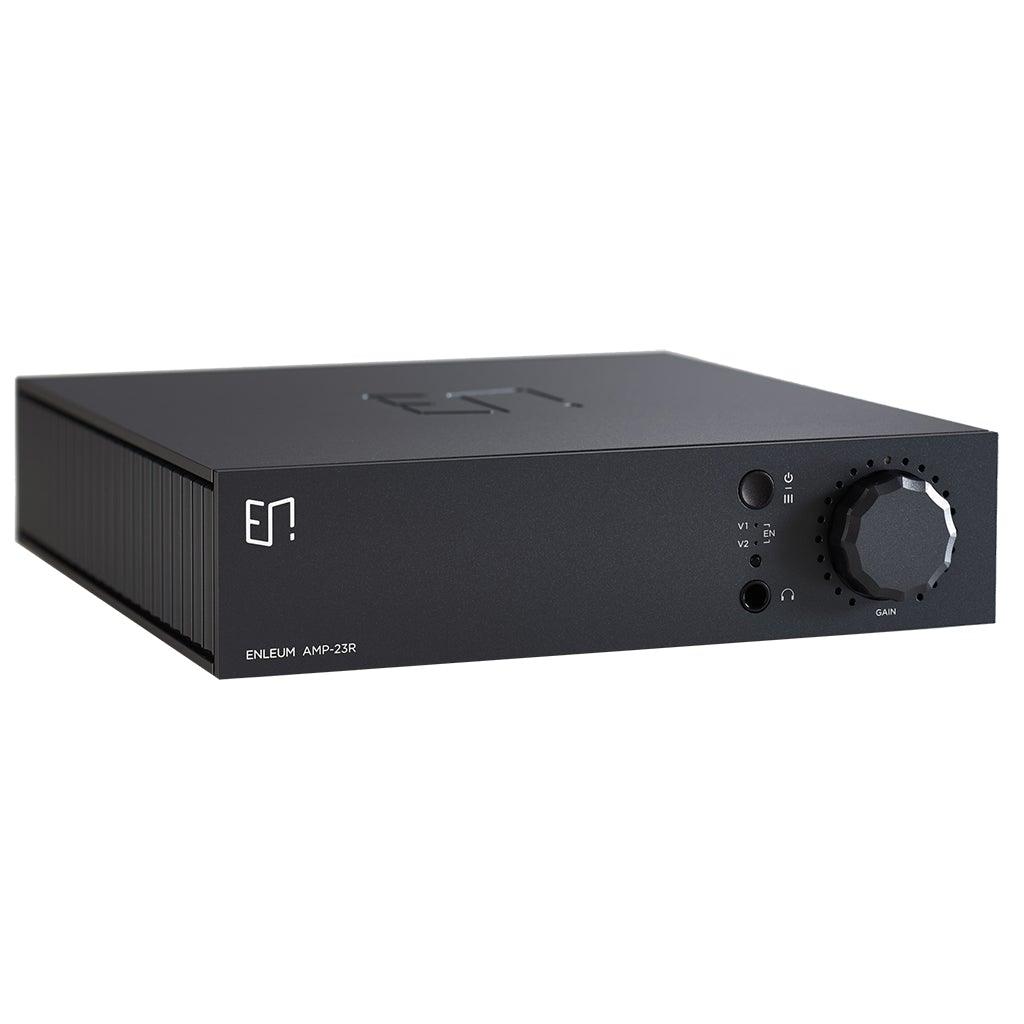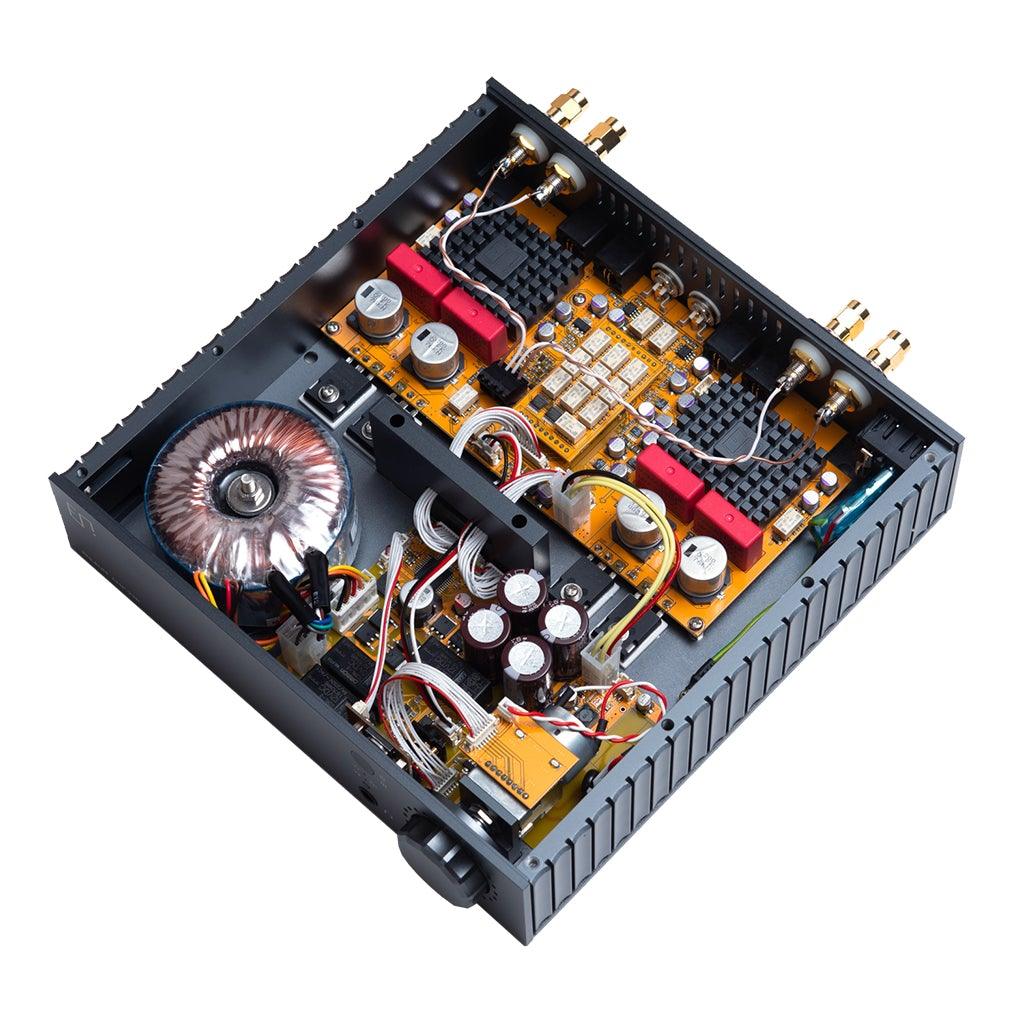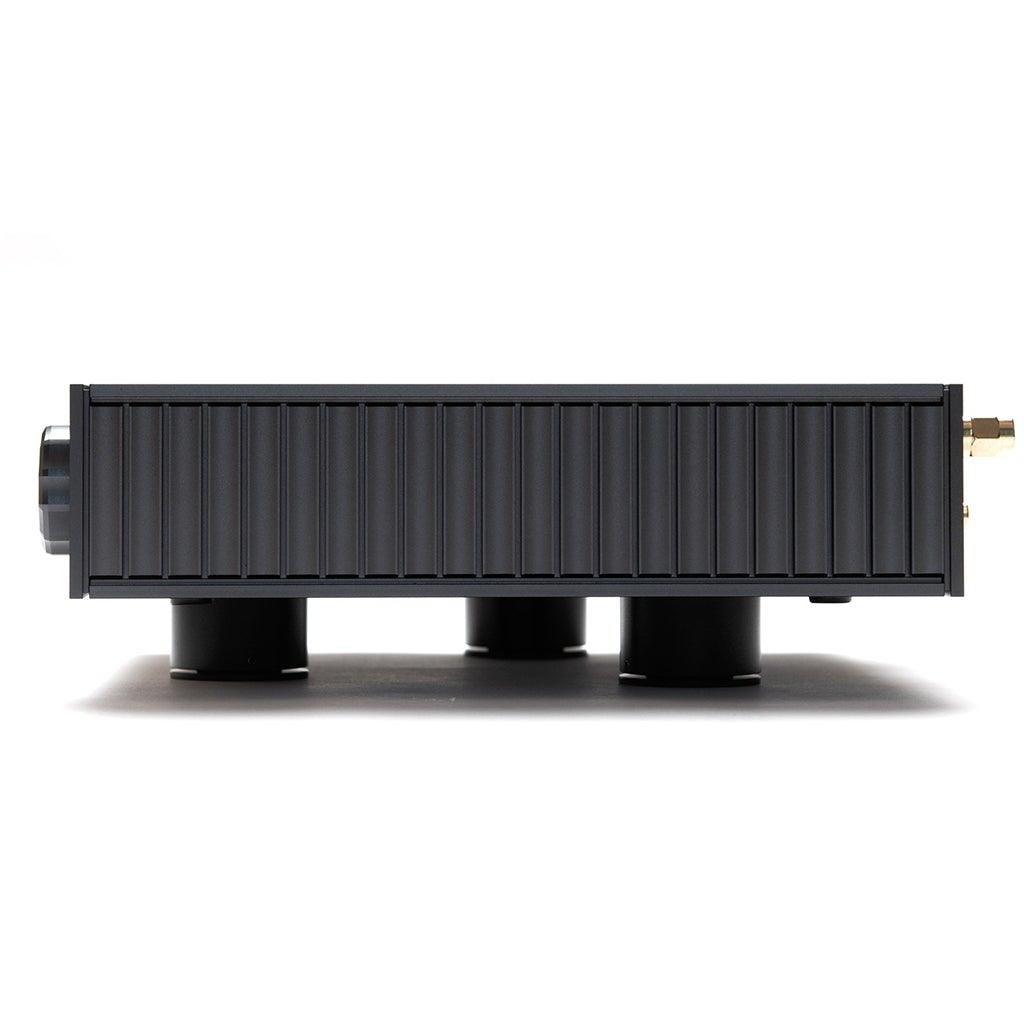 Add to cart