64 Audio
Sale price
$2,299
Regular price
$2,299.00
Unit price
per
Cup style

More information

Open-back headphone designs are often higher-performance but have poor noise isolation and leak sound. Closed-back designs provide better noise isolation and leak less sound.
Closed-Back
Wearing style

More information

Over-ear headphones sit over your ear and surround your ear with a ring of padding. On-ear headphones are padded but rest on top of your ear. In-ear monitors are worn inside your ear canal.
In-ear
Driver type

More information

Speakers and headphones use a device called a 'driver' to create sound. Different types of drivers have different strengths and weaknesses, but can all produce great sound. Common varieties include dynamic, planar magnetic, and electrostatic.
Dynamic, Balanced Armature
Connectivity

More information

Connectivity refers to the method in which the headphones connect to the audio source. Headphones can be either wired or wireless.
Wired
View full details
64 Audio
64 Audio tia Trió™ In-Ear Headphones
Sale price
$2,299
Regular price
$2,299.00
Unit price
per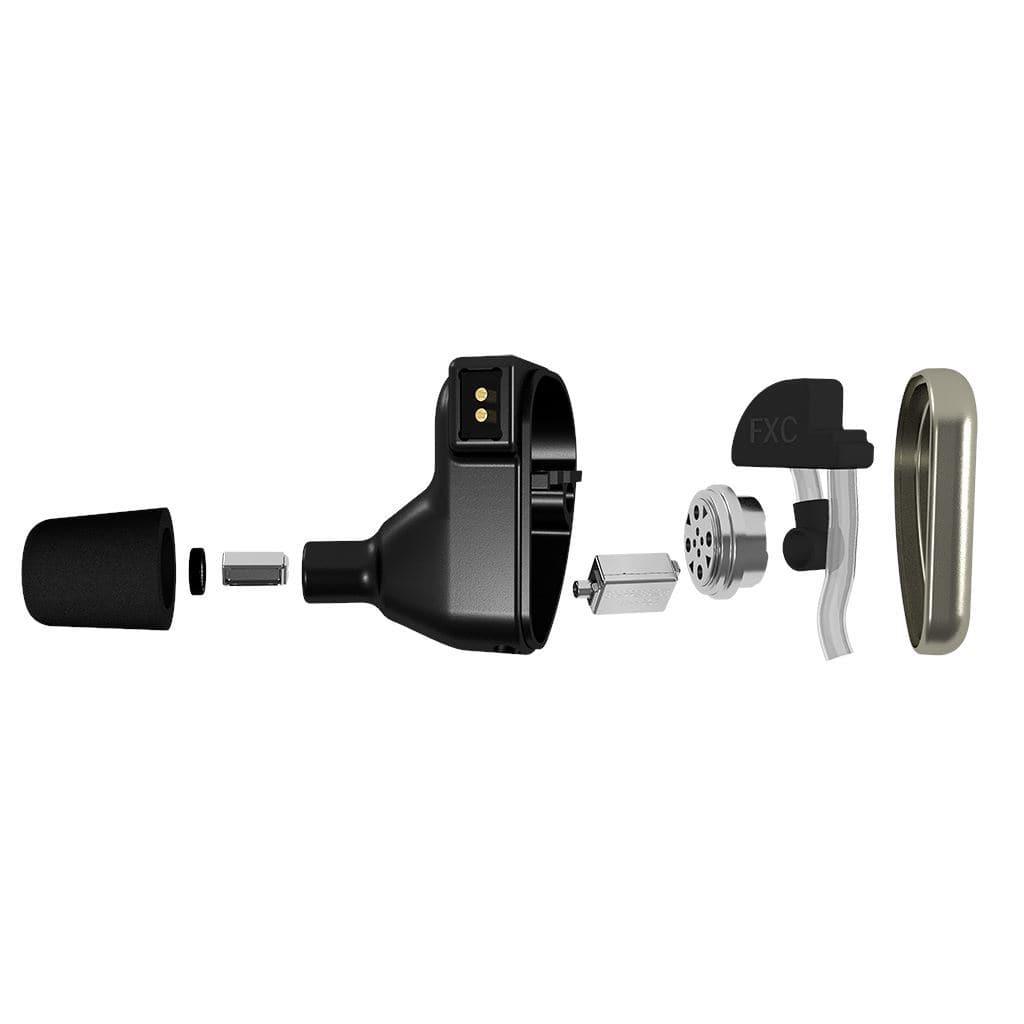 Elevate Your Listening Experience
Discover the pinnacle of audiophile craftsmanship with the 64 Audio tia Trio In-Ear Monitors. Striking the perfect balance between reference-level clarity and a velvety smooth sound signature, these monitors are designed to offer an exceptional auditory journey that can be enjoyed for extended listening sessions without compromising on sonic excellence.
Impeccable Craftsmanship in Every Detail
Meticulously designed, the tia Trio UIEM stands out with its ergonomic shell, expertly machined from solid aluminum. The internal chambers are precision-milled to cradle the tubeless drivers, meticulously shaping their sound characteristics. With an understated yet elegant brushed aluminum faceplate, the tia Trio exudes sophistication in its neutral color palette.
Unleash the Power of Patented Technology
tia Technology: The Heart of Unprecedented Sound

At the core of the tia Trio's acoustic brilliance lies the patented tia technology. This innovative design methodology revolutionizes the audio landscape by eliminating unwanted resonance and distortion, resulting in a transparent and lifelike sound signature. Comprising open balanced armature tia drivers, the tia single-bore design, and tia acoustic chambers, this technology offers unobstructed radiance for each driver, ensuring an unparalleled auditory experience.

Apex Pressure Relief: All-Day Comfort

Experience music like never before, with the integrated patented apex pressure relief. This venting system masterfully releases air pressure from the sealed ear canal, maintaining standard IEM levels of isolation. This not only enhances comfort during extended listening sessions but also ushers in a more realistic soundstage, elevating your immersion into the music.

LID Circuitry: Consistency Redefined

Say goodbye to variable frequency responses caused by source amplifier output impedance. The patented Linear Impedance Design (LID) circuitry resolves non-linear electrical resistance, ensuring consistent and reliable sound reproduction. Whether you're using a smartphone, DAC/amp, or any other source, the tia Trio preserves the desired sound signature for an uncompromised sonic journey.
Immersive Sonic Prowess
The tia Trio features a dynamic driver configuration that covers an impressive frequency range of 5Hz to 22kHz, capturing even the subtlest nuances of your favorite tracks. With a sensitivity of 104dB @1kHz @1mW, these monitors empower your music with stunning detail and clarity. The integrated 3-way passive crossover guarantees seamless transitions between drivers, immersing you in an auditory feast like no other.
Technical Specifications
1 tia High Driver – 1 High-Mid Driver – 1 Dynamic Mid/Low Driver
Frequency Response: 5Hz – 22kHz
Sensitivity: 104 dB @1kHz @1mW
Impedance: 5.5+0.5/-1.5 Ω from 10Hz - 20kHz
Isolation: -15dB Internal Apex Technology
Cable: 0.23 Ohms Total Impedance, 7 x 7 x 4 Multi-Twist, Silver Plated OCC Copper Wire, 26 AWG, Terminated in 3.5mm
Package Contents
Trio Universal In-Ear Monitors
64 Audio Premium Leather Case
TrueFidelity Foam Ear Tips (S,M,L)
SpinFit Silicone Ear Tips (S,M,L)
Silicone Ear Tips (S,M,L)
3.5mm Black Premium Cable
Cleaning Tool
Cable Clip
Round Sticker
Unveil the Beauty of Sound
Elevate your music journey with the 64 Audio tia Trio In-Ear Monitors. Featuring patented technology, premium craftsmanship, and unparalleled sound quality, these monitors offer more than just earphones – they're your gateway to a world of sonic excellence. Rediscover your favorite tunes and indulge in every note, nuance, and emotion with the tia Trio UIEM. Embrace the future of audio technology and secure your ticket to audiophile nirvana.
The Tia Trió does everything I enjoy about hybrid driver IEMs, including excellent bass slam and definition, while at the same time demonstrating a carefully refined tuning. It has a moderate 'V-shaped' sound signature, with a slight midrange recession, however it's done so in such a tasteful way that it's bound to be agreeable for anyone who enjoys modern genres. Importantly, the hybrid style adds the benefits of dynamic driver bass slam, but it never feels overdone to the point of encroaching on the mids and crowding out other instruments in the mix. This means the bass is tight, well-controlled, and hits with authority. I'm also impressed with the lack of sibilant emphasis throughout the consonant range at 8.5khz. There's enough energy there to impart clarity and detail, but it's able to resolve consonant sounds smoothly, without any grain or etch. Overall, this is an exceptional IEM.
-Resolve Reviews
Check out Resolve's comparison between the Legend X and the Tia Trió:
64 Audio tia Trio Review - Flagship Enigma - Written review by Precogvision
Specifications
Title
Description
Driver Type/Count
2 precision BA drivers
1 dynamic driver
Driver Configuration
1 tia high
1 high-mid
1 dynamic mid/low
Frequency Response
5Hz – 22KHz
Sensitivity
104db @1kHZ @1mw
Impedance
5.5 +.5/-1.5 Ω from 10Hz – 20kHz
Crossover
Integrated 3-way passive crossover
Isolation
-15dB internal apex technology
Reviews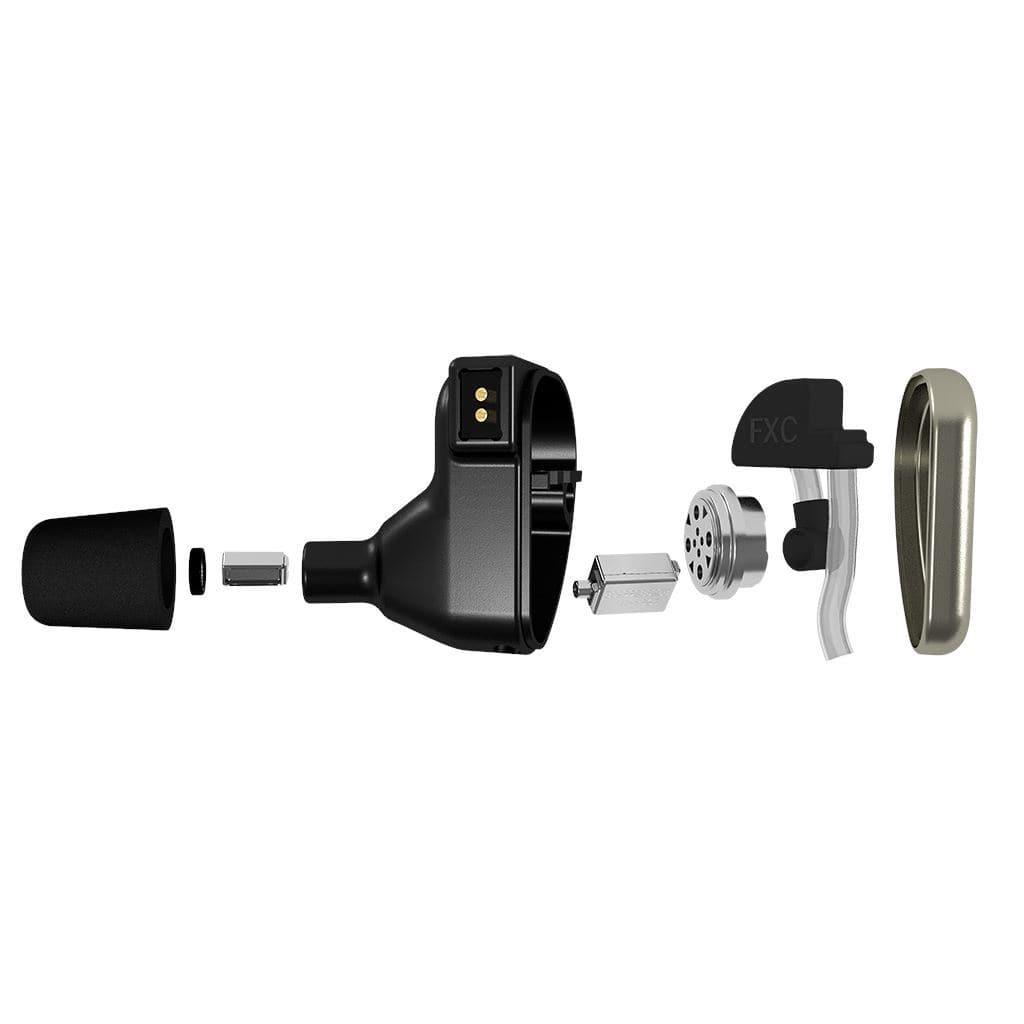 Add to cart