This DAP does everything! - Astell & Kern SP3000 Review & Measurements
Quite possibly the most refined experience an IEM user could ask for.
Introduction
The SP3000 is Astell & Kern's flagship portable audio player. Boasting some seriously impressive internals and software features, this is a unit that for many may tick just about every possible box, and looks gorgeous whilst doing so!
Design and I/O
The A&K's chassis is constructed from 904L stainless steel, a variant that provides excellent corrosion resistance and is used by many watch manufacturers such as Rolex for this reason.
The device does look absolutely stunning and feels satisfyingly hefty in the hand without being unwieldy, though unfortunately, a case is somewhat mandatory as the device picks up fingerprints very easily, and the sharp corners can dig into the palm without it.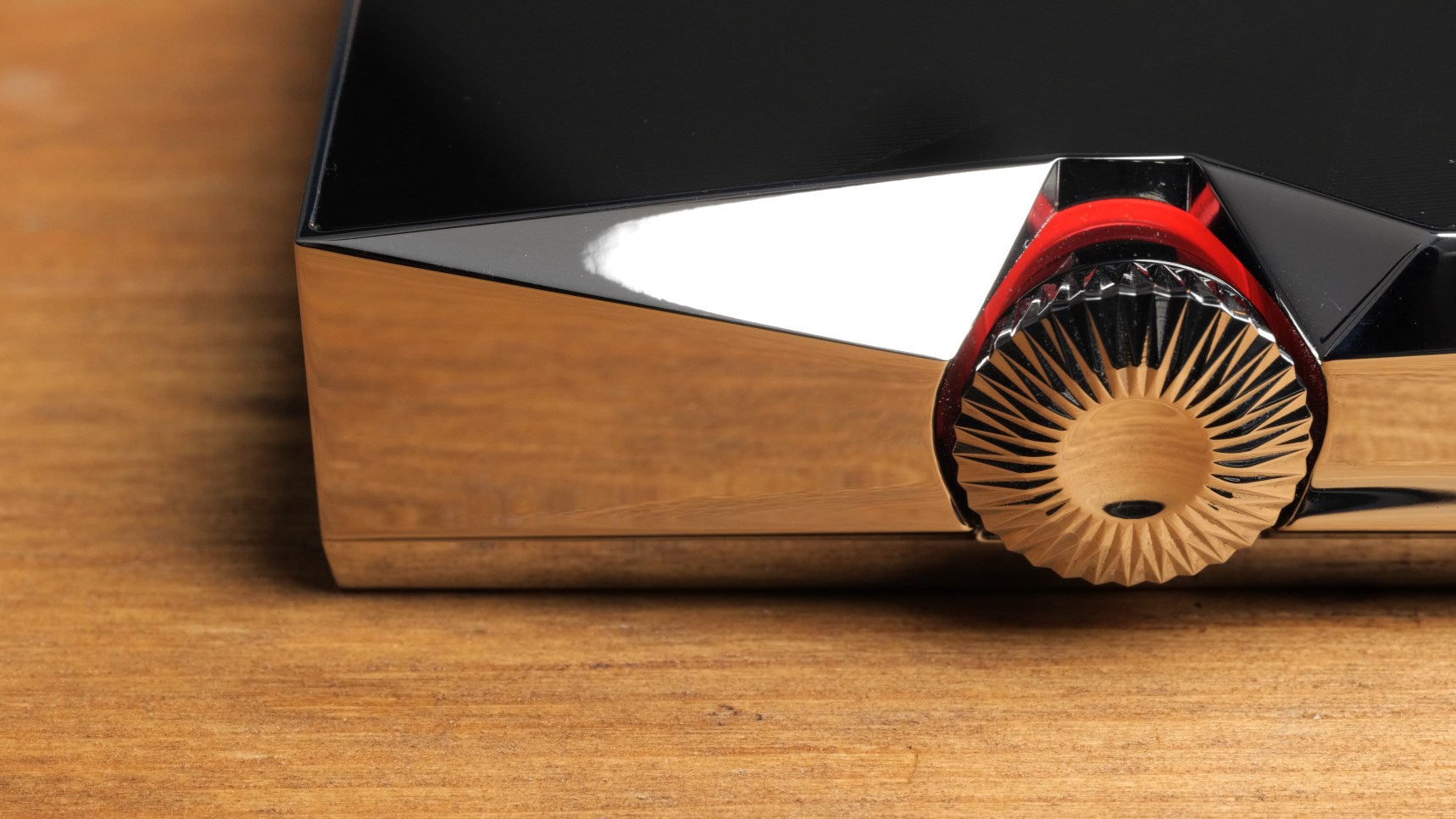 The SP3000 also utilizes a USB-C port for both data transfer (including a USB DAC mode) and charging with quick-charge 3.0 compatibility. There is 256gb of internal storage, with a micro-SD card slot allowing for the addition of up to 1tb of additional storage.
Given the cost of this unit it would perhaps have been nice to see a second SD card slot as many users will have libraries exceeding 1.25tb, though for most people this amount should be plenty.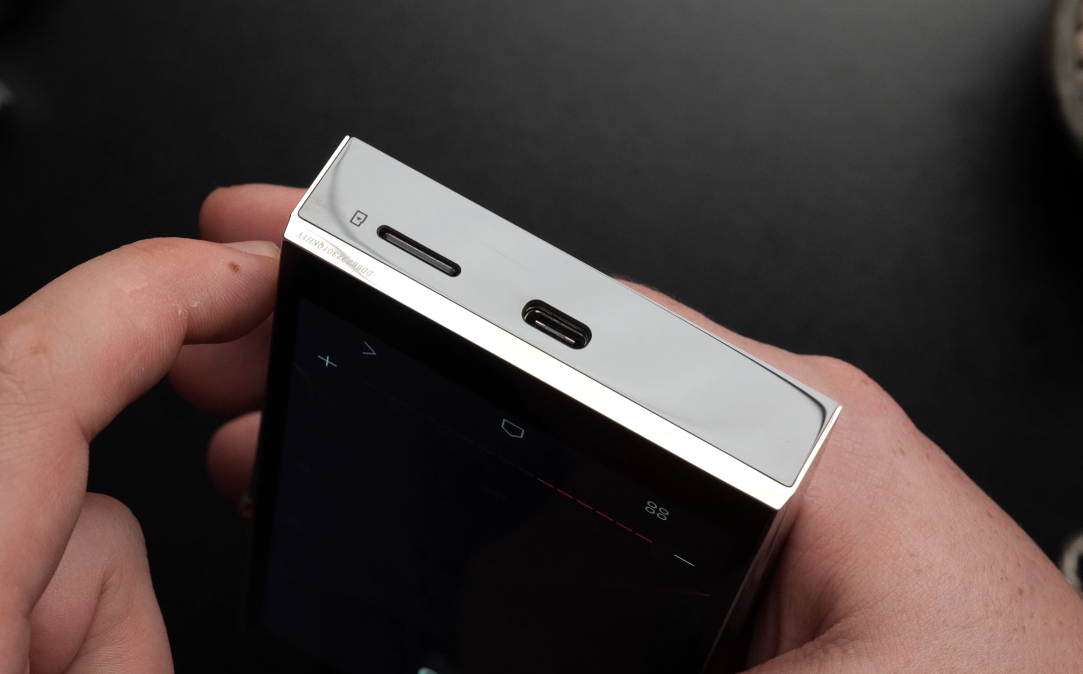 The display on the SP3000 is excellent, using a full 1080x1920 resolution with vibrant colors and minimal shifting when viewing at an angle.
For analog outputs there is the standard 3.5mm single ended, as well as 4.4mm and 2.5mm balanced outputs. All of which can be set to act as line outs if you wish to use the SP3000 as a DAC only, rather than driving headphones.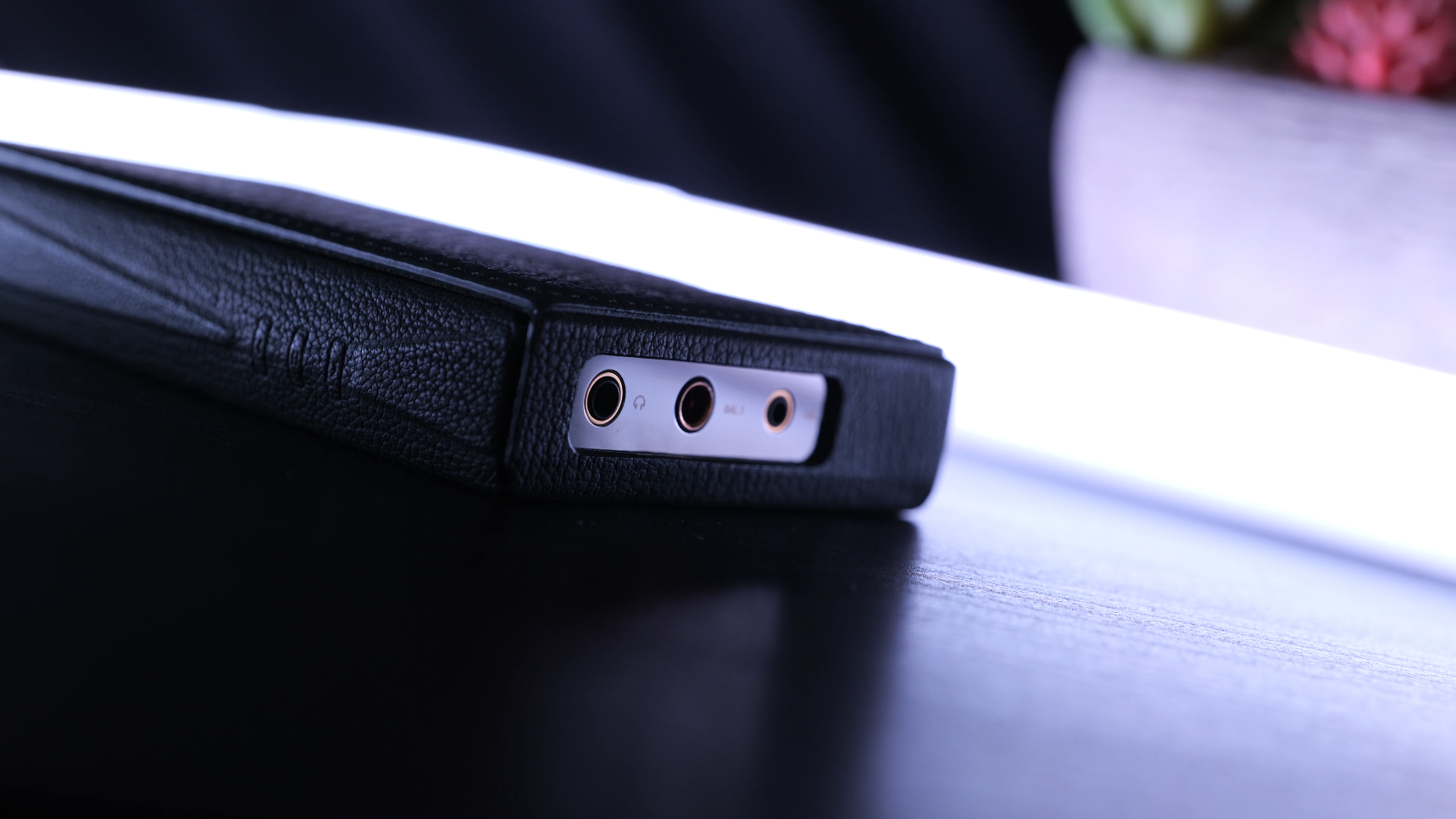 The volume crown is satisfyingly tactile, and encompassed by a ring LED that changes color according to the bit-depth of the file currently playing. Adjustments made using the crown are precise, and does not increase by larger increments when turned faster, but larger adjustments can be easily made by dragging up or down the screen with the volume overlay present.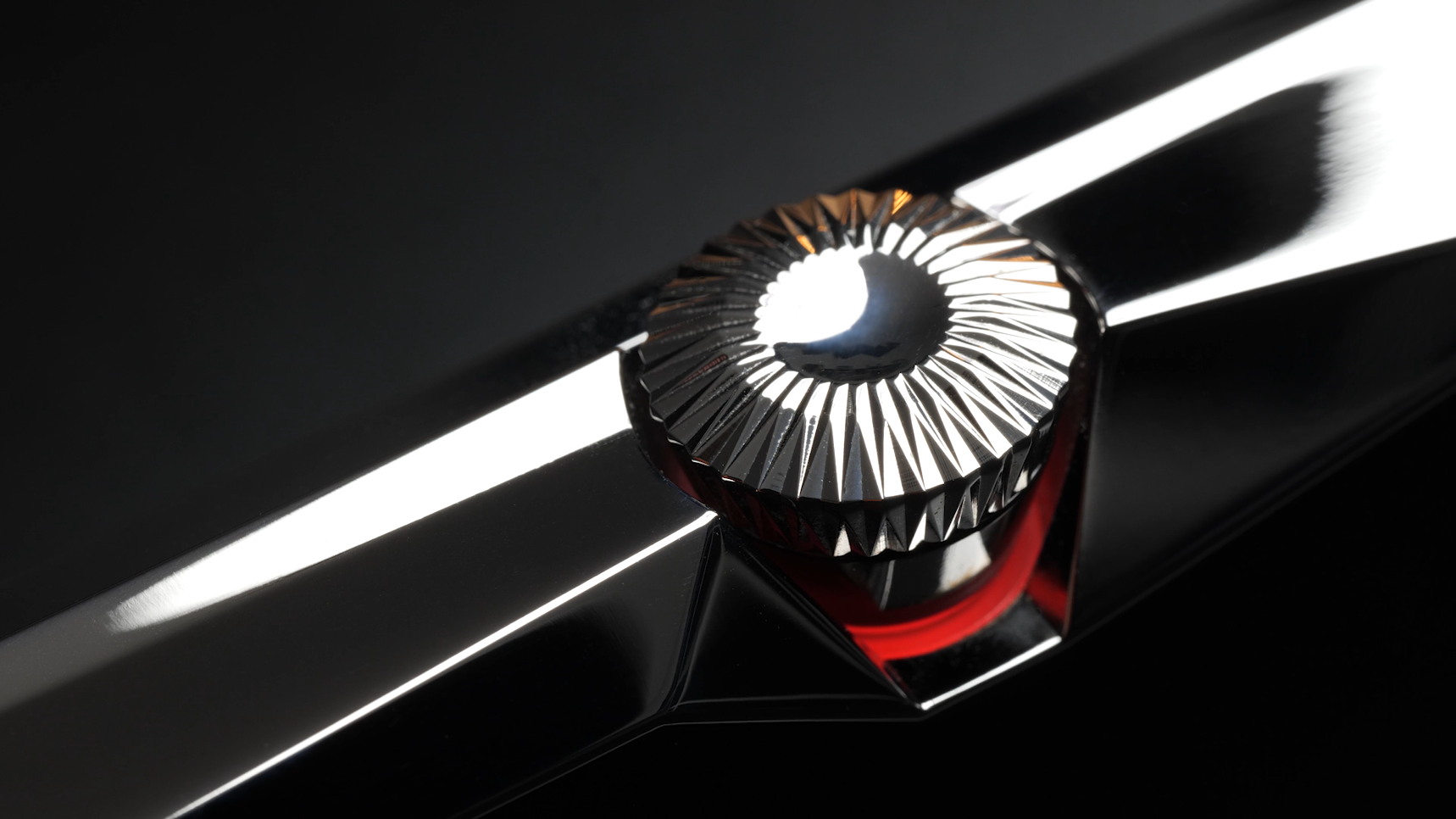 Overall, the SP3000 is a beautifully constructed device and leaves little to be desired in terms of the build quality or IO. The only complaint is that it is something of a fingerprint magnet, so that beautiful polished finish unfortunately needs to be either hidden under a case, or will get covered in fingerprints the moment you pick it up. It would have been nice to see something more akin to a matte or sandblasted finish that could resist fingerprints better.
Internals
The SP3000 boasts a DAC configuration using not one, not two, not even three, but FOUR flagship AKM 4499EX chips, in addition to two AK4191 chips which provide the digital processing/modulation. So you're not just getting a shiny box, there's some serious hardware inside that puts many flagship desktop units to shame!
The brain of the unit is a Qualcomm Snapdragon 6125 8-core CPU which provides an extremely responsive experience when using the product, a welcome relief from many other DAPs which have a tendency to be anywhere from moderately slow to outright sluggish.
This is further helped by A&K's software, which is a heavily modified version of Android OS. It does not allow you to use third party tools such as the play store and so you are not able to just install any applications you like, however a list of approved apps is available to install which covers most of what you would likely wish to have on a DAP anyway, such as Roon ARC, Tidal, Qobuz and Spotify. This should cover most use cases, though I did notice that apps do not get updated right away! Roon ARC was still running an older version even though the Google play-store version was newer.
And for wireless connectivity, the SP3000 offers WiFi for streaming music and communicating with services such as Roon, and can also act as both a bluetooth transmitter AND a bluetooth receiver, with full LDAC and APT-X HD compatibility. This means that when out and about, you can choose to play from local files to squeeze every ounce of audio quality out of the device if you wish, or you can simply leave it in your pocket and stream LDAC bluetooth from your phone with a minimal loss in sound quality. The convenience of this feature was quite welcome and I found myself using it a lot.
Software
Having tested out a few DAPs in recent months, I think it's safe to say that the software on the SP3000 has been my favorite of anything I've tried thus far.
Not only is the overall experience snappy, responsive, and with an easy to navigate custom UI, it also offers features that other DAPs simply don't have, such as being able to act as a Roon Ready endpoint. This was the best feature on this unit for me, simply turn on Roon Ready, the device immediately pops up in Roon, and in 10 seconds I'm playing my home library, bit-perfect through the DAP. I could even leave it on my desk and control the volume of the DAP itself via Roon! As a result, I found myself hardly using the USB-DAC feature as it was already ready to go wirelessly.
Add that to the list of other ways you can play music on this device such as LDAC Bluetooth, local files, Tidal streaming and even a custom YouTube Music app, and it leaves you wanting for nothing. No matter how you choose to use this device, getting your wiggly air flowing is simple and streamlined.
Perhaps my main complaint would be that whilst the local files, Tidal, and YouTube Music apps do allow for proper bit-perfect playback and bypassing of the 'android resampling issue' (whereby the android OS resamples most audio to 48khz), other approved apps in the third party list such as Roon ARC do not, and will still resample unless you connect the SP3000 to a USB DAC, which slightly defeats the point of having a high end DAP in the first place. Hopefully this may be able to be fixed in a future software release.
Being able to load any app of your choosing from the Play Store would have been nice, though it's understandable why this may not be possible given as the OS is so heavily modified.
The software experience on the SP3000 has been truly fantastic, and whilst some competitors like the Luxury and Precision P6 Pro may slightly edge out the SP3000 in pure sound quality to my ear, it's simply not even in the same league as the SP3000 when it comes to how pleasant it is to actually use day to day.
Sound Quality
The sound quality of the SP3000 varies a fair bit depending on what you use it with. For IEMs, in my opinion this is simply one of the best sources available, though for full size headphones or as a standalone DAC, there are some caveats.
When listening to the SP3000 with IEMs, the excellent dynamic range and incredibly low noise floor means you won't experience any perceivable noise with practically any IEM. An absolute black background at all times upon which an incredible amount of detail can be presented.
Clearly those four AK4499EX chips are working well as the sheer resolving power of the SP3000 outclassed not only many other DAPs but also many desktop products as well.
The overall 'tuning' of the SP3000 leans slightly relaxed, not as far as for me to call this a colored device and not one I'd call 'soft', but when comparing directly with products such as the Chord Mojo 2, there is a slight effect of taking the edge off sharper and more sibilant aspects such as the vocal consonants in 'Undercover Martyn' by Two Door Cinema Club.
This can also mean that for faster, more percussion heavy genres or quick synthetic music such as 'Do You Don't You' by Haywyre, things are not quite as impactful as some competitors, though not to any degree that significantly detracts from the music, it's mostly noticeable when doing direct comparisons and even then, only with music that is particularly demanding in that regard.
On the flip side, the SP3000 presents a slightly 'richer than real life' timbre that made a lot of orchestral recordings wonderfully immersive and much more enjoyable than listening on a 'true neutral' reference. "Kiki's delivery service" by Joe Hisaishi was expansive, intricate, detailed and spatial presentation was a particular standout, which as it turns out, there might be some measured behaviours which explain this!
Spatial presentation is in large part going to be dictated by timing accuracy, for which the SP3000 has near perfect jitter performance, and crosstalk, which the SP3000 keeps below -125dB at all times. Very impressive particularly for a device this small! Well done A&K.
What the measurements also explain though is why when using the SP3000 with full size headphones, things aren't quite so excellent.
I found that planars just did not sound ideal at all on this device, and dynamic driver headphones were typically ok, but once you begun turning up the volume above 100 or so, things began to decline. Soundstage closed in, detail was lost, and things got much softer.
This is likely because the SP3000 has a distortion profile that changes depending on output level, and so when run at higher volumes, performance drops quite a lot. This is a shame for anyone hoping to use this to run full size headphones, but doesn't affect most IEMs. As a result, I'd recommend that full size headphone users check using our calculator whether getting their headphones to about 100dB would need more than around 1V. If it does, you may want to seek a more powerful device. But if not, or if you're intending to use this solely with IEMs, then the SP3000 offers one of the most refined experiences in both sound quality and user experience that I've had the pleasure of testing.
Sale price
$

3,199
Regular price
$

3,699.00
Unit price
per
Measurements
Measurements Include:
THD+N (SINAD)
THD+N vs Frequency
Low Level Signal Output
Reconstruction Filter/Upsampling
Jitter
THD vs Output Level (Power)
Linearity
Output Impedance
Power On/Off Behaviour (Safety Test)
Volume Matching vs Attenuation
Noise
Intermodulation Distortion (IMD)
Dynamic Intermodulation Distortion (DIM)
Crosstalk
Multitone
Additional measurements and test information available in the full report
Test Setup
Audio Precision APx555 B-Series analyzer
Measurement setup and device under test are running on regulated 230V power from a Furman SPR-16-Ei
SP3000 was warmed up for 2 hours prior to testing, and fully charged
Volume was set to max unless otherwise specified
Balanced output used unless otherwise specified
Tests shown are with a 100kΩ load unless otherwise specified
Exact analyzer/filter configurations for each measurement are detailed in the full reports
CH1 (Blue) = Left, CH2 (Red) = Right
Full Measurement Reports
Results
Dynamic Range (AES17): 123.5dB
SNR: 125.1dB
IMD SMPTE: -86.6dB
Noise Level RMS (20-20khz): 3.622uVrms
Noise Level RMS (20-90khz): 30.62uVrms
DC Offset: 186.5uV active, 237.8uV idle
Susceptible to intersample overs: Yes (only when volume is set to maximum)
Output Impedance: 1.2Ω Balanced, 0.6Ω Single-Ended
THD+N / SINAD
1khz Sine 4V Balanced Output: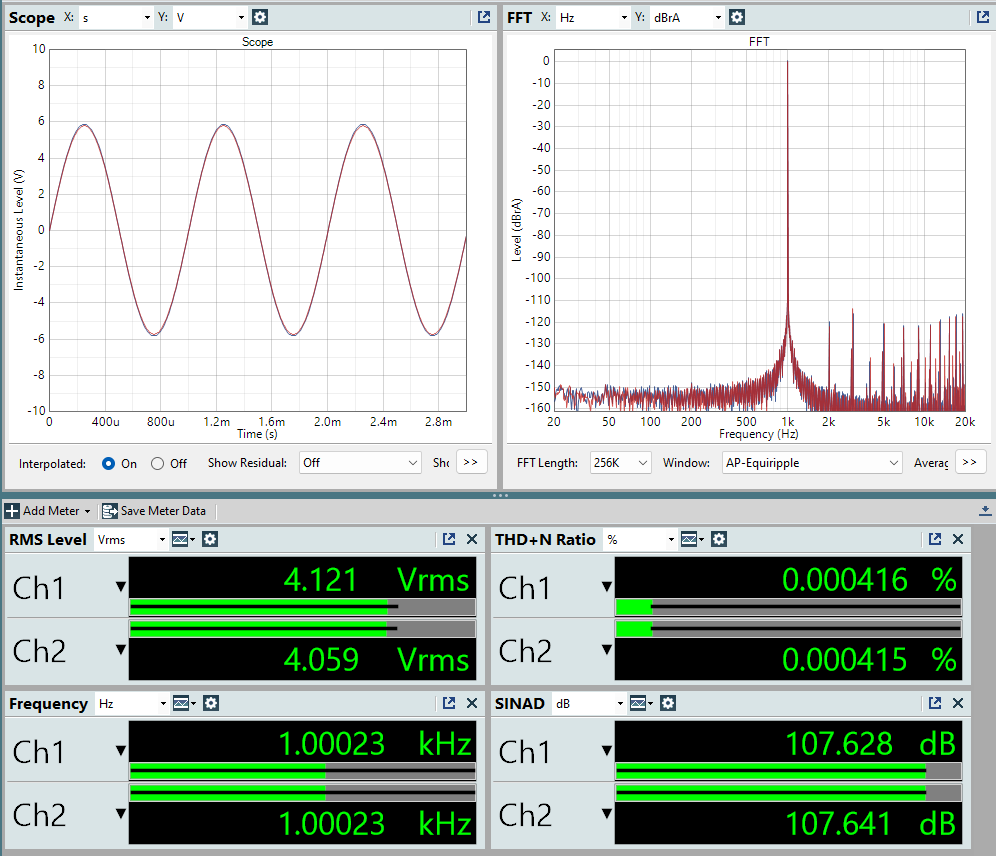 Very good performance at 4V output, all harmonics below -115dB
1khz Sine, 2V Single-Ended Output: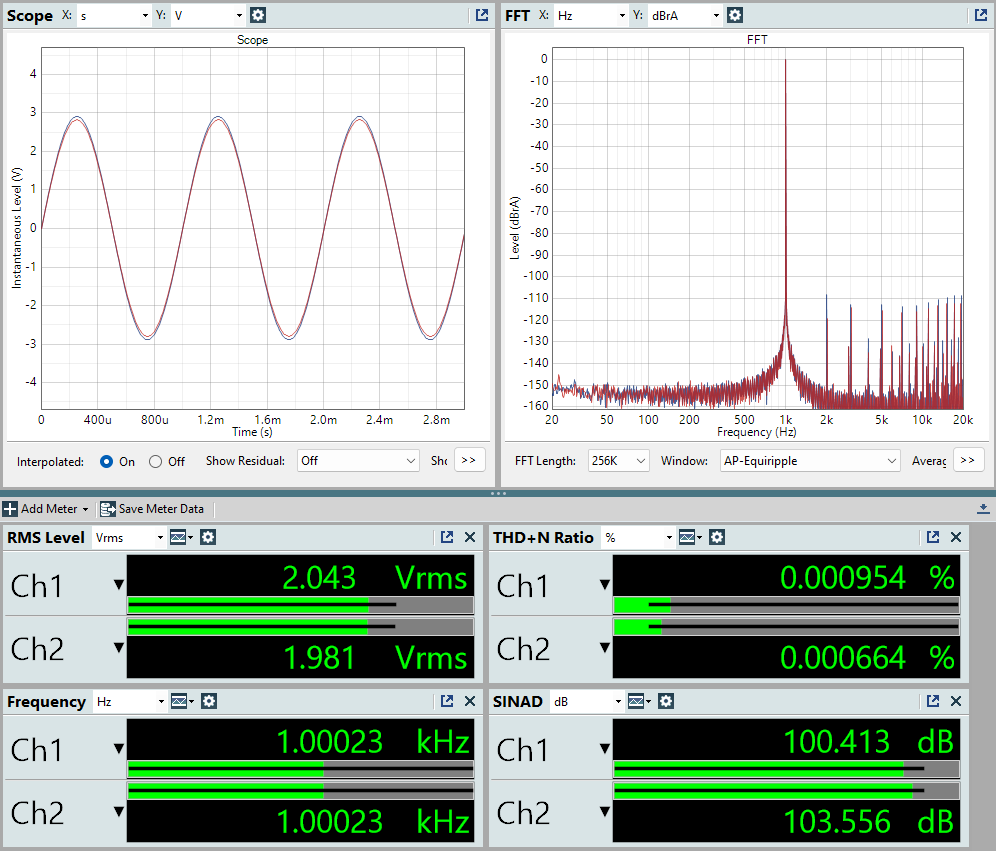 Using single-ended yields a roughly 6dB loss in THD+N vs balanced which is to be expected.
1khz Sine, 700mV Balanced Output (Headphone Level, 32Ω Load):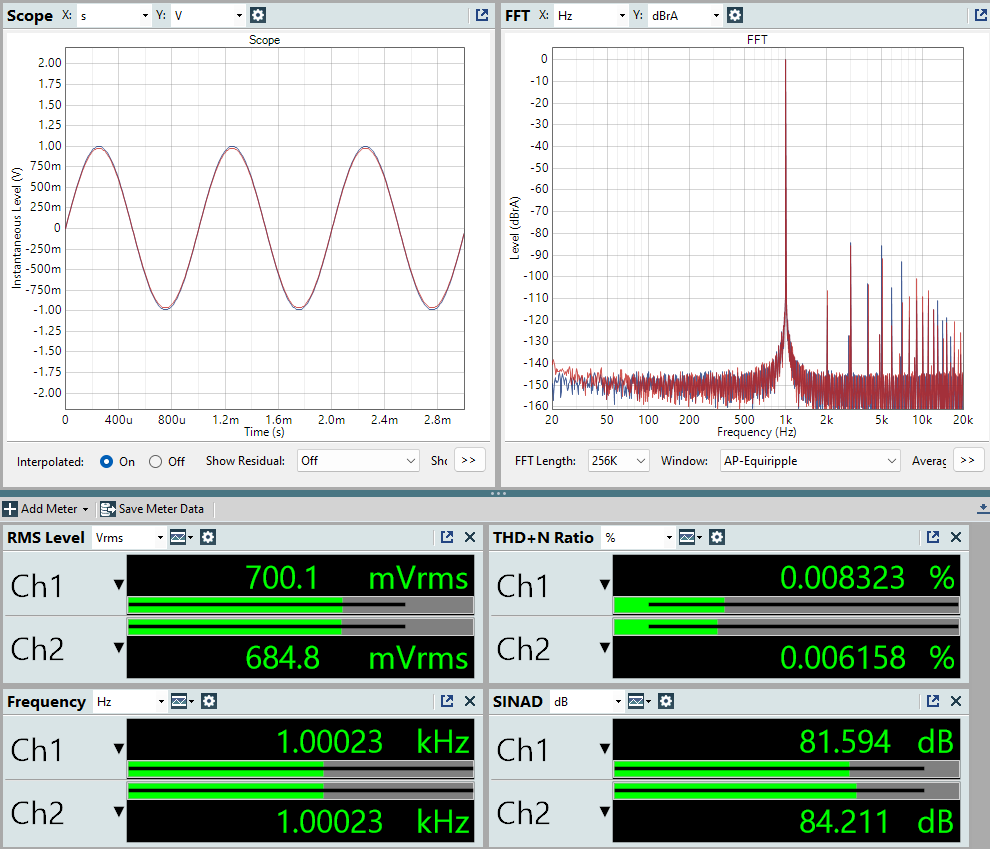 Distortion increases a fair bit at this level, we will have a closer look at this behaviour in the 'THD vs output level' section.
1khz Sine, 50mV Output (IEM Level, 12Ω Load):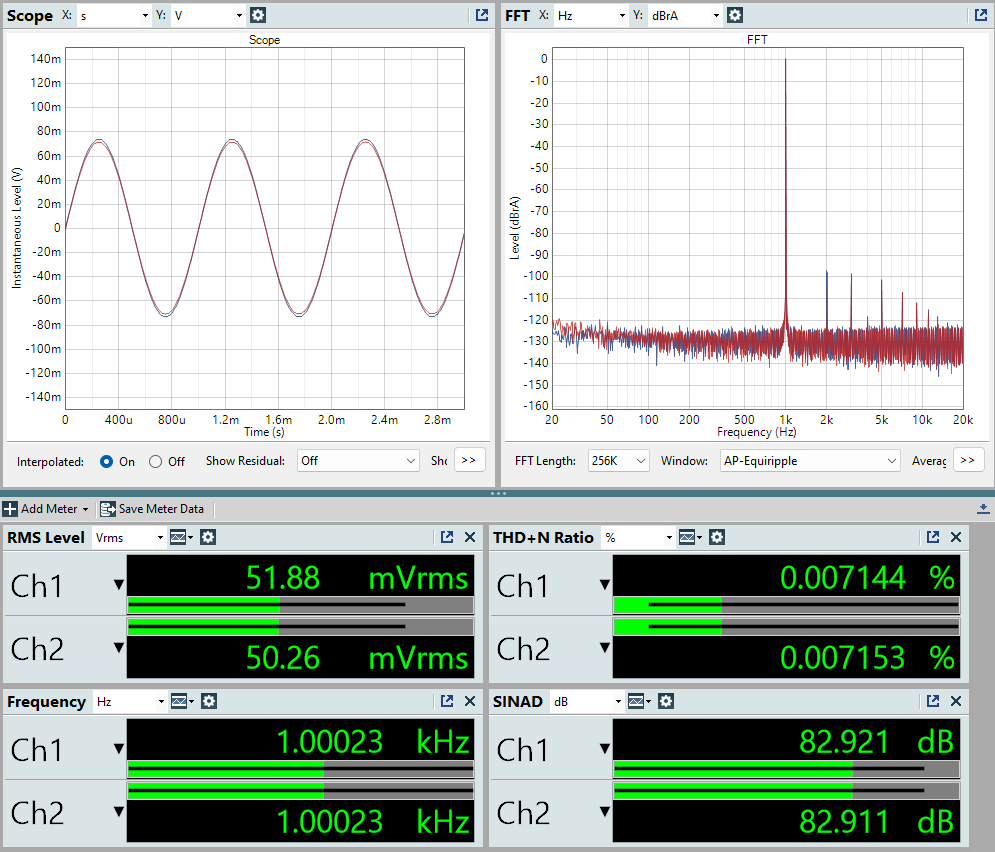 At 50mV the SP3000 provides 83dB THD+N (slightly more with a higher impedance load). This is an excellent level of dynamic range for IEMs.
THD+N vs Frequency (96khz capture bandwidth)
(96khz bandwidth used on the analyzer. Don't compare this directly to standalone audible band THD+N measurements as the measurement setup is not the same.)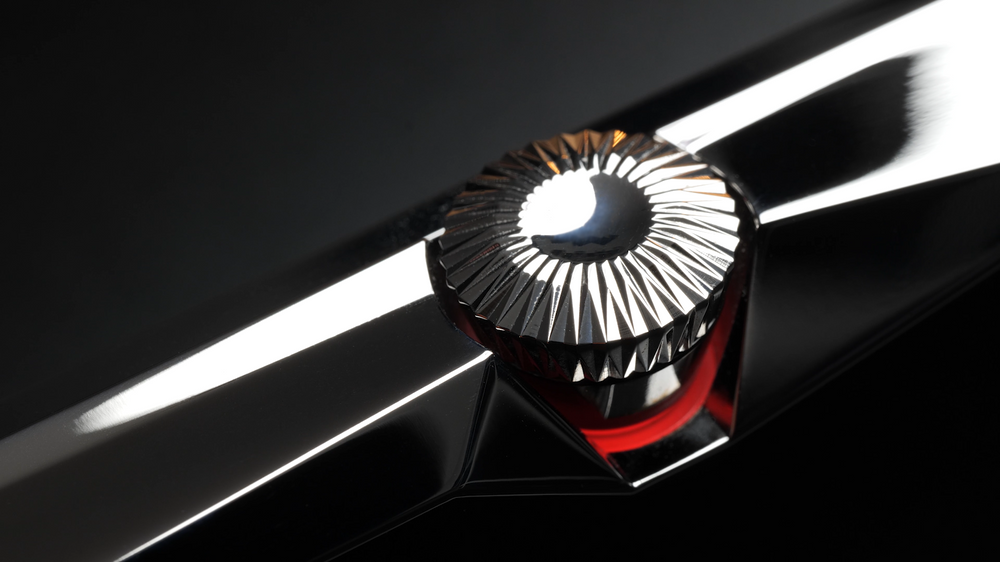 THD+N rises noticeably above 3khz and below 500hz. Meaning the level of distortion will be dependent on the content being played.
Low Level Signal Output
This test plays a very low level signal through the device to check for any unusual behaviour.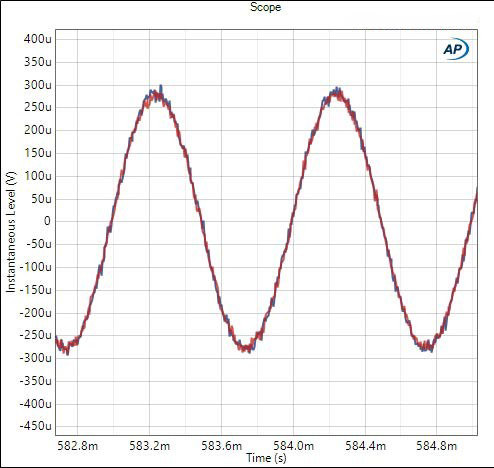 Low signal levels are very clean, ideal for IEMs!
Reconstruction Filter (Nyquist/Oversampling Filter)
The SP3000 uses the stock AKM reconstruction filters. Unfortunately at present, none of the stock ESS or AKM filters properly adhere to Nyquist theory (attenuate fully by 22.05khz, and don't attenuate anything below 20khz). Hopefully this changes in future! I was slightly expecting the 'Digital Audio Remaster' feature on the SP3000 to change this but it seems to have no effect on the upsampling filter.
Jitter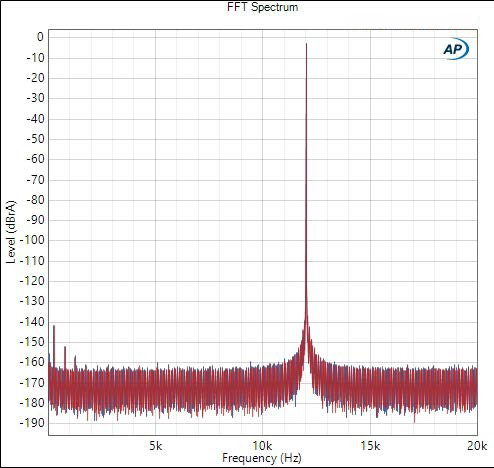 Jitter is practically perfect!
THD vs Output Level (Power)
32Ω: 0.2W
300Ω: 0.15W
THD vs Measured Level in dBV (Output voltage):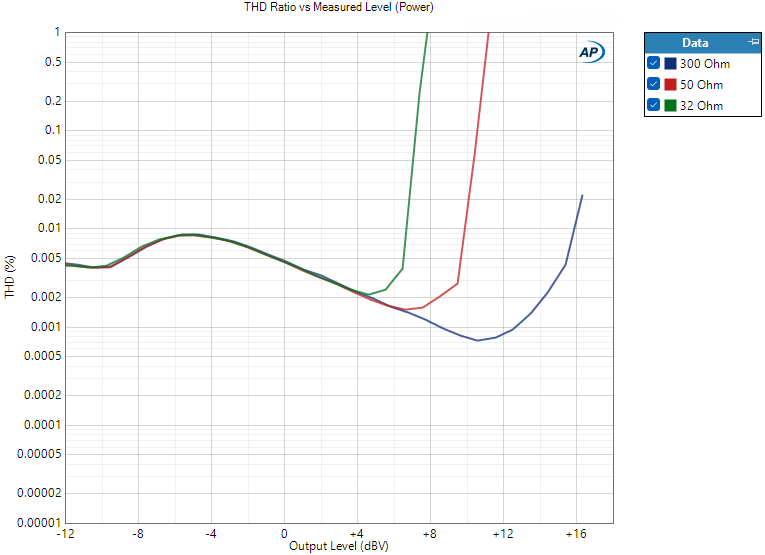 The SP3000 has a slightly unusual behaviour in that the distortion changes depending on level in a non-linear fashion. For IEM users, most of your music's content will be below this 'hump' but some higher level components may be affected by it. For full size headphones it may be more of an impact.
THD vs Measured Level in Watts:
The SP3000 is definitely designed with IEM users in mind. Whilst some over-ear headphones work fine, planars are unlikely to sound their best on the SP3000 and you likely should consider the SP3000 only if you're intending to use it for more sensitive dynamic driver headphones, or IEMs.
Linearity
This test plays a 1khz tone through the device, and steps down the level in small increments. Linearity measures how accurately the actual output of the device reflects the intended output. For example, if the level was stepped down by 20dB, but the output of the device was 19.7dB quieter, there is a 0.3dB nonlinearity, which would show as a 0.3dB rise on the graph.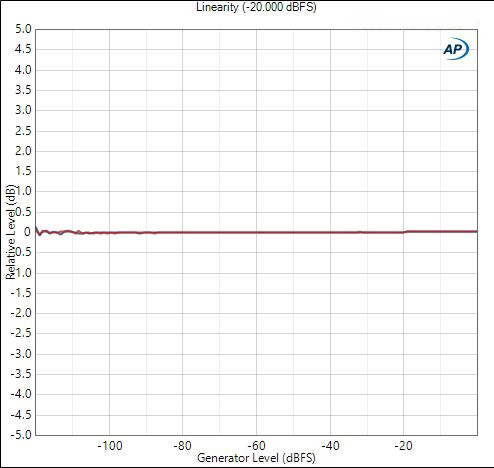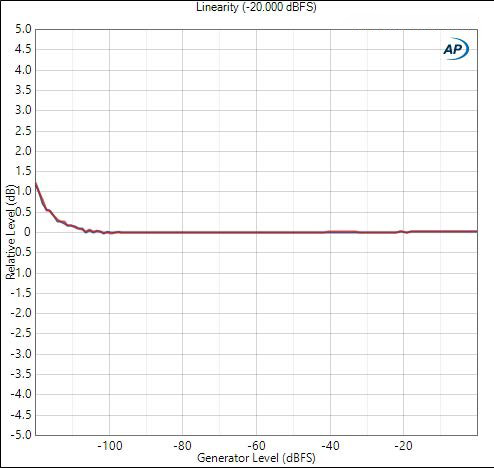 Output Impedance
4.4mm (Balanced): 0.3 Ω
3.5mm (Single-Ended): 0.15 Ω
Power On/Off Behaviour
This test shows the output of the device when turned on/off, to check whether the output may put connected headphones at risk. Regardless of what this test may show, please ALWAYS disconnect your headphones when turning any amplifier on/off unless the manufacturer explicitly instructs you to do otherwise.
Turning on (from cold, 300Ω load):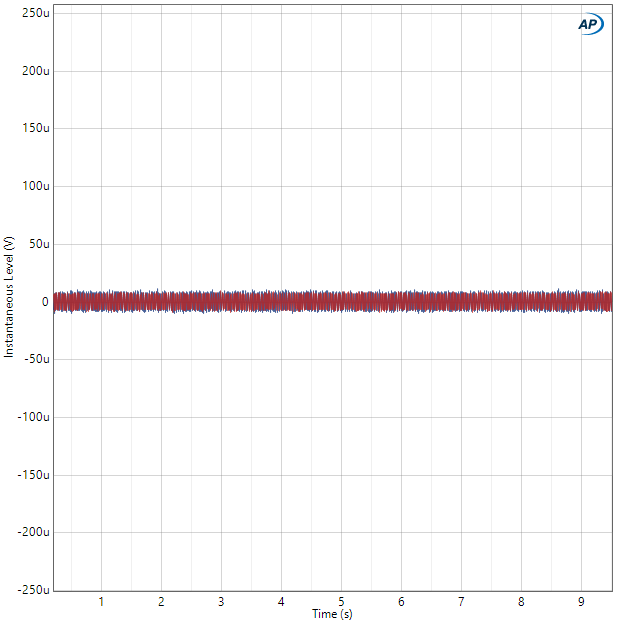 Turning off (from warm, 300Ω load):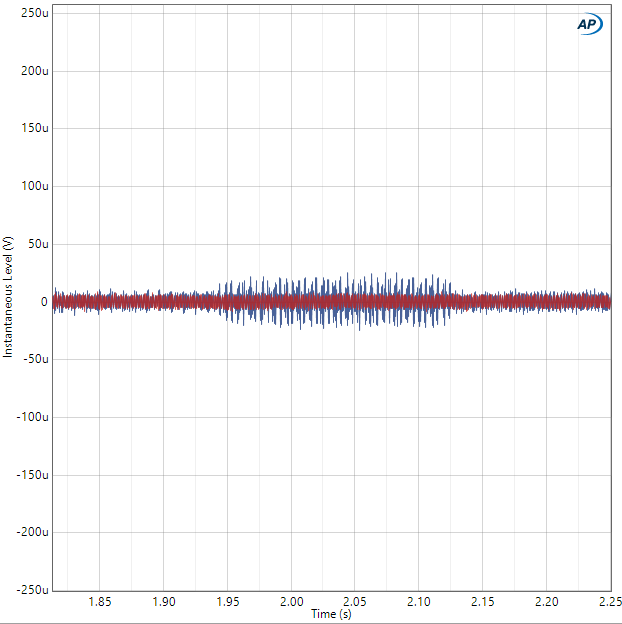 There is almost no visible activity whatsoever at the output when the DAP is turned on or off. Very well controlled.
Volume Matching vs Attenuation
This test adjusts the amplifier to different levels using the volume knob, and shows the level difference in dB between the two channels.
Some amplifiers particularly at lower volumes will have channel imbalance. This test checks how closely the two channels of an amplifier match as volume is reduced.
0dB =0.15dB
-6dB = 0.15dB
-12dB = 0.15dB
-26dB = 0.15dB
-32dB = 0.15dB
The A&K SP3000 uses digital volume control instead of analog, and as a result there is no channel imbalance introduced at any volume other than the inherent slight mismatch of the two outputs, which remains at 0.15dB at all levels.
Noise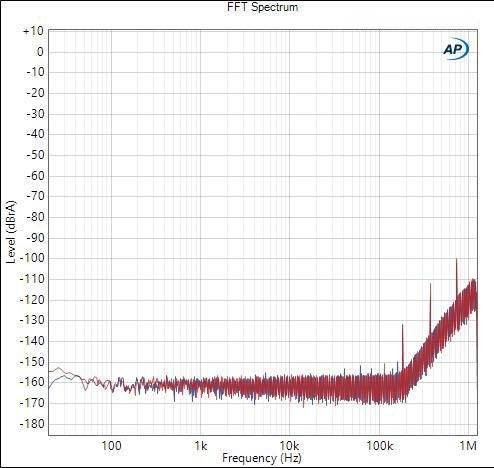 The idle noise is overall very clean, BUT, when using USB there seems to be some noise around 1Mhz introduced. This is not present when using the device in any other fashion.
IMD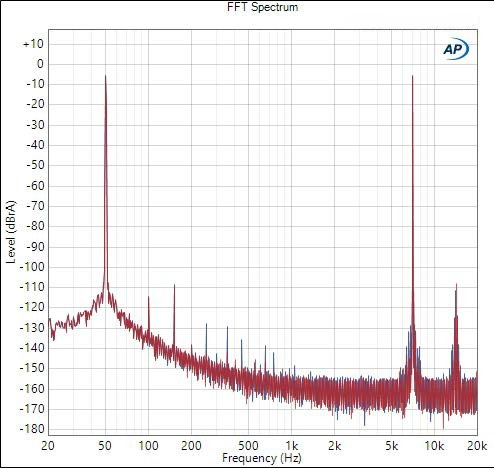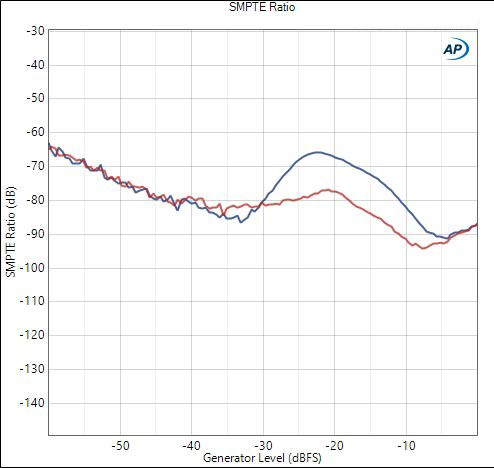 Crosstalk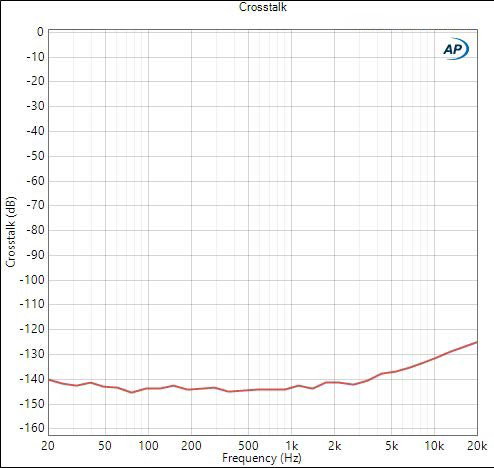 Crosstalk is exceptionally good especially for a device of this size, staying under -140dB for the majority of the audible band and only going up to -125dB at 20khz! Well done A&K!
Multitone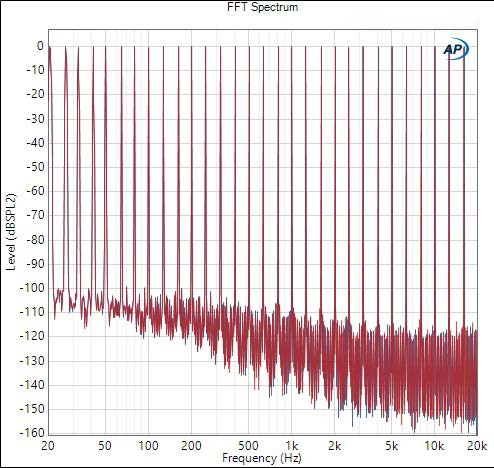 Sale price
$

3,199
Regular price
$

3,699.00
Unit price
per