SMSL
Sale price
$629.99
Regular price
Unit price
per
Amplifier type

More information

Translation missing: en.products.product.amplifier_type_info
Solid-state
Connectivity

More information

Connectivity refers to the method in which the headphones connect to the audio source. Headphones can be either wired or wireless.
Wired
Portability

More information

DACs and amplifiers can either be carried around or meant for static desktop use
Not Portable
On back order
Join our email list to be notified as soon as it is back in stock.
365-day returns
Don't love it? Return it any time in the first year of ownership for a small fee
View full details
SMSL
SMSL SP400
Sale price
$629.99
Regular price
Unit price
per
An SMSL classic gets a makeover  

The SMSL SP400 arrives just over a year after the release of its predecessor, the SP200.
The SP400 retains the THX AAA-888 amplifier of its predecessor and, with it, most of its predecessor's specs. So how's it different? 
You'll find most of the upgrades on the box itself. The SP400 has been given a nice bright 1.9" LCD display, a full-function remote, and a pre-balanced output.
Power for all your headphones
But is it powerful enough to drive all your headphones? The answer in this case is (almost) definitely. With 12W at 16Ω and 6W at 32Ω, the SP400 can power nearly everything. And if you need a little extra oomph, just toggle the three-position gain for an extra three to six decibels.
The THX AAA-888 offers extreme clarity
The THX AAA lineup of amps are known for their power and clarity. Unlike many amplifiers, THX AAA amps use a feed-forward error correction topology that removes common distortion issues. To put it simply, the amp measures errors in an early part of the system and corrects them in a later part of the system. 
Pure black background
The THX AAA-888 is the most sophisticated iteration of the lineup. Its distortion levels are seriously low. Signal-to-noise ratio is 133dB, meaning that you'd have to crank the amp up to 134dB before hearing any hiss. And unless you're trying to permanently damage your eardrums, you're probably not going to do that. 
To put these numbers in perspective, the loudness of a jackhammer is 110dB, an ambulance 120dB. So under any normal, healthy listening scenario with the SP400, you're going to hear nothing but pure signal. 
Desktop friendly
Despite its massive output capabilities, the SP400 is actually quite small. At 8.6" on its longest size, you should have no problem fitting it onto most desktops. And as we said, it's designed to stack with the M400. Together, the pair reach just over three inches in height.
Product highlights
THXAAA-888 Headphone Amplifier with THX AAA Technology

Ultra-compact design

Balanced stereo headphone output

Pre-amplifier application

Balanced stereo line input

High precision resistors for temperature stability

Pop-less design with high-quality relays

High precision and low noise 256-level relay volume control

3-position switchable gain control

DC, over-voltage, over-current, short-circuit and thermal protection

High-efficiency ultra-low-noise power supply

Full function remote

1.9" LCD display

Inputs: 1 balanced, 1 unbalanced

Outputs: 1 balanced, 1 unbalanced, 1 pre-balanced

Output power

Balanced

12W x 2 (16Ω)

6W x 2 (32Ω)

880mW x 2 (300Ω)

440mW x 2 (600Ω)

Unbalanced

6W x 2 (16Ω)

3W x 2 (32Ω)

440mW x 2 (300Ω)

220mW x 2 (600Ω)

SNR: 133dB, A-weighted

Output noise: 1.9uV, A-weighted

THD+N: -123dB, 0.00007% (1kHz, 32Ω)

THD+N: -117dB, 0.00013% (20-20kHz, 32Ω, -3dB)

THD: <-125dB, 0.00006%

Input impedance: 47kΩ

Output impedance: Near 0 Ω

Frequency Response: 0.1Hz - 500,000Hz(-3dB)

Power supply voltage/frequency: AC100-240V, 50-60Hz

Power consumption (EN60065): <40W

Power consumption in standby mode: <0.1W

Size: 8.66 x 8.4 x 1.69" (220 x 215 x 43mm)

Weight: 2.9lbs (1330g)
What's included
SMSL SP400

User Manual

Remote control

Power supply cord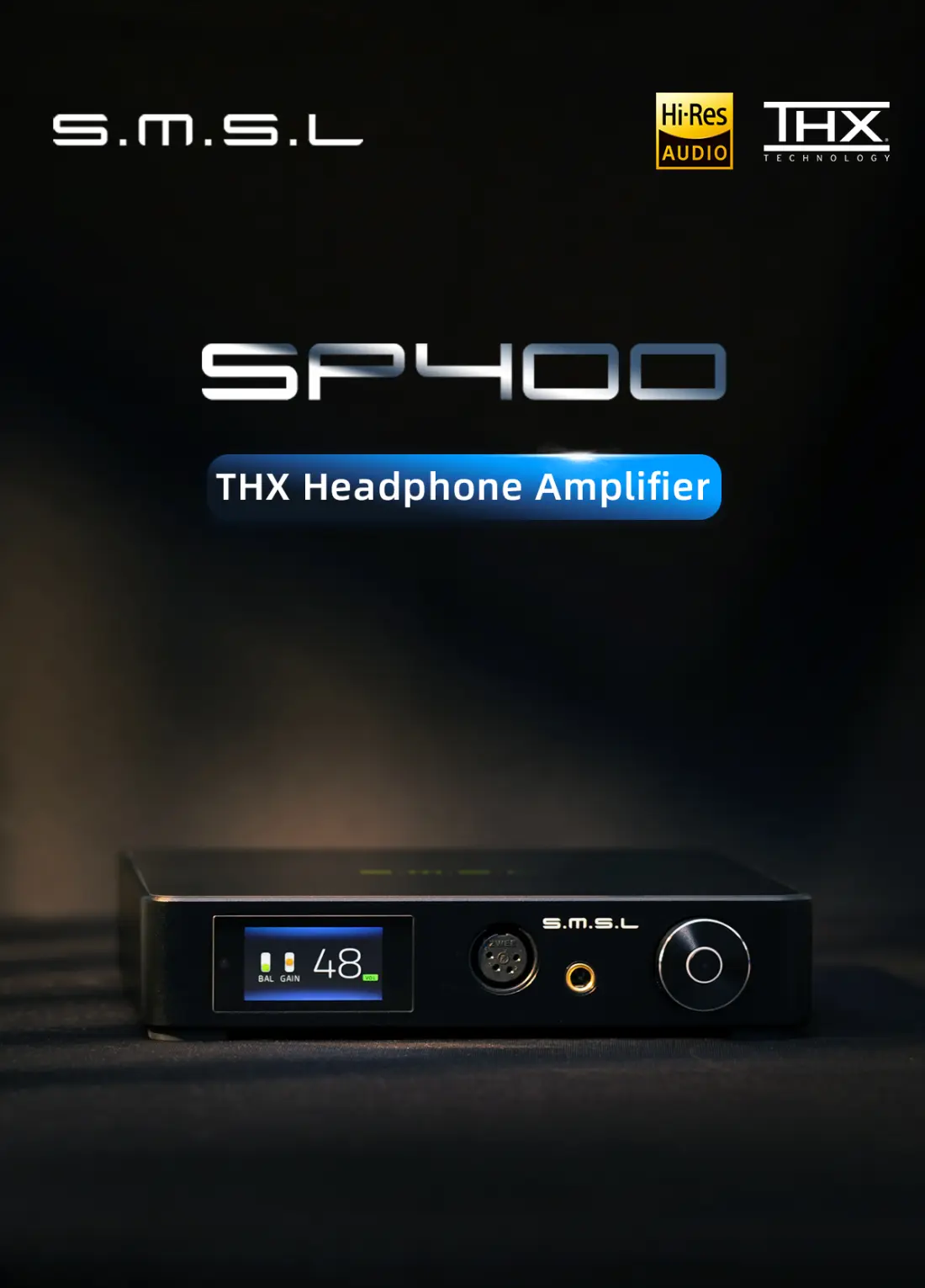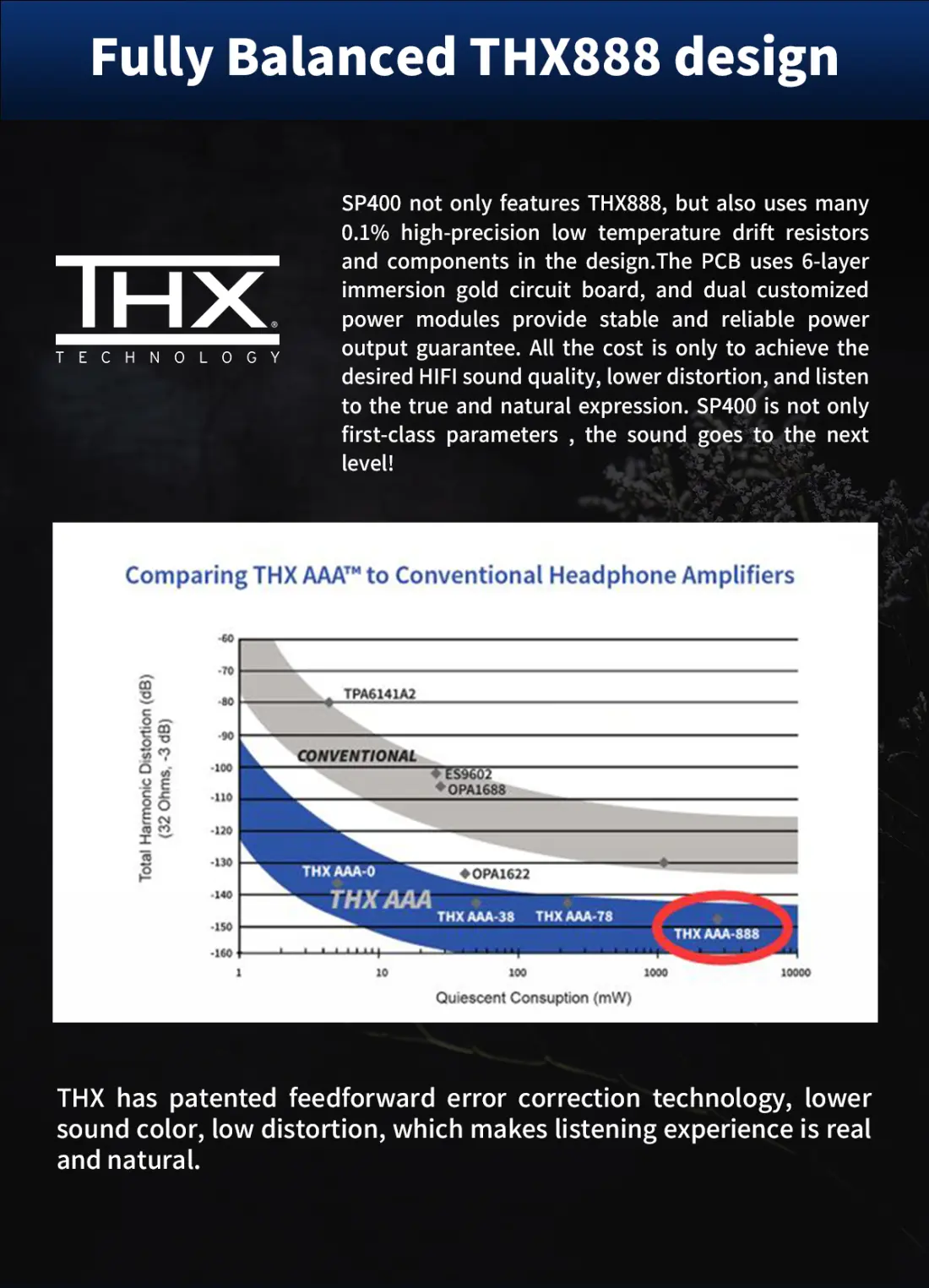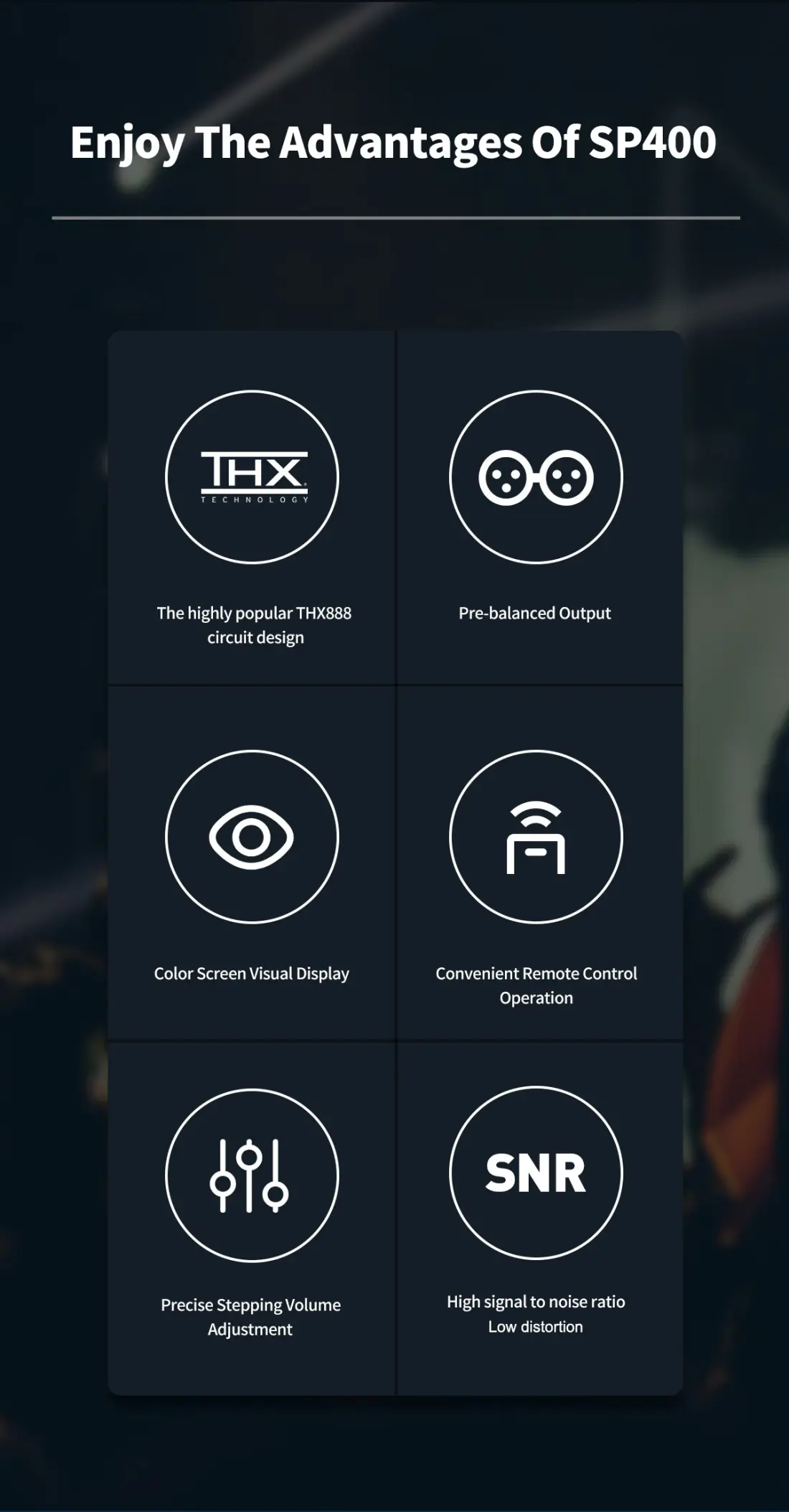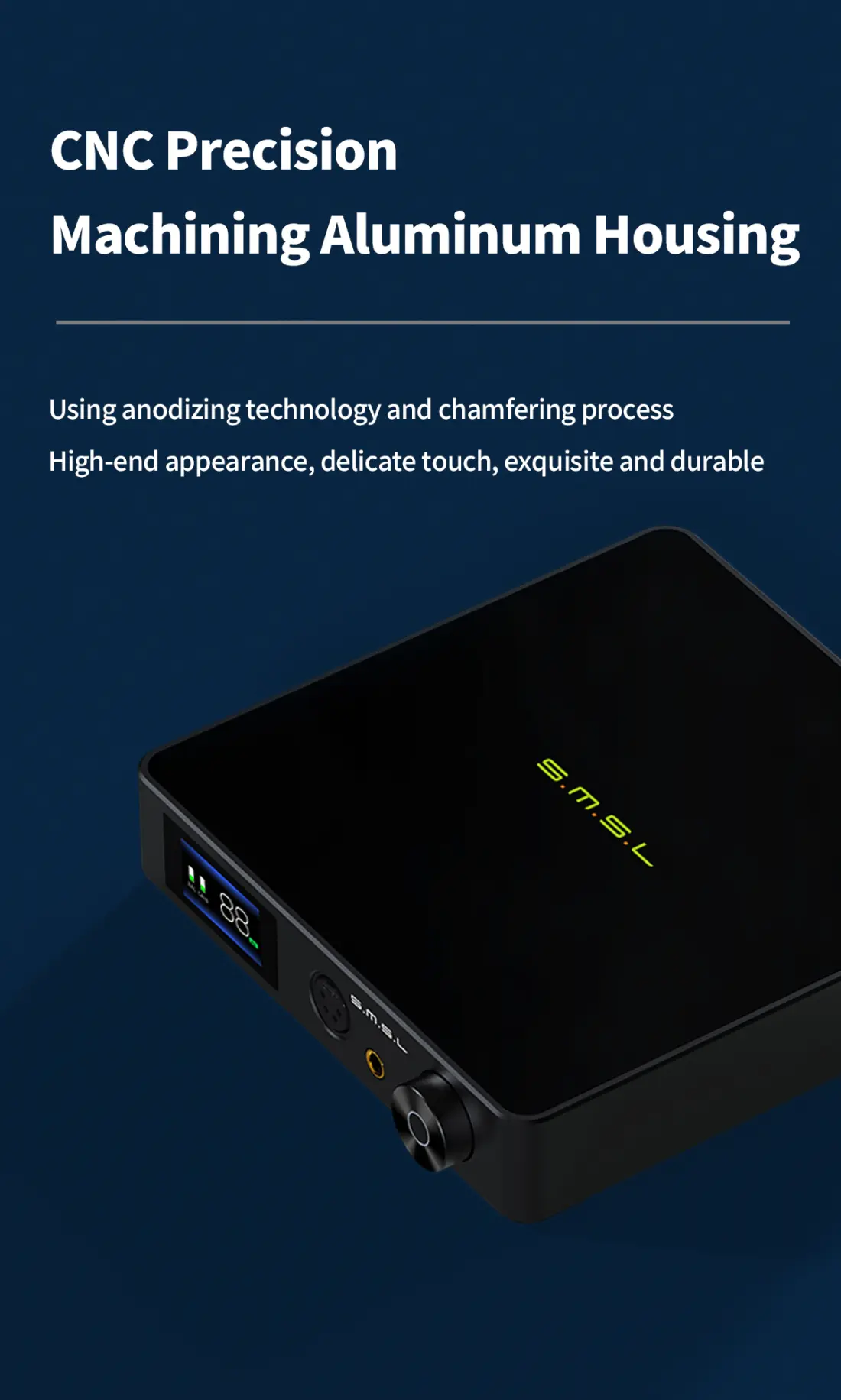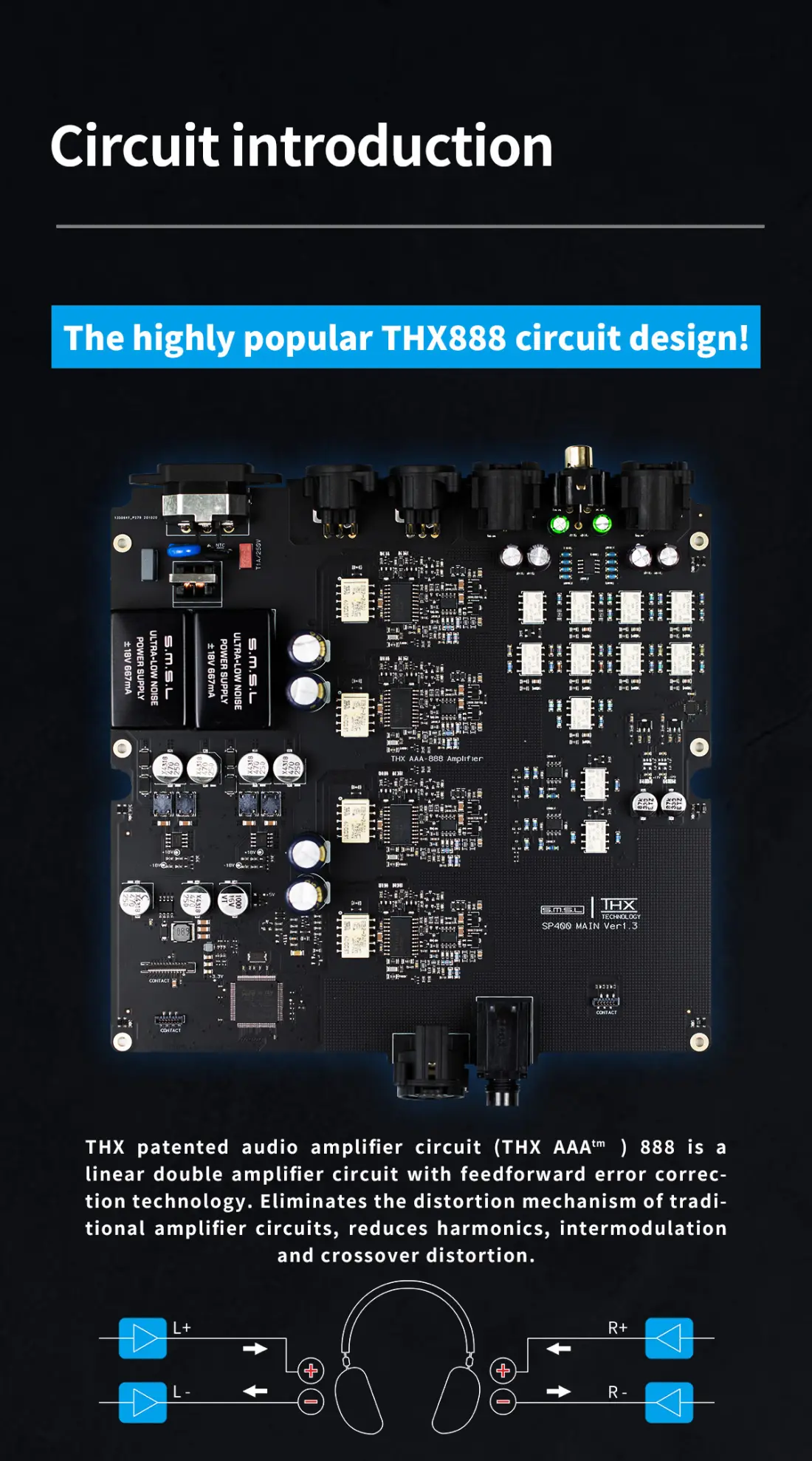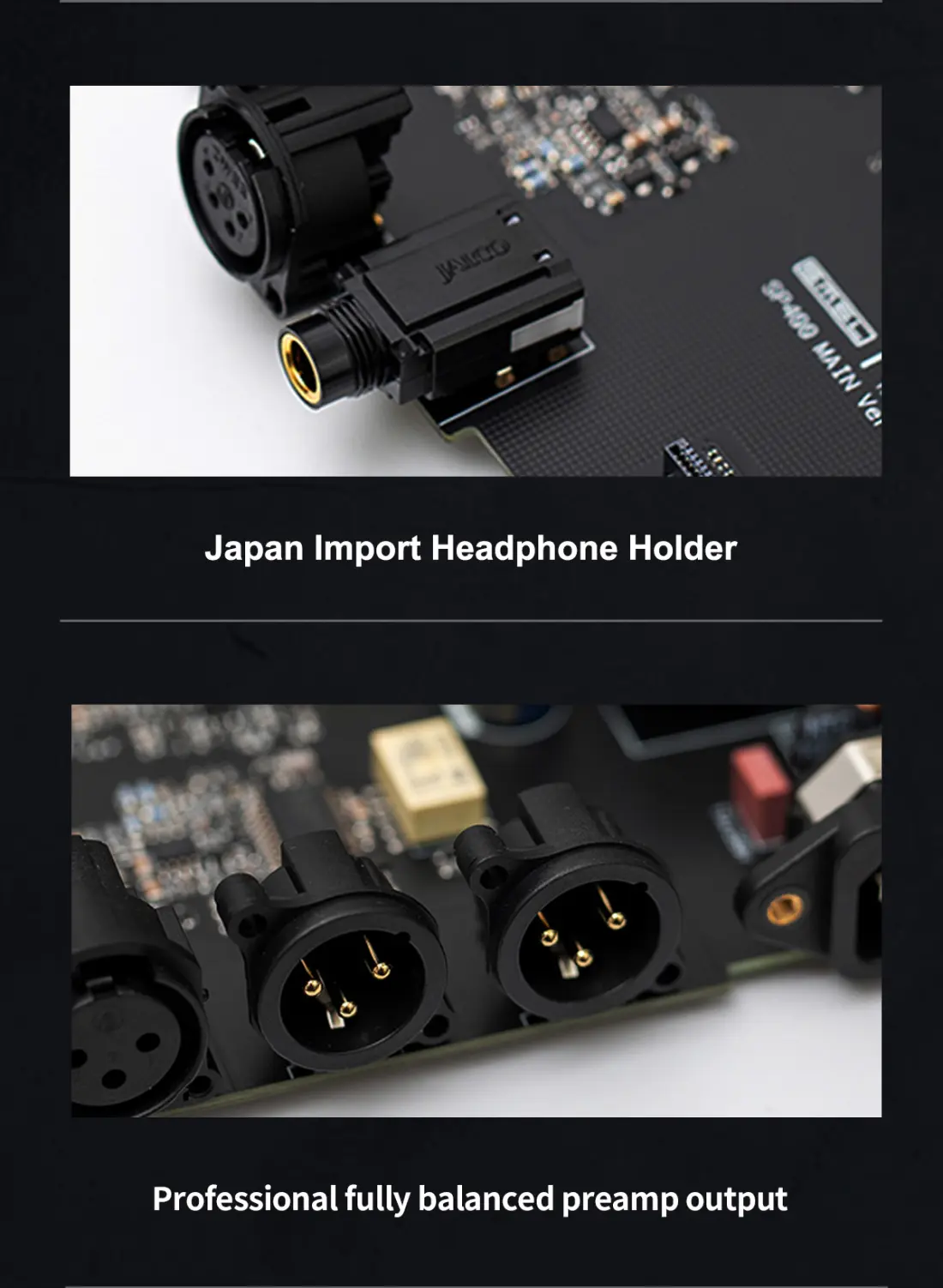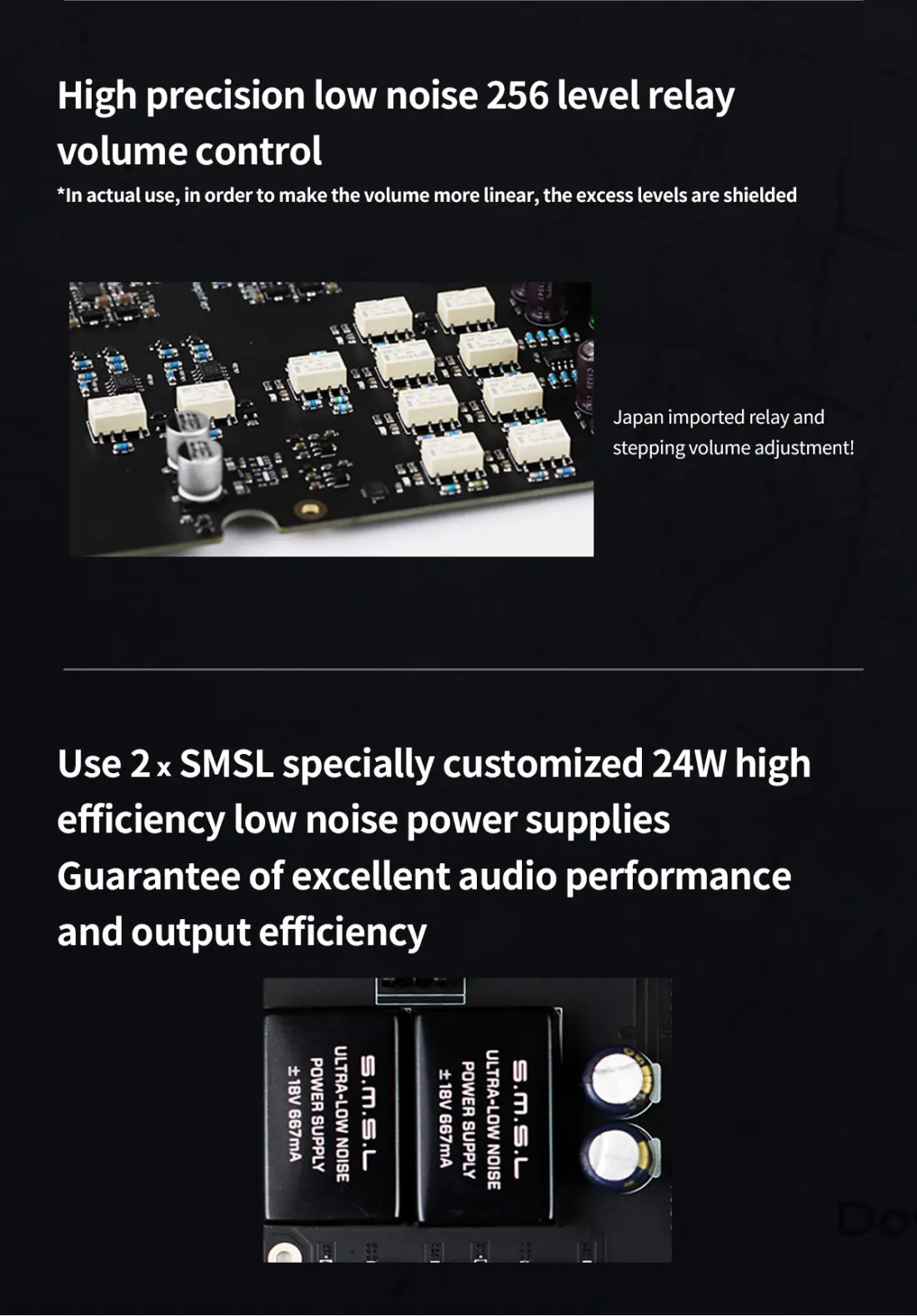 Reviews
Sold out